Does the name Blaine Gibson ring a bell? If you've seen the Partners statue of Mickey and Walt, then that's a start!
Blaine Gibson is the master sculptor behind this incredible statue that greets guests in every Magic Kingdom around the world. He also sculpted its partner (*ahem*) statue, Sharing the Magic, of Roy Disney (Walt's brother) and Minnie!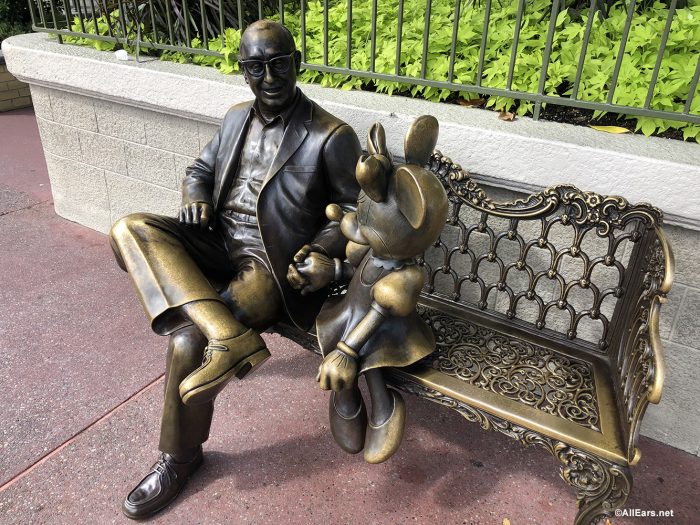 But what if I told you that Blaine Gibson also sculpted all of the original pirates in Pirates of the Caribbean, all of the ghosts in the Haunted Mansion, and all of the presidents in the Hall of Presidents up to George W. Bush?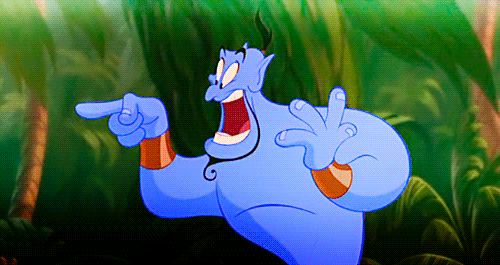 And that's not even his full resume (which feels impossible, but it's true!)! So let's learn a little more about Blaine, shall we? A man without whom we wouldn't have many of our most beloved and iconic Disney attractions.
Blaine Gibson grew up in Colorado and was an artist from the beginning. He loved carving and creating — in fact he won the $10 prize for an elephant he carved out of soap in a contest for Proctor & Gamble when he was just 12 years old.
Blaine joined the Walt Disney Studios in 1939. As an assistant animator and an in-between artist, he worked on beloved classics such as Fantasia, Bambi, Peter Pan, and Sleeping Beauty. 
However, Blaine's favorite hobby was sculpting. He took evening classes at Pasadena City College and spent his free time carving up incredible pieces. He often had little hand-carved figures at his work space, and in 1954 he held an exhibition of his sculptures. Walt Disney attended the exhibit, and being blown away by Blaine's talent, he recruited Blaine to WED Enterprises (the original name for Imagineering.)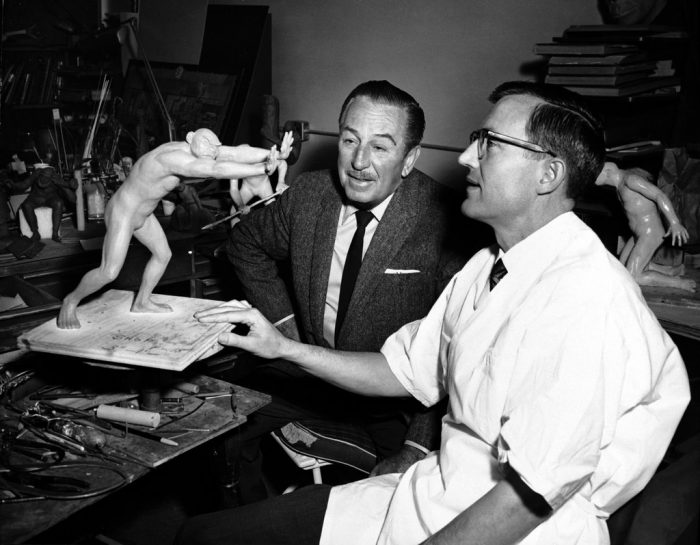 From 1955 to 1961, Blaine split his time between animation and Imagineering. He was a little anxious about giving up his dream of being a top animator and leaving for the crazy project that was Disneyland. In his own words, "I didn't think it was that important, but then I was told Walt was expecting me to work on these projects. So I said to myself, 'what the heck' and went [to Walt Disney Imagineering]. I was never sorry after that."
In 1964, Blaine truly set himself apart as an incredible talent. It was then that he sculpted Abraham Lincoln for the 1964-65 World's Fair, which was the first human audio-animatronic.
He also worked on the children for "it's a small world" and the characters for the Ford Magic Skyway, which also debuted at the Fair.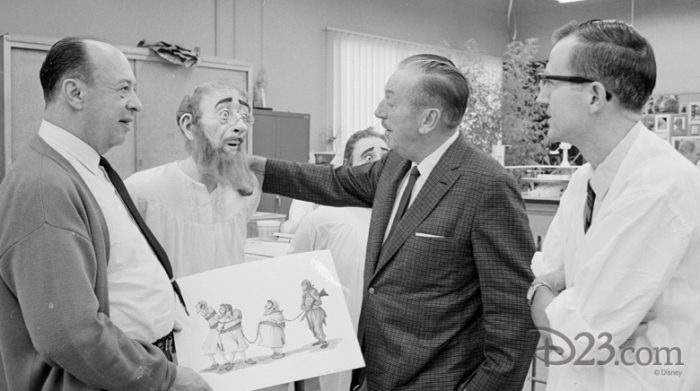 After the fair, Blaine continued his incredible contributions to the Walt Disney company. His main roles as a master sculptor included bringing to life characters and drawings from his fellow imagineers, first in miniature, then in full size versions.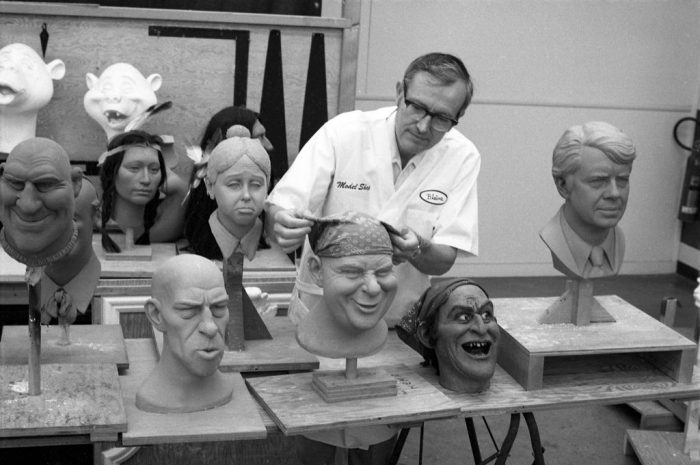 When it came to sculpting people, some were easier than others. Certain figures, like the Presidents, provided clear inspiration and a model for Blaine to follow. Others, such as the dozens of Pirates, were left to his imagination.
Where did he get his inspiration you might be wondering? Turns out, it was everywhere.
According to his son Wes, who often saw his dad staring at strangers in public places, such as restaurants:  "My mother would kick him under the table to get him to stop staring. It would even happen in church. You would see him looking, and you knew he was thinking, 'That would make a good pirate.'"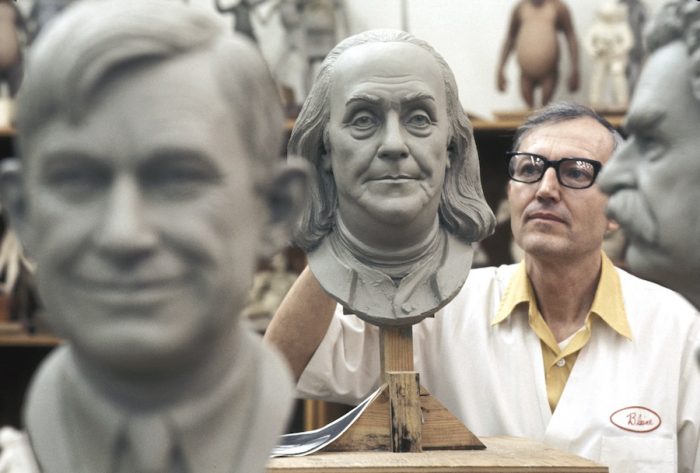 Blaine Gibson worked on almost every classic Disney attraction you can think of. If it has animatronics or figures, Blaine probably touched it. From The Enchanted Tiki Room to The American Adventure, he worked on it all.
Even though Blaine officially retired in 1983, he continued to contribute to Disney attractions. In addition to whittling up a new president every 4 to 8 years for the Hall of Presidents, he worked on figures for The Great Movie Ride, among others.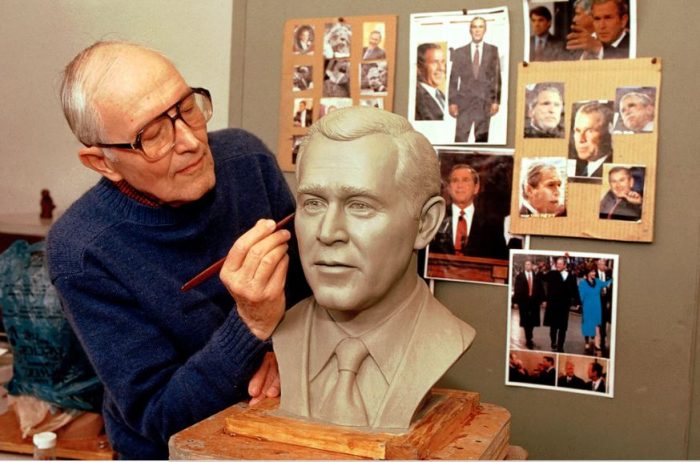 It was a decade after his retirement that Blaine was named a Disney Legend — which also happened to be the year he sculpted his most iconic piece of work: the Partners Statue.  Thanks to this statue, every guest that enters a Magic Kingdom knows this was all dreamt up by a real man — Walt Disney.  Describing this incredible piece of work, Blaine said "I chose to depict Walt as he was in 1954. I think that was when Walt was in his prime. It was tough trying to match the media image of Walt Disney, the one the public knows, to the real Walt, the one we knew."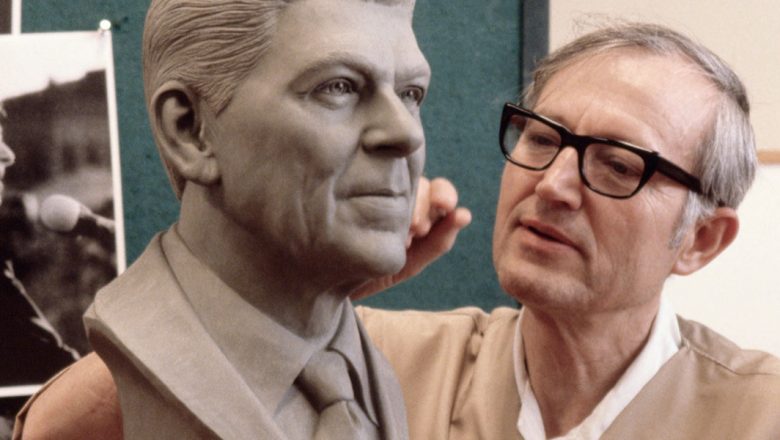 When Blaine passed in 1997, fellow Imagineers looked back on their time working with Blaine. It seems as though Bob Gurr described Blaine best: "He was the neatest guy to work for. He was always so pleasant, and I loved going over to his studio and find out what he's got in the green clay now. I'm not a sculptor or an artist, but Blaine made it look so simple and so easy. He just did it."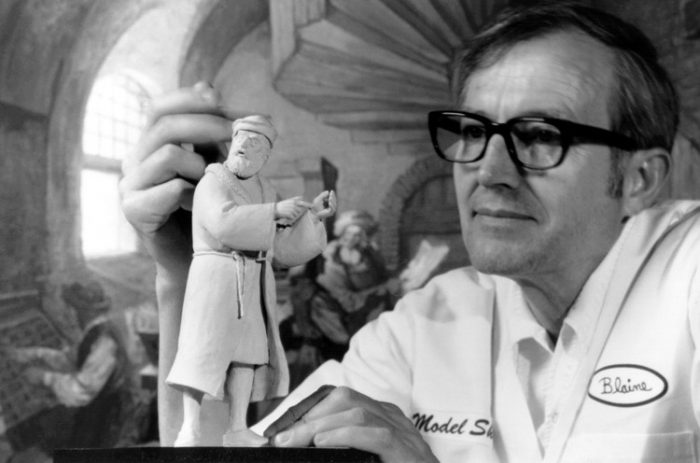 So you see, we all owe Blaine a big huge THANK YOU for his incredible contributions to our favorite attractions. Without him, we wouldn't have birds or ghosts, pirates or presidents — or be greeted by Walt and Mickey when we step into our happy place.
Which Blaine Gibson sculpture is your favorite? Let us know in the comments!
Interested in Disney history and Imagineering details? Take a look at these recent posts: