Jambo from Disney's Animal Kingdom!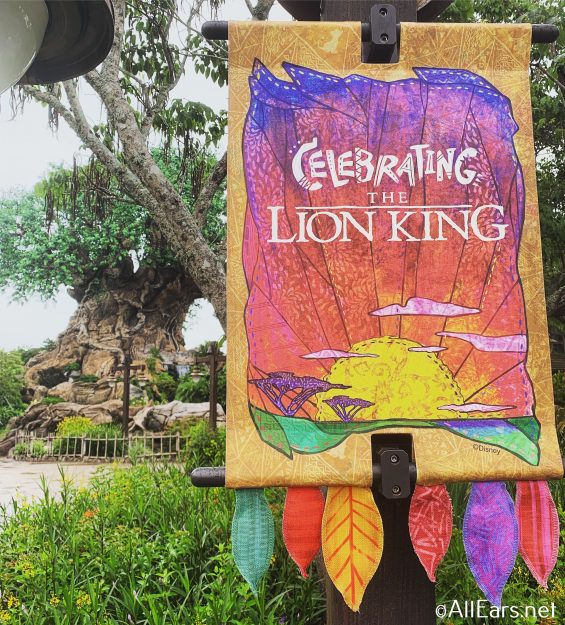 We recently went to an all-new dinner experience, Circle of Flavors: Harambe at Night!
The specialty meal is essentially a "progressive dinner" through Rafiki's Planet Watch and the village of Harambe. Each course takes place in a new location, with different eats, drinks, and entertainment! But is it worth the extra cost? The meal is $125 for adults, and $99 for kids ages 3-9 (plus tax) in addition to park admission.
Without further ado, let's check out the event and answer the question at hand!
Event Check-in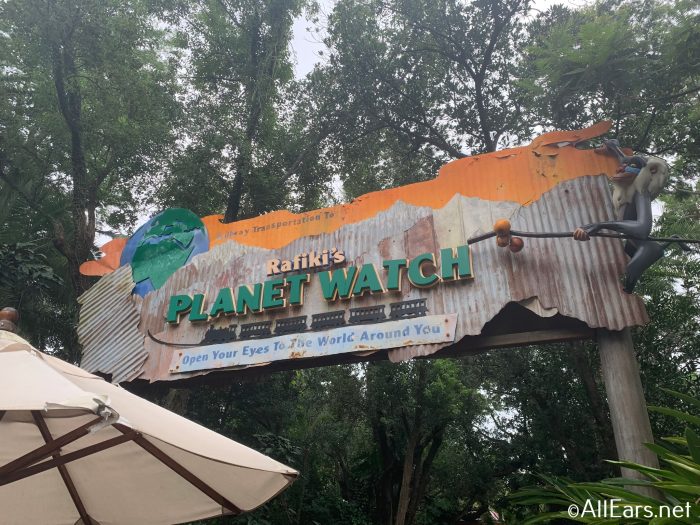 The event starts at 6 p.m., and you can check in at the entrance of Rafiki's Planet Watch. I arrived around 5:50 and was able to check in and get my wrist-band, so we recommend arriving early!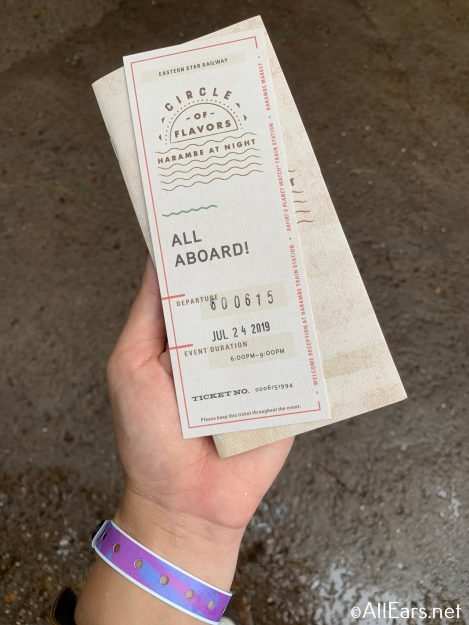 Upon check-in you're given a Guidebook and a train ticket. The train ticket designates a time to catch the Wildlife Express to Rafiki's Planet Watch — however the Cast Member told me I could go later if I'd like.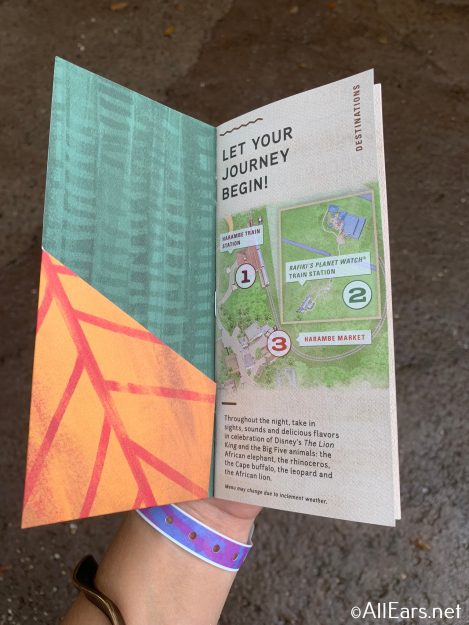 The Guidebook explains the order of events, as well as the menus throughout the night.
It also includes information and beautiful illustrations of Africa's "Big Five:" Lions, Elephants, Cape Buffalo, Leopards, and Rhinoceroses. They are the stars of the main course of the meal — more on that shortly.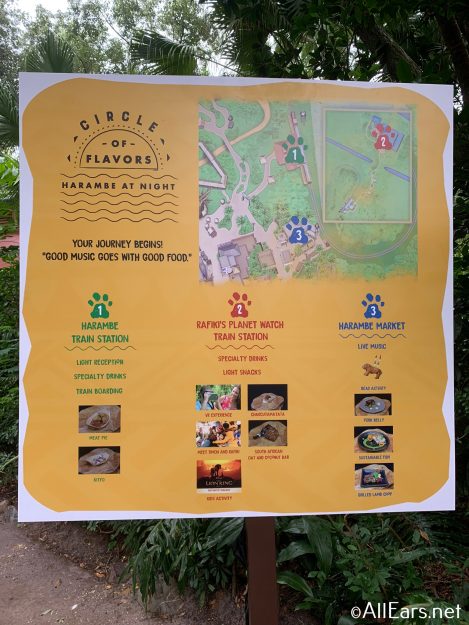 There was also a big map of the event, with a friendly Cast Member who gave us a quick spiel on what to expect throughout the night.
And with that, it was time to get the party started!
Stop 1: Harambe Train Station – Welcome Reception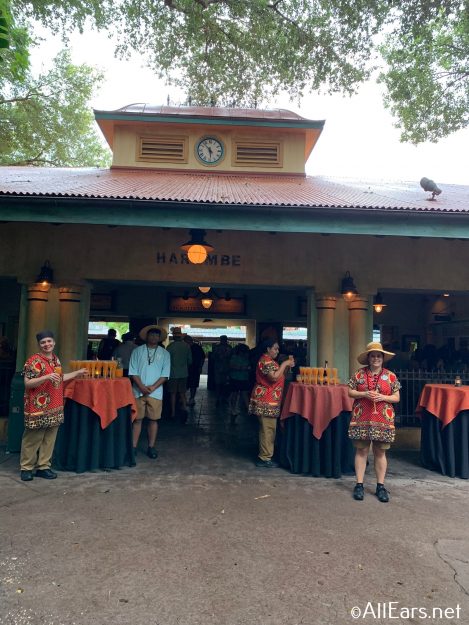 First stop: the Harambe Train Station. Cast Members were there to welcome, and provide a special treat to those 21 and up…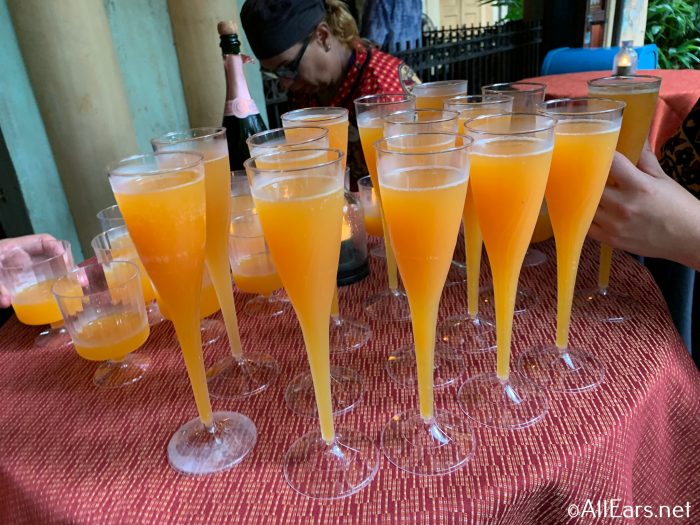 …a Harambellini! This tasty beverage is made with the infamous POG (Passion fruit or pineapple, Orange, and Guava) Juice and African Sparkling Wine! It was delicious.
In the Train Station, there were two bars set up. The specialty drink at this stop was the Harambellini, and you're welcome to grab another one at the bar. Or if you'd prefer, there is a nice selection of African wines (white, red, and rosé) and beer (African Tusker Lager and Bud Light).
We should note at this point that the entire event is all you care to enjoy — all of the food and drinks are included with your reservation.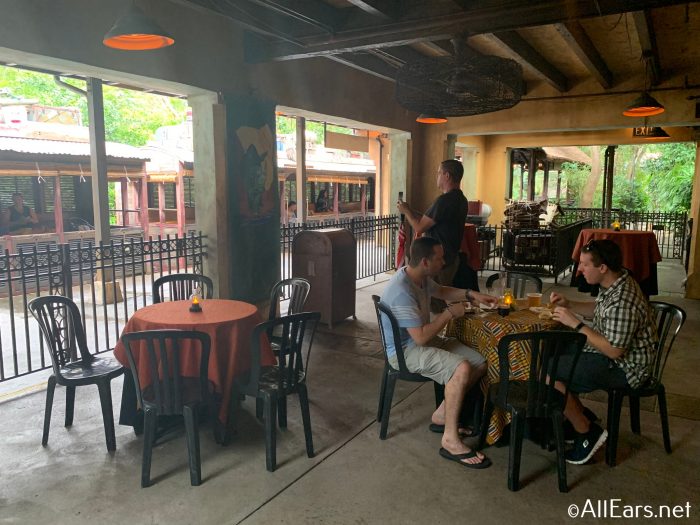 Throughout the train station, and even out on the platform, there were various seated and standing tables to enjoy cocktails and food.
And speaking of food — let's see what was on the menu for Stop 1!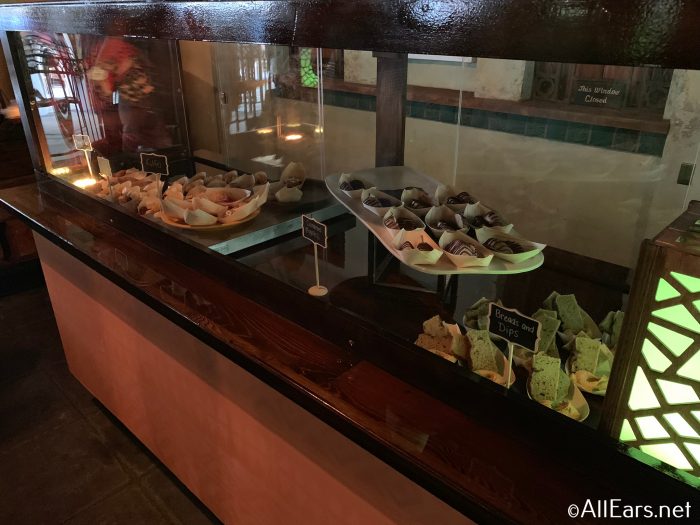 First up, Kitfo! This is Ahi Tuna with a ginger aioli.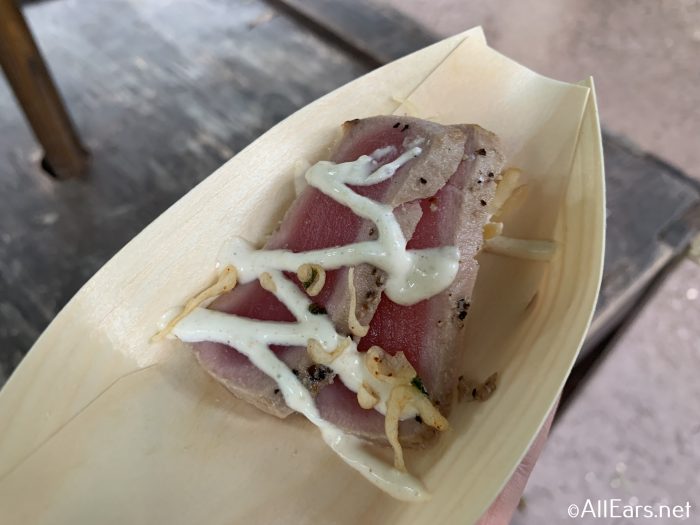 We also tried a Minced Beef Meat Pie, Durban Chips and Honey-glazed Foccaccia with Dip (Hummus), and Toffa — Caramel and Chocolate Dipped Green Apples.
My favorites this course were the Apples and Tuna. (And I don't normally care for ahi tuna! Color me surprised.)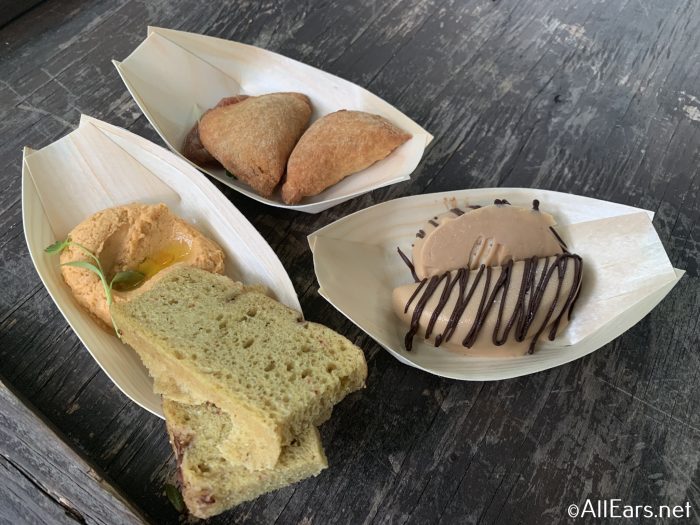 There was also the Charcutamatata Ndogo — which was Chef Mwanga's Grapes and Cheese. This was geared to kids, but of course anyone can grab one!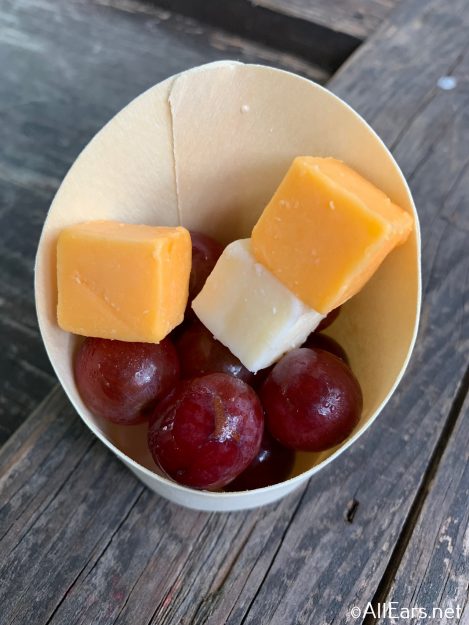 There was also a nice selection of non-alcoholic drinks, including water, iced tea, and the Kitamu Cooler (a passion fruit-based juice.)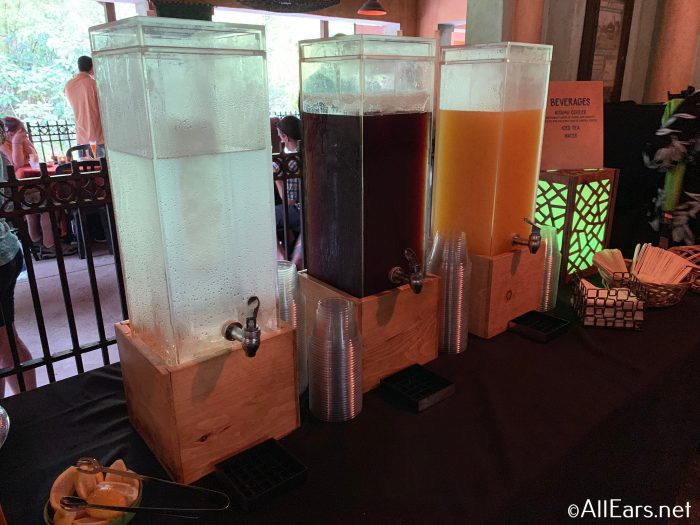 And what would a party be without music?! A live saxophonist entertained the guests.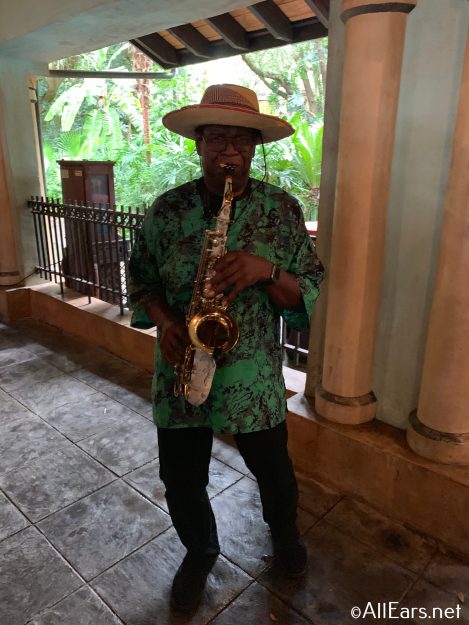 Once we had our fill of eats, it was time to board the train and head to Rafiki's Planet Watch!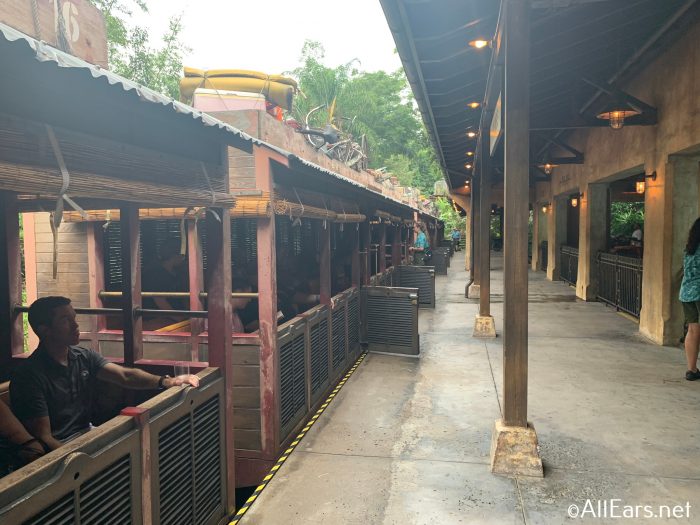 And, for the first time in my many years at Disney — I was allowed to bring a drink on an attraction! I'd recommend grabbing another cocktail before jumping on the train. ALLLLLLLL ABOARD!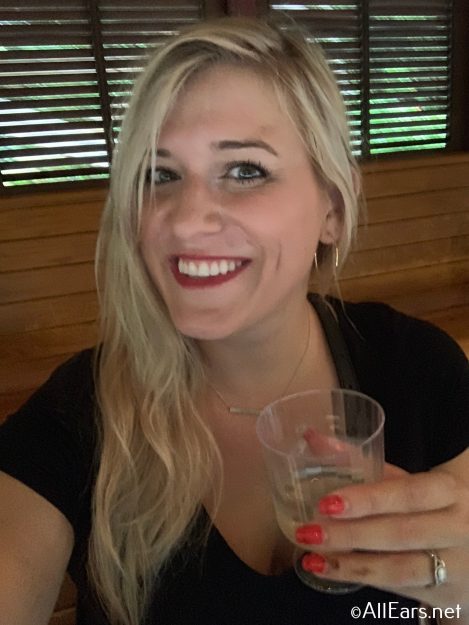 On the train ride, you might see some of Animal Kingdom's residents — HI RHINOS!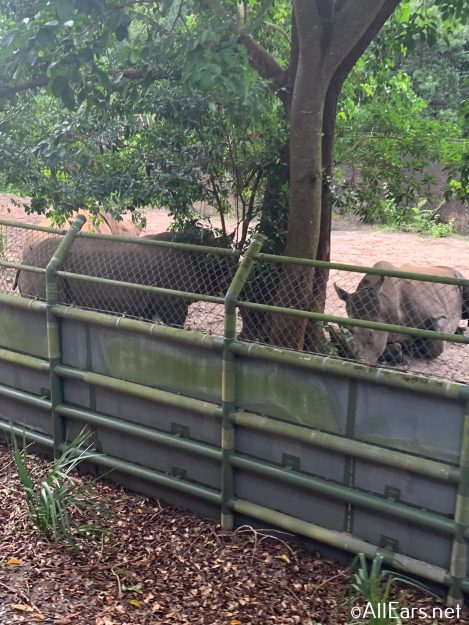 Stop 2: Rafiki's Planet Watch Train Station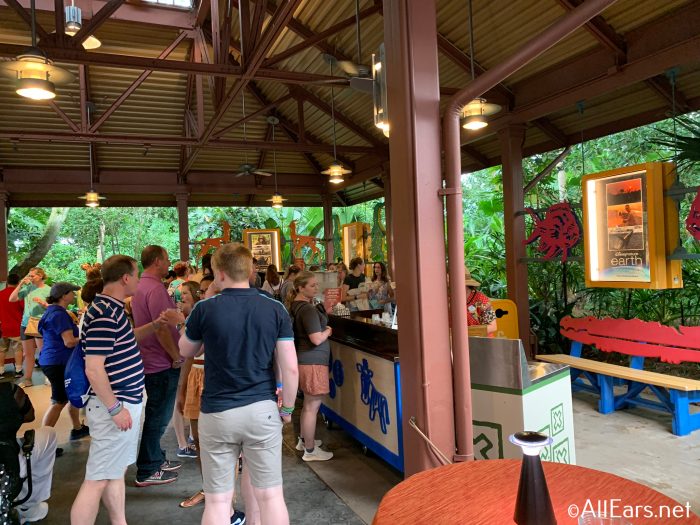 Up at Rafiki's Planet Watch, it was time for more eats, drinks, and special experiences!
Here the menu was composed of "snacky stuff."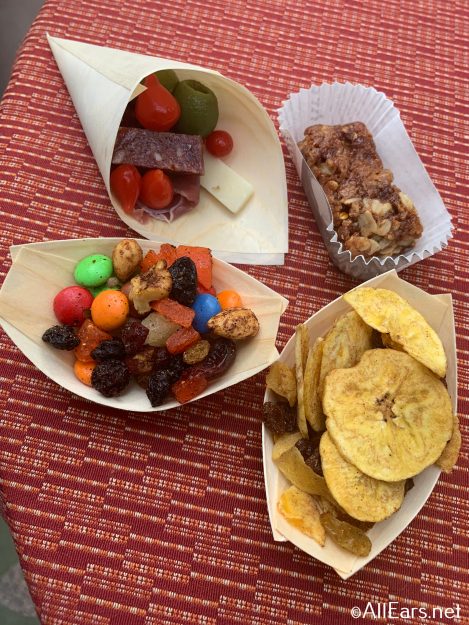 The snack menu consisted of Kelewele (Fried Plantains, Fruit, and Jerky), Crunchies (South African Oat and Coconut Bar), Sundowner Safari Mix (Spiced Nuts, Chocolate, and Dried Fruit), and Charcutamatata (Salami, Prosciutto, Cheese, Olives, and Peppers). Bags of carrots and fruit were also available for the kiddos (or anyone who asks).
This round's winners for me were the Crunchies Bar and Charcutamatata.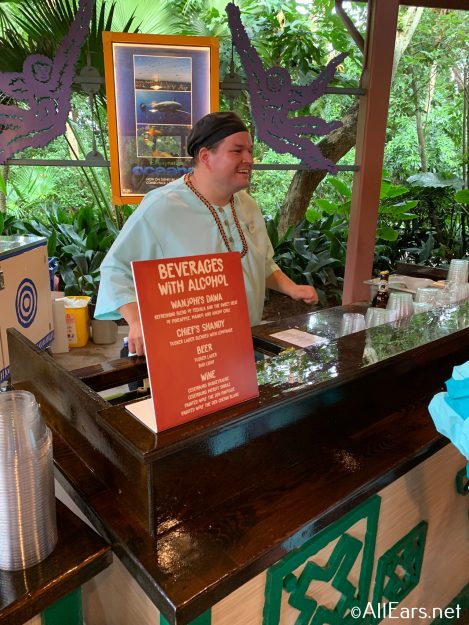 There were new specialty drinks to try at Rafiki's, as well as the (same) African wine and beer selection.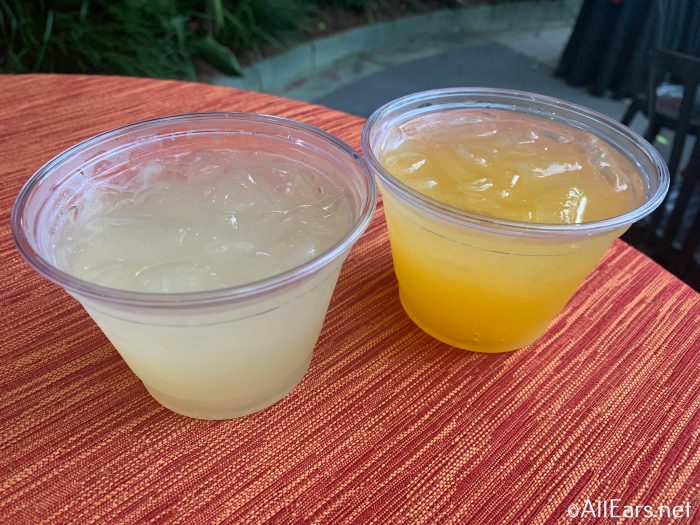 The signature drinks were very tasty! The Chief's Shandy is a Beer and Lemonade mixture, and the Wanjohi's Dawa is tequila, juices, and chili — essentially a spicy margarita. I really enjoyed both — but I think the winner for me was the Dawa.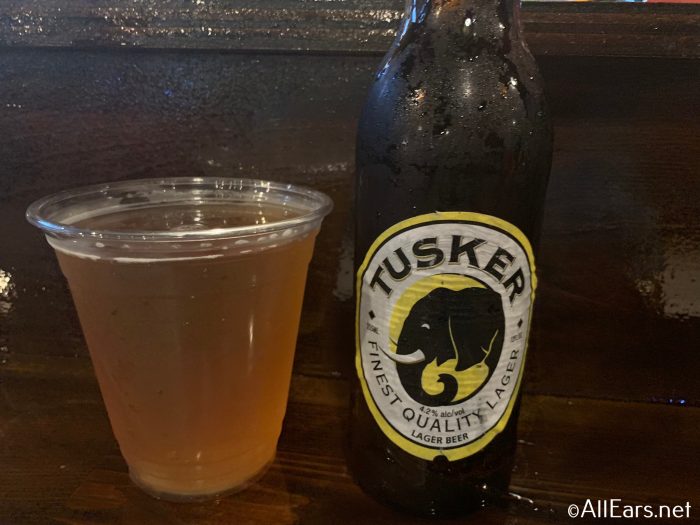 We also sampled the Tusker Lager, which is a native African beer. It was light and refreshing, and I'd recommend beer fans give it a try!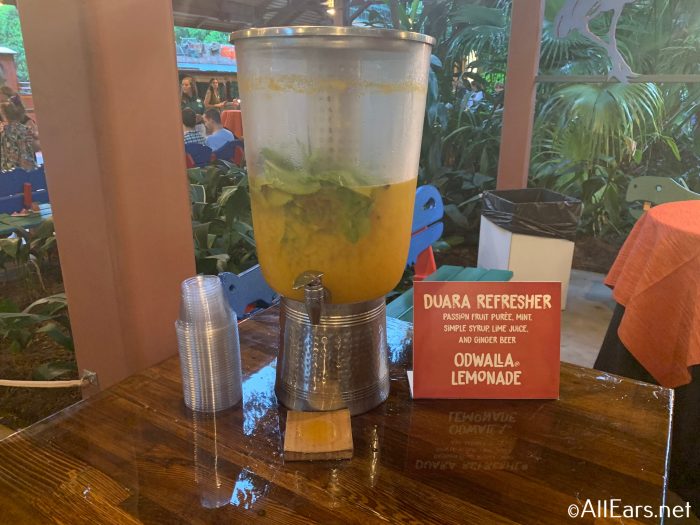 Non-alcoholic drinks were also on-tap at Rafiki's — like the Duara Refresher. Water, Iced Tea, and Odwalla Lemonade were also available.
As we mentioned, there are fun activities at the Planet Watch! For starters, kids are invited to color fun Lion King pages.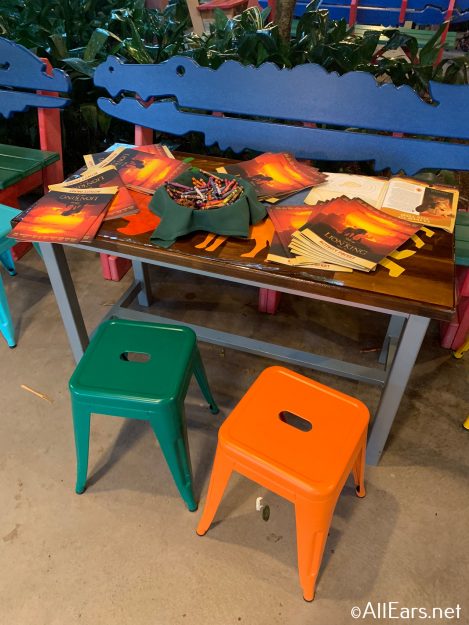 But more exciting, is the chance to meet stars from the film — Rafiki and Timon were there for the party!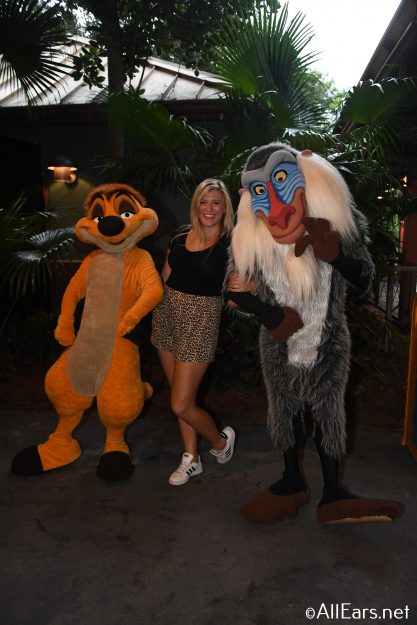 But the coolest activity was an exclusive VR experience!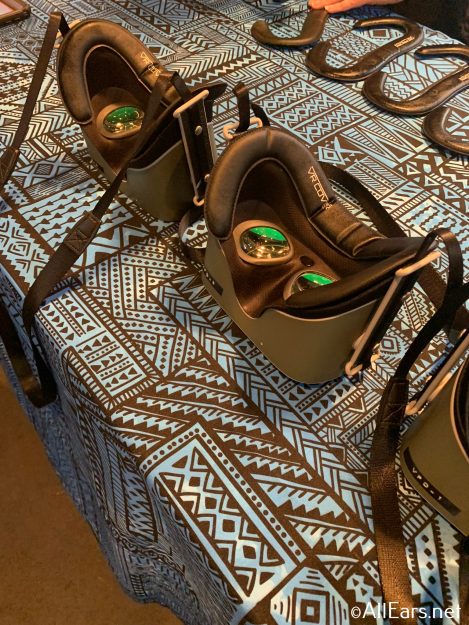 Don some VR googles, and you'll be able to experience Kilimanjaro Safaris like never before! The 360-degree Virtual Reality film was recorded in the lion exhibit, and you'll get to see the lions up close and personal.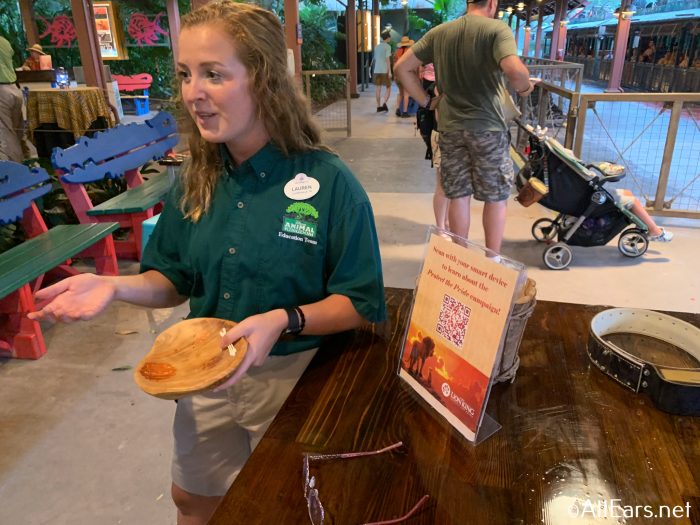 An Animal Education Cast Member then spoke to us about Disney's new "Protect the Pride" campaign, which is raising funds to revitalize and double the Lion Population by 2050. She let us know that part of the tickets for this event goes to the campaign, and asked if we wanted to join the pride!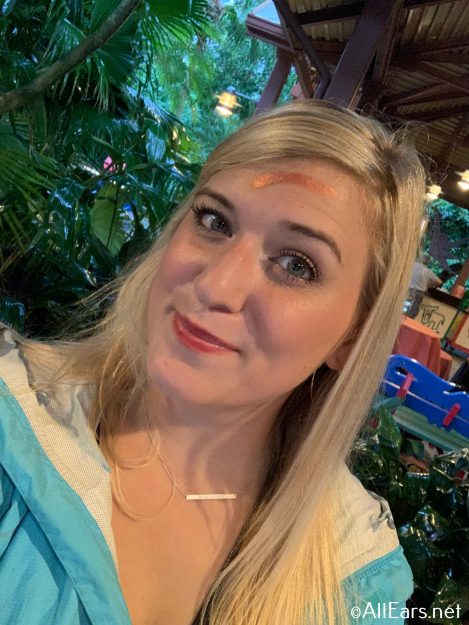 Joining the pride means a fun "Simba Swoosh" on your forehead! 🙂
And with that, it was time to board the train back to Harambe!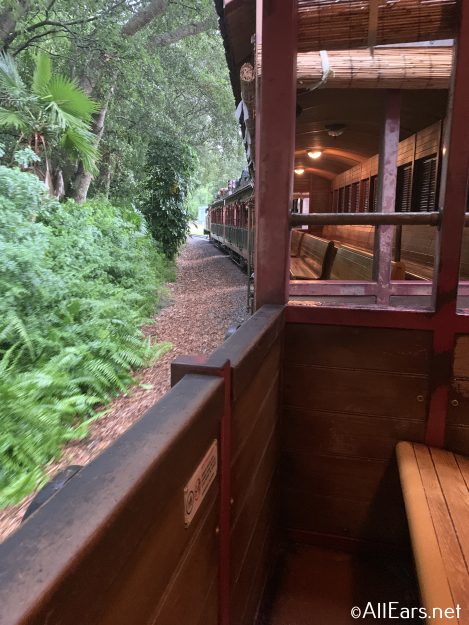 Stop 3: Harambe Market 
The main part of the party takes place at the Harambe Market! The area is closed off to day guests, so you'll have the space all to yourselves.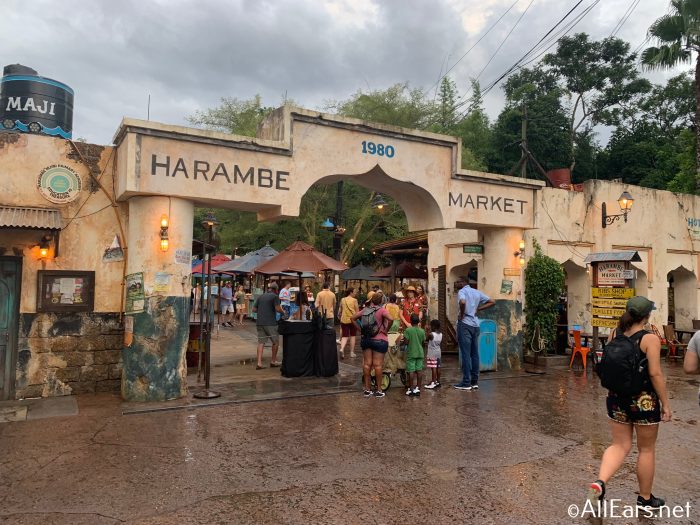 Here you'll do the bulk of your eating — remember Africa's Big Five? This is where you'll find them! Each of the five has its own food station with a menu inspired by that animal.
First up: the Elephant!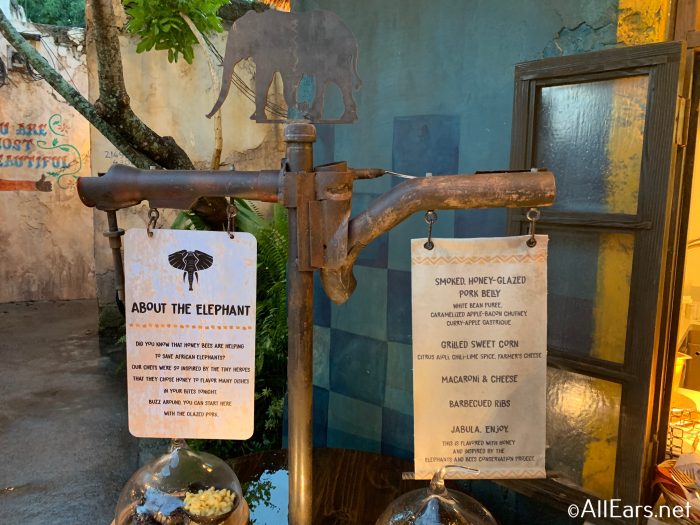 The Elephant's Station had Smoked Pork Belly, Grilled Street Corn, Barbecued Ribs, and Mac & Cheese.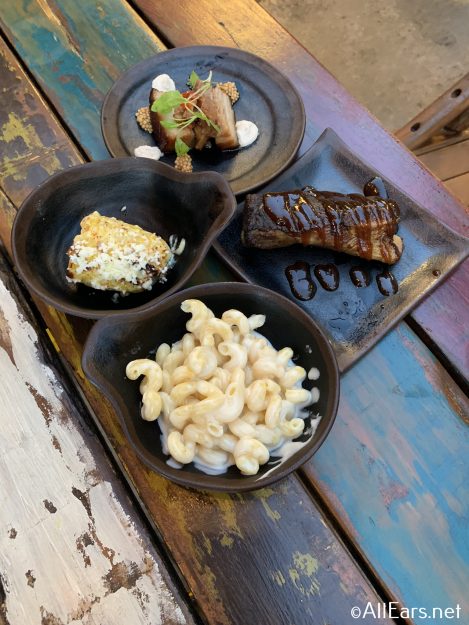 All of it was tasty, but my favorite from Elephant was the corn.
Next up: the Rhino!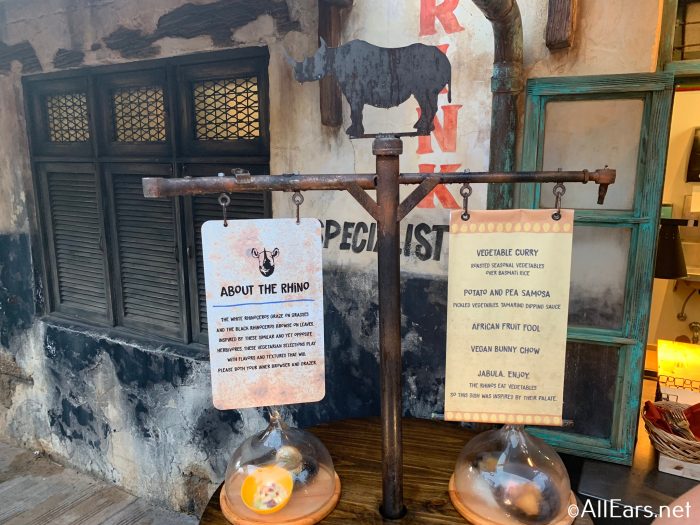 The Rhino's menu is completely vegetarian, and mostly vegan. Now's a good time to mention that the Cast Members were so helpful! There were chefs at each station, and Cast Members carried allergy guides with them. If you had any questions about an item, they were happy to answer.
The Rhino's menu consisted of a Potato and Pea Samosa, Vegan Bunny Chow (Slider), African Fruit Fool, and Vegetable Curry.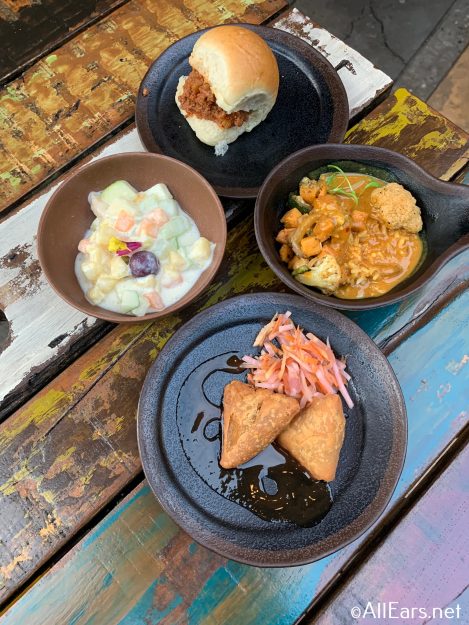 All of these were tasty as well — vegetarian or not. The curry was the winner in my book!
And now, the Leopard!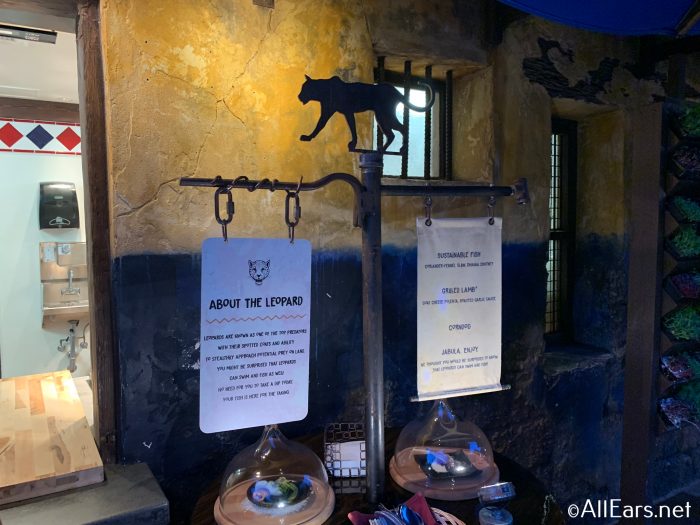 The Leopard provided a Sustainable Fish, Corndog, and Grilled Lamb.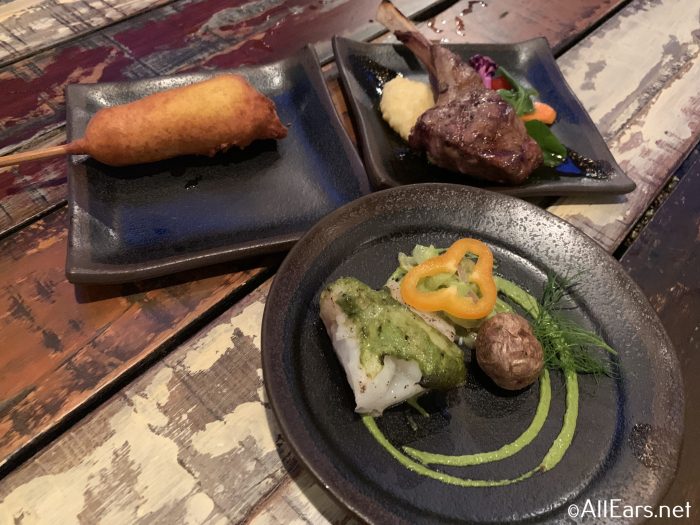 Once again, everything was cooked well and tasty. But the lamb was the clear winner here — and one of my favorites of the whole night.
And now, time for the Cape Buffalo!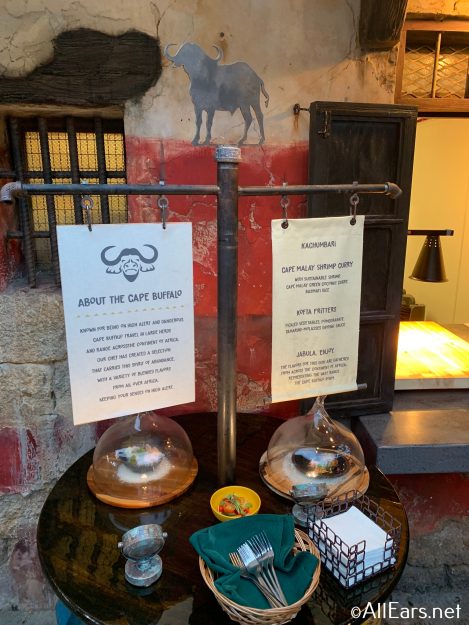 What to eat here? You have the choice of Kofta Vegetable Fritters, Kachumbari Tomato Salad, and Cape Malay Shrimp Curry.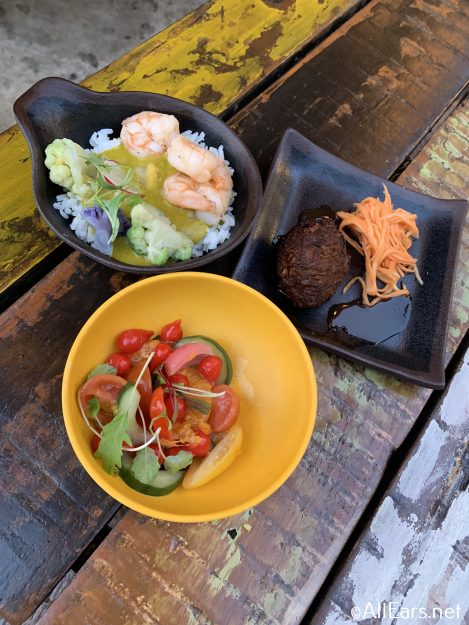 The fritter wasn't my favorite, but the tomato salad was a welcome light bite amidst the heavy food. And the shrimp curry was yummy, too!
Last but not least: the Lion!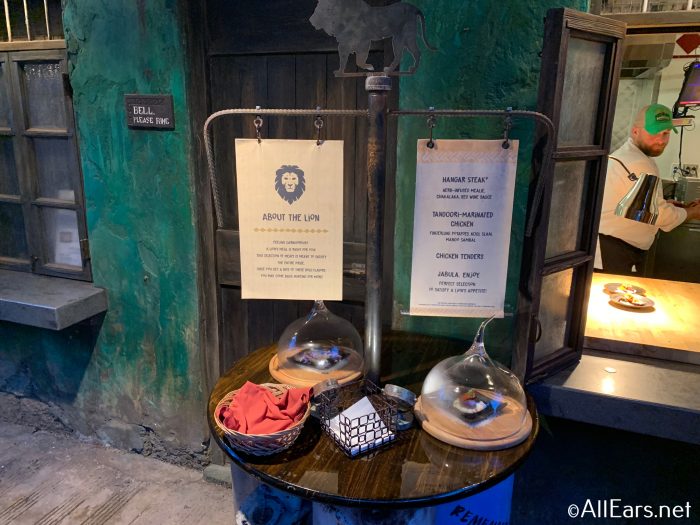 The Lion (unsurprisingly) is all meat. The menu consists of Tandoori Chicken, Chicken Tenders, and Hanger Steak.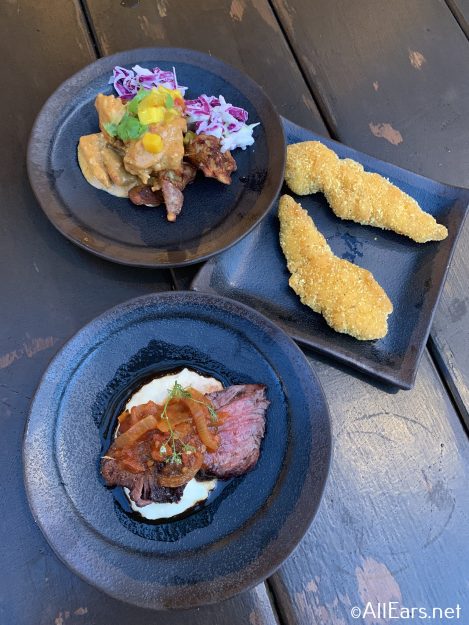 This station might have been my favorite overall, with the Hanger Steak being one of the best things I ate all night!
But we aren't done eating yet! In the center of the market, you could grab a few other items, like a Boerie Roll.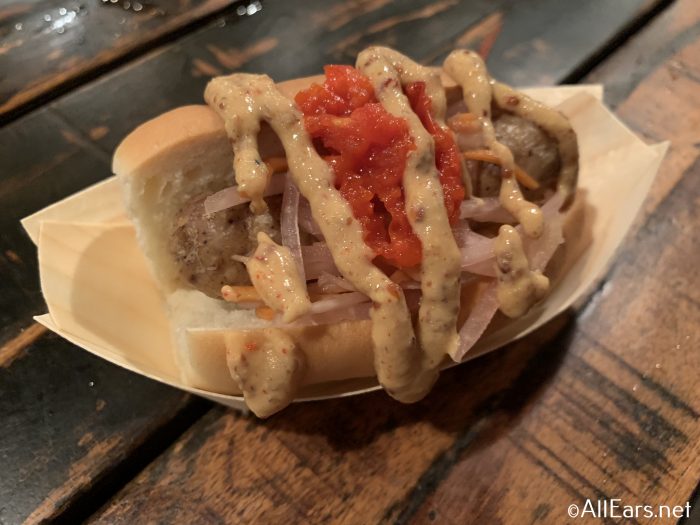 The Boerie Roll is a sausage with African fixings. You can also grab a bag of Popcorn with African Seasonings.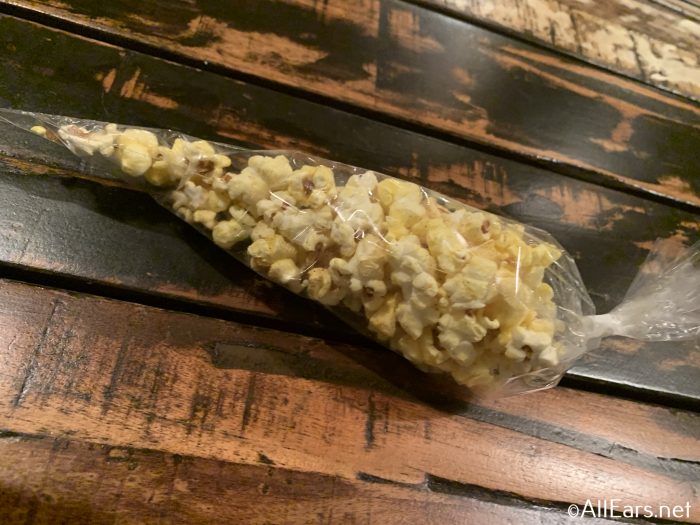 Frozen, sweet items were available in the center of the party as well. Like these Barafu Frozen Treats, which are chocolate-dipped fruit popsicles.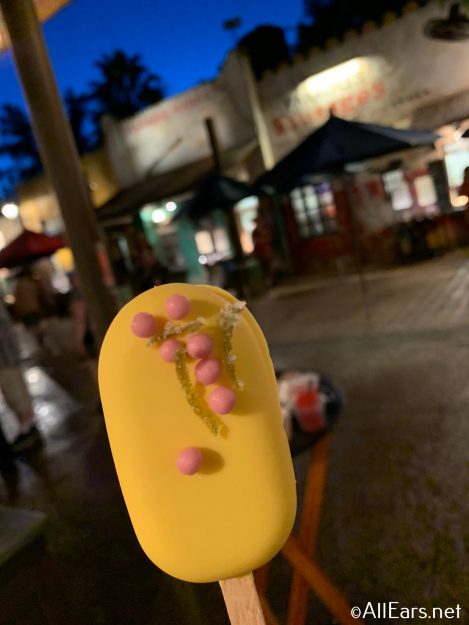 There was a Passion Fruit Frozen Pop dipped in White Chocolate, and a Blueberry Frozen Pop with Dark Chocolate.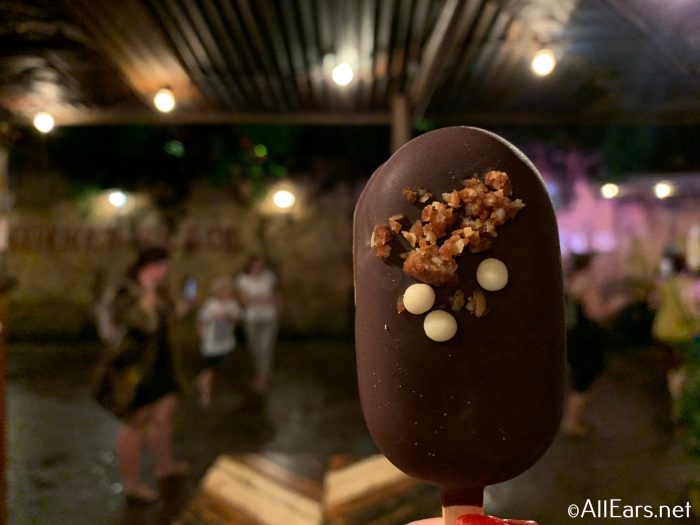 However, my favorite treat was the Chakula Shaved Ice!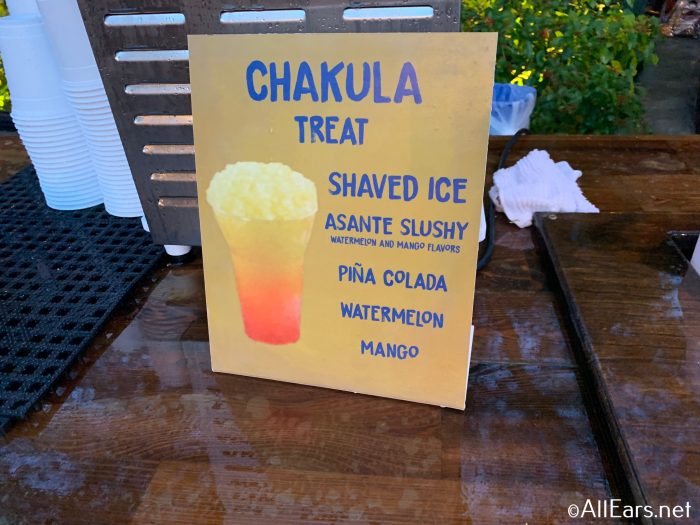 I tried the Asante Slushy, which is Watermelon and Mango. It was cool and refreshing!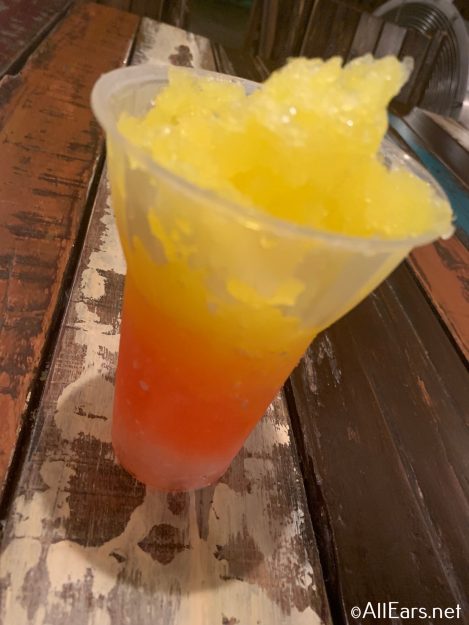 And would you believe it? These aren't even the main desserts offered. Check out the dessert bar!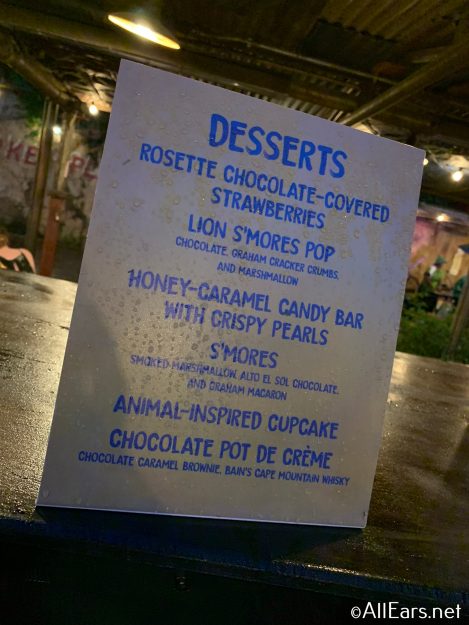 Stuffed as we were, we opted for one of everything!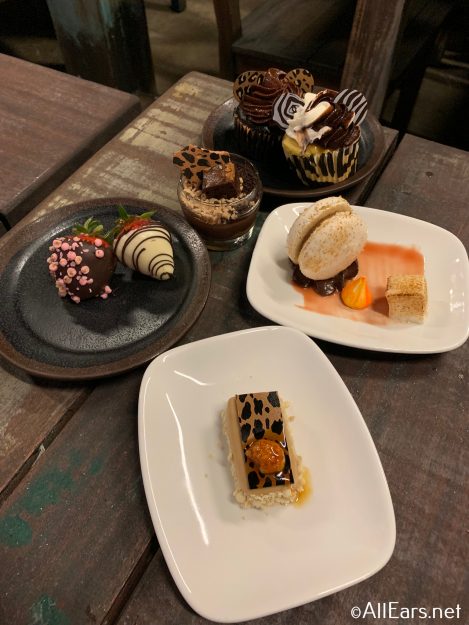 We liked all of the desserts, but we LOVED the Honey-caramel Candy Bar and the Lion S'mores Pop.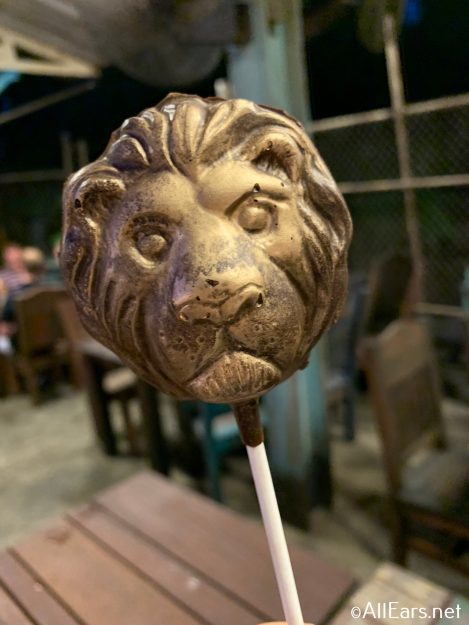 And what to drink to wash down all of this tasty food?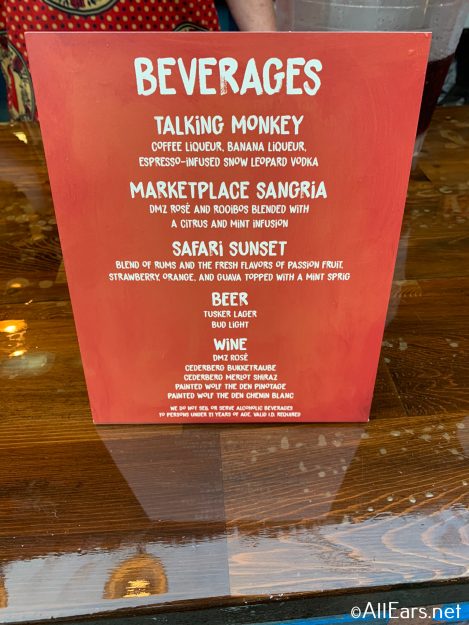 Three new signature cocktails are on the menu, along with the wine and beer. Sip on a Talking Monkey (coffee and vodka drink), Safari Sunset (sweet rum drink), or a Marketplace Sangria.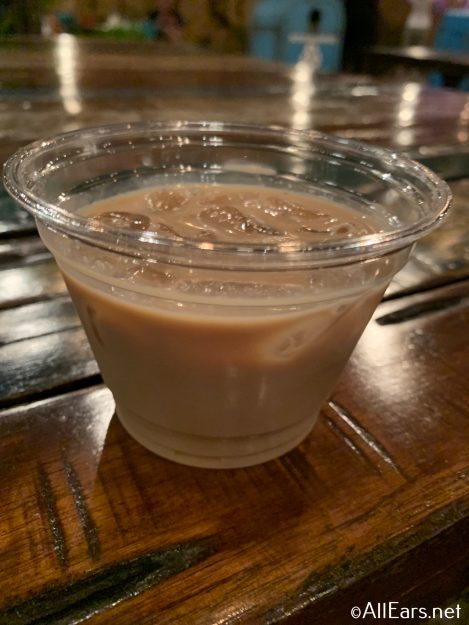 I quite enjoyed the Talking Monkey — after all, coffee is the way to my heart.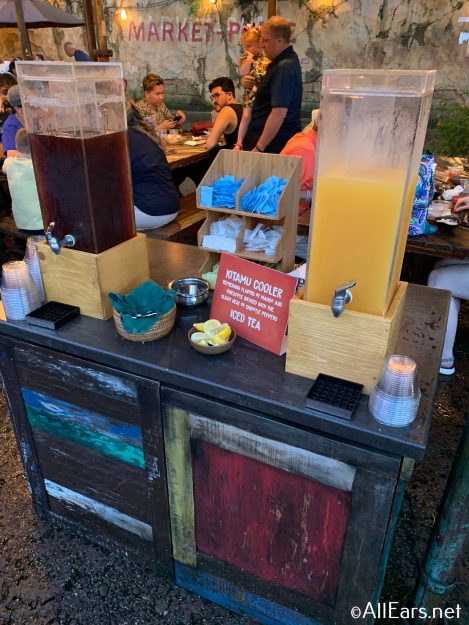 The non-alcoholic drinks were here as well, including the Kitmu Cooler.
Wanna get crafty? Check out the Bead Activity!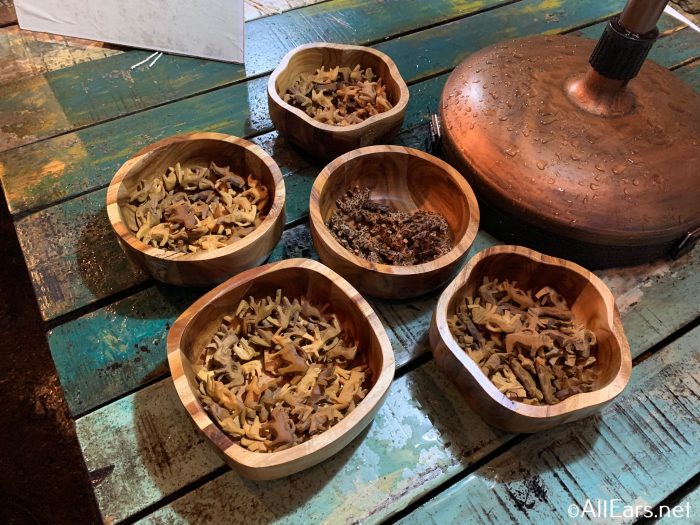 Select from African hand-crafted beads of the Big 5, and pair them with four colored beads. There's a handy chart so you know what the colors represent.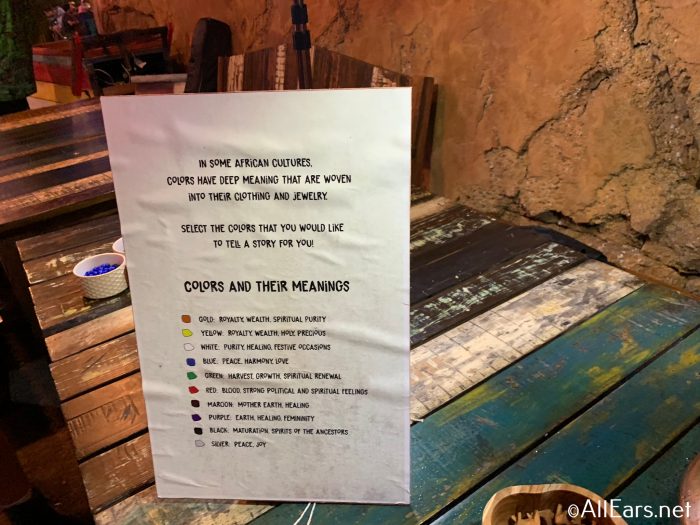 You'll get a string for your beads and you can make a necklace, bracelet, key chain, or anything else you can think of!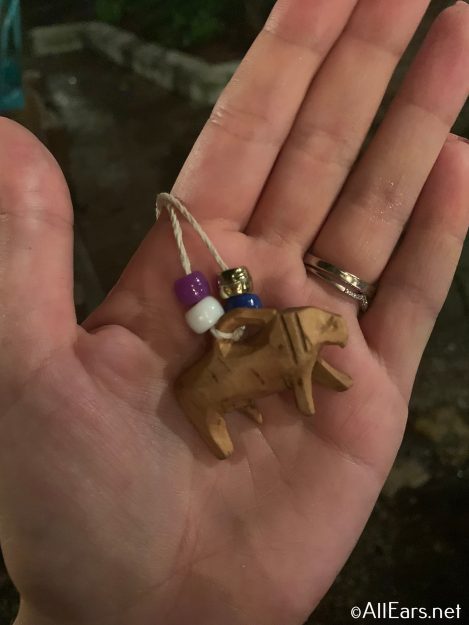 The Burudika band was playing throughout the night to keep the party going — you may recognize them from the daytime in Harambe!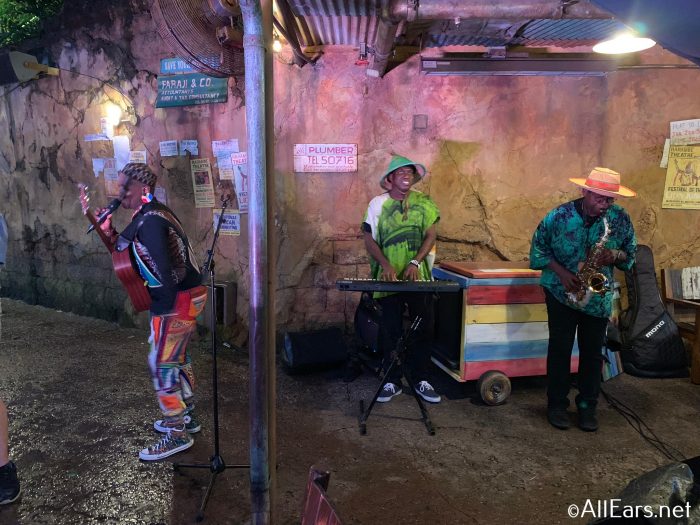 Bellies full and smiling big, we headed out shortly after the event end time at 9 p.m. We were handed a surprise — a goodie bag! Inside was a custom event wine glass!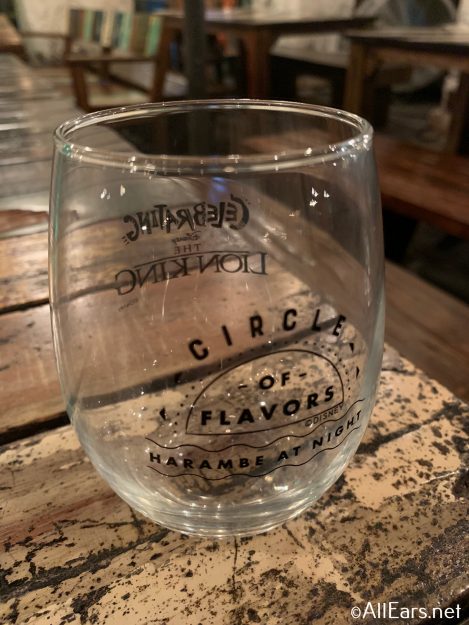 The cherry on top of the fabulous evening? The Tree of Life Awakenings started just as I got to the front of the park!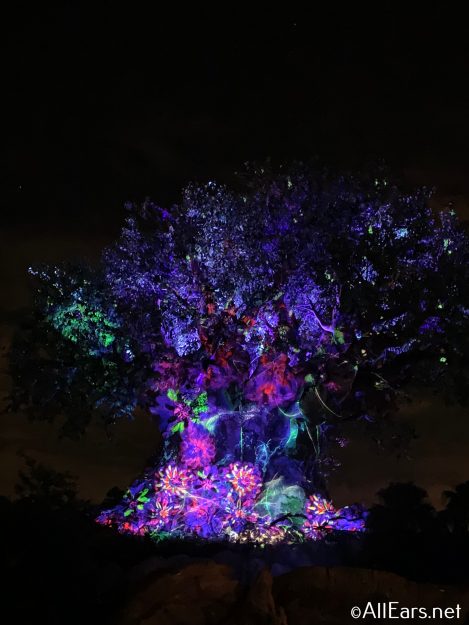 So, is Circle of Flavors: Harambe at Night worth the cost? 
In my opinion, yes. But with a few caveats.
I do think this is an offering best left to the adults. I find it hard to believe a child would eat $99 worth of food. There's plenty of kid-friendly bites, but most of them are familiar items like mac & cheese and corn dog. These  don't warrant the price tag. There's also not as much entertainment for the kids as say, at a character meal.
I also think adults should consider if they are going to drink alcohol or not. Considering the cost of alcohol at Disney, the fact that this event is all you care to enjoy is significant.
Finally, how adventurous of an eater are you? There are items for all palates, but most of the dishes are a little more exotic. If you like dining in Animal Kingdom, though, you'll likely enjoy this menu.
When you think about it, $125 isn't that much more than what you'd spend per person at a Signature Restaurant, considering you get three courses and alcohol. Here, you get the benefit of sampling all kinds of dishes throughout the three stops, instead of just one Signature entree.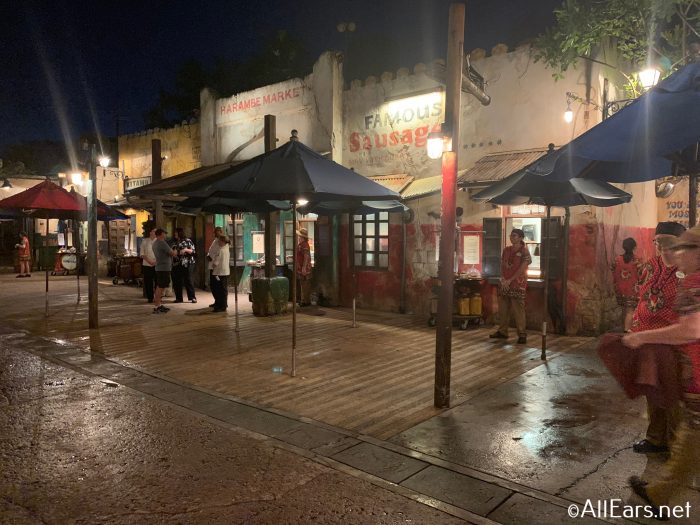 Overall, this is not an inexpensive experience, but I do think for adults who eat and drink a good amount, it's worth the price. The service was Disney service at its finest, I liked basically all of the food (and LOVED a great deal of it), and the atmosphere was fun and different.
As an adult special occasion dinner or splurge, the Circle of Flavors: Harambe at Night is a unique and fun experience! Plus, part of your ticket cost helps lions, which is pretty great. And we aren't LION!
Circle of Flavors: Harambe at Night takes places select nights now through October 23, 2019. Advanced reservations are required and can be made by calling 407-WDW-DINE.
Are you planning on attending Circle of Flavors? Let us know in the comments!
Don't miss these posts on what's new and what's next at Disney's Animal Kingdom!
Be sure to follow @allearsnet on Instagram and Twitter!
Check out our YouTube Channel for reviews, news, information and more!
Click below to subscribe to the AllEars® newsletter so you don't miss any of the latest Disney news!