The Festival of Holidays runs at Disney California Adventure from November 9, 2018 through January 8, 2019.  We had the chance to visit on Opening Day and wanted to share our first look around the Festival Marketplaces.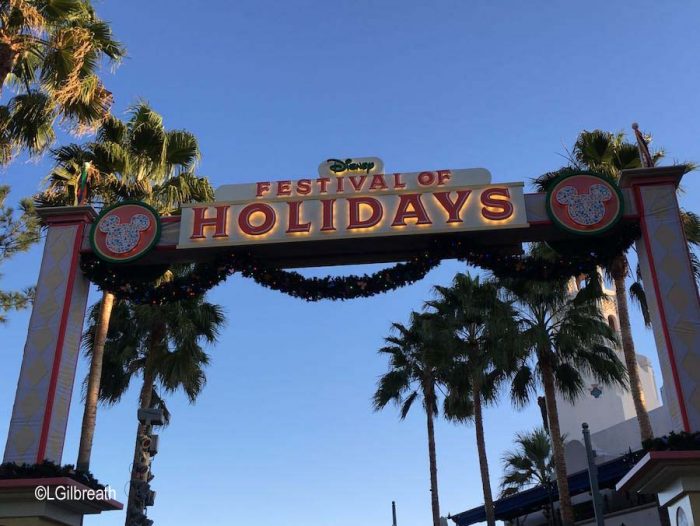 New to the Festival Marketplaces this year: each booth has Mickey-head signs on top identifying which holiday food traditions the booth celebrates.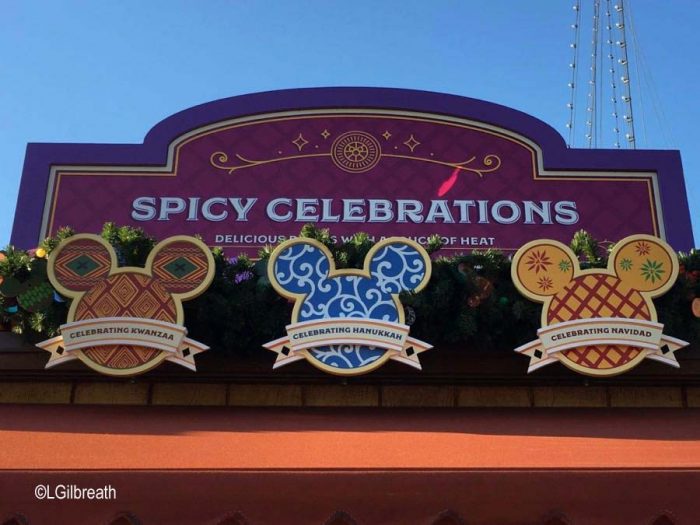 There's a new background music soundtrack this year – much greater variety in the content and the styles of music.
The Sip and Savor pass for Annual Passholders has returned.  This year it's $49 for eight tastes.  It's valid at Festival Marketplaces for food or non-alcoholic beverages.  The best value is to use it for  items costing at least $6.00.  It's a better strategy to use it for the $7.00-$8.00 items.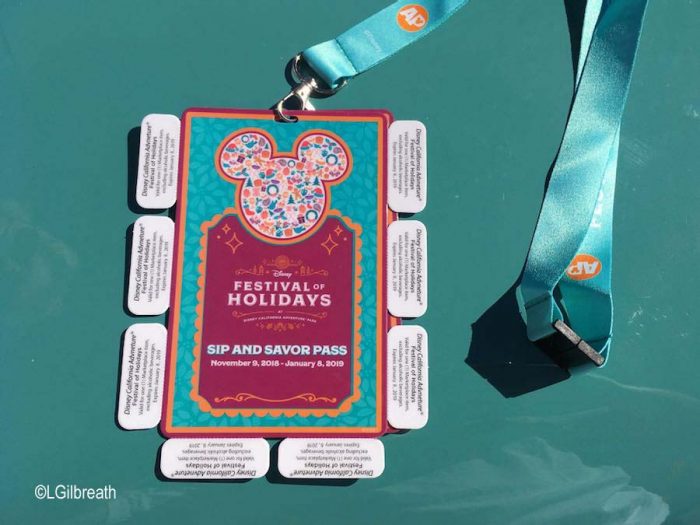 When redeeming a tab at one of the Marketplaces you'll also receive a pin – they are different colors and designs.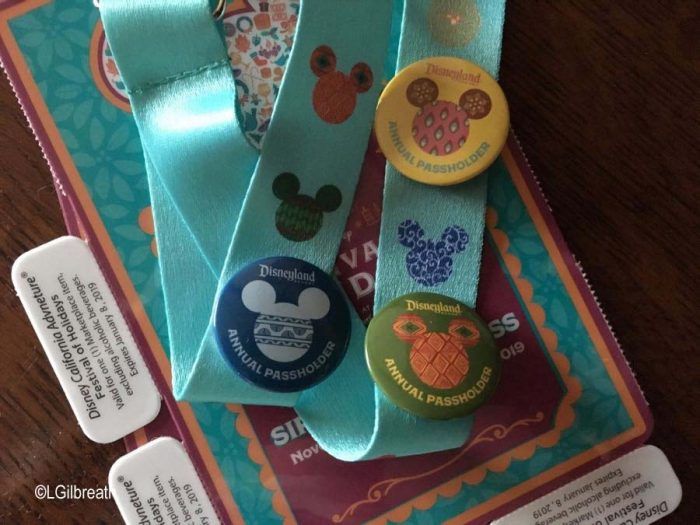 The Tasting Passport has also returned – there are stamps at each Marketplace, each with a different letter (purchase not required).  No prize for completing it, though you can get a completion stamp.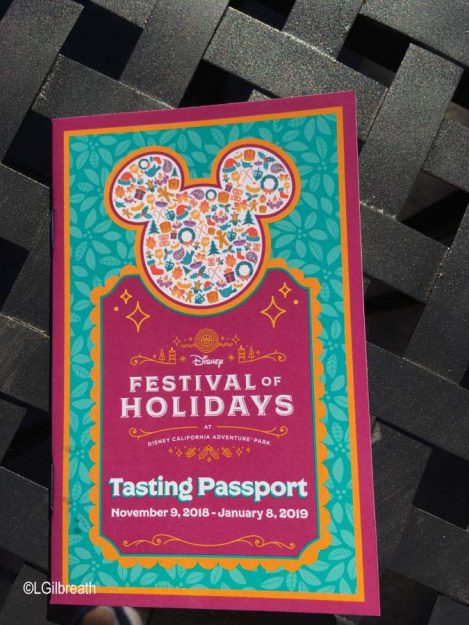 Prices at the Marketplaces are higher than last year: about $0.50 on food items and $1.00 on alcoholic beverages.  We have the menus, with prices, here.  The most expensive food item  is Beef Pot Roast on a Potato Roll with Horseradish Cream for $8.50, the least expensive are the Chocolate Chipotle Pot de Crème and the Milk Chocolate Candy Cane Pot de Crème, each $4.50.  The Winter Wonders booth offers three vegan items. There are also some gluten-friendly, milk-friendly, and vegetarian offerings  (these are noted on our menu page).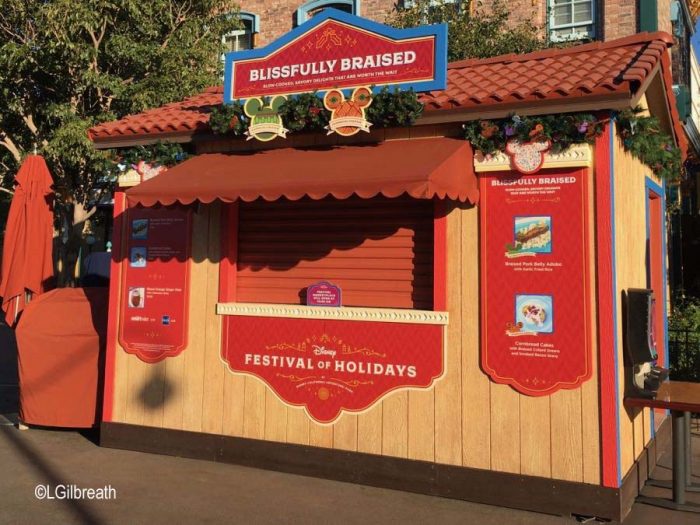 The food items are attractively presented – as you can see, the Turkey & Stuffing Tamale with Cranberry Relish that we purchased looks just like the photo.  It was really tasty!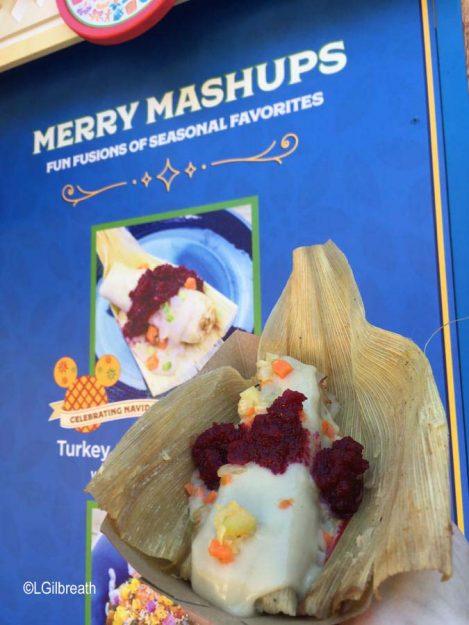 We also sampled the Shrimp and Grits with Andouille Sausage.  This is a Gluten-friendly offering.  At $8.00 it's one of the higher priced items – but we used one of our Sip and Savor Pass tabs for it.  It was quite good – the shrimp was nicely cooked and flavorful, and the grits were creamy and yummy.
Lox & Everything Bagel Nachos was an interesting take on lox and bagels.  Bagel chips covered in smoked salmon and crema, with a "salsa" of onions, capers, and tomatoes, topped with poppy and sesame seeds.  We enjoyed it.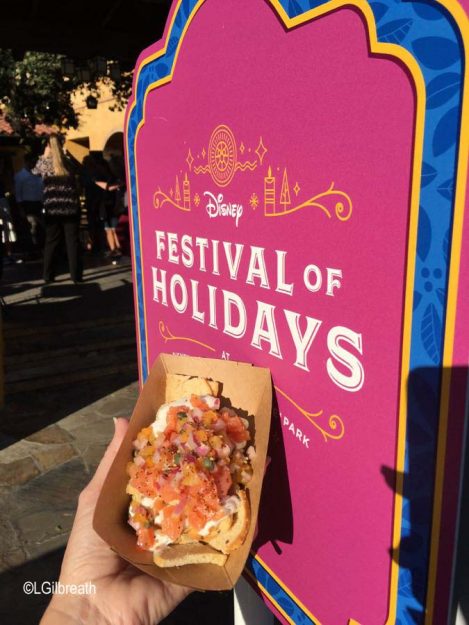 This Pumpkin Soup with Maple Cashew Cream wasn't quite as attractive – but really, how do you make soup all that interesting?  This is one of the vegan items from the Winter Wonders marketplace.  It was quite thick – more like pudding than soup.  The pumpkin flavor was there, and it was not overly spiced with winter spices.  The cashew cream had a slight sweetness to it, though I didn't taste maple at all.
We'll have more information from the Festival of Holidays, including a look at some of the entertainment, coming soon.
Have you had a chance to wander around the Festival of Holidays yet? Let us know what you liked, or what you're most looking forward to trying! Don't forget to check out our complete list of the marketplace menus with prices!
Stay on top of ALL the Disney news — Subscribe to the AllEars® newsletter and get our FREE download now!