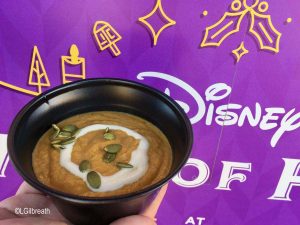 Lots of vegan, vegetarian, gluten-friendly and milk-friendly offerings are available at this year's Festival of Holidays at Disney California Adventure.
The Festival of Holidays returns to Disney California Adventure from November 9, 2018 through January 8, 2019. Festive food Marketplaces offer a variety of foods and beverages inspired by holiday traditions around the world. Here's a first look at some of them.
At a time when many are relishing the Epcot International Food and Wine Festival, a nearby venue recently offered guests another opportunity to sample foods and wines they might not usually try. The Walt Disney World Swan and Dolphin, within walking distance of Epcot, hosted its third annual Food & Wine Classic this past weekend on the walkways between the two buildings.