Tucked away between Maria and Enzo's Ristorante and STK in The Landing area of Disney Springs, you'll find a hidden gem, Enzo's Hideaway Tunnel Bar. I say "hidden gem" because both times I have visited on my own (i.e., paid for my meals out of my own pocket) we had a great experience.
During my last visit, our server told us all about the Sunday Supper, which began in June, and we were interested to try it. As it turns out, I received an invite from Enzo himself to come and experience the supper!
Getting to Enzo's Hideaway Tunnel Bar can be a bit tricky, though I was happy to see much improved signage. You need to go down a flight of outside stairs, or walk the ramp.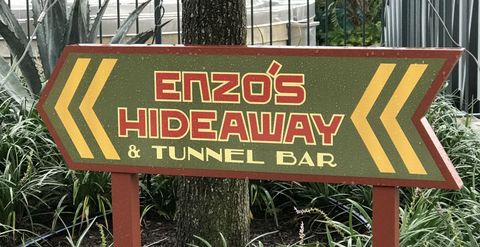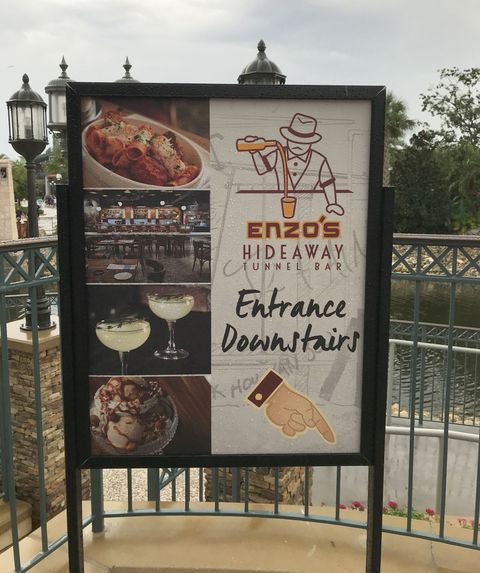 Once you arrive, you may wonder where you are. Remember this is a hideaway tunnel bar and restaurant!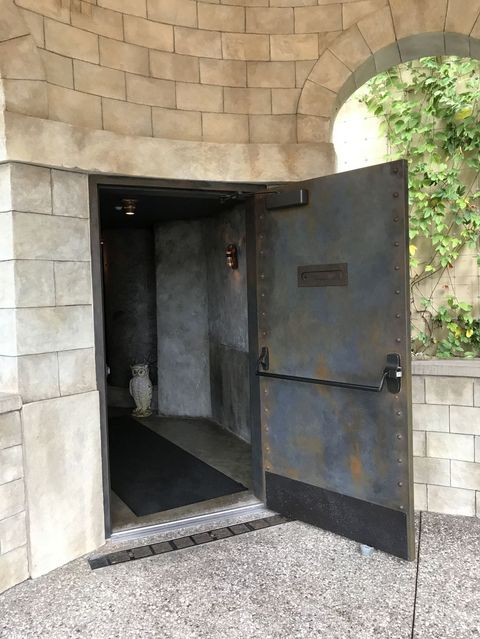 In fact, this may be a good time to tell you about the the history. Before heading down to Enzo's Hideaway you may have seen Maria and Enzo's Ristorante . As the story goes, Maria and Enzo purchased an old abandoned airline terminal and transformed it into a celebration of travel, adventure, and Southern Italian cuisine.
Shortly thereafter, Enzo discovered steam tunnels underneath the restaurant that led to the power plant next door (The Edison). Originally used by bootleggers during prohibition as a place to store their haul, Enzo restored the space into his own personal speakeasy where he would entertain friends and family around a large communal table. Today, the lounge focuses on keeping Enzo's original concept at heart by serving great cocktails and Roman Italian cuisine, with service reminiscent of being at an Italian family dinner.
Now on Sunday's Enzo's desire to be at an Italian family dinner has come to life as Sunday Supper at Enzo's Hideaway Tunnel Bar. Once inside you can check in with the host/hostesses.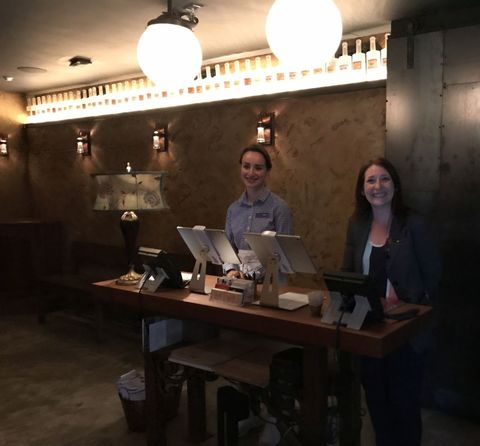 Guess what? This meal is BYOB! Yes! Bring a bottle or two of your own wine with no corkage fee! This is a great perk for those who enjoy the grapes with their meal. If you don't bring your own, though, don't worry — Enzo's has a wine list.
We sat down and looked over the menu for the Sunday Supper.
After one of the managers opened our wine, bread and olive oil were brought to our table. Soon thereafter the starter arrived — the Antipasti Board and Salad.
The salad was made of very fresh arugula, escarole, radicchio with tiny tomatoes, apple slices topped with a white balsamic dressing.
Once we peeled back the delicate slices of prosciutto we found an array of Italian cheeses, a Giardiniera including olives, sweet pepper, carrots, and artichokes, as well as sweet and spicy salami and mortadella.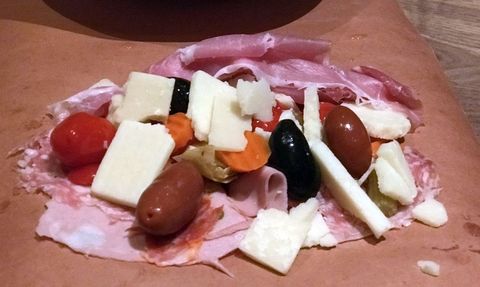 Linda and I decided at this point that we would have been quite happy to just enjoy antipasto board and salad, along with the bread and olive oil, and the wine.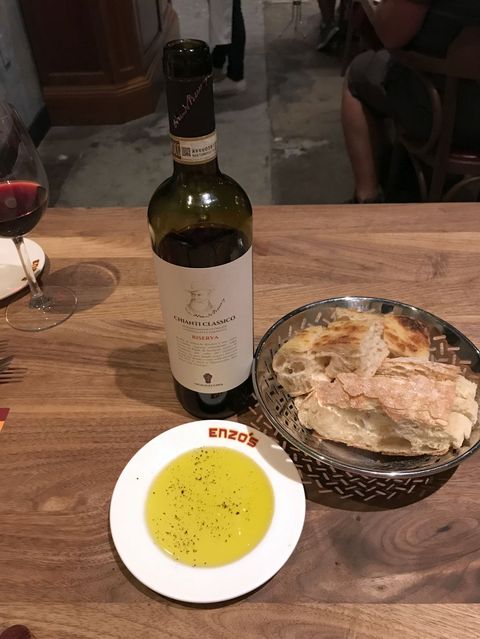 Sufficient time passed and then our main course of pasta and meats arrived.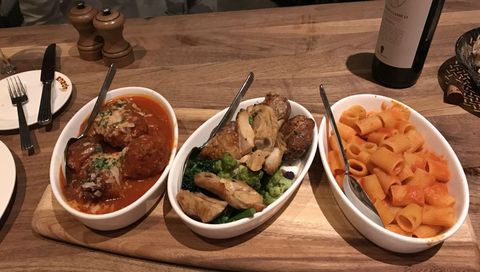 First up was rigatoni with Sunday sauce, parmigiano reggiano and fresh basil.
Next, the roasted free range chicken! The chicken was over roasted fingerling potatoes and seasonal vegetables. This was the one dish we felt a bit lacking. The chicken was all dark meat (which is normal and confirmed by our server), the oven roasted potatoes were nothing special, but the broccolini and cauliflower were very good.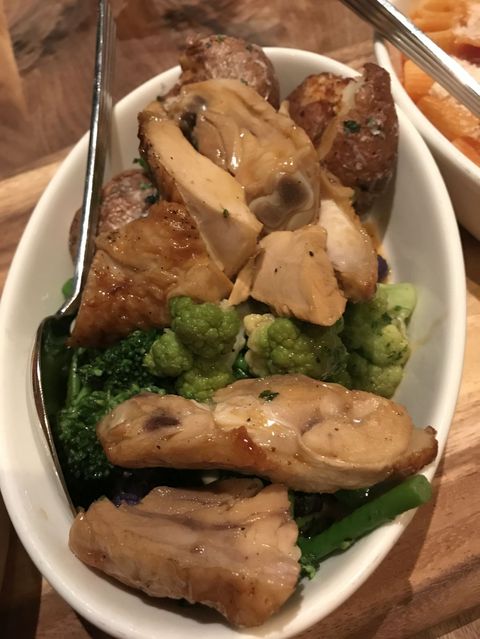 Our favorite of the entree platters was a bowl of rich tomato sauce with hand crafted meatballs, sweet and spicy sausage, and braised Wagyu short rib. We loved the meatballs and sausage, however neither of us are big short rib fans and found it ok.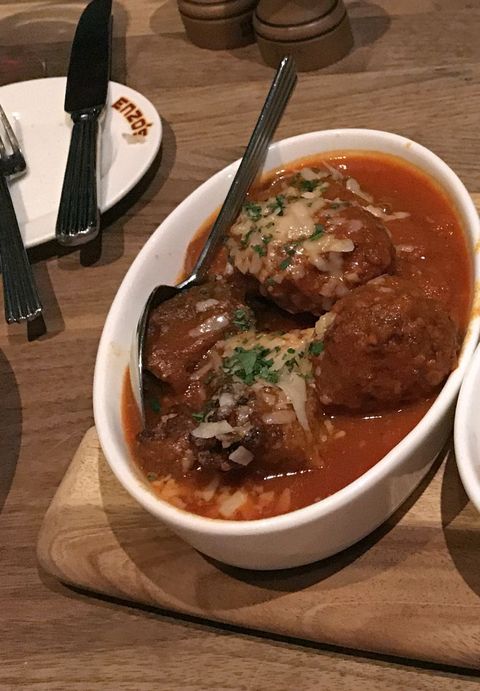 I should note our food seemed to cool very quickly. We brought this to the attention of both our server and a manager who said they would let the chef know. That said, it might have just been our plates as the group next to us said their food was hot and stayed hot.
We really enjoyed out meal and appreciated that we never felt rushed. We had some time between the entrees and our dessert to digest our food. We were offered coffee but both passed. And as full as we were… then the dessert arrived! One dessert arrived at the table for us to share, but given how full we were, that was just fine with us.
OMG! One of the best dessert samplers we've had in a long time. Simple yet divine.
The cannoli was perfect with a nice firm shell, filled with a sweet ricotta filling, and mini chocolate chips on both ends. The tiramisu was light with just the right amount of coffee flavor.
The bowl contained a fresh baked waffle, but reminded me more of a pizzelle, accompanied by a scoop of orange and chocolate gelato. Wow! The gelato comes from
Vivoli Gelateria
(also in Disney Springs) which is a family-run gelato shop from Florence, Italy. Having spent some time in Florence a few years ago, I can attest that this is the real thing! If you haven't had some of their gelato, you must stop and get some.
All in all we totally enjoyed our Sunday Supper at Enzo's Hideaway Tunnel Bar and recommend it. In fact, we sent photos to friends after we arrived home and they all asked why we didn't invite them. Yes, they want to know if we'll go back. But, of course!
Particulars:
** The price is $45 per person and $19 per child 9 and under (plus tax and gratuity). Everyone at the table must order the Sunday Supper and the minimum serving is for two.
** Reservations are recommended.
** Available every Sunday from 4-10 p.m.
** Larger parties get more food and bowls to accommodate everyone.
** There is a large table that can accommodate a very large group for a "real family" dinner experience.
** The restrooms are a bit difficult to find. Remember, this is a tunnel hideaway. I was brought to the back of the restaurant, walked through the open wine room where folks were dining, and exited through a door. I walked a few paces, found another door and then realized I was in the Edison.
** While seconds are not an option, there was plenty of food and we saw lots of folks leaving with "doggie bags."
** If you do not finish the bottle of wine you brought (maximum two) the server will recork the wine, put the wine in a bag, staple it up and attached the receipt.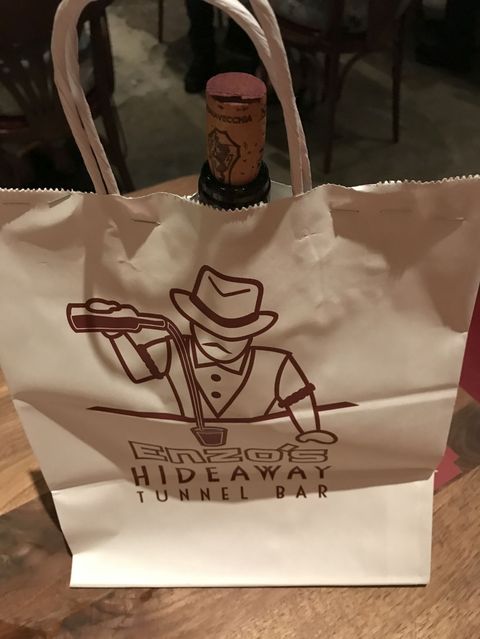 While at first glance the $45 price tag is a bit daunting, think about other meals where you've paid that much and received less. For instance, a salad and entree at the Brown Derby in Disney's Hollywood Studios can easily run $40+ and not include dessert or wine. Many character meal dinners are in the $40-$50 range and the food at Enzo's is much, much better! A salad and appetizer at Tutto Italia in Epcot will also run $40+. And remember at Sunday Supper you can bring your own bottle of wine with no corkage fee.
Enzo's Hideaway Tunnel Bar – Photos, menus and more!
DISCLAIMER: I was a guest of Enzo's Hideaway however my opinions are my own. I have previously dined here twice on my own dime.