On August 11, D23: The Official Disney Fan Club, hosted AllEars.Net at its Gold Member event "D23's Saturday Morning on the Lot" featuring ABC and Disney Channel cartoons from 1997—2007, including such animated favorites as Recess, Pepper Ann, Teacher's Pet, and Kim Possible.
Michael Vargo, VP of D23, Special Events, and Disney Corporate Creative Resources, started off the morning by welcoming the members to the program and introducing the first series up for discussion, "Recess."
Present to talk about the conception and development of "Recess" were creators/writers/producers Joe Ansolabehere and Paul Germain, as well as art director/character designer Eric Keyes, producer/director Chuck Sheetz, and director/storyboard artist Howy Parkins.
–Ansolabehere and Germain were originally approached by Disney after they purchased ABC for a "Nickelodeon style show" they could put on the air fast.
–It occurred to them that most school-age shows revolved around life in the classroom, whereas their strongest memories of that time came from recess.
–Dave Shannon did the original concept drawings that they instantly recognized as characters from their own lives.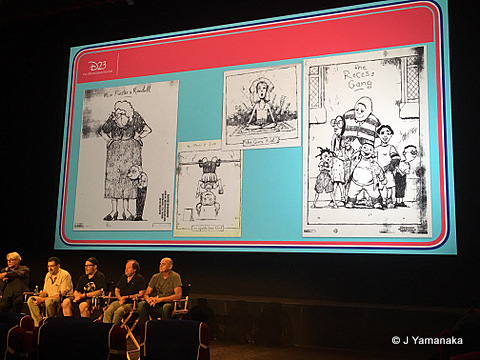 –Keyes came on board when they needed someone to take Shannon's designs (from Ansolabehere's original drawings) and turn them into something that could be animated.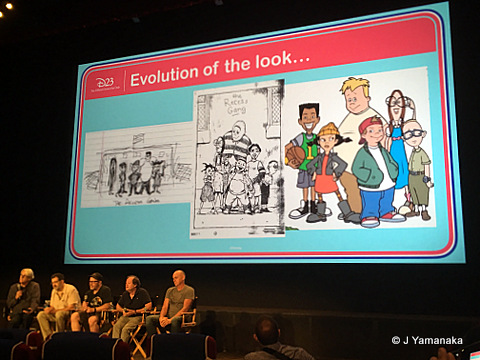 –"Recess" was one of the last cel-animated shows at Disney before the big switch to digital.
–"Rugrats" was about seeing the world as a little kid — all bright and new and ripe for exploration. "Recess" was about being older and seeing the world as potentially scary and full of bullies and learning to survive with a little help from your friends.
Next up was Mike Peraza, Disney artist and conceptual and layout designer talking about his experience on "The Proud Family."
–"The Proud Family" was one of the first shows to showcase an African-American family on television.
–Creator Bruce Smith asked Peraza to come up with an environment for his pre-existing characters.
–In contrast to a lot of cartoons at the time that featured houses relatively unchanged from the 1930s, Peraza wanted to come up with a very hip, modern look. To do this, he drove around photographing features of contemporary Burbank, which can be seen in the show.
–After Nickelodeon passed on the show, Disney Channel picked it up.
Other shows Peraza worked on included "Disney's Doug" and "Pepper Ann."
"Teacher's Pet," written, created, and produced by Bill and Cheri Steinkellner and Gary Baseman (also artistic director,) was then presented.
–The basis for every episode is Spot becoming Scott and experiencing the world as a human for the first time.
–An all-star cast of voice talent worked on the show, including Nathan Lane, Wallace Shawn, Jerry Stiller, and David Ogden Stiers.
–A principle they brought over from their long experience in such shows as "Cheers" and "Who's The Boss?" is that a character is really sustainable if they want something badly and there's something huge in the way of them getting it.
The final group of speakers came up to discuss their involvement in "Kim Possible" and "Big Hero 6: The Series:" Christy Carlson Romano, voice of Kim Possible; Bob Schooley and Mark McCorkle, creators, writers and executive producers of "Kim Possible," executive producers of "Big Hero 6: The Series;" and Nick Filippi, storyboard supervisor on "Kim Possible," executive producer and supervising director of "Big Hero 6 The Series."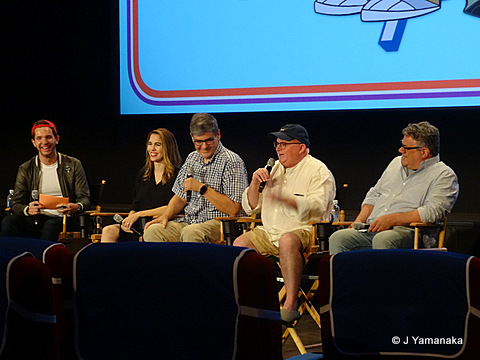 –"Kim Possible" came about as the first original Disney Animation show on the Disney Channel.
–Schooley and McCorkle came up with the idea in an elevator, with one suddenly turning to the other saying "Kim Possible: She can do anything," and the other responding "Ron Stoppable: He can't."
–They were careful to make Kim Possible tough and able to hold her own in any situation, but not be unlikable.
–"When we first conceived the show, I think, if you asked us, we would say that Ron represented the two of us: The bumbling nerd characters who don't fit in so well. But, over the course of the series, by the end of the series, what we realized is Ron wasn't us. Drakken was us. Drakken is a middle-aged guy who is trying his hardest to succeed, and forever just fails."
–One of the reasons they developed the show was that when they were growing up, they had the "James" thing — James Bond, James Kirk — guys who you took for granted could do anything and were great action heroes. Now that they had daughters, they wondered why they didn't have anything like that — a female character who would be kick-ass without it being a big deal.
–Rufus came along when, after being pretty far along in development, they got a note that one of the characters should have a pet. A naked mole rat was the weirdest thing they could come up with.
–During the panel it was announced that Romano would make an appearance in the upcoming live-action "Kim Possible" movie.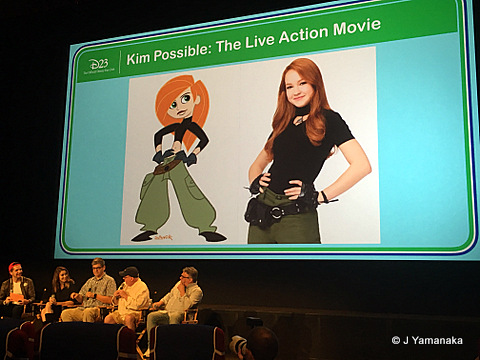 –Patton Oswalt will also be returning as Professor Dementor.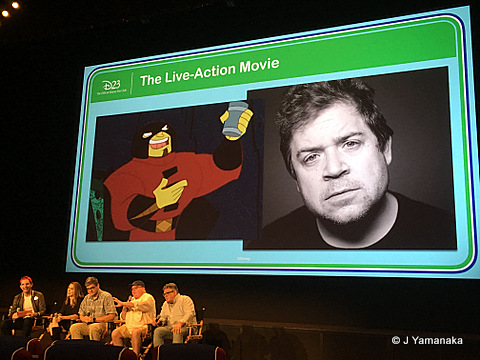 The panel also touched briefly on "Big Hero 6: The Series."
–It was challenging to make a series from such a successful movie, whose major theme was grief.
–They are happy to have the opportunity to delve deeper into some of the secondary characters like Gogo and Honey Lemon.
After the panel, guests were treated to "breakfast for lunch," character meet and greets, an opportunity to get autographs from all the morning's speakers, and even some lovely D23 parting gifts.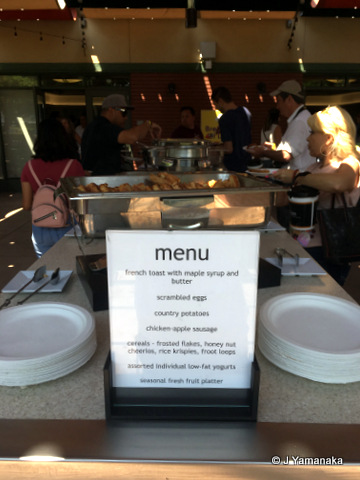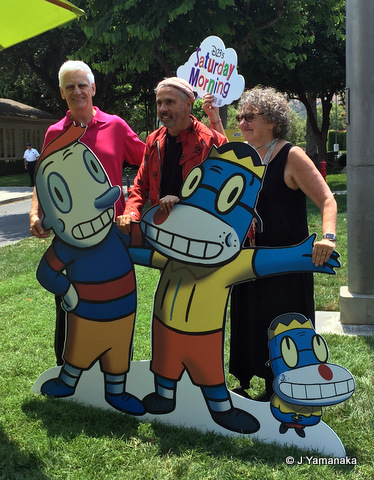 That wasn't the end to my D23 weekend, as the day before, I also attended their "Lunch with a Disney Legend" event featuring past Chairman of Disneyland International, Jim Cora.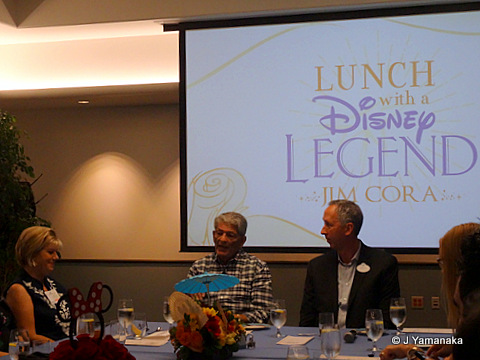 On the studio lot, guests were treated to an internationally themed luncheon while Cora regaled us with stories about his days working with Walt Disney and on the Disney resorts in Tokyo and Paris.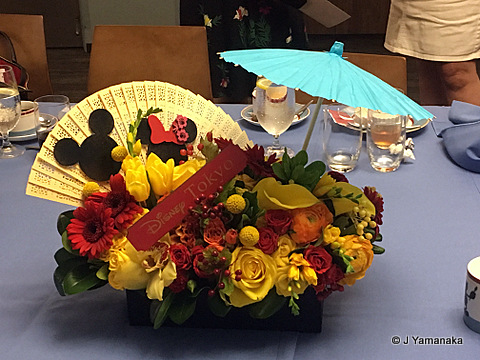 One of the interesting lunch topics was news of the book he's currently writing titled "Not Just A Walk in the Park" which should be out in a couple years. Cora was also asked where he would put the next Disney park, to which he replied, "well I already know where the next one will be."
After taking photos with Cora at Legends Plaza, members were once again treated to a D23 gift — a print of Cora's three windows on Main Streets around the world.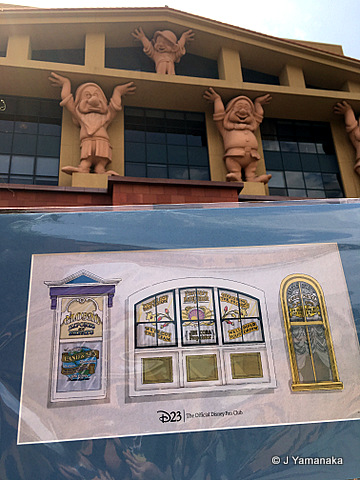 But the weekend wasn't over yet, as the next day I attended the D23 Mickey's of Glendale shopping opportunity over at Imagineering.
Imagineering doesn't allow photography onsite, but suffice to say, money changed hands.
If you'd like to attend events like these, more information on D23 along with links to purchase memberships is available at https://d23.com/.