Cocina Cucamonga, the quick service Mexican food restaurant in Disney California Adventure's Pacific Wharf area, recently added a new fish taco entree to their menu. $12.99 for a plate of fish tacos, cilantro-lime rice and black beans. Lee and I tried it on a recent visit.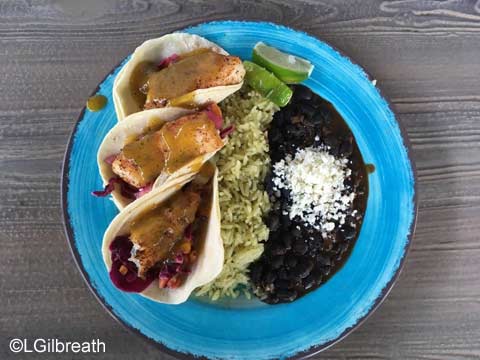 There are three tacos, each double-wrapped in corn tortillas. The fish is a mild flaky white fish. It's lightly battered and fried. On its own, not a lot of flavor, but not fishy.
Under the fish is what they call a cabbage slaw, but it was more like a salsa, with sliced cabbage, corn, chiles, tomatoes, and cilantro. It had a citrus dressing which was vinegary, but not overly so. Tasty.
The problem for me was the Mango Habañero Sauce on top of the fish. It started off sweet, but then came the burn. It wasn't "give-me-water-now" hot, but for me it was unpleasantly spicy, where that was all I could taste. I ended up eating only the bottom of the fish that didn't have any sauce on it. I'm not a total spice wimp, but I prefer more of a medium level, and this was too much. Lee, who likes food spicier than I do, also thought that it was too hot — spicy just for the sake of being spicy, as opposed to adding something to the dish.
The cilantro-lime rice and black beans (with crumbles of queso fresco on top) were both very good. These are the standard accompaniments for most of the entrees at Cocina Cucamonga. I hadn't expected to like the rice, since I don't really care for cilantro, but it was quite good — didn't taste like cilantro, nor did it taste like lime. Just a very nice combination of flavors. I prefer black beans to refried beans, so those were a welcome option.
Overall I enjoyed the fish tacos and would order them again as long as I could get them without the sauce. If you're a fan of spicy I'd recommend them, if not, I'd suggest requesting the sauce either omitted or on the side.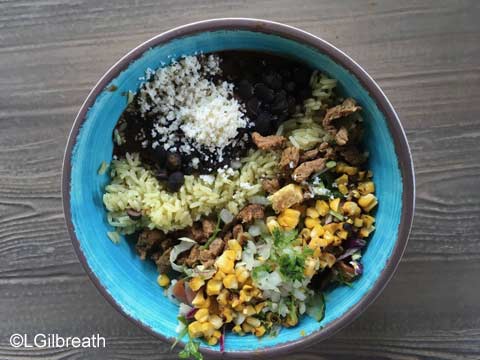 Other options at Cocina Cucamonga include their Cocina Bowls or Street Tacos with rice, beans, and choice of carne asada, pork, chicken, or potatoes, and the Achiote-marinated half chicken plate.
Do the new fish tacos sound delicious to you? Or have you tried them yet? Let us know in the comments below, or leave your thoughts in our Rate and Review section HERE.
You can see the complete Cocina Cucamonga Menu HERE!