I've been taking some of my own advice lately on Beating the Heat at Disneyland, and one of the things I have really appreciated is the Pixar Shorts Film Festival. Not just for the respite from the heat and the chance to sit down, but because these short stories are of such heartwarming quality.
As of this writing you can see six different Pixar Shorts at Disneyland. Disney California Adventure's Sunset Showcase Theater currently hosts "Bao", "La Luna", and "Sanjay's Super Team", while the Tomorrowland Theater in Disneyland features "Piper", "For the Birds", and "LAVA." All three films are shown back-to-back in each 20+ minute show. Don't forget to pick up your 3D glasses on the way into the theater!
In the queue for the Sunset Showcase Theater there's artwork for some of the other Pixar Shorts.
In the waiting area some of the character maquettes are on display, along with concept art.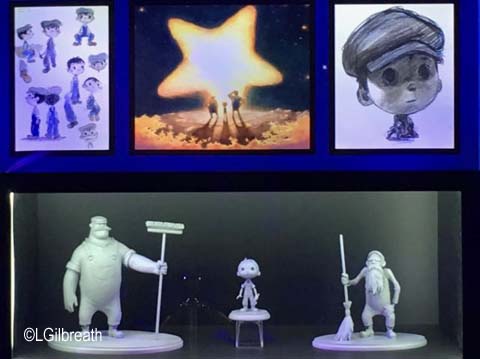 In between shows, the video monitors outside the theater display clips from the movies along with segments where some of the directors of the shorts talk about what inspired them — which is often something from their own family experience.
And the films… they are just so charming. Short stories, but GOOD stories. There's rarely any dialog in them, so everything is conveyed in images and original music. The depth of emotions that can be communicated in an animated image these days is very impressive. Quality all the way, and I forget that I'm watching an animation. The stories are creative and clever — and there's usually a surprise as well. They always leave me smiling at the end.
The Pixar Shorts Film Festival is part of Pixar Fest, and is scheduled to end on September 3.