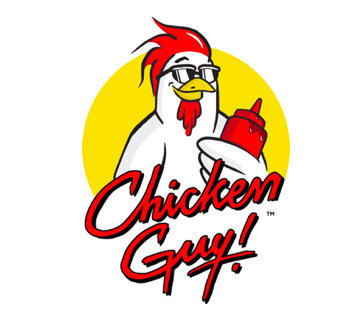 Just when you think, "What other food can they possibly add to Disney Springs?" a surprise comes along. Announced in July, Guy Fieri and Robert Earl (of Planet Hollywood) have collaborated on a new fast-casual dining experience — Chicken Guy!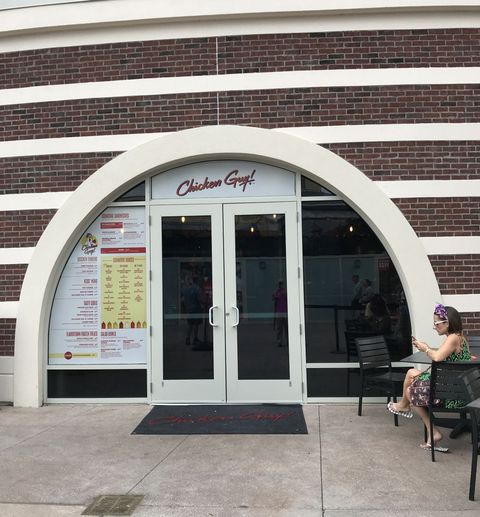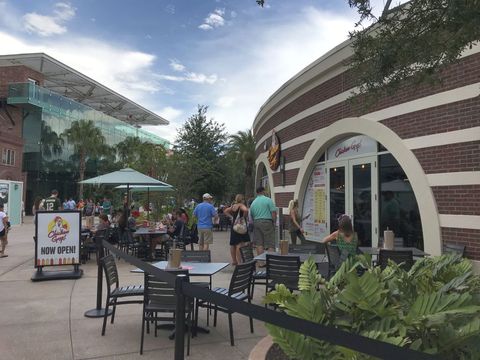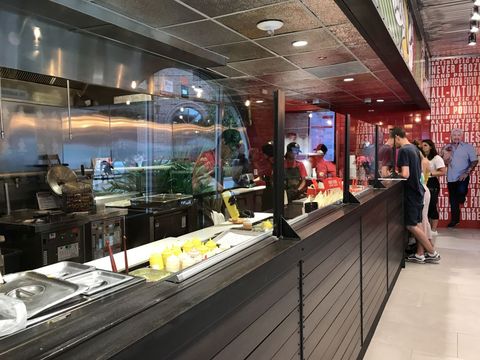 Chicken Guy features all-natural fresh chicken tenders sourced from antibiotic-free, never-frozen chicken that is pounded and breaded fresh daily.
I was eager to try it out, especially because I LOVE chicken tenders! I also wanted to see if it measured up to the hype!
So how are they? DELISH!
Check out the fried tenders! Flavorful and moist! Importantly, they are lightly battered. You don't feel like you are biting into fried flour! How often have you had overcooked, tasteless tenders? You won't get that at Chicken Guy. You can get two sizes, three (nice, if you just want a snack) or five tenders.
And the best part, for me, is that grilled tenders are also offered. Same price as fried. These were also moist, tender and served on a skewer for easier dipping and eating. I love this option. Many times I don't want fried chicken or a sandwich and now I have this choice that's under $10!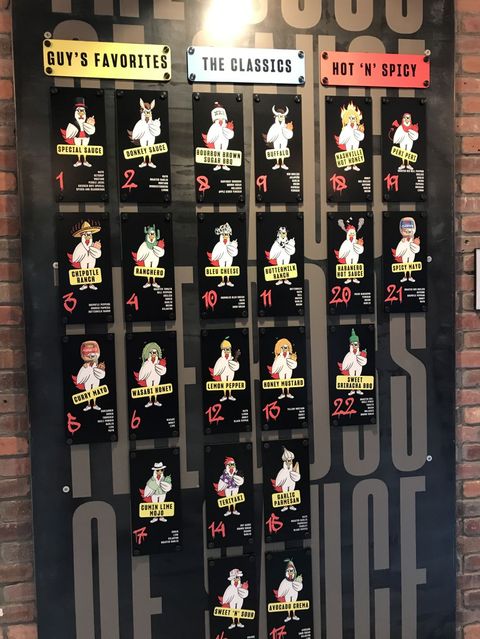 Which brings me to the dipping part. Each entree or sandwich comes with your choice of two dipping sauces. It's not easy to decide what to get because there are 22 options! The three categories are Guy's Favorites, Classics and Hot 'n' Spicy. There are plenty of signs to explain the sauces and the cast members are happy to share their own faves.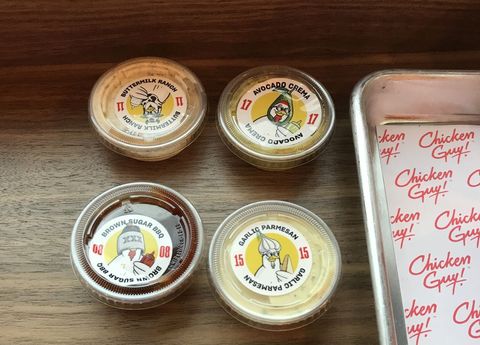 Here are the four sauces I chose (I had two entrees). As you can see, I went with the Classics and played it safe. My favorite was the Garlic Parmesan — tasty but not overpowering and it went well with all my food. The others were good as well, but didn't necessarily make me think, "I have to get this again!"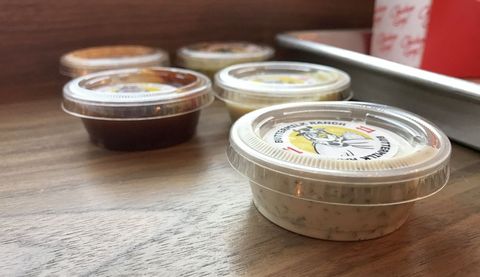 Each sauce comes pre-poured in a plastic container. I liked this feature, too — it meant there was no need to stand at the "fixin's bar" juggling your food tray.
Extra Bonus: The Sauce Slinger walks around and gives out two additional sauces based on your tastes and what you are eating. This added a bit of fun and smiles to the experience.
I also ordered two side dishes. I was intrigued by the fried pickles so I actually tried them first.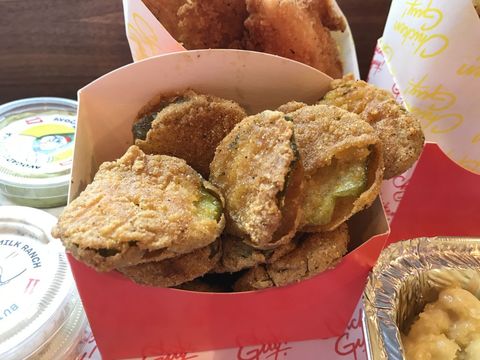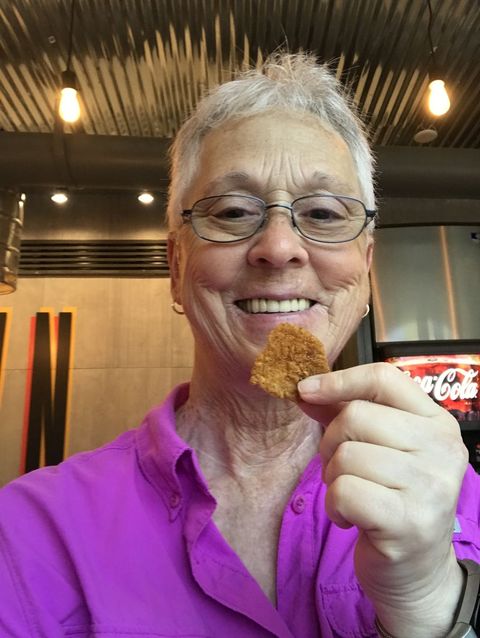 If you love dill pickles you have to try these! I'll be getting them again!
I also tried the Mac Daddy Mac 'n' Cheese. Heavy sauce almost overpowered the pasta, with breadcrumbs on the top. For me, it was just OK. Plus, I will admit, I am a mac 'n' cheese snob — I love homemade best. YMMV (Your Mileage May Vary.)
You might be thinking, Deb, you told us about the food, but how do we order? Once again, Chicken Guy does it right. You order at the register, pay, and get a tracker to put on your table.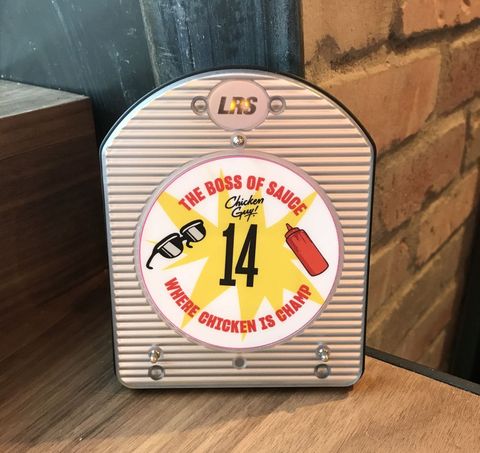 Soon after you get your beverage (again without having to juggle your food), you sit down and your food is delivered to you.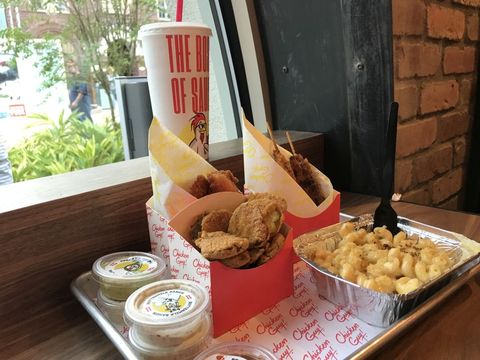 As you look at the menu, you will see there are other items to choose from (sandwiches and salads) as well as kids portions.
Have I mentioned this is a VERY affordable dining option? Five chicken tenders and a soda will run you $10.98 plus tax.
The one popular item I didn't order was one of the Flavortown Frozen Treats: Triple Double Ice Cream, a large cup of ice cream that combines triple chocolate and double mint, and the Cinnamon Apple, a cup of vanilla soft serve ice cream smothered in Cinnamon Toast Crunch & Apple Jacks cereal. Here's a photo of the Cinnamon Apple — you'll have to let me know how it is.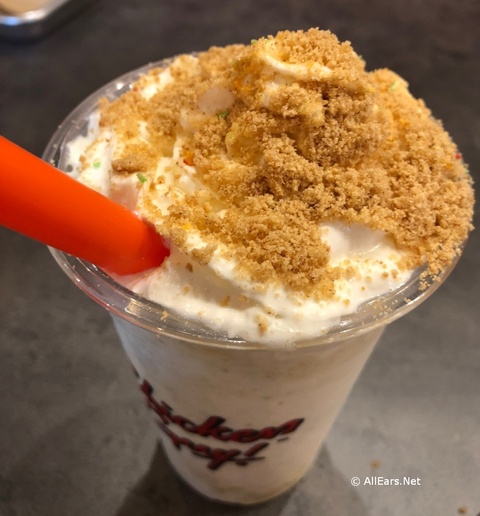 So, yes! I enjoyed my lunch and I think you will enjoy Chicken Guy! as well. Let me know what you think in the comments below.

Other items of note:
Both inside and outside you will find a hand sanitizer, utensils and a trash can.
Chicken Guy! is right next door to Planet Hollywood.
There is both indoor (40 guests) and outdoor seating (80 guests).
Opens at 11 a.m.
The tenders are brined in fresh lemon juice, pickle brine and buttermilk, and infused with fresh herbs, then grilled or fried and presented in sandwiches, on skewers, or in meal-sized salad bowls.
DISCLAIMER: I was a guest of Chicken Guy! This did not affect my review; my opinions are my own.