Ever wander around the Walt Disney World parks and resorts during the holidays and marvel at the decorations and displays? Are you one of those folks that wonders "How do they do THAT?"
The Yuletide Fantasy Tour takes you backstage where you will learn all about the logistics involved in turning Walt Disney World into a winter wonderland. The tour (as most all the tours now) are run by Adventures by Disney. In true AbD fashion, there are two guides and water on the bus.
TIP: The bus stays with you the entire time, so as you get on and off, you can leave things on your seat.
But back to the tour itself.
We met at Epcot bright and early (7:45 a.m. – your time may vary).
TIP: Be sure to leave enough time to go through security.
Once everyone had checked in, it was time to board the bus and backstage we went.
TIP: No photos or video are allowed in the backstage areas. For this tour, that means leave your phone/camera packed away until you arrive at your final destination of Disney Springs.
Each tour participant received a headset to use during the tour. This worked great as everyone could clearly hear the guides. Oh, and because many stops were work areas backstage, we also received a pair of googles to wear.
Our tour began at the Holiday Services Building, a huge warehouse that seems to go on for miles (of course, it really doesn't) and that is filled with trees and boxes and boxes of decor. The boxes were nondescript, but you could tell there were holiday goodies inside. And yes, we got to look way down one of the aisles to see Christmas trees!
Even though you're not allowed to take photos, there ARE a few spots where the tour guides can take your photo!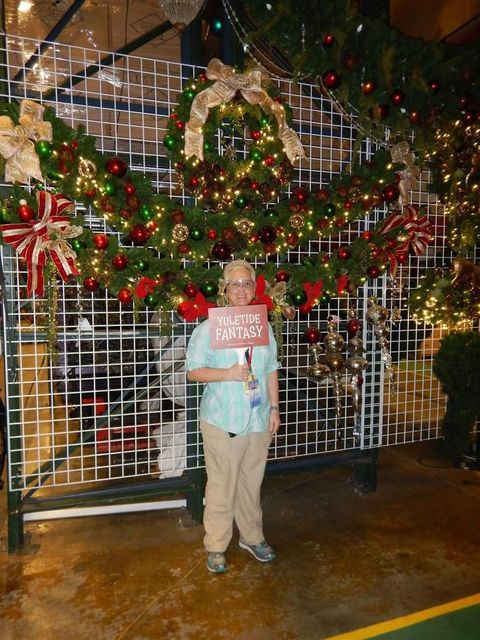 After this stop, we were back on the bus and went over to the Disney Event Group and Disney Floral and Gifts.
No worries about being bored on the bus. The guides told interesting stories about the history of holidays at Walt Disney World, while throwing out a zillion facts.
Did you know:
** 98 percent of the holiday decor now uses LED lights.
** There are approximately 119,000 poinsettias in all of Walt Disney World. Magic Kingdom holds the record at 52,000.
** How tall do you think the Animal Kingdom Lodge's Jambo House tree is? 45 feet tall. Have you seen it? It's massive!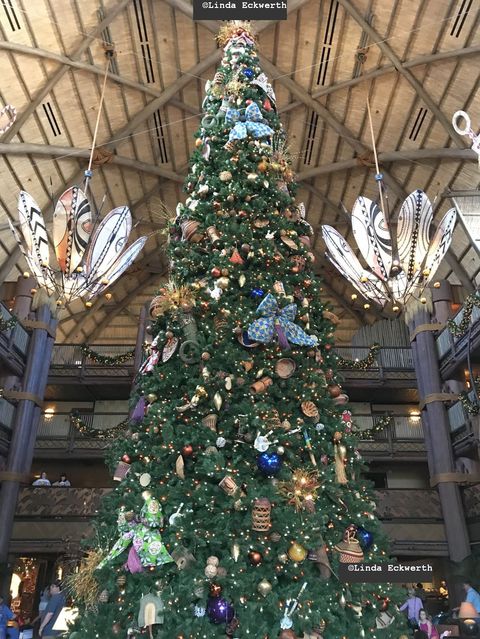 ** From 1971 – 1995, the Magic Kingdom had a live tree. Disney actually bought 3 trees and used the others for "extra parts". Due to the non-environmental treatments to the tree, Disney went artificial beginning 1996
Disney Floral Department provides arrangements for weddings, conventions, events and retail. Some of the rooms smelled heavenly! Another opportunity to go behind the scenes and see how holiday displays are created. Floral products come in from all over the world. While we were there, cast members were making table decor for a special event that started with a full-size Mickey hand. Their goal is to create moments and memories.
Our final stop of the day was the most fun and interactive — Amorette's Patisserie in Disney Springs. You can get everything from small treats to cakes for family and friends' celebrations. The most popular items, however, are the Mickey, Donald and Minnie character cakes — I've had these at a couple birthday parties I've attended and they are yummy! Even if you're not planning to do the tour, if you are at Disney Springs, stop by Amorette's!
There are several "do-it-youself" workshop opportunities available.
In addition to learning about Amorette's, we each made our own edible holiday treat! Here are some photos from my experience. We received a tray that included a macaron, icing and decorative "beads" so that we could construct a unicorn. Well, it was supposed to be a unicorn!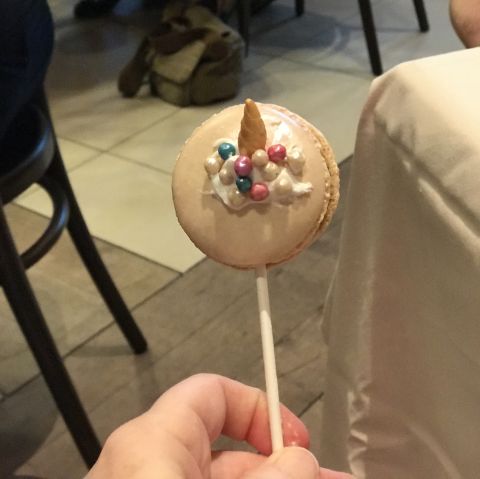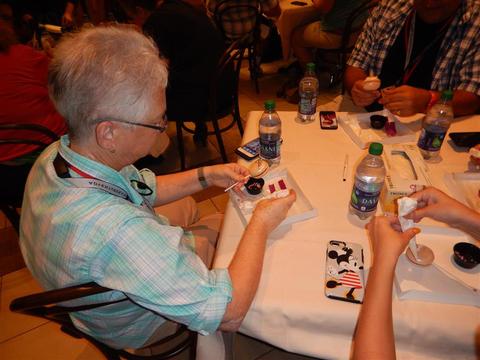 When you take the tour, though, the treat will be different. I saw the new treat and I must say it's way cool and holiday themed!
As we left Amorette's (after about an hour – your time may vary) we each received an Adventures by Disney pin! (Yours will be different, too!)
And that's a wrap!
At the conclusion of the tour, you can either stay at Disney Springs on your own, or take the bus back to Epcot, where you started.
The Particulars:
** Price is $139 per person plus tax. There are discounts for Annual Passholders and Disney Vacation Club Members.
** Tours begin November 19 and run most days through December 29.
** You must be at least 12 years old to participate. Guests under 18 must be accompanied by a parent or guardian.
** The tour lasts 3.5 – 4.0 hours. You are in Amorette's for about an hour.
** Is the tour accessible for wheelchairs? YES! There are two slots for those who can transfer and the chair will be stored under the bus. OR, there is one slot for those who can't transfer. When you call to reserve, make sure you indicate you will be in a wheelchair and what the particulars are. The cast member should call the tour office to make sure there are slots available for your date.
If you've never been backstage, or it's been a long time since you were, and are interested in the holiday decor, you will enjoy the tour.
DISCLAIMER: As part of the Christmas in July media event at Walt Disney World, I was able to experience the reimagined Yuletide Fantasy Tour. That said, my opinions are my own.