Tomorrow marks the start of National Engineers Week, and Walt Disney World is celebrating it as the resort has for many years — with special STEM activities in its Innoventions exhibits at Epcot.
The sponsor of the newest exhibit, electronic components manufacturer Murata, will have an addition to its SpectacuLAB presentations on Monday, Tuesday and Wednesday.
The SpectacuLAB is a show in which guests can interact with real scientists and their intern as they demonstrate scientific principles. The show was designed by Science from Scientists, a non-profit organization dedicated to teaching and inspiring children to solve real-world problems by improving literacy in Science, Technology, Engineering and Math (STEM), in partnership with Murata and Disney Parks Live Entertainment.
Epcot visitors will want to arrive at The SpectacuLAB early to see the Murata Cheerleader Robots perform a synchronized dance using the latest sensing, communication and group control technologies to remain balanced as they quickly move along.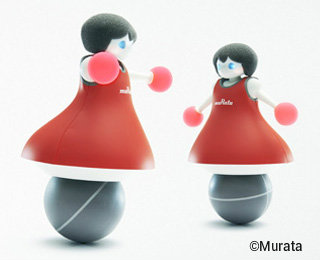 The elementary-school student cheerleader robots are 36 centimeters tall, or about the height of a 2-liter plastic bottle. They can cheer continuously for about an hour; move about 30 centimeters per second (likely the fastest of any robot!); and cover an area 30 meters by 30 meters.
The Cheerleader Robots are able to perform all these feats because of their Murata parts, which include capacitors, inductors, gyro sensors, ultrasonic sensors, filters, communication module, ferrite beads, crystal units and Magicstraps.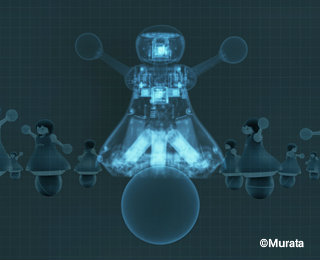 Murata describes on its website how these parts work together:
"The secret of their amazing balance lies in three gyro sensors, which identify the direction that their bodies are leaning toward, and then move them in that direction. Boly alignment remains perfect, even when dancing atop the ball. This highly sophisticated system is an upgraded version of a system originally developed for the Murata Boy and Murata Girl robots. Murata Cheerleaders use gyro sensors much like those found in the electronic stability control systems of vehicles.
"Each Murata Cheerleader is equipped with five ultrasonic microphones and four infrared sensors, installed in its head. Data from these sensors are shared via a wireless network, enabling each Cheerleader's position to be accurately located in real time. Relative positions are determined with a combination of ultrasonic and infrared signals, which travel at different speeds. It's the same principle as counting the seconds between a flash of lightning and the sound of thunder to determine distance.
"Each Cheerleader has a communication module to relay the data to a central control system, where relative positions are processed to ensure that the Murata Cheerleaders move flawlessly without bumping into each other."
See the Murata Cheerleader Robots for yourself! The SpectacuLAB is a 20-minute show that is appropriate for all ages. It takes place five times per day at 10:30 and 11:45 a.m. and 2, 3:15 and 4:30 p.m. in the building that used to be home to VISION House. Arrive early on Monday, Tuesday and Wednesday to see the cheerleader robots.
There also will be a special, limited-edition giveaway while supplies last on Monday for SpectacuLAB visitors.