Even in Orlando, guests and residents alike can dream of a white Christmas. But the closest we may come to that impossible feat in the Sunshine State is at Mickey's Very Merry Christmas Party at Walt Disney World, where it "snows" on Main Street, U.S.A., and guests enjoy hot cocoa on select dates in November and December. My family and I have attended the party for more than a decade, witnessing the changes through the years. As my children have gotten older — they're 13 and 15 now — our touring strategy has changed a bit, too.
In my previous blog post, I pointed out ways to maximize your five hours of party time by using the extra time your ticket affords you before and after the party. Here's a look at how my family and I, as Orlando locals, like to experience Mickey's Very Merry Christmas Party.
When my children were younger and schedules were different, we planned to arrive at the Magic Kingdom by 4 p.m. when admission begins for those with party tickets. This year, my daughter and I planned to arrive by about 5:30 and my husband and son by 7 p.m. Unfortunately, traffic delayed all of us and we had to regroup a little. One change that partygoers and day guests will notice this year is that Walt Disney World officials are testing a system of having the park close at 6 p.m. on party nights for day guests. (They still can remain on Main Street until 7 p.m., and the park will open at 8 a.m. on party days so guests do not lose time on their tickets.) Beginning at 6 p.m., only partygoers can get in lines for rides.
One of my best pieces of advice for the party is that if you see something you want to do, such as take a special photo or grab a special treat, do it at that time rather than waiting. I have found that by the end of the night, my children are even less likely to want to take photos or we may be in line for one last ride on an attraction and miss out on something we could have done earlier. I still think you should have at least a loose game plan for how you approach the most popular entertainment at Mickey's Very Merry Christmas Party but for the little things, I wouldn't postpone.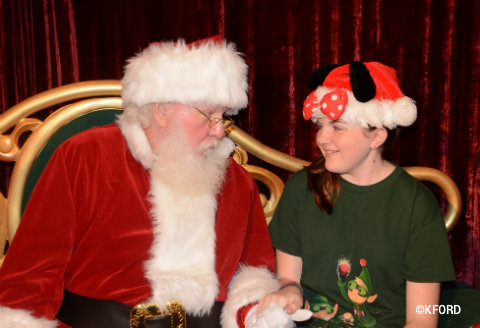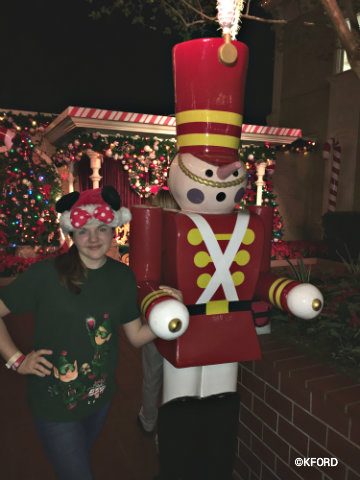 So, when my daughter and I arrived, we got our Sorcerers of the Magic Kingdom cards from the Firehouse in Town Square. (These are a party exclusive, so pick yours up even if you don't plan to play the game on party night.) While we waited for my husband and son to arrive, we took selfies with the Toy Solider statues, shopped at the Emporium and then got in line to visit with Santa Claus. By the time we neared the front of the queue, the guys had made it into the park. After meeting with St. Nick, we all headed into Magic Kingdom via the Main Street U.S.A. bypass route. This pathway that goes "back stage" through the gates near Tony's Town Square restaurant offers guests special photo opportunities and the gift of large wrapped sugar cookies. Nice incentives to avoid the crowded Main Street!
We headed back to Tomorrowland where we planned to grab pretzels at The Lunching Pad for a quick dinner. We found out when we got there that the specialty cream cheese pretzels that we love have been replaced by salted caramel pretzels for the holiday season. Three of us opted for hot dogs instead while I had a Mickey pretzel with cheese dip. We had planned to head back to Main Street for the fireworks at 10 p.m. and the second parade at 11 p.m., so we had a few hours to enjoy the park. We decided to stroll around and take in the holiday offerings and atmosphere while we tried to sample as many of the complimentary treats as possible.
This year, the number of holiday treat stations and the variety of the treats has increased. Party guests can visit any (or all!) of these stations as often as they would like:
** Tortuga Tavern: Snowman Soft Pretzel and Sno-Cone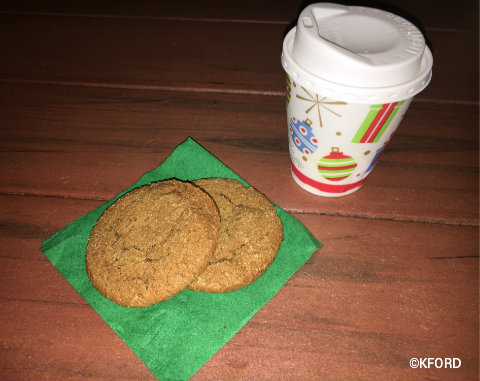 ** Liberty Square Ticket Office: Ginger Molasses Cookie and Eggnog
** Pete's Silly Sideshow: Peppermint Crunch Cookie and Nestle Nesquik
** Pinocchio Village Haus: A Variety of Holiday Favorites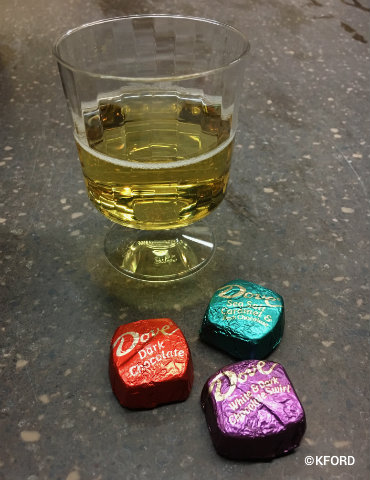 ** The Friar's Nook: Silky Smooth Dove Chocolate and Sparkling Cider
** Cosmic Rays Starlight Café: Snickerdoodle Cookie and Hot Chocolate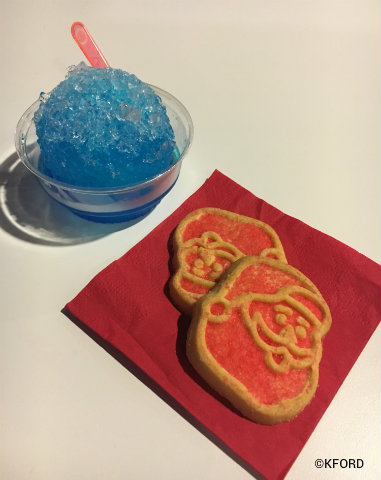 ** Auntie Gravity's Galactic Goodies: Santa Claus Cookie & Sno-Cone
My daughter and I could not get enough of the Peppermint Crunch cookies, while my son loves the traditional Snickerdoodle cookies. My husband joined the long line for the Eggnog and the Ginger Molasses Cookie was a nice bonus. Also, the Magic Kingdom continues to offer allergy-friendly and healthy snack alternatives to those who prefer to skip the cookies; apple slices and apple juice were available upon request.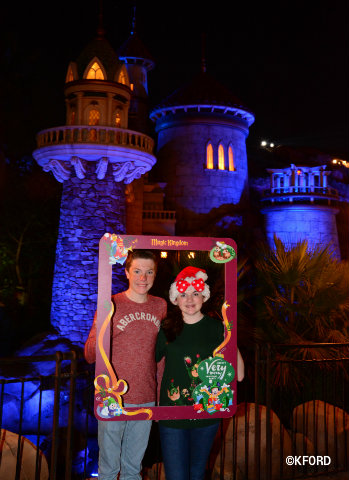 While we were walking around, we stopped for a few of the special PhotoPass photos. We opted not to stand in line for the special characters because we have met all of them at other times and we wanted the freedom to roam. We didn't go on a lot of attractions because we wanted to enjoy as much of the special holiday entertainment as possible, but the short lines were tempting. Early in the night, we saw Space Mountain only had a 20-minute wait.
No matter how many times my family and I have seen Holiday Wishes: Celebrate the Spirit of the Season and Mickey's Once Upon a Christmastime Parade, they still amaze us, so we always make time to see them during the party. It's not the Christmas season until we've seen the fireworks over Cinderella Castle and toy soldiers march in precision formations down Main Street, U.S.A.! Now, with the new fireworks show at the Magic Kingdom, versions of Wishes can only be seen at the Halloween and Christmas parties. We easily stepped onto Main Street a few minutes before Wishes to watch it, and then we snagged a seat on the curb for the next parade. While we waited, PhotoPass photographers came by with props for those who wanted to take photos and we saw some of the pre-parade entertainment.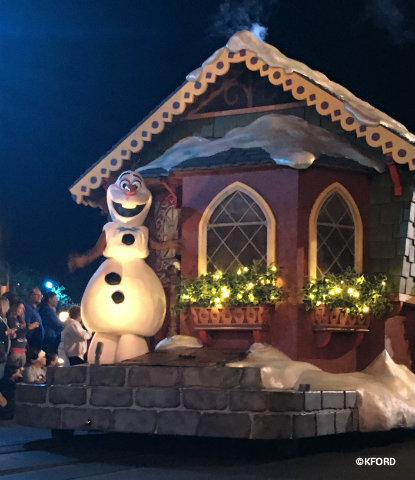 After the parade, we had about a half hour left of the party so we dashed to ride a couple attractions and get one last round of hot chocolate. Then we took a couple photos on Main Street, made one more pass through The Emporium for my son, and were on our way home. All in all, it was a fun night! There is so much to do and see at Mickey's Very Merry Christmas Party that I think you easily could go to parties and not be bored. At the very least, be sure to prioritize what is important to your group for the night. What are you most looking forward to at Mickey's Very Merry Christmas Party? Tell us in the comments!
Tickets still are available for select dates in November and December. See pricing information and discounts on the AllEars.Net resource page.
DISCLAIMER: I was a guest of Walt Disney World for its Mickey's Very Merry Christmas Party. This did not affect my story; my opinions are my own.