by J. Scott Lopes
AllEars.Net Guest Blogger
What if I told you there was a great attraction to visit that did not need Fastpass and has no queue to wait in? Well, there is such a place — it's the Gallery of Arts and History located in World Showcase's Morocco pavilion in Epcot.
Epcot is home to many unique galleries that house rotating exhibits, like the one located in the the Morocco pavilion. These galleries are a great place to take a break and learn about the host country, and even get out of the sun or rain for a bit. I especially like the Morocco gallery because it is usually not very crowded.
The exterior of the building itself, as shown in the photo above, is elaborately decorated, from floor to ceiling.
The current exhibit in the Morocco pavilion is "Moroccan Style: The Art of Personal Adornment," and it showcases traditional clothing, jewelry and body art. This photoblog will showcase some of the items currently on display.
When entering the museum there is a large display of a man and his horse, both are modeling a fantasia costume. The fantasia is a cultural display of horsemanship that is usually performed at festivals.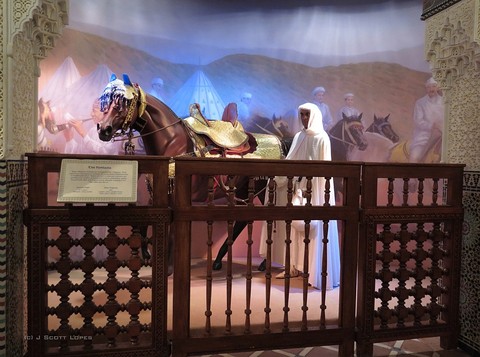 There are also displays showing common men's accessories…
As well as women's accessories.
In addition, there is a display showcasing some of the jewelry and other items used in wedding ceremonies…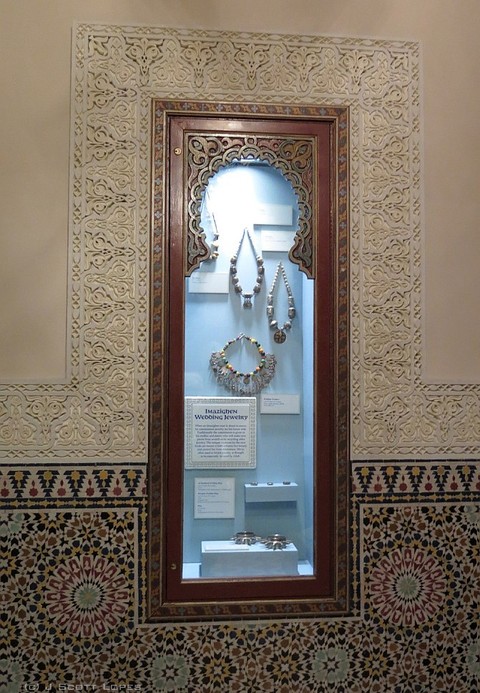 … as well as eye makeup which is used by both genders.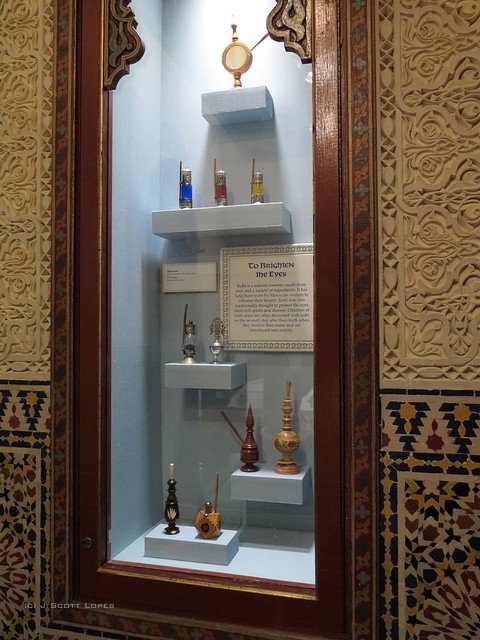 Henna tattoos, a temporary tattoo created by using a dye from the henna plant, also play a part in the wedding ceremony.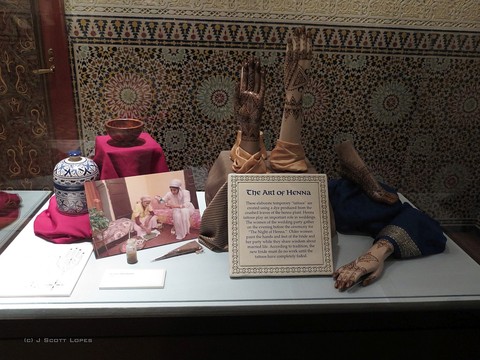 (As an aside, did you know you can get your own temporary henna right in the Morocco pavilion, as well as over at Animal Kingdom? Check out Deb Koma's blog about it HERE.)
Once you're done looking at the exhibits in this gallery, don't forget to check out the interior of the building, too. Look up to see a beautiful wooden beamed ceiling.
There are several other museum-type galleries around World Showcase, such as the American Heritage Gallery in the American Adventure, and the Bijutsu-kan Gallery in the Japan pavilion. I highly recommend that you check one out on your next trip!