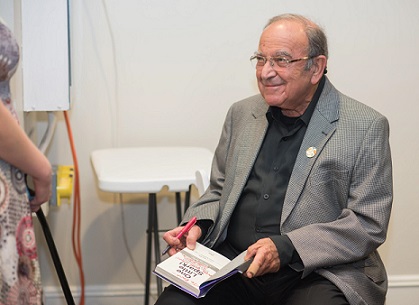 Marty Sklar signs a copy of his book "One Little Spark!" for a fan. [Photo courtesy of Ryman Arts]

Marty Sklar was working on another book when he died on July 27. I can report that the book will be published in the months ahead [more on that later]. It will be Marty's third book for Disney Editions, but fourth book overall. Let me explain:
A few weeks before Marty Sklar's Dream It! Do It! was released in 2013, I received a press blurb from Disney Editions saying how this was Marty's first book.
When I interviewed Marty right after Dream It! Do It! hit book shelves, I mentioned the press release to him and then went on to take it to task.
"This isn't really your first book," I said to Marty. "Shouldn't Walt Disney's Disneyland be considered your first book?"
To which Marty answered: "You know, I guess you're right." Then, in typical Marty fashion, he quickly rebounded. "But this is my first book for Disney Editions."
Walt Disney's Disneyland, credited to none other than Martin A. Sklar, is one of those hidden Disney gems that is well worth the time and effort to get your hands on. I found my first copy at a yard sale in Colts Neck, N.J., back in the 1990s. My wife Janet has managed to secure two other versions via the Internet.
Walt Disney's Disneyland was first published in 1964 and was available at Disneyland's souvenir shops for years. Because the park was always changing, the book was updated periodically as well, to reflect those additions.
The cover of "Walt Disney's Disneyland," written by Martin A. Sklar.

The book is subtitled: "The behind-the-scenes story of the Magic Kingdom … of the man who made it possible … and of the millions of visitors who have helped make it the Happiest Place on Earth."
For the most part, it is a wonderful pictorial of the park's early years, with stunning color photos of the Mark Twain in the evening, with fireworks exploding above; the Santa Fe & Disneyland Railroad pulling out of the Main Street station; and, of course, many shots of Disneyland's icon, Sleeping Beauty Castle … all taken during the early 1960s.
But to me, the most endearing aspect of Walt Disney's Disneyland are the words penned by the author.
When Marty was hired by Disneyland in June of 1955, it was largely because of his journalistic background; he was, after all, about to become the editor of The Daily Bruin, the campus newspaper at UCLA. He was hired by Disney to come up with a concept for The Disneyland News, a broadsheet newspaper, with the look of a 1900s-era publication, that would be sold to guests as they walked into the park.
After graduating from UCLA in 1956, Marty returned to Disneyland to work in the publicity department, where he honed his writing skills under the watchful eyes of people like Eddie Meck, Jack Lindquist and Milt Albright, Disney Legends all. His abilities also caught the eye of Walt Disney, who tabbed him to become his go-to wordsmith. Marty wrote Walt's annual reports and the messages he delivered, as well as publicity and marketing materials. He also wrote the script for the legendary Epcot film, which outlined Walt's plans for setting up shop in central Florida.
In Walt Disney's Disneyland, Marty displayed just how talented a writer he was … a man who truly had the ability to paint pictures with his words. For instance, early in the book, Marty philosophizes about how Disneyland came to be.
"There is a basic truism that governs every success that bears the name Disney: No idea remains very long in its original form. Walt was a builder; his basic materials were ideas. He worked with them, played with them, and finally — perhaps years after they first found expression — ideas emerged as tangible realities in motion pictures, television or Disneyland."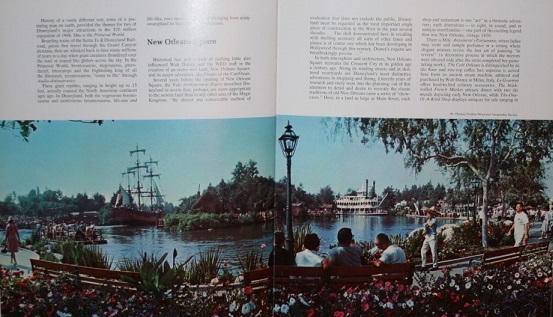 This photo from "Walt Disney's Disneyland" shows the Mark Twain and the Columbia sailing on the Rivers of America at Disneyland.

In the decades following the release of Walt Disney's Disneyland, Marty took on a more important role within the company, primarily with Walt Disney Imagineering. When he retired in 2009, however, he eagerly returned to writing. "When I get the writing itch," he once told me, "I have to scratch it."
He began by writing articles for several Disney magazines, before turning his attention to his memoir, Dream It! Do It!, which was incredibly well received. He followed that with One Little Spark!, which provided aspiring young talents with a road map to becoming an Imagineer.
At the time of his death on July 27, Marty was working on his next book … a book with "more Disney stories," he told me back in March.
For a few weeks after Marty's passing, the fate of the book was in doubt.
But Wendy Lefkon, the Editorial Director of Disney Editions, has confirmed that she, Marty's wife Leah and his daughter Leslie are currently putting the finishing touches on the as-yet untitled new book.
And it turns out, Marty won't be the only Sklar to have a new book released posthumously. Marty's brother Robert, who was a respected professor of cinema studies at New York University, also was an author. Robert, who died tragically in 2009, penned the book City Boys, which delved into the lives of actors James Cagney, Humphrey Bogart and John Garfield.
City Boys was released in 1992 and has been out of print for many years. The good news here is City Boys is being re-released by Pulp Hero Press in a few months.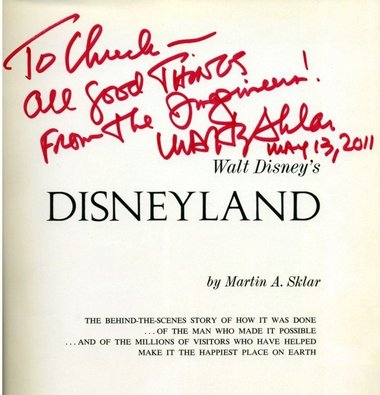 Marty Sklar signed this copy of "Walt Disney's Disneyland" for me at a fund-raising event in 2011 in Orlando, Fla. [Chuck Schmidt]

Even better news: When Marty found out about City Boys return to print, he enthusiastically agreed to write a foreword. We've since learned that Marty had a beat-up copy of the original book in his home office in a mini-shrine he dedicated to his brother, who died in an accident in Barcelona, Spain.
Over the years, Marty wrote dozens of forewords to a wide variety of books, including one of my own. It's safe to say this one was the most important one he had ever written.
Sklars' former neighbor saddened by Marty's passing
I received a number of heart-felt comments after I posted two blogs following Marty Sklar's death. One, from a former neighbor of the Sklars in Anaheim, was particularly touching.
It was from Cecile Posner Fleetwood, who wrote:
"I met the Sklars when we moved into the house next door to them on Alden Place in East Anaheim. The year was 1962. I was 9, my sister was 3, exactly one year older than Howard, and Leslie was a baby.
"The Sklars were a magical family to grow up next door to. Birthday parties included 16mm versions of Disney movies! I remember floating in their pool watching segments of Fantasia, my personal favorite!
"As I got older, I was often hired to babysit Howard and Leslie. My mom was good friends with Mrs. Sklar. They worked together on Sisterhood and other projects at Temple Beth Sholom in Santa Ana.
"Mr. Sklar traveled a lot. It was always exciting to see what new wonders he brought home!
"More recently, last year my sister and I attended a UCLA Alumni event at the Chuck Jones Center for Creativity in Costa Mesa, Calif. There he was, speaking about his years with Disney, signing his two books, emphasizing the positive.
"Even though it had been over 40 years since I had last seen him, it was like there had been no time between! He was patient, kind, brilliant. A very sad loss!"