To all who come to this photo trivia game, Welcome! Along the way, the photos can make us relive memories and see details Walt's Imagineers put into everything we love in Walt Disney World!
Hi, Izzy Williams! Thank you for your and your grandmom's Happy Anniversary note! I really appreciate it!

And that goes to Sandie Albrecht, Jeff Blank, and Claire Gregory, too! From me and the AllEars Team to all of you, Players!
Happy Belated Birthday to Miriam 'Mimi' Gunnels! Guess what? I'm the youngest of seven kids too! They didn't all give you a "pinch to grow an inch", did they? I hope not! Ouch!

Mike V! Where have you been? You're probably in Disney now!
Now for Challenge #442: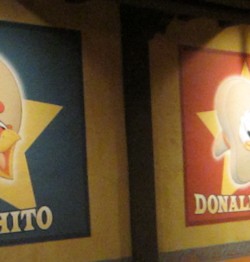 And here's the answer:


Copyright © Erin Blackwell
So we walked a bit around the World Showcase lagoon to queue up at the Gran Fiesta Tour in the Mexico Pavilion! (It does look like PhilharMagic, doesn't it?) Who has noticed the Aracuan Bird?
Mike and Hannah, where did you get the longitude and latitude?! And hello to your daughter!
Yes, I do, Vicki Britt! I have 3 t-shirts for it. 🙂
John Bickers, I do remember them letting us to stay on and ride El Rio del Tiempo again if the queue had nobody in it. I don't know how many times they did it with people, but I can say I experienced it a couple times.
Me too, Matthew Frey! I thought I wouldn't like the animatronics at the end since they're older; I love that they're Disney History from the archives, but I worried it would show. On the contrary, they look fantastic! Bigger than I thought too!
Yes, Josh Weiss and Matt Holley! Let's sing!
We're three caballeros
Three gay caballeros
They say we are birds of a feather!
We're happy amigos
No matter where he goes
The one, two, and three goes!
We're always together!


I should make a ringtone out of that.
I haven't forgotten you, Fosbender Family. Here you go:

Ken Savage was the first to send in the correct answer! Congratulations to Ken and to all our winners this week! Melissa Such, Eric Berger, Tammy Warmouth, Sharon Powell, Mike O'brien , Margaret Convery, Linda Grau, Michaela O'brien , Karen O'brien, Emily Hudson , Vickie Smialkowski, Joseph M. Zafia, Ron Nufranick, Theresa Rucando, Jim Finley, Tricia Petty, Adolph And Kimberly Timm, Vera And Izzy Williams, Robert Wescovich, Ed Suscreba, Mary Beth Tarbet, Phil Vickers, Sandie Albrecht, Bruce Hinterleitner, Phyllis, The Reichl Family, Linda Scrivano, Beth Mcmeekin, Linda Ranatza, The Kertes Family, Grumpy's Groupies, Matt Wildey, Ruben O'meara, Jamesd (dzneynut), Dawn Bach, Gloria Martin , Ronnie Alvarado, Joann Albrecht, Team Hill, Carol Baranowsky, Maryann Eckenrode, The Gunnels Gang, Christina Ison, Lyn Johnson, Anne Duque, Sharon Powell , Julie Signor, Kara D & Jay R, Janet Timpany, Kathy B., Brian Sullivan, Rob Blundin, Al & Kerry Ganter, Smitty, Jennifer Bowling, Susan Higginbotham, Sarah and Chris, Gina Falzone , Antoinette Leblanc, Brian Gallant, Kye Layton, Mike Mondoux, K Beasley, Paula Massarelli, Luis Rodriguez, Kenny, Bob Patterson, Kris Nixon, Diane F., Joe Pfrangle, Sharon Pierce, Josette Gabel, Kelly Sroka, Bob & Kathy Mckim, Stephen Reilly, Linda College, Karen Ramirez , The Parker Family, Emily Eldridge, Karen Schlumpf, Hillary Waldroop, Olszak Family, Mis Jamie Marie, Christa B, Beth Pleban, Jim & Lorie Sonnen, Leach Family, The Harper Gang, Les Whitten , Duskin Henard, Stacie Doughty, Kerri Coggins, Maureen and Warren Handy, Claribel T., Kyra, Jason and Meredith Anzur, Russ Morgan, Mark Donahue, Lee Anastasi, Robert Hildebrandt, Donna Frank, Hobbes and Snorky, Linda Hoffman, Renee Hardiman, Herb Miller, Arlene Vicek, Jodi Cook, Pam Lorenz, Angela Sandoval, Larry Sprenkle, Ellen Sullivan, Ellen Sullivan, Andrew Carrieri, Jen Tremley, Janet T Thorn, Ann Hawkins, Bonnie Jean, John Bickers, Kristan Bertelmann, Karen Taylor, Mickey Eckert, Chuck Everson, Chris Horne , Tracey Mayfield, Stefan Owens, Theresa Maradei, Chris Bruce, Michael Haeberle, Heidi Burke, Martha Collins, Brian Yesutis, Cheryl Costello, Christopher Barnes, Jan Rosato, Josh Weiss, Doug Olson Family, Jeff Blank, Wade and Rosanne Williams, Cameron Lange, Mike Malampy (bencofamily), Kevin Jones, Dallas Hamilton, Matt Holley, Alison Rosenberger, Chris Bauman, Leigh Mertz, Team Bonnie Sue, Nan Amor, Jamie Steiner, Matthew Frey, Mark Hardy, Paul Ignudo, Scott Sangston, Karrie Rodriguez, Caroline Burmester, The Modecki's, Dave Carriere, Julie Holding, Jeremy Reichelt, Carri Marotto, Tracy Discher, Vicki Britt, Eric Enli, Melody Odonnell, Anne and Dean Disney Fan, Ed Adams, Les Stewart, Elaine Prosecky, Maja K., Mike Cerce, Bonnie Sue Tulenko , Tim Johansen, Mike and Hannah, Mary Ann Lamay, Martin Greene, Bill Cudney , Amanda and Beanie Kenney, Rachel Miller , Sandra Edwards, Alan Mize, Sharon Leitgeb, Lisa Cash, Sheila Bagg, Robert P. Flaherty, Chris Kelly, Barclay Bakkum, Don Purney, Jo Ann Bailey, Emma Ramsey, Derek Chinworth, Sherry Trapp, Terri Thornton, Mike V, Tom Koval, Sherri Pell, Kelly Smith, Nicole Benoit, Mike Amor, Andreas Beer, Tj, John Pasqueralli, Renee Worsnop, Maryann Romagnano, Claire Gregory, Vikki Tupay, Jolynn Digiallonardo, Stacy Guarracino, The Fosbender Family, Vincent Lieu, Vicki Finnegan, Jessica Polizzotto, Jane Johnson, and The Patterson Family!
__________________________________ _____________________
Challenge #443 Where in the world is this?
OK! Pretty obvious who is smiling like that… or is it his girlfriend? Either way, please tell me who it is and where they are.
Not to brag, but notice they're smiling at me. Yep, we're close.
Do you know? Do you have a guess? Please send in your answer, before the end of the day on Thursday, July 28th, by clicking on the blue box below.
Please do not post answers using the Feedback Form link at the bottom of this post.
See you soon, Players!


_______________________________________________________________________
Everyone who sends in a correct answer to a Where in the World Challenge this month will be entered in a drawing at the end of the month for some special AllEars® goodies!
–