To all who come to this photo trivia game, Welcome! Along the way, the photos can make us relive memories and see details Walt's Imagineers put into everything we love in Walt Disney World!
Happy Anniversary, Players! Where in the World Photo Fun turned NINE on the 16th! Can you believe it? NINE! Next year, we'll have to have a party! Who can bring chips?

Now for Challenge #441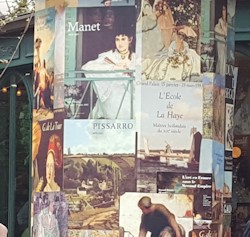 And here's the answer:


Copyright © Erin Blackwell
The France Pavilion in Epcot! Jeff Blank says these are called Morris Columns. He also sang Louis the Sixteenth by Alan Sherman, so…
I'm ready to meet you for a Grey Goose Slushie, Rebecca Keenan!
Team Bonnie Sue, speaking of Three Chefs restaurant…. We saw friends of ours inside once, so as a joke, we held up a note saying, "Are you going to finish that?" We didn't realize the table next to them saw it; they were calling cast members to chase us away when our friends (luckily) explained. At that point, they laughed too. That would have been a heck of a reason to get bounced from the park.

Eric Berger was the first to send in the correct answer! Congratulations to Eric and to all our winners this week! The Kertes Family, Melissa Such, Jim & Lorie Sonnen, Hillary Waldroop, Bruce Hinterleitner, John Bickers, Vera And Izzy Williams, Carol Gamill, Ken Savage, Mary Beth Tarbet, Robert Wescovich, Jim Finley, Kenneth Jackson, Linda College, Joseph M. Zafia, Emily Hudson, Kris Nixon, Linda Ranatza, Margaret Convery, Tricia Petty, Antoinette Leblanc, The Fosbender Family, Hunter Armstrong, Theresa Rucando, Jamie Marie Mis, Grumpy's Groupies, Gloria Martin, Phil Vickers, Lara & Eleza Crook, Beth Mcmeekin, Smitty, Jen Cerce, Renee Hardiman, The Gunnels Gang , Lori Rienhardt, Ed Suscreba, Ronnie Alvarado, Phyllis, Kerri Coggins, Sandie Albrecht, Andreas Beer, Martha Collins, Susie Howard, Andy Hickey, Arlene Vicek, Kerry And Erin A., Team Hill, The Tisdale Family, Clare S, Bob Patterson, Bonnie Jean, Nicole Wasik-ware, Carla C, Jason Steinmetz, Sands Family, Mike O'brien, Michaela O'brien, Karen O'brien, Maryann Eckenrode, Kye Layton, Deb Ragno, Bob & Kathy Mckim, Luis Rodriguez, Kristi Strembicki, Sarah And Chris, Kara D & Jay R, Tara Weaver, Kara D & Jay R, Lyn Johnson, Karen Nablo, Kate Nejman, Scott Greenbaum, Kyra, Kimberly Langh, Sarah Thomas, Jason Hocker, Stephen Reilly, Jennifer Rowell, Renee, Patty Carty, Chuck Calcano, Audra Moraski, K Beasley, Dvc Mary, Paul R Greenleaf, Julia Wickware, Chris Horne, Sharon Pierce, Bob Henriksen, Jack Lynch, Karen Schlumpf, Nicole Marvin, Jon Bassett, Al & Kerry Ganter, Pat Schwier, Jennifer Hess, Anne Heffentreyer, Carla Nale, Janet T Thornq, Herb Miller, Ben M, Todd Johns, Double Family, Tiffany Gibb, Double Family, Angela Johns, Vickie Barca, Hobbes And Snorky, Deb Gallo, Nan Amor, Peg R, Chloe Mayhew, Renee Worsnop, Kari Ann, Otts Family, Ellen Sullivan, Wendy T Faler, Margie-ann Feczko, Stefanie Vandiver, Ryan Mccorristin, Brian Mcwithey, Robert P. Flaherty, Mike Mondoux, Kyran Smith, Melissa Vincelette, Ingrid Michel, Jim Thompson, Jen Tremley, Paul Newman, The Anzurs, Megan Krainski, Ruben O'meara, Donna Frank, Adolph And Kimberly Timm, Erin Hammer, Adam Lucas, Ruth Woodhouse, Joyce Shipman, Clay Anthony, Liz Moreau, Erin Loring, Pollyanna Buff, Patricia Harper, Russ Morgan, Patricia Morin, Ed Adams, Sharon Gilbert, Stacie Doughty, Mickey Eckert, Team Bonnie Sue, Ken, Lisa And Makayla Daube, Trina Noggle, Melissa Rymer, Rachel Miller, Maryann Romagnano, Stefan Owens, Tracey Mcgann, Linda Lundsten, Mark Donahue, Mark Donahue, Mary And Damian Dieuliis, Jane Johnson, Pam Lorenz, Evald Olson, Rob Blundin, Mike Malampy (Malampy Benco Family), Eric Johnson, Ashley Collins, Kim, Josh Weiss, The Parker Family, Leah Broussard, Karen Taylor, Linda Scrivano, Mike Haeberle, The Long Family, Vicki Britt, Joann Albrecht, Wayne Chadourne, Laurie Walker, Carey Del Buono, Andrew Carrieri, Nancy Doty, Karen Ramirez, Tracey Mayfield, Chris, Gretchen, And Katie Barnes, Ken Maikowski, The Harper Gang, Jessica Polizzotto, Olszak Family, Jan Rosato, Jamesd (dzneynut), Emma Ramsey, Jeff Blank, Claudia Callinan, Josette Gabel, Stacey Diamond, Chad Citro, Chuck Everson, Robert Hildebrandt, Matt Wildey, Wade And Rosanne Williams, Les Whitten, Liz Mckinnell, Claire Gregory, Christa B, Dallas Hamilton, Eric Enli, Paul Ignudo, Mary Ann Lamay, Linda Wilham, Sandra Edwards, Maureen, Deirdre Friedrich, Susan Higginbotham, Caroline Burmester, Melody O'donnell, Joe Pfrangle, Matt Holley, Karrie Rodriguez, Cameron Lange, Jamie Steiner, Jeremy Reichelt, Mark Hardy, Kevin Jones, Ilene, Scott Sangston, Kara Morton, Matthew Frey, Dee Dee Kenney, Alison Rosenberger, The Hutchinson Family, Tricia Noble, Elaine Prosecky, Andrew Pettit, The Patterson Family, Jan Hall, Chris Bauman, Evanna Huda, Deb Bowman, Scott C., Belicia, Kathy, Brooke And Kennedy, Jo Armeni, Anne And Dean, Maureen And Warren Handy, Cheryl Costello, Jennifer Pichert, Rebecca Keenan, Jennifer Mercier, Teri Michalski, Leigh Mertz, Jo Ann Bailey, Theresa Maradei, Kristan Bertelmann, Sheila Bagg, Carol Ney, Paula Massarelli, Don Purney, Robin Meredyk, Betty Crawford, Shirley Garcowski, Barclay Bakkum, Tom Higbee, Sr, Collette Beuther, Matt Cofone, Steve Knapp, Tim Johansen, Stacy Guarracino, Ron Nufranick, Alan Mize, Karen Adamakis, Diane Curfman, Christy Schor, George Mundy Jr, Linda Hoffman, Dave Carriere, Jamie Poynton, Ronald Delorey, Lindsay Arlene Clayton, Cynthia Hitchcock, and Tommy Montgomery!
__________________________________ _____________________
Challenge #442 Where in the world is this?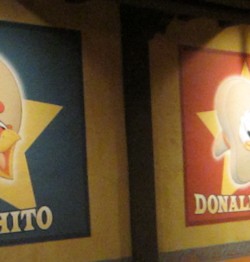 Do you know? Do you have a guess? Please send in your answer, before the end of the day on Thursday, July 21st, by clicking on the blue box below.
Please do not post answers using the Feedback Form link at the bottom of this post.
See you soon, Players!


_______________________________________________________________________
Everyone who sends in a correct answer to a Where in the World Challenge this month will be entered in a drawing at the end of the month for some special AllEars® goodies!
–