If you've never been on a Disney Cruise Line vacation, you may not know about some of the less-publicized activities, entertainment and dining options available to you. Here are a few things my family and I have learned from our sailings with Disney Cruise Line that may make your trip even more enjoyable.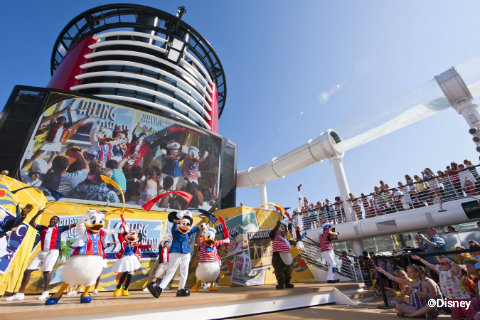 Pool time on embarkation day
If your kids are eager to get up to the pool, slide and Aqua Duck, consider letting them swim as soon as you board, when the water features are likely to be less crowded as families get their bearings. Pack swimsuits and sunscreen in your day bag and change in the restrooms by the pool. (You won't be able to get into your stateroom until about 1:30 p.m., and luggage can arrive any time up until dinnertime.) You can opt for lunch at Cabanas by the pool instead of the designated dining room. Just remember that pools close for the muster drill at 4 p.m. and then it's time for the Sail Away Party.
Registering for complimentary activities
Some activities on the ship have limited space and require passengers to sign up for them ahead of time. Although the activities may take place later in the week, registration is available online in advance or it begins at Guest Services once boarding has commenced and spots can fill up quickly. One of the most popular events is the meet-and-greet with the Disney Princesses. Other such events are holiday-themed activities on the Christmas and Halloween cruises. If these offerings interest you, be sure to stop by Guest Services as soon as possible.
Castaway Cay 5K
One of the highlights of a Caribbean cruise on a Disney ship is the day at the company's private island in the Bahamas, Castaway Cay. You can be as active or as relaxed as you choose in the tropical setting. For some, the ideal way to start the day is with the Castaway Cay 5K. This race is free to guests on the cruise, and each participant receives a bib and a medal of the same quality as runDisney 5K races at Disney Parks. That's a nice perk, considering runDisney 5Ks can cost $65 per person. And you can't beat the island scenery for this race! To participate, you must sign up onboard the ship, but you don't need to worry about the race filling up in minutes as runDisney events do.
Room service
Room service, for the most part, is included in the cost of your cruise. The things you pay for are sodas, candy and alcohol — and a gratuity, if you choose. Also, know that there is one very special dessert not on the menu that can be ordered from Room Service: Mickey ice cream bars. Room service is available 24 hours a day but will close at 1 a.m. the night before debarkcation day.
Meal options
Speaking of food, vacationers onboard Disney Cruise Line ships have options for eating all day long. You do not have to attend three meals a day in a formal dining room. In fact, I don't think my family and I have ever eaten breakfast or lunch in the dining room we were assigned. Instead, we typically eat breakfast at the Cabanas buffet on the pool deck and return there or one of the other quick-service restaurants on the pool deck for lunch. There is a self-serve ice cream station that is open — and popular — all day on the pool deck, as well.
As for dinner, if you were assigned to the late seating, and you are worried your children cannot wait that long to eat, remember that you can get kid-friendly early dinners and snacks on the pool deck. Plus, camp counselors will pick up children from the dining rooms 45 minutes after the second meal service starts so the kids can play and have fun while adults enjoy a late dinner alone.
Finally, know that you can request ahead of time complimentary desserts for any celebrations that your family has. It seems like our cruises have always included birthdays, so we have had at least one night with these cakes. The special desserts have evolved over the years, so you might be surprised what you are presented with, but you can bet it will be delicious and beautifully presented. (You also can request DCL Happy Birthday Buttons at Guest Services.)
If you're a veteran Disney Cruise Line passenger and have a tip for onboard activities for newbies, tell us in the comments!