I try to avoid touristy shots when I am photographing at Walt Disney World. Static photos of an empty park while nice is not something I like to do. The parks only come alive when their are people involved. Whether they are cast members or guests, seeing people interact with another person or thing is what brings smiles to my face.
Below is a good example, when riding the riverboat around Tom Sawyer Island in the Magic Kindom, I always giggled at the people on the barrel bridge. Sure looked like fun and surely something Huck Finn would have approved of. The angle from the riverboat was too high and too flat for me. Once I got on the island, I found a good place to sit, watch and photograph the adventure.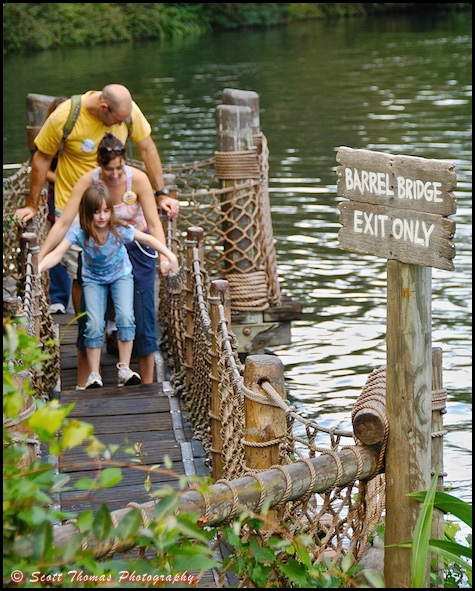 A family walks over the barrel bridge on Tom Sawyer Island.
Nikon D70/18-200VR, 1/100s, f/5.3, ISO 200, EV +0.3, 82mm (123mm DX) Focal Length.
When I did the Wild Africa Trek in Disney's Animal Kingdom awhile back, one of our guides took photographs of us Trekkers. I found it only fitting I return the favor as she took pictures on another precarious looking foot bridge.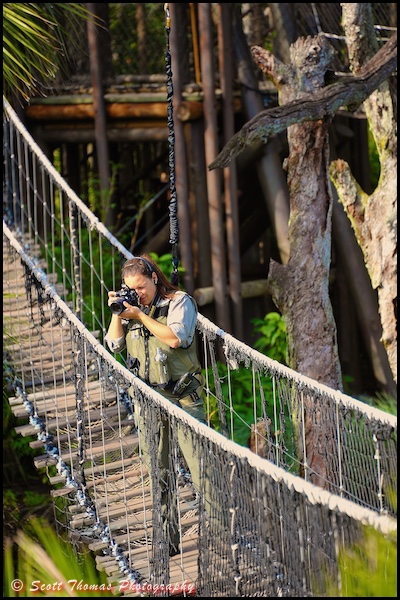 A Cast Member photographing during a Wild Africa Trek.
Nikon D700/28-300VR, 1/200s, f/7.1, ISO 200, EV 0, 300mm Focal Length.
For the last example, I take you back to the Magic Kingdom. This is a view taken at the end of Main Street USA. People doing various things like buying a balloon, getting their photo taken with Cinderella Castle in the background, doing a quick planning meeting with family and even more. This photo reminded me of the Family Circus Sunday comic when the cartoonist would put various bubbles around the scene describing all that was going on. On flickr, I used this photo with notes you can see as you move your mouse around the photo in similar fashion.
A typical scene in front of Cinderella Castle in the Magic Kingdom.
Nikon D700/Tokina 11-16mm, 1/125s, f/14, ISO 200, EV -0.3, 15mm Focal Length.
As you can see by these examples, including people in your photography at Walt Disney World gives the photos more interest.
To visit the flickr image (which is much bigger) with all the notes, CLICK HERE.