To all who come to this photo trivia game, Welcome! Along the way, the photos can make us relive memories and see details Walt's Imagineers put into everything we love in Walt Disney World!
To all who celebrate, Merry Christmas with a Florida touch:

And have a wonderful Boxing Day in the UK!

Christi Ison, you sang it with me! I knew I wasn't alone! We're all Goofy Goobers, Yeah!
Now for Challenge #411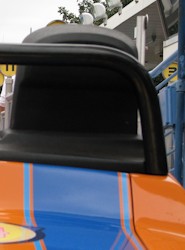 And here's the answer:


Copyright © Erin Blackwell
Tomorrowland Speedway! We're looking at the back of the car and a friend of mine is looking back at us.
Bruce Jones was the first to send in the correct answer! Congratulations to Bruce and to all our winners this week! Linda Ranatza, Carol Ney, Andy Hickey, The Fosbenders, Kristi Strembicki, Margaret Convery, Nan Amor, Ken Maikowski, Eric Berger, The Kertes Family, Vincent Lieu, The Modecki's, Kerry A., Ed Suscreba, Jim Finley, Susie Howard, Elaine Kleinhenz, Herb Miller, Karen Schlumpf, Josh Weiss, Sandie Albrecht, Andrew Carrieri, K Beasley, Dee Dee Kenney, Team Hill, Sharon Pierce, Jennifer Bowling, Ellen Sullivan, Adam Lucas, Laura V., Bienchenbibi, Dave Freemyer , Andreas Beer, Steve Porter, Jack Lynch, Tommy Montgomery, Carol, Hunter Armstrong, James Stemmer, Axel Beer, Paula Massarelli, Marcelo Fonseca, Leach Family, Vanessa Stjohn, Brian Miller, Jessica Abner , The Tisdale Family, Andrew Eckert, Lee Anastasi, Chris Horne, Russell Bennett, Marsha Waidelich, The Rider Family, Tammy Warmouth , Emily Hudson , Erin Dunford, Chris Lucca, Kathy Jenkins , Phil Vickers, Gina Falzone , Janet H., Belicia Cullen, The Reichl Family, Scott C. , Mark Deroia, Deb Ragno, Ken Savage, Sarah And Chris, Jean Debenedetto, Andy Glantzman , Otts Family, Tricia Petty , Maryann Eckenrode, Clifford Wright, Tia P Turner, Lori Rienhardt, Mark Burden, Gloria Martin, Carla C, Robert Wescovich, Chasady Mirkes, Jennifer Rowell, Katina, Katina Dehart, Heather Bachelor, Liz Moreau , Luis Rodriguez, Ruth Senecal, Ronnie Alvarado, Jamie Fahey, Theresa Rucando, Mark Donahue, Jerry Werner, Phyllis, Cathy Connors, Karen Adamakis, Melissa Such , Deb Gallo, Russ Morgan, The Burns Family, Mickey Eckert, Kara Jones, Joseph M. Zafia, Suzanne Denham, The Gunnels Gang, Pat Schwier, Maureen Handy, Matt Wildey , Meghan Gleason-vollmer, Eric Johnson, Pauline Curry, Chuck Everson, Brenda Atkinson , Sharon Justus, Doug Olson Family, Jeff Watson, Kyra, Linda College, Crystal Tremblay, Jane Johnson, Jason Hocker, Les Stewart, Ruben O'meara, Hobbes And Snorky, Cindy O'dell, Tom Koval, Chloe Mayhew, Ken Daube, Todd Johns, Sara Herington, Kris Nixon, Gary Drake, Tammy Lambin , Jim Thompson, Claire Gregory, The States Family, Ashley Collins, Dennis O'reilly, Bill Mckim, Team Bonnie Sue, Donna Frank, Tim Johansen, Bonnie Jean, Stefan Owens, John Bickers , Elaine Tomko-deluca , Mike Malampy( Malampy Benco Family), Corey Marino, Chris, Gretchen, And Katie Barnes, Lyn Johnson , Erin Hammer, Lorie Miller, Roxanne, Amy Guerrini, Bob Hendrix, Larry Sprenkle, Evald Olson, Liz & Dave Fullerton, L Dean, Krista Serpi, The Filiater Family, Melissa Littman, Patti Mccaffrey, Sara Parker, Martha Collins, Linda Scrivano, Christi Ison, Gabriella & Matthieu, Linda Lundsten, Double Family, Elon Kaplan, Shannon Murray, Kelly Lowe, Jeff Blank, Tara, Megan Krainski, Tj, Bethany Angermaier, Jason Skow, Diane Curfman, Josette Gabel, Rick R., Mike Karns, Morag Lemon, Janet T Thorn, Rob Blundin, Matt Holley, Amanda Campbell, Patrick Broaddus, Melody Odonnell, Matthew Frey, Paul Ignudo, Christopher Hall, Caroline Burmester, Terry Fleming, Karrie Duffey, Andrew Pettit, Jeremy Reichelt, Lenz Family, Mark Hardy, Les Whitten, Ronald Delorey, Diane Furtado, Vicki Britt, Rebecca Keenan, Becky Norman, Christopher Thacker, Wendy T Faler, Michael Dale Pennington, The Patterson Family, John Pasqueralli, Scott Greenbaum, Ron Nufranick, Wendy Barney, Dave Carriere, Cynthia Hitchcock, Gina Lawton, Jason, Paul Dickson, Angela Johns, Janet Peirano, Steve Knapp, Brian Yesutis, Jessica Polizzotto , Pam Lorenz, Theresa Maradei, Bob Patterson, Mary Beth Tarbet, Jillian Lassiter, Mark Proper, Ruth Woodhouse, Scott Sangston, Renee Hardiman, Smitty, Mike Cerce, Jim & Lorie Sonnen, Tom Higbee. Sr, Jackie Graebel, Barclay Bakkum, Sheila Bagg, Frances Donahue, The Holmes Family, Jean Bussell, Brian Gallant, Christy Schor, Don Purney, Hillary Waldroop, Matt Earl, Brian Richmond, Deborah Sims, Jackie Klafeta, Lisa Cash, Jo Ann Bailey, Barbara Ingram, April Haddock, Carri Marotto, Jamie Poynton, George Mundy Jr, Annie Snodgrass, John Foggo, Gallagher Family, and Mike Gillardi!
__________________________________ _____________________
Challenge #412 Where in the world is this?
We are outside the parks, but just about everybody has been in this area, even if you're a resort guest. Hint: it's a sign.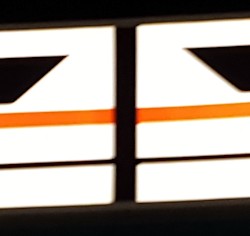 Do you know? Do you have a guess? Please send in your answer, before the end of the day on Thursday, December 24th, by clicking on the blue box below.
Please do not post answers using the Feedback Form link at the bottom of this post.
See you soon, Players!


_______________________________________________________________________
Everyone who sends in a correct answer to a Where in the World Challenge this month will be entered in a drawing at the end of the month for some special AllEars® goodies!