To all who come to this photo trivia game, Welcome! Along the way, the photos can make us relive memories and see details Walt's Imagineers put into everything we love in Walt Disney World!
Now for Challenge #383:

And here's the answer: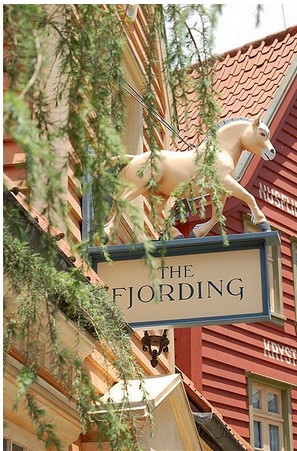 Copyright © Barrie Brewer
The Fjording store — home of the big troll! – in Epcot's Norway pavilion.
For everyone who said they miss Maelstrom, a little trip down memory lane. Or actually, a trip:
"BACK! BACK! OVER THE FALLS!"
Jennifer Rowell was the first to send in the correct answer! Congratulations to Kristi and to all our winners this week! The Sands Family, The Kertes Family, Linda Ranatza, Kristi Strembicki, Carol Ney, Sharon Pierce, Melissa Such , The Gunnels Gang, Bruce Hinterleitner, Kye Layton, Phyllis, Gloria Martin, Elaine Kleinhenz, Amber P, Team Hill, Jen Tremley, Nan Amor, Mary Beth Tarbet, Claire Gregory, Smitty, The Tisdale Family, Judy Simonsen, Ken Maikowski, Sarah Sloniker , Pat Schwier, Bill Schmid , Al & Kerry Ganter, K Beasley, Dee Dee Kenney , Sarah And Chris, Grumpy's Groupies, Lynne Simpson, Paul Knott, Beth Mcmeekin, Axel Beer, Andreas Beer, David Freemyer , Annemarie Cronin, Carla C, Jim & Lorie Sonnen, Pat Morin, Maureen Handy, Juliana Hart, Kathy , Brooke And Kennedy, The Curley Family, Les Stewart, Trish Roam, Rick R., Chris, Gretchen, And Katie Barnes, Maryann Eckenrode, Todd Johns, Carolyn Como, Angela Johns, Pollyanna Buff, Doug Olson Family, Timothy Gallant, Trina Noggle, Tim Johansen, Andy Hickey, Bill Mckim, Kristan Bertelmann, Eric Johnson, Jim Finley, Emma Ramsey, Vera And Izzy Williams, Theresa Maradei, Tom Mcgrew, Vanessa Stjohn, Chris Kelly, Belicia Dawson, Scott Cullen, Dave Cole, Eric Enli, Jamesd (dzneynut), Margaret Convery, Cheryl Costello, The Filiater Family, Terry Fleming, Shannon Murray, Sandie Albrecht, Dawn Bach, Patti Mccaffrey, Daniel Record, Eric Berger, The Modecki's, Cheryl Chambers, Evald Olson, Brendan Abel, Bryant And Ruben O'meara, The States Family, Olszak Family, Jeff Blank, Jeff Blank, Andrew Julow, Jeremy Reichelt, Dave Beedle, Patrick Broaddus, Chris Bauman, Scott Sangston, Matt Holley, Karrie Duffey, Duskin Henard, Rob Blundin, Alison Rosenberger, Hillary Waldroop, Lizanne Fisk, John Casey, Michael & Jackie Mclucas, Caitlin, Kyra C., Paul Dickson, Don Purney, Melissa Littman, Liz Moreau , Bob Wagner, John, Barclay Bakkum, Karen Kushner, Ron Harper, Vicki Britt, Emily Hudson, Walter N. Clark, Thomas Higbee, Ruth Cookson, Lisa Cash, Karen Ramirez, Jane Johnson, Theresa Rucando, Vinnie Degasperis, Carrie Kenney, and Reilly Kenney!
__________________________________ _____________________
Challenge #384 Where in the world is this?
Park hopping! I know we did this a few weeks ago, but there's a method to my madness. You'll see next week.
Plus it gives everyone an easy one to end May. 🙂
.
Do you know? Do you have a guess? Please send in your answer, before the end of the day on Thursday, June 4th, by clicking on the blue box below.
Please do not post answers using the Feedback Form link at the bottom of this post.
See you soon, Players!


_______________________________________________________________________
Everyone who sends in a correct answer to a Where in the World Challenge this month will be entered in a drawing at the end of the month for some special AllEars® goodies!