As part of the nighttime trifecta Disneyland debuted for its Diamond 60th Anniversary Celebration, the longtime favorite firework show (debuted ten years ago for the 50th Anniversary) "Remember…Dreams Come True" was replaced by "Disneyland Forever."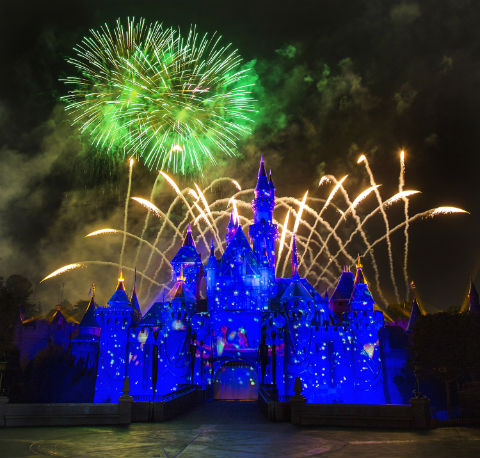 The major innovation for "Disneyland Forever" is the projection technology utilized to turn a variety of surfaces throughout the park into multi-dimensional screens for images enhancing the show experience. Guests can experience the pyrotechnic spectacular differently depending on where in the park they view it–near "it's a small world," by Rivers of America, at the Hub, or on Main Street.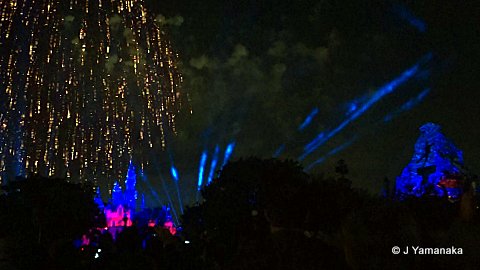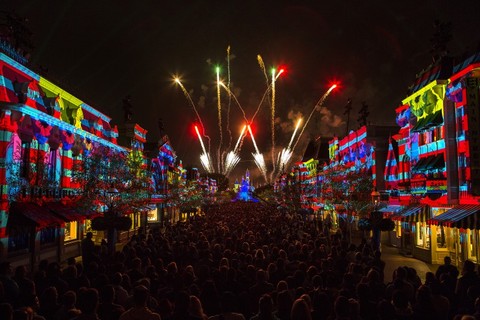 While the show is bookended by references to Disneyland's orange grove origins and its "Forever Young" magic, the bulk of the show calls back to musical numbers from a variety of classical Disney films. From the rooftops of London in "Step in Time," to the African plains of "Circle of Life," to the depths of the ocean 'Under the Sea," to the fairy tale lands of Corona ("I See the Light") and Arendelle ("Let It Go,") the show travels quickly throughout the Disney Studios film catalog.
From all the different vantage points, each view has its strong and weak points: The projections are by far sharper and best visualized on Main Street. The flying elements–Tinker Bell and Nemo–along with the specialized Matterhorn effect during the "Mount Wannahockaloogie" section are only well seen from the Hub area. While I haven't seen the show from the "it's a small world" arcade yet, I would assume that as at Rivers of America, it's a trade-off between a slightly decreased theatrical impact and a greatly increased ease of viewing.
While to my mind, the show lacks the nostalgic elements that "Remember…" packed with its great use of park audio, the projections are impressive, and Disneyland can now join Magic Kingdom, Disneyland Paris and Tokyo Disneyland in having a big, projection-heavy nighttime show. The pyrotechnics are wonderful and the new Richard Sherman song "A Kiss Goodnight" lovely, if a bit melancholy for a show that purports to go on "Forever."
Here's a view of the fireworks and projections on the Castle and Matterhorn from the Hub:
The whole "Disneyland Forever" show, as viewed from Main Street and Rivers of America, can also be viewed over on the AllEars.Net YouTube channel.