Disclaimer: This blog really doesn't deal with dining that is specific to the Diamond Anniversary – just dining that I did when I was there for the opening weekend of the Diamond Anniversary. Though we did two dining packages that gave us preferred viewing for two of the new shows: World of Color – Celebrate!, and Disneyland Forever (from the Rivers of America).
We began with a quick-service dinner the night of the World of Color premiere. We wanted something fast. The line for Earl of Sandwich was out the door (as usual), so we went to Jazz Kitchen Express. I ordered the BBQ Pork Po-Boy with Southern Coleslaw. I was wearing a white shirt, but fortunately I managed to eat it without incident. It was ok – the BBQ sauce was a little too sweet for me. The coleslaw had red peppers in it (WHO puts peppers in coleslaw?), which made it inedible for me.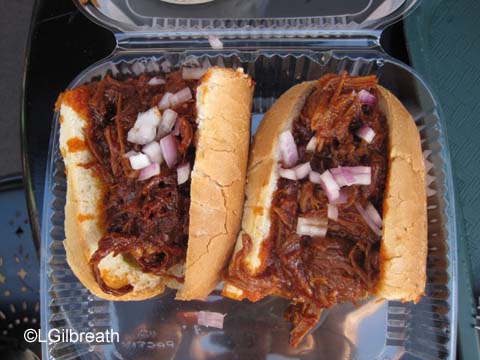 Lee tried the Classic Red Beans & Rice. I tried some of it – it had a bit of a kick to it. I don't remember that when I've had it before. He liked it, though.
On the 24-hour day, we didn't get our first real meal until that evening. About a month before I'd booked a Fantasmic! dinner package at River Belle Terrace for that evening. I had a couple of reasons: first, I wanted to see what the Disneyland Forever fireworks looked like from the Rivers of America, second, I wanted to try the River Belle Terrace in its table service incarnation, and third, I wanted to be sure that we actually had a meal and an opportunity to sit down and relax for a while that day.
On days when Fantasmic! runs, River Belle Terrace doesn't serve the usual lunch/dinner menu. Instead, breakfast is served until 2:00, and then the dinner service starts at 4:00. The restaurant becomes a table service restaurant, using the tables inside and those outside on the patio above the walkway that connects Adventureland and New Orleans Square. The outdoor tables on the Frontierland side are still available to anyone as seating for Stage Door Cafe or any of the nearby food carts.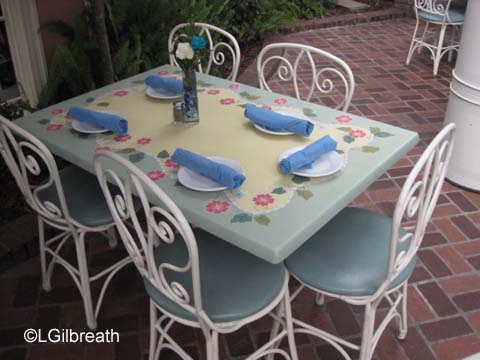 Our reservation time was 5:20. We arrive a few minutes early and had a very short wait before we were seated. We opted for an outside table rather than inside. The restaurant was an oasis of calm on a very busy day. It was really nice to sit down and relax and enjoy a good meal!
The Fantasmic! menu is a three course table service meal. It includes rolls and beverage. The price is $41.99 for adults and $19.99 for kids. We had a very nice server who quickly brought us our bread and beverages and took our order.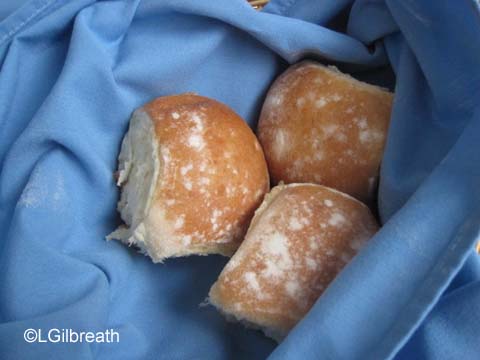 For my first course I ordered the Fresh Mixed Greens – served with tomatoes, crostini and shaved Parmesan cheese. It was a really beautiful salad, and very nicely presented. I enjoyed it.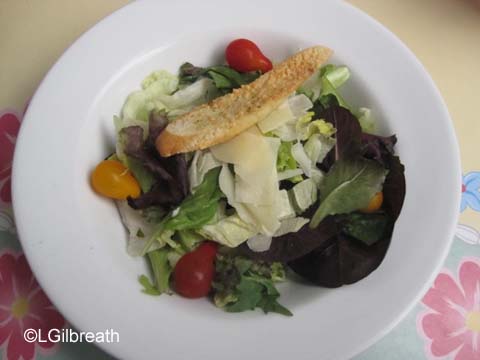 Lee had the other appetizer choice: Creamy Corn Chowder with bacon and chives. He really liked this – it wasn't totally pureed, and had a lot of corn kernels in it. That made it too "corny" for me, but that was one of the reason he enjoyed it so much.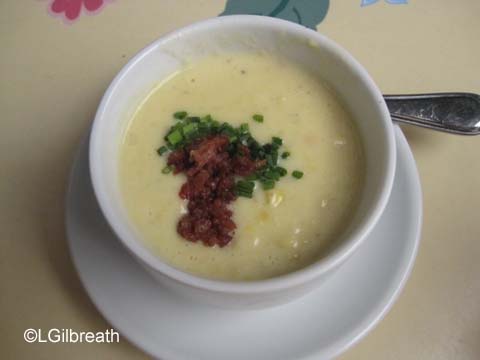 For my entree, I ordered Rosemary-marinated Chicken Breast with garlic mashed potatoes and broccoli. It came with a lemon thyme sauce which I asked for on the side. This was perhaps one of the best pieces of chicken I have ever been served: it was moist and flavorful. Just excellent.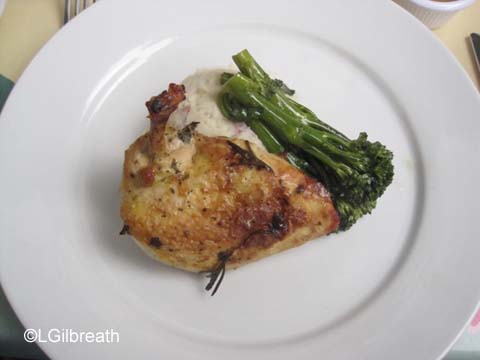 Lee had the Slow-roasted New York Strip and a Cajun Shrimp Skewer, also served with garlic mashed potatoes and broccoli. The meat is not cooked to order – it's all cooked medium. Lee said it was good but not great – he really enjoyed the shrimp, though.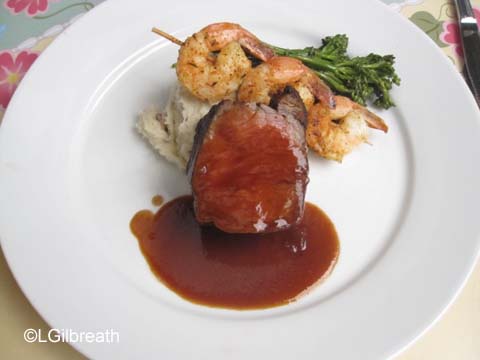 The other entree choice was Hand-tossed Cavatappi Pasta Primavera served with seasonal vegetables.
For dessert I ordered Chocolate Mousse Cake with Raspberry Sauce. It was just ok – the chocolate on top tasted like Hershey syrup, and there were little bits of gelatin in it.
Lee tried the other dessert option, Caramel Apple Pie with Streusel. That was served warm and it was very good, and a generous portion. Both of the desserts were good-sized.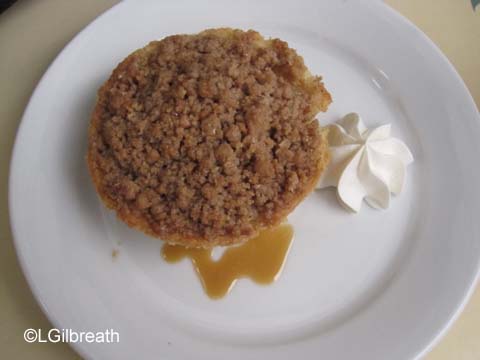 We were able to get an Annual Passholder discount on dinner. Our server asked us which show we wanted to see. That surprised me – I thought that we'd have no choice but to go to the first show based on our reservation time. I'm sure it's based on availability, and we wanted the first show, but it was nice to have the option.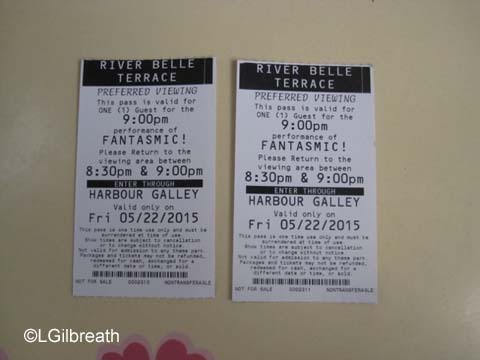 The Disneyland receipts all have the Diamond Anniversary logo at the top now – I thought that was neat.
Our server told us to show up at Harbor Galley at 8:45 for the 9:00 show, and the ticket said to show up at 8:30. We arrived closer to 8:30, and there were already lots of people in our section – there were maybe a dozen who arrived after us. The viewing area was just to the left of center stage – it was really a great location. We all had to sit on the ground but there was plenty of room. We were in the third row of people. I wished that we had remembered to bring the Fantasmic! seat cushions we'd gotten in January when we did the dining package at Blue Bayou – it's the only restaurant that offers those.
Fantasmic! was terrific, as always, but the real reason we had come was to see the new fireworks show, and to see how the projections would look on the mist screens. We were in the perfect spot – the fireworks were almost centered over the mist screen in front of us. And in addition to the fireworks over the park, there were also some fireworks that were local to Rivers of America.
We weren't as immersed in the projections as we were on Main Street, but on the other hand, everything was right in front of us, and we didn't miss projections because we were looking at fireworks or vice versa. And while the projections on the mist screen weren't as clear as they are on a solid surface, though we could still see them pretty well.
These are the only two locations I've seen the fireworks from so far, and I thought they were both really good experiences, though they are different.
In Disney California Adventure, the former Condor Flats area has been re-themed to Grizzly Peak Airfield – extending the national park look of the rest of the Grizzly Peak area. The Taste Pilot's Grill restaurant is now the Smokehouse Grill, though the menu is similar – still essential a burger restaurant. We hadn't eaten there in its new incarnation, so tried it for lunch one day.
I ordered the veggie burger. All burgers come with choice of fries or zesty slaw, or for 50 cents more you can substitute onion rings. I chose the onion rings. They were really good! The burger was just ok – I believe this is the "Garden Burger" patty, and I don't like it very much because there are peppers in it. The restaurant still has the toppings bar with lettuce, tomato, onions, pickles, etc., so I can make it the way I want. Sometimes the patty is superfluous, and I make more of a "salad burger". 🙂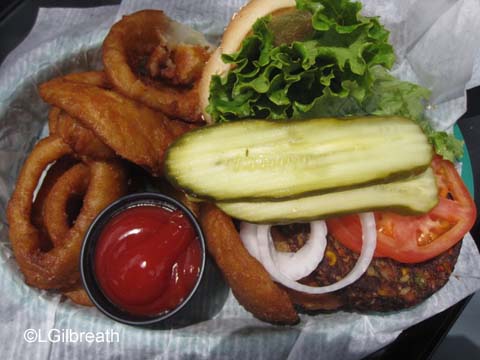 Lee ordered the bacon cheeseburger. It was a fine cheeseburger, but nothing special. He had fries with his, and they were also very good.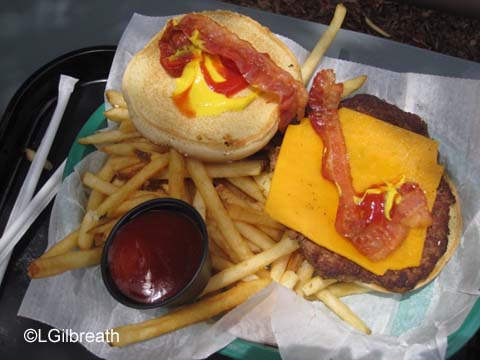 Later in the afternoon we visited Ghirardellis. I tried something new called a Nob Hill Chill. Oh my. I have a new favorite! It's like hot fudge sundae meets milkshake! A dark chocolate sundae that you can drink. It was thick and chocolatey, with hot fudge along the sides and the bottom (as well as mixed into it), and little bits of chocolate.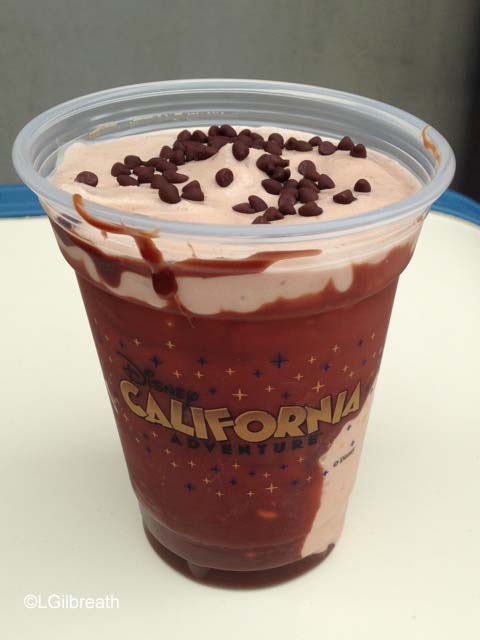 That evening we went to Ariel's Grotto to try the World of Color Dining Package there. It had been several years since I'd been here, and the menu has changed slightly – not quite as much seafood as in the past (and really, Ariel shouldn't be serving up her friends!!!).
I celebrated surviving the 24-hour event by ordering the Magical Star cocktail which had a glow cube in it. Very tasty.
Our meal started with a sourdough bread service – the bread loaf was quite pretty!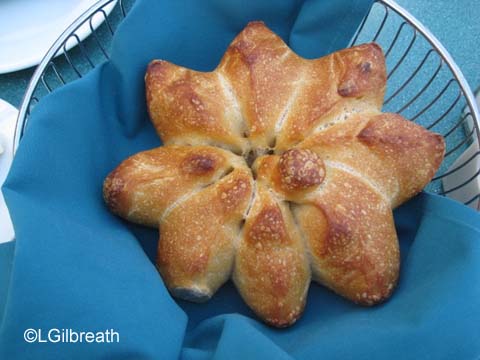 This is also a three course meal, with choice of appetizer and entree, and then dessert is a sampler platter. I started with the green salad. Nice mixed greens, though it came with blue cheese on top, which I didn't realize, as it wasn't listed on the menu. When our server came back I mentioned that to her and she quickly brought me another one with no blue cheese.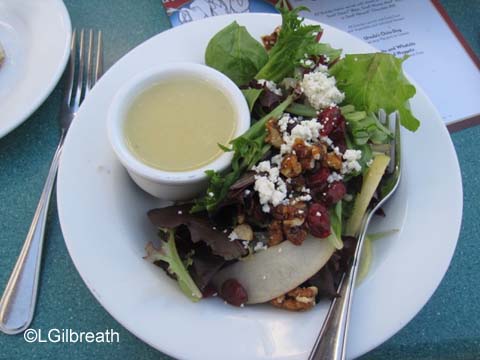 The other appetizer choice was Butternut Squash Soup. Lee ordered that. It was very thick and really tasty.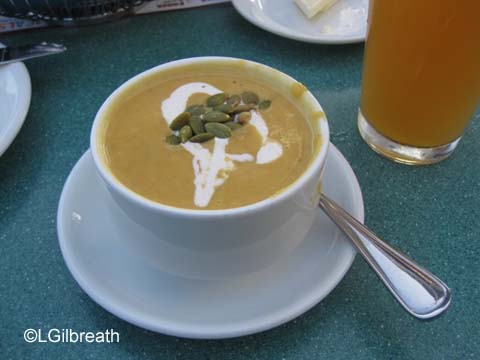 My entree choice was the cider-brined pork chop, which I believe has been recently added to the menu. It was served with mashed potatoes and seasonal greens. The pork chop was excellent – perfectly cooked. The mashed potatoes were also good, but I didn't care for the greens – wilted beet greens or something like that.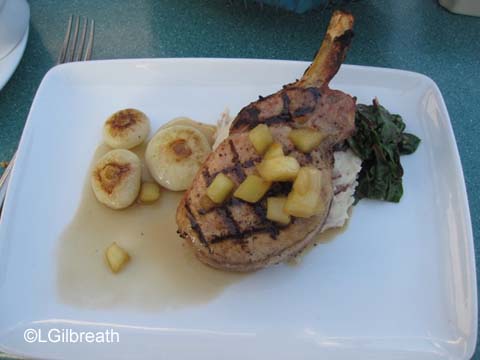 Lee ordered the Sustainable Fish, which was macadamia nut-crusted mahi mahi. He enjoyed that, though he also didn't like the greens that accompanied it – baby bok choy in his case.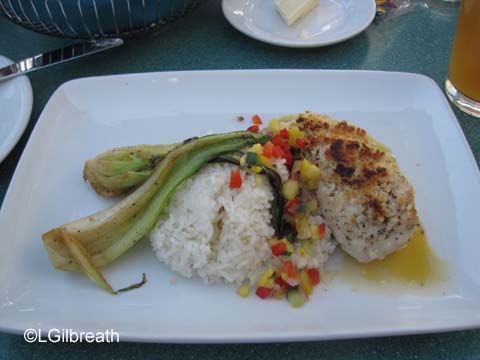 While the first two courses had been quite good, the best part of the meal was dessert. We each received a sampler dessert platter with creme brulee, a S'mores cake and a chocolate covered strawberry. Best dessert platter I've ever had! The S'mores cake was especially good – I would be happy to get that for dessert in ANY restaurant. Really a wonderful way to end the meal.
At the end of the meal we received our World of Color Fastpasses for the Preferred Viewing section. We arrive about 30 minutes before the 9:00 show, and there were already lots of people there. We had a great spot right in the center, and even though there were two rows of people in front of us they were fairly short and didn't block our view or put kids on their shoulders, etc. We still really enjoyed the show – second viewing for Lee and third for me – and I continued to catch details that I had missed before. Like during the theme park section, we see Neil Patrick Harris in familiar scenes or situations. Fun.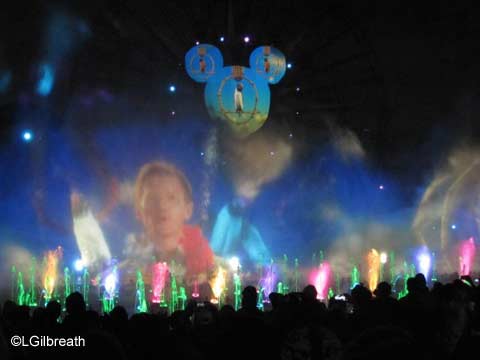 On our final morning we had breakfast at Tomorrowland Terrace. I ordered the breakfast burrito without the chorizo. But it still had eggs, cheese, black beans, and salsa in it. Very filling. And it came with a side of fruit.
Lee ordered the Breakfast Platter with eggs, bacon, biscuit, and potatoes. Interesting that the potatoes looked like Yukon gold potatoes, rather than the standard russets. This was pretty much your normal American breakfast, but it was good.
There are a number of special food items for the 60th anniversary, but we have not had a chance to try any of them yet. I'm sure we'll have a few more visits to Disneyland coming up, though. 🙂