Welcome back to my Tomorrowland series. Today I'll cover Carousel of Progress.
In case you missed the previous parts:
Part 1 – Tomorrowland An Overview – Flight to the Moon – Mission to Mars
Part 2 – Circle-Vision movies – If You Had Wings – Dream Flight
Part 3 – Skyway – Star Jets – WEDWay PeopleMover
Many people believe that the Carousel of Progress had its beginnings at the New York World's Fair. But that's not the case. Years before the fair, the General Electric Company's Lamp-Division approached Walt about building an attraction at Disneyland that showcased electricity. Imagineers proposed Edison Square, an offshoot of Main Street. Here, guests would be treated to several tableaus highlighting the advantages of electricity and electric appliances, much like the show today. However, guests would walk from theater to theater. In addition, an "electro-mechanical" man to be named Wilbur K. Watt would host each segment. Unfortunately, technology had not yet caught up with Walt's dreams and the early AudioAnimatronics man did not live up to expectations.
In this next picture you can see an artist's rendering of Edison Square as it was displayed on souvenir maps of the late 50's and early 60's. Although you can't make out the text, it reads:
Diorama of Inventions
American Home Pre-Electricity
American Home Advent of Electricity
Contemporary Living
The Electric Age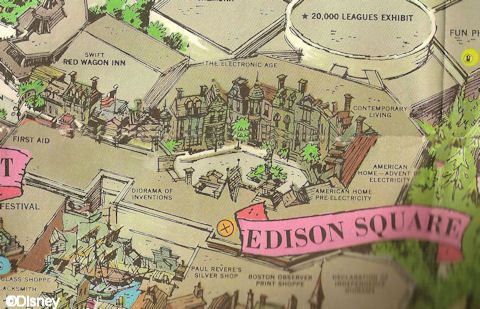 In the end, Edison Square was never realized. However, Imagineers are fond of saying "No good idea ever goes unused."
The 1964/1965 New York World's Fair was envisioned by several businessmen who fondly remembered their experiences years earlier at the first New York World's Fair which ran from 1939 to 1940. They wanted to recreate this exhibition on a much grander scale for their children and grandchildren. However, an undertaking of this magnitude required someone experienced at raising large amounts of money and getting things done on schedule, so they turned to Robert Moses. Moses was an influential player in the growth of New York City from the 1930's to the 1950's. He was responsible for the construction of much of the city's highway infrastructure and, as Parks Commissioner, the creation of many of the city's parks.
It's interesting to note, the 1964 New York World's Fair was never sanctioned by the Bureau of International Expositions. Because of this, major governments such as France, Germany, Great Britain, Australia, and Canada chose not to be represented. Most of the nations that did participate did so under tourism and industrial sponsorship.
Since the fair would not benefit from governmental financing, Moses needed to find other sources to fill his pavilions. Having heard glowing reports about Disneyland, he flew to California to meet with Walt. Upon his arrival, Walt asked Moses if he'd like to be introduced to Mr. Lincoln. After shaking hands with an early AudioAnimatronics figure of the sixteenth president, Moses insisted that Walt and Abe be a part of the fair.
The idea for Edison Square resurfaced with the impending fair. The concept was reexamined and possibilities explored. Eventually, the attraction was renamed "Progressland" to coincide with GE's current marketing slogan, "Progress is our most important product." In addition, Walt insisted that his Imagineers figure out a way to incorporate his new AudioAnimatronics into the attraction.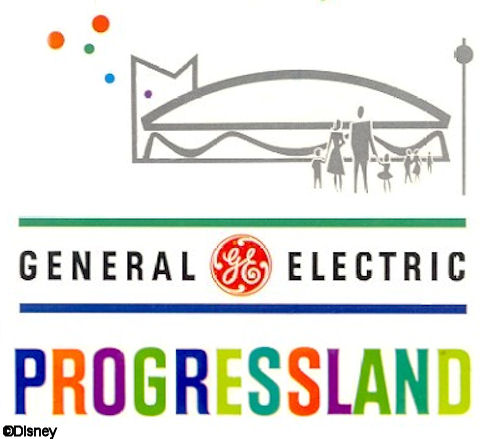 At the fair, Progressland was housed in a large, three-story domed structure. The dome was made up of crisscrossing tubular steel girders. Not only did this design facilitate relatively quick construction, it would also be easy to dismantle after the fair for salvage.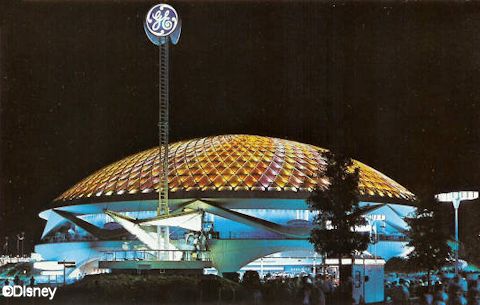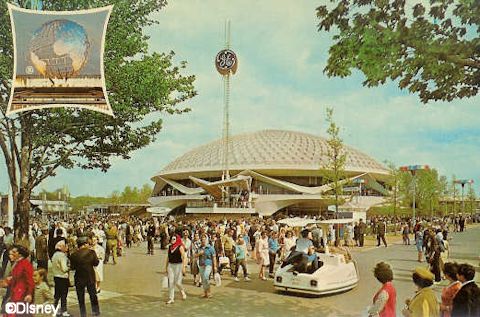 Guests entered Progressland on the first floor and rode an escalator to the second. Here they arrived at one of six theaters that revolved around a central core of six stages. After getting settled and the overture played, the theater rotated 60 degrees to view the first of four vignettes. This stop brought us to a typical American household of the late 1890's (if you were rich). A gentleman (Father) is sitting comfortably in the kitchen, pipe and newspaper in hand. It's springtime and life is good. For the next four and a half minutes, Father introduces us to his family (wife Sara, daughter Jane, his son, grandma and grandpa, and cousin Orville) and tells us all about the marvels of the age. At the conclusion, the theater once again rotates and brings us to the 1920's. Once again, Father is sitting in the kitchen and explains to the audience how wonderful life is, much of it due to electricity. "General Electric" is mentioned in each vignette and the name is prominently displayed on the appliances. After the 20's we visit the 40's, then the 60's where Father continues to educate us about life in each era. Every rotation advanced us 20 years. This unique theater could accommodate 3,600 guests per hour.
To help the transition between sets, a song was needed. Walt turned to Richard and Robert Sherman and presented them with the task. He told them that he needed a tune that was essentially a commercial jingle. It needed to be short, catchy, and upbeat. And it also needed to lend itself to various styles such as ragtime and swing to blend with the various eras depicted in the show. It took the brothers a couple of weeks and when they thought they had what Walt was looking for, they invited him to their office to hear their new song. When they were done, Walt said, "That will work fine." From Walt, this was high praise.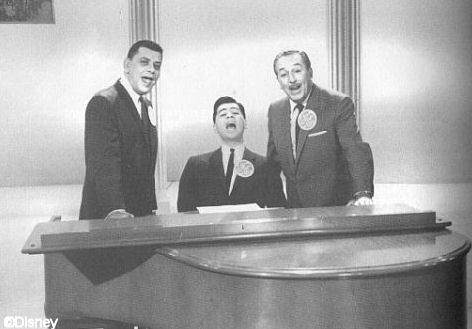 After viewing the last vignette of the show, the theater rotated once again. Guests left their seats and took an escalator to the third floor and the Sky-Dome Spectacular. This show, projected on a 200-foot-wide overhead screen, chronicled man's struggle to harness nature and discover new forms of energy. At the films conclusion, guests moved to a new location where they were treated to a demonstration all about the creation of nuclear fusion " "The greatest science display at the fare."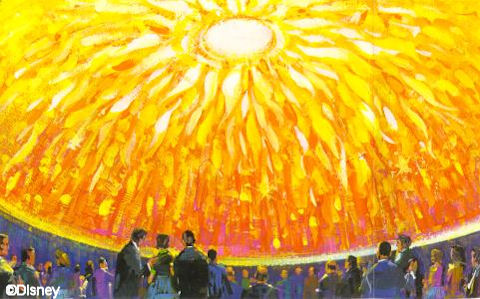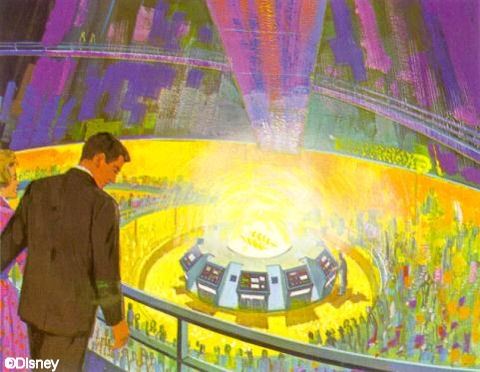 From the Sky-Dome, guests returned to the first floor and were free to tour the all-electric wonders of Medallion City. Here, they continued to witness the advancements electricity had brought to their lives and communities.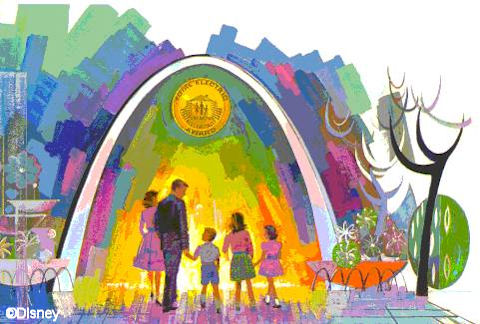 At the fair's conclusion on October 17th, 1965, 51 million people had visited. This figure is considered respectable for an exhibition of this nature, but attendance was actually 20% lower than projected. During the fair's two year run, Progressland was one of the most visited pavilions (up to 45,000 per day). In the end, the fair lost large amounts of money and allegations of gross mismanagement were levied. Today, because of its "unofficial" nature, the fair is often overlooked by historians when the subject of World Fairs is bantered about. However, the fair greatly benefitted Walt Disney.
From the very beginning, Walt planned on bringing Progressland and his other World's Fair exhibits back to Disneyland. In essence, he was able to get outside organizations to fund the research, development, and construction of his attractions. But the fair helped Walt in other ways. In the early years, Disneyland's Tomorrowland was lacking. But with the addition of Progressland, now to be called Carousel of Progress (CoP), Walt could persuade other companies to sponsor attractions in his Anaheim park. Goodyear signed on to sponsor the PeopleMover and both McDonnell-Douglas and Monsanto agreed to greatly upgrade their existing attractions.
In 1967, an all-new Tomorrowland debuted at Disneyland. For the first time, this land truly demonstrated Walt's vision of the future and attendance soared. Unfortunately, Walt never saw this wonderful expansion completed as he died on December 15, 1966.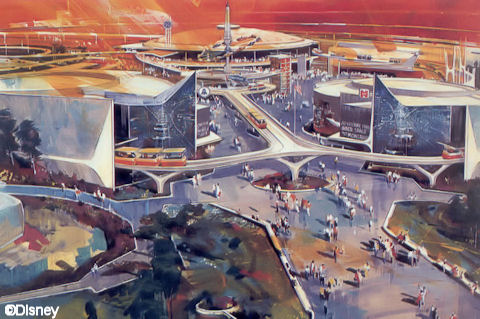 Although a new building was needed at Disneyland to house CoP, the props and AA figures arrived from New York virtually intact. However, the show would be tweaked slightly. First, all references to GE's now defunct "Medallion Home" advertising campaign were discarded. Mother's voice was rerecorded. Father moved from a bench to a barstool in the 1940's kitchen. The final, Christmas scene was updated slightly. And the Sky-Dome Spectacular became history. The attraction opened at Disneyland on July 2, 1967.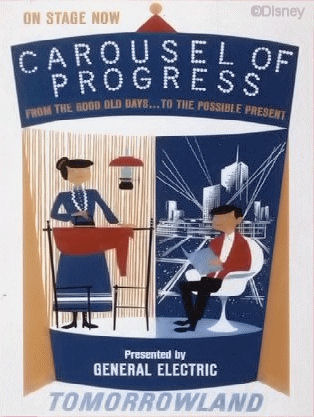 Father, the star of the show, was voiced by Rex Allen at the World's Fair and Disneyland. Allen was a western film actor, singer, and songwriter. In his later years, he narrated a number of Disney nature films and television shows.
Since CoP was a blatant advertisement for General Electric, it was decided that guests shouldn't be required to relinquish a ticket (what would have been an "E" ticket) to see the show. This added greatly to its popularity. Other free attractions at the time were Great Moments with Mr. Lincoln (presented by Lincoln Savings and Loan), Adventures thru Inner Space (presented by Monsanto), and America the Beautiful (in Circle-Vision) presented by AT&T.
After getting settled in the first theater of CoP, an on-stage curtain rose to reveal a wall of textured plastic called "Kaleidophonic Screens." As Father voice welcomed us aboard, colored lights, behind the plastic, blinked and changed with his narrative. In the 1960's, this was an impressive sight.
The story began in the late 1890's. Father opens Act 1 by saying "Well, the robins are back. That's a sure sign of spring." In this version of CoP, each act represented a different season, spring, summer, autumn, and winter.
In Act 1, Father tells us of the modern conveniences they enjoy such as gas lamps, telephones, and the latest design in cast iron stoves. Their ice box holds 50 pounds of ice and Rover keeps the drip pan from overflowing. It's interesting to note, the dog had a different name in each scene, Rover, Buster, and Sport.
In a segment of Act 1, mother Sara can be seen ironing. Next to her is a young girl operating the "wash day marvel." This character is not part of the family nor is she ever introduced or mentioned. Over the years, many have speculated as to her identity, but a positive answer eludes us.
"Hottest summer we've had in years," was how Father opened Act 2. This line was keeping in the theme of "seasons."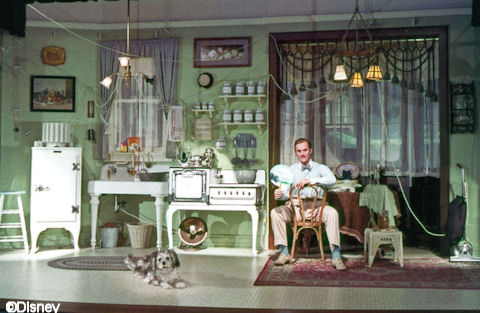 Cousin Orville is also introduced in Act 2. Orville's only line, "No privacy at all around this place," was voiced by Mel Blanc. Blanc is most remembered for voicing many of the Warner Brothers' characters such as Bugs Bunny, Daffy Duck, and Yosemite Sam.
Walt was extremely involved with the design of CoP. Originally, the Imagineers had Orville's back facing the audience. When Walt saw this, he knew better. He turned the tub around, took off his shoes and socks, and jumped into the tub. Then he said to the Imagineers, "He'd wiggle his toes, don't you think?"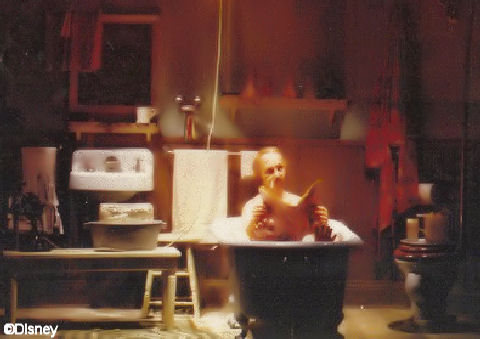 Father opens Act 3 by saying, "Well, it's autumn again and the kids are back in school."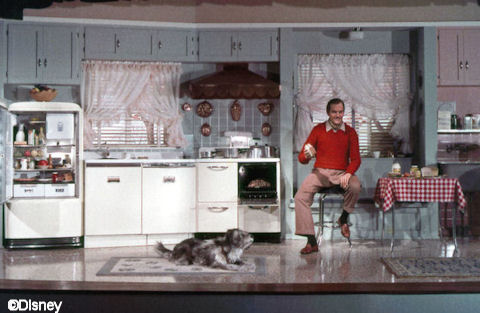 Act 4 begins with Jingle Bells playing in the background and Mother and Father wishing us merry Christmas.
In Acts 1, 2, and 3, Mother was portrayed as the typical American, hardworking housewife. Her sole lot in life was to take care of the home which required copious amounts of effort. In Act 4, the Imagineers wanted to show how electricity and modern appliances had liberated the "little woman." To demonstrate her new found freedom, she talks incessantly, barely allowing Father a word in edgewise. However, it's very clear that she's still the "typical American housewife." The appliances are hers, not Fathers. And it's Mother, not Father, who is cooking Christmas dinner. And with her new-found liberation from drudgery she has time for activities like the gardening club, the literary society, and the ladies bowling league. The idea of Mother getting a job in the 1960's was unheard of.
If you looked out the window in Act 4, you could see a familiar sight, Progress City. This would be given greater attention in Act 5.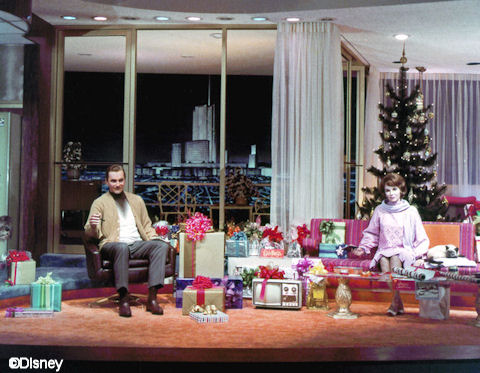 As Act 4 concluded, the theater rotated once again. When it came to a stop, a speed-ramp, not a stage, lay before us. Guests were asked to get out of their seats and proceed to the second floor to be reunited with Mother and Father and view Progress City.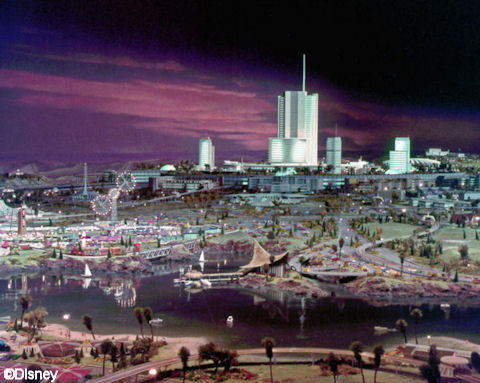 Progress City was a grand model. It was built to 1/8 scale and was 160 feet wide. It had 22,000 scale shrubs and trees, 4,500 structures (lit from within), and 1,400 working streetlights. Many of the trains, PeopleMovers, and automobiles actually moved. This was an impressive sight. Progress City was Walt's model for EPCOT (Experimental Prototype Community of Tomorrow).
While viewing Progress City, Father and Mother highlighted some of its virtues, including the new GE nuclear power plant located nearby. Father also mentions their local amusement park to which mother says, "It's not exactly Disneyland, but it is clean and bright and lots of fun."
Guests exited CoP on the second floor and traveled down a long ramp to ground level.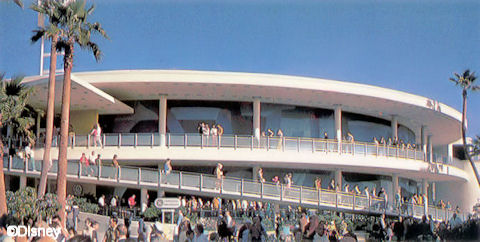 Carousel of Progress attendance began to wane at Disneyland in the early 70's. General Electric believed that 80% of the people who saw the show were from California and felt their advertising dollars could be better spent elsewhere. They asked Disney if they'd be willing to move the show to Florida and the company agreed. CoP closed at Disneyland on September 9, 1973. Today, the Disneyland Carousel Theater is home to Innoventions and uses a stylized rendition of "There's a Great Big Beautiful Tomorrow" as its theme song.
When CoP moved from New York to California, only minor changes were made to the attraction. That would not be the case for the move to Florida. For the most part, the sets and AudioAnimatronics figures remained the same, but other changes would be more significant. The first noticeable difference was the building. At the World's Fair it was three stories high. At Disneyland, it was two stories. But at the Magic Kingdom it would only be one story with a loft large enough for the PeopleMover to pass by comfortably. In addition, the carousel now rotated counterclockwise rather than clockwise. Guests would also enter and exit on the first floor. Here is an early picture of CoP at the Magic Kingdom. Notice the blue and white stripes on the building.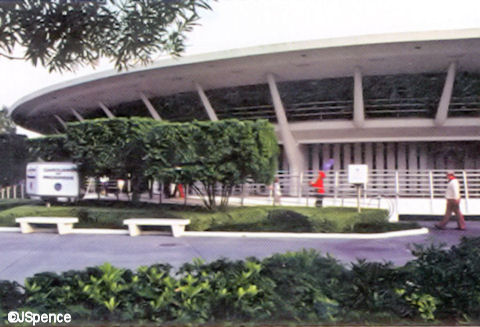 General Electric had also tired of the song "There's A Great Big Beautiful Tomorrow." They didn't want to encourage their customers to "wait" for the future before they bought their appliances. They wanted them to buy them "now." So the Sherman brothers were brought back on board and they composed "The Best Time of Your Life" or as it is also known, "Now is the Time."
CoP opened at the Magic Kingdom on January 15, 1975. Space Mountain also opened on this same day. The sets for the first three acts closely resembled the original, but an all-new fourth act displayed an updated Christmas scene. In addition, Andrew Duggan now voiced Father. In 1981, the fourth act was updated once again to reflect a 1980's home.
Horizons, opened at Epcot on October 1, 1983 and was sponsored by General Electric. GE also was sponsoring the nighttime spectacular Illuminations. So when their ten year contract for CoP expired on March 10, 1985, they chose not to renew. The attraction closed briefly so all references to General Electric could be removed. The GE logo was replaced with a logo that showed a stylized blueprint of the six carousel theaters surrounding the six fixed stages.
It's interesting to note, references to "General Electric" and "Hotpoint" can still be seen on several of the appliances today.
That's it for Part Four of my Tomorrowland series. Check back next week when I'll be discussing Space Mountain and the Grand Prix Raceway.