Last week I told you how the Magic Kingdom's Tomorrowland was far from complete on opening day. I also discussed the Flight to the Moon and the Mission to Mars attractions. Today I will continue my tour of Tomorrowland with a look at the Circle-Vision movies that were shown here along with If You Had Wings and three of its predecessors.
Directly across the concourse from the Flight to the Moon/Mission to Mars ride was the America the Beautiful attraction. Like so many other rides, this presentation could trace its roots back to Disneyland.
The first Disneyland 360 film was titled "A Tour of the West."� It was shot on 16mm film and used eleven cameras and eleven screens to completely surround guests with images of Southern California, Las Vegas, the Grand Canyon, and Monument Valley. It was an opening day attraction and one of just a handful that survived the day without a mishap. It was shown in the Circarama Theater and was eleven minutes in length. The name Circarama was a takeoff of the recently coined term Cinerama, the new theater process in which movies such as "How the West Was Won"� and "It's a Mad, Mad, Mad, Mad World"� were shown on three synchronized screens.
Most people know that Walt was associated with the 1964/65 New York World's Fair, but most do not know that he was also associated with the 1958 Brussels World's Fair.
After the opening of Disneyland, Walt was approached by Howard S. Cullman, U.S. Commissioner General in charge of the fair's American exhibit. He asked Walt to create a Circarama movie showcasing the United States. Cullman wanted to show Europe the beauty and majesty of our fine country. The movie would be shot using 35mm film and would ultimately end up being 18 minutes in length. The movie was titled "America the Beautiful."� The Ford Motor Company would sponsor the attraction. After the fair closed, the movie was moved to Disneyland and opened in June, 1960, replacing A Tour of the West.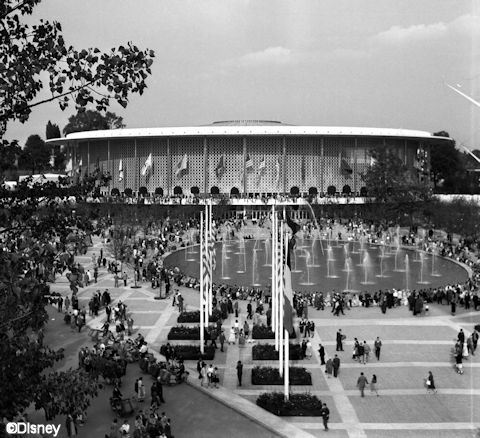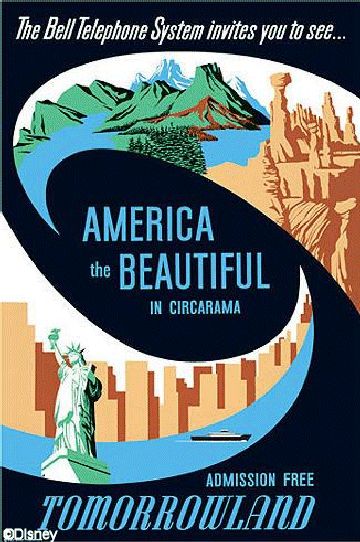 When Disneyland's Tomorrowland was remodeled in 1966 and 1967, a new 360 movie was filmed. In addition, the number of cameras and screens were reduced from eleven to nine as it was discovered that fewer screens made viewing more palatable for guests prone to motion sickness. The new movie was still titled "America the Beautiful,"� but the theater was now called Circle-Vision 360.
The film began with a view of Mount Rushmore and a rousing chorus of "America the Beautiful"� being sung in the background. It then took audiences on a stirring 18½ minute journey across America. During production, the camera was mounted atop a car, a hook & ladder fire truck, and several water craft. It was also suspended from a B-25 bomber. To create an unobstructed view while in flight, the camera was attached to a specially designed hydraulic device contained within the plane's bomb-bay. When flying over desired locales, the camera could be lowered for filming.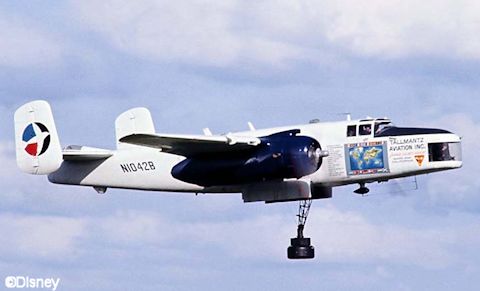 This second version of America the Beautiful opened in the Magic Kingdom on November 25, 1971 and was sponsored by Monsanto. It was a free attraction in the day of ticket books. It entertained audiences for a mere 28 months when its run ended on March 15, 1974. However, this abrupt withdrawal wasn't due to a lack of popularity, but rather a hiatus in which the movie could be modified for the upcoming American Bicentennial. During its absence, a new film, Magic Carpet 'Round the World took its place.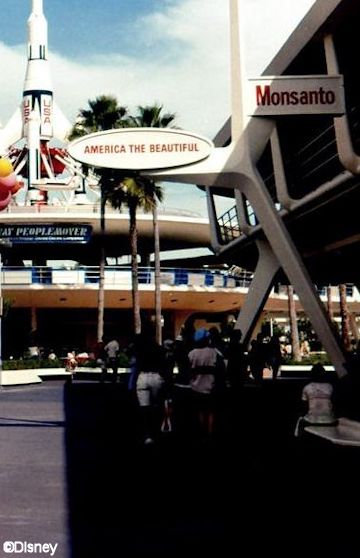 Magic Carpet 'Round the World took guests on a 21-minute journey through more than 20 countries. To enhance the experience, a 24-voice chorus and 56-piece orchestra was used as accompaniment. According to a Disney press release, more than 37 hours of film were edited to create the movie. And some of this cut footage was later reused in the Timekeeper attraction that would play in this same space many years later. This film closed sometime in 1975 and once again, America the Beautiful began showing here, this time with added footage of Philadelphia.
The newly edited version of America the Beautiful only played in Tomorrowland until 1979 when it was once again replaced by Magic Carpet 'Round the World. This second showing of Magic Carpet 'Round the World was featured here for another five years when it was ultimately replaced with an all new movie, American Journeys which opened on September 15, 1984. (Confused? I know I am. Try this. It might help.)
America the Beautiful
Magic Carpet 'Round the World
America the Beautiful (revised)
Magic Carpet 'Round the World
American Journeys
American Journeys was similar in concept to America the Beautiful in that it toured our great nation from sea to shining sea. But along the way, it tried to present a more realistic view of America. Depictions of the land and its people were far more diverse and "colorful" than its "predominately white" predecessor. During a portion of its run, American Journeys was sponsored by Black and Decker. It was last shown in the Magic Kingdom on January 9, 1994.
In 1980, the second version of America the Beautiful was released on 16mm film for educational use. However, it was not in 360 Circle-Vision. Only the front-facing screen was shown. Anyone who has ever seen this movie would know, without the other eight screens, the viewer is missing a lot. This single-screen version can be seen on YouTube if you're curious.
I had the privilege of watching the second version of America the Beautiful once with a cast member working the attraction at Disneyland. As he was required to be in the theater while the movie was shown to audiences, he had become very familiar with it. In fact, he had watched the movie so many times he decided that he would start watching only one screen for an entire showing just to see what he could discover. And it turns out his efforts were not wasted as he found that not all the scenes used in the movie were entirely family friendly. Fortunately, most of the objectionable scenes were not noticeable to the audience as they were not the focus of attention at that particular moment in the film or were "blurred"� out by Disney. But since AllEars is a family-friendly site, I can't share these images with you now. However, if you ever run into me while I'm out and about in the parks, feel free to ask me.
When discussing the original Magic Kingdom Tomorrowland, there is one attraction that stirs people's interests more than any other, If You Had Wings. This Florida original had a loyal following and many still lament its passing into obscurity.
You will see the attraction's name written in three different ways on official Disney brochures and plaques: If You Had Wings (all words capitalized), If you had wings (only "If" being capitalized), and if you had wings (no capitalization). For ease of reading, I will use traditional "title" convention.
If You Had Wings was sponsored by Eastern Airlines, a major player in the airline industry at that time and the official airlines of Walt Disney World. In 1971, Eastern provided flight service to Orlando from 60 different cities. It is estimated that the airline paid $10M to sponsor the attraction.
In reality, If You Had Wings was nothing more than an amusing 4½ minute advertisement for Eastern. To that end, it did not require a ticket to ride. If You Had Wings opened on June 5, 1972.
Some suggest that If You Had Wings was inspired by Disneyland's Adventure's Thru Inner Space which had opened four years earlier. After all, they both used the new Omnimover ride system. Both could be viewed from the PeopleMover. Both saw the ride vehicles disappear into large structures (a microscope or globe). They both used a similar track layout. And most importantly, both were designed by Disney Legend Claude Coats who was known for his dark ride designs.
Guests walked through an unassuming doorway to enter If You Had Wings. Once inside they found themselves in a large room that was designed to resemble a modern airport passenger terminal. Overhead were arrival and departure boards listing exotic locales that Eastern serviced. Here is a list of the pending departures:
Caribbean and Island Ports of Call
Su Casa Service to Old San Juan
The Pyramids of Ancient Mexico
The New Orleans Jazz Flight
Bermuda's Underwater Reefs
The Adventure Specials
Bahamas 700 Islands.
As guests continued through the queue, they eventually came to a speed-ramp which would carry them to one of the 102 continually moving 2-3 passenger vehicles. Once seated, guests entered a giant, stylized globe.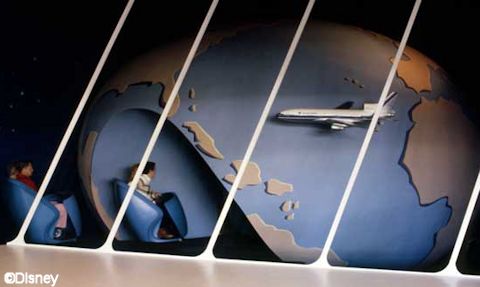 The ride began with the vehicle gently tilting back. This was to impart the feeling of an airplane takeoff. Projected on a blank wall were animated silhouettes of seagulls in flight. These were soon replaced with animated silhouettes of airplanes racing across the sky. In the background, the haunting tune "If You Had Wings"� began to play. The music for this ditty was written by Buddy Baker and the lyrics by X Atencio.
A few moments later, guests found themselves in the thick of things. All around them were colorful props that featured windows, arches, and any number of openings in which a transparent screen could be placed. Behind these screens there were a number of projectors churning out continuous loops of movies depicting some of the many locales Eastern Airlines flew. These included Mexico, Bermuda, Puerto Rico, the Bahamas, Jamaica, and New Orleans.
In all, the attraction had forty-one 16mm projectors, three 70mm projectors, forty special lighting effects projectors, and one 35mm projector. Unfortunately, all of these projectors made a lot of noise. And no matter how loud Disney turned up the music, it couldn't drown out the rhythmic clicking these machines made.
After visiting the many exotic locations presented at the beginning of the attraction, guests entered the SuperSpeed Tunnel. This was an elongated room with an arched ceiling. Here, racing dune buggies, speeding motorcycles, dare-devil water-skiers, hurtling airboats, acrobatic planes, and other assorted vehicles were seamlessly projected onto the walls and overhead. At the same time, your Omnimover vehicle tilted back and fans blew cool breezes onto your face. All of this combined to give the rider a sense of extreme motion even though you never exceeded the speed of two miles an hour. It was the virtual reality of its day. Unfortunately, technology really hadn't caught up with execution and the images were pretty blurry. Nonetheless, most folks thought this was the best part of the ride.
The SuperSpeed Tunnel was followed by the Mirror Room. In this space, floor to ceiling mirrors reflected images of snow-covered mountains and other serene landscapes.
The final scene brought us back to more projected seagulls and an occasional Eastern aircraft passing by. An announcer would leave us with these parting words: "You do have wings, you can do all these things, you can widen your world, Eastern…we'll be your wings."
Due to financial troubles, Eastern ended its sponsorship of If You Had Wings on June 1, 1987. Four years later, Eastern would be out of business. Despite Eastern's problems, the attraction was extremely popular and racked up over 40 million visitors in just six years.
After Eastern pulled its sponsorship, the Imagineers did a quick makeover of the attraction. In just five days, all references to Eastern Airlines were removed, the theme music and recordings swapped out, and signage changed. The attraction reopened on June 6, 1987 as If You Could Fly.
Although in most ways, If You Could Fly was identical to its predecessor, however it never caught on with the public. Some claim that the attraction had lost its heart and soul when Eastern left. But in reality, this attraction had become tired and out of date. Audiences wanted something more exciting. If You Could Fly closed permanently on January 4, 1989, less than two years after its debut. All of the sets were hastily destroyed in an effort to get ready for the next attraction that would be housed here soon.
Always on the lookout for a corporate sponsor, Disney found a new ally with Delta Air Lines who was eager to take over this outdated attraction and advertise its own product. The new ride would be officially named Delta Dreamflight, but most everyone just called it Dreamflight. Delta would also become the official airlines of Walt Disney World.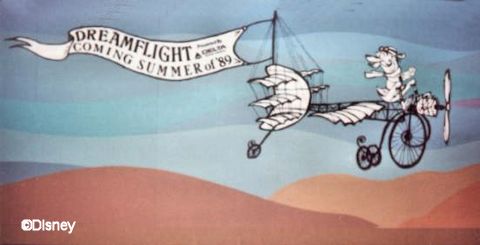 In an effort to save money, the existing Omnimover, track layout, and floor plan were reused, but everything else about this attraction would be new. In just a little over five months after the closing of If You Could Fly, Dreamflight began entertaining guests on June 23, 1989.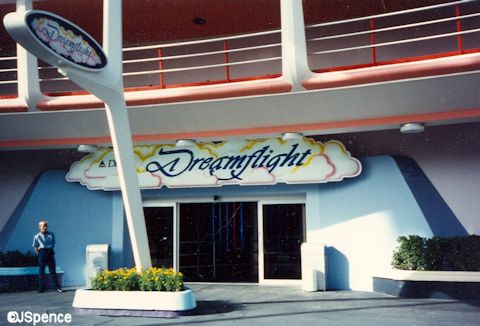 The first changes guests saw in the new attraction was in the queue. Immediately after entering the building they encountered the nose of Delta 767 plane, complete with jet ramp. The jet was named "The Spirit of Delta"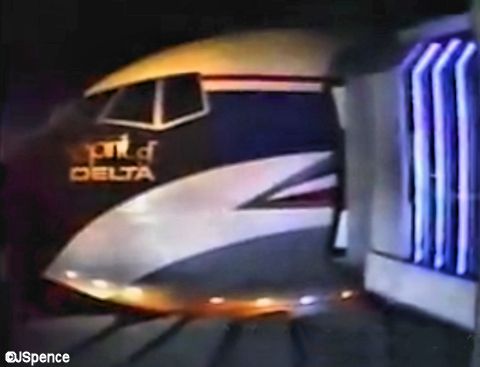 The name of this aircraft, "The Spirit of Delta,"� was more than just a cute designation the Imagineers picked for this plane. It actually had a special meaning for Delta.
Due to a weak economy, high fuel prices, and deregulation, Delta posted its first yearly loss in the spring of 1982 after 35 years of consecutive profits. To show their support for the company, three flight attendants spearheaded "Project 767." Their mission was to rouse support among Delta's employees, retirees, and friends and raise $30million in donations to buy Delta its first Boeing 767. On December 15, 1982, they achieved their goal and the company's first 767 was named "The Spirit of Delta."
Further along in the queue guests entered a newly themed terminal lined with travel posters advertising exotic destinations from around the world. Finally, they would enter the jet via a neon and mirrored jet ramp and loaded an Omnimover vehicle.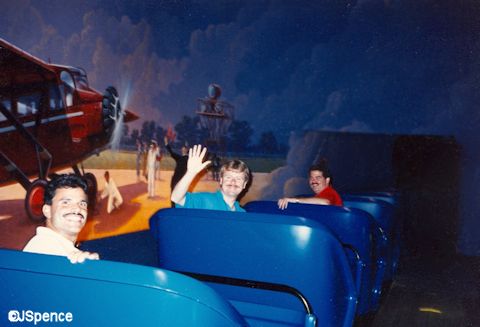 The basic premise of Dreamflight was to give riders a lighthearted history of flight. This was achieved by using pop-up book style sets, projection techniques, a few AA figures, and realistic tableaus.
Shortly after the ride begins, riders pass by a large rotating turntable. Here they were treated to simple pop-up book depictions of early flight. These included a hot air balloon, a giant wing, and a dirigible type device. In the background, "The Dreamflight Song" by Edo Guidotti is played.
As we entered the next room, we found ourselves in the barnstormer era. On both sides of our vehicle are fairgrounds, farmland, tents, daredevils, and spectators. Overhead, biplanes circled. Once again, the images were simple, pop-up book caricatures.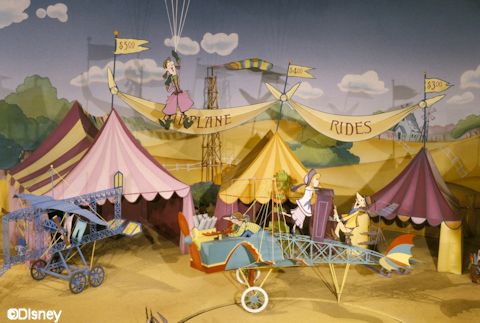 As we moved forward, we entered a barn which some poor pilot had crashed into. Once inside, we could see him hanging from the rafters.
On the other side of the barn was a large room with a massive screen on a side wall. As we entered, our vehicle pivoted to face the ever-looping movie and for the next 58 seconds we saw acts of daring do as a biplane and stuntman performed aerial tricks.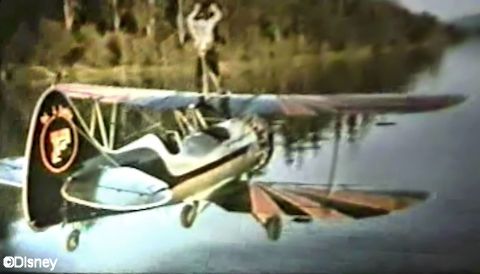 As we entered the next phase of the ride, things took a slightly more serious look at air travel. We were now at the beginning of the passenger service era as we boarded a seaplane sitting in San Francisco Harbor. Once inside the plane, we saw how First Class was treated.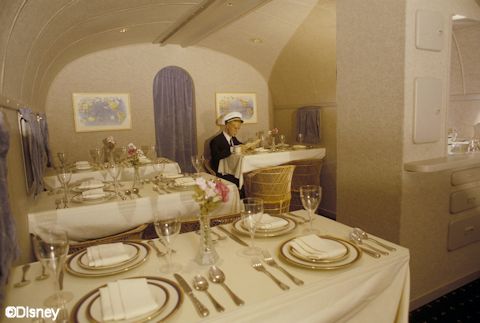 Next we passed by a home in Tokyo and finally traveled along the rooftops of Paris.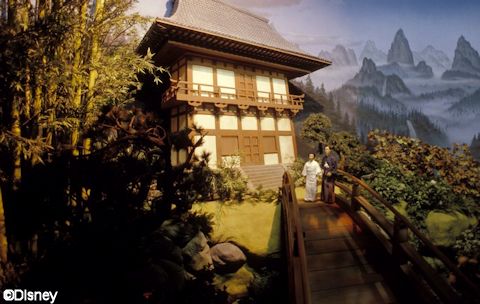 After our globe-trotting experience of the 1930's and 40's, we entered the Jet Age. To help us make the transition, an overhead voice asked us to prepare for supersonic flight. As we continued forward, we faced a giant spinning light (think Maelstrom from the Norway Pavilion). Add some fog effects and a couple of fans and it gave the impression we were about to actually enter the inside of a turbo jet engine. All around us were the sounds of jet engines revving up and taking off.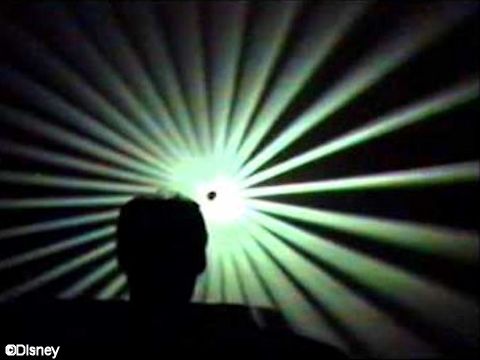 In the SuperSpeed Tunnel left over from If You Had Wings, guests traveled down a runway and took flight into the clouds. And in what was once the Mirror Room, a computer-generated movie had guests flying above the earth, in a canyon above water, and eventually flying into a futuristic city.
In the final scene, guests were treated to one last pop-up book effect in which a giant page flipped between New York and London. On a nearby wall, a projection of a Delta plane flies by.
Delta Dreamflight was a success and generally well received by guests. However, Delta ended its sponsorship at the end of 1995. But unlike Eastern ending its funding of If You Had Wings, Disney did not immediately remove all references to the carrier. The only noticeable change was in the name. It was now called Dreamflight instead of Delta Dreamflight. This name lasted until early June of 1996. At that time, Delta's moniker was finally erased from the attraction and it reopened as Take Flight on June 5 of that same year. Take Flight lasted until January 1998 when it was shuttered for good.
Many people wax nostalgic at the passing of If You Had Wings and Dreamflight. Both were quintessential Disney attractions and harkened back to a slower period in theme park history. But for the most part, that's not what younger audiences want today. Both of these attractions were wonderful for what they were, but they had seen their day and now it was time for more exciting fare to take their place.
That's it for Part Two. Check back next week when I'll continue my look at Tomorrowland with a look at the Skyway, Star Jets, and the WEDWay PeopleMover.