The newest addition to the Magic Kingdom's New Fantasyland, Princess Fairytale Hall, opens this week, and it truly is fit for royalty. I previewed the princess meet-and-greet with my family at a recent Mickey's Not-So-Scary Halloween event, and we were enchanted by the experience.
Princess Fairytale Hall, which has been built in the space previously occupied by Snow White's Scary Adventures, is located just behind Cinderella Castle in what is called the Castle Courtyard. As you would expect of Disney Imagineers, the transition appears seamless. Guests who are not aware of the park's history would be hard-pressed to know the new attraction hasn't always been there.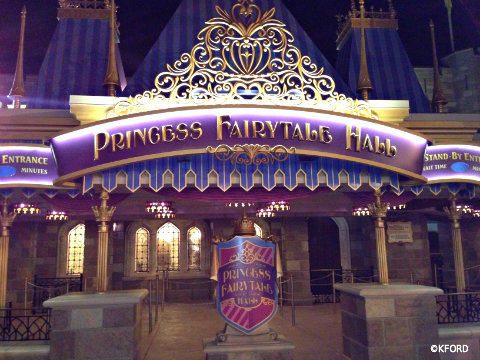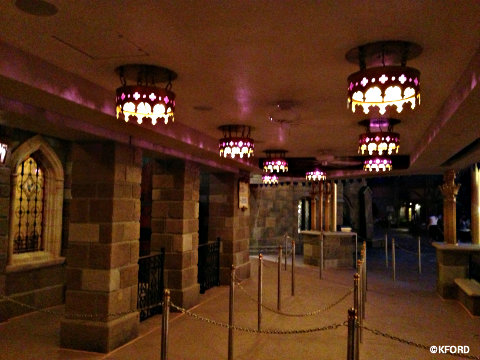 As families approach Princess Fairytale Hall, they will be able to choose from two queues. One leads to Rapunzel and a "visiting princess" and the other takes guests to Cinderella and her royal friend. The queues begin outdoors in a shaded area that sets the scene with heavily bricked walls and crown-shaped light fixtures that cast a slightly purple glow. Of course, Cinderella Castle and Prince Charming Regal Carousel are visible to those waiting in line outside.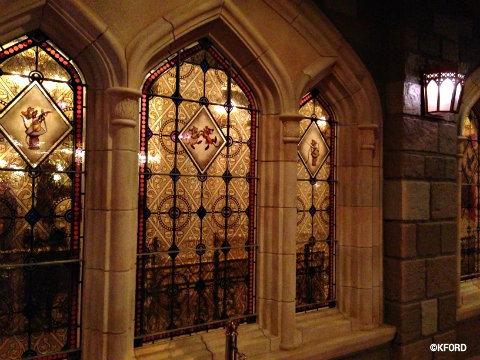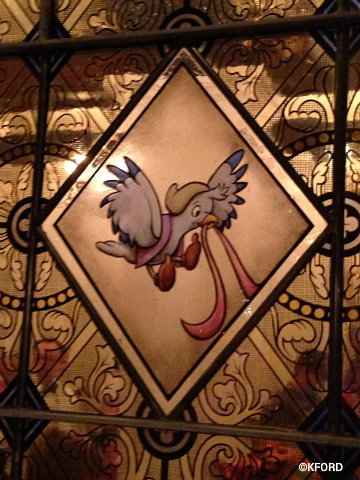 Before entering the hall, guests glimpse the gallery through beautiful stained glass windows. Each has a centered image that depicts a character from the Disney film story of Cinderella. We heard other guests "oohing" and "aahing" over the whimsical designs, and with good reason, given the artistic detail and the historical significance to Disney's film past.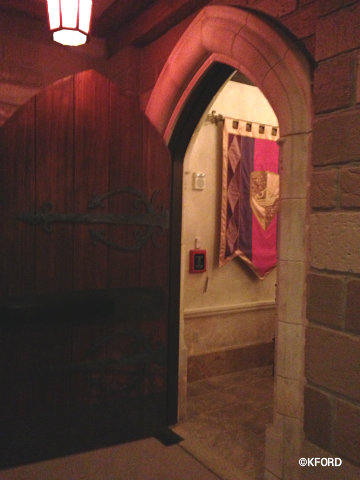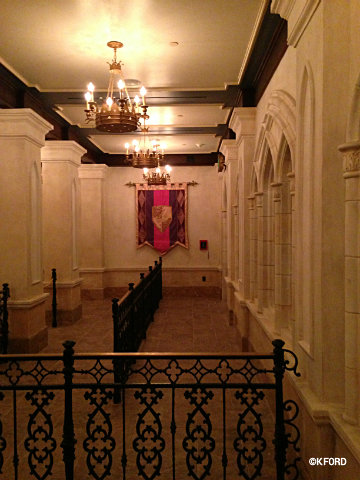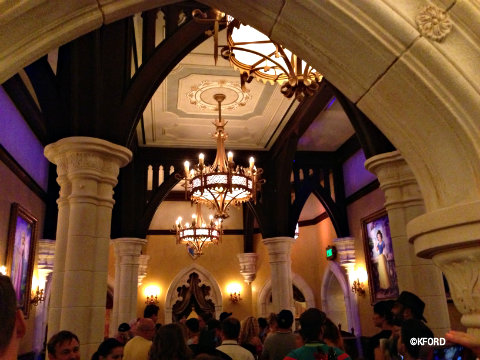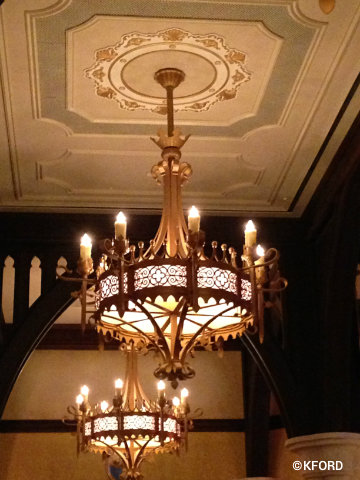 Once inside, guests will wind through several turns of the line. These, too, are decorated in true royal fashion with ornate iron gates, fancy chandeliers, colorful banners and beautiful arches. Most importantly for the royal realm of Central Florida — there is air conditioning! After the last turn, guests step onto a rich carpet and enter the hall, where they will see portraits of Princesses Aurora, Jasmine, Tiana, Mulan, Snow White and Rapunzel lining the walls.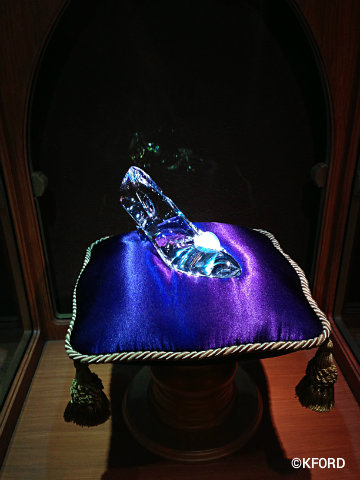 When you finally reach the front of the queue, be sure to step forward so you can take a look at Cinderella's famous glass slipper, which is illuminated in a special case. What a thrill for little girls and other princess fans!
(Last month, the Disney Parks Blog was giving away three similar Fairytale glass slippers. They are made of 100 percent lead-free crystal and enhanced with a sparkling rhinestone pavé heart. Plus, the 6-inch shoe lights up. Inside the gemstone heart on the shoe is a hidden button that you press to bathe the slipper in blue light. The slipper is available for purchase through Disney Floral and Gifts. It can be added to an arrangement for $127.95.)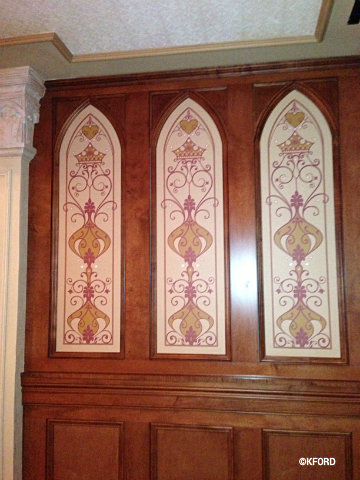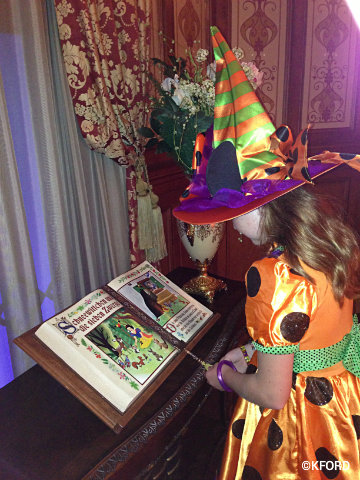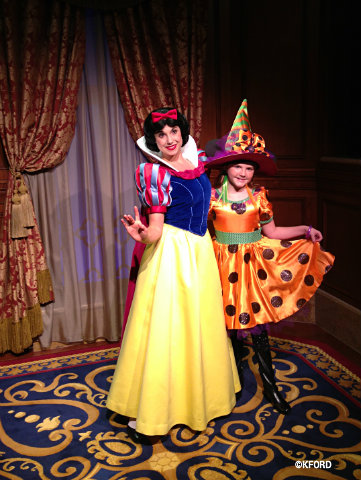 Finally, it is time to meet the Disney princesses! A cast member will direct your party into the receiving room associated with your queue. The rooms are organized as exact opposites, with guests standing in a short line before meeting the "visiting" princess and then the "featured" princess. Rapunzel's meet-and-greet (on the left) is decorated in warm tones, while Cinderella's (on the right) is decorated in traditional blues. Both showcase replicas of props from the movies — from storybooks for each princess to the king's bookends in Cinderella's room.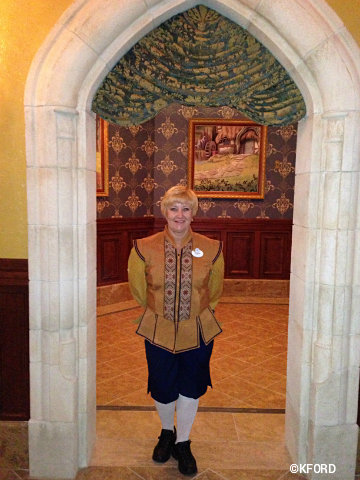 My daughter met Snow White with Rapunzel and Aurora with Cinderella, and her enthusiasm was not dimmed by the number of times she has already seen her royal friends. I think a large part of the thrill is the feeling that she actually has stepped into a place that the Disney Princesses frequent. We have dined at Cinderella Castle for special occasions over the years and her excitement at being in the very place where the princesses "live" was palpable. She admired everything, and even my son, when he was in preschool, wondered about the daily routines of the princesses.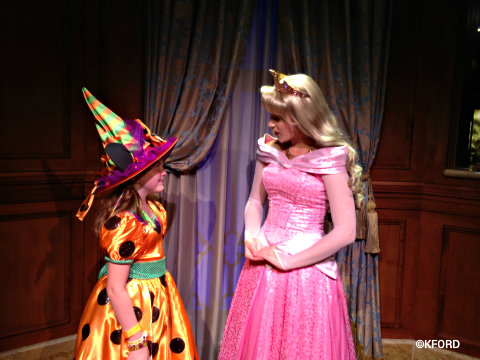 Speaking of Cinderella's Royal Table, Cinderella will continue to meet with guests at the restaurant between greeting her guests at Princess Fairytale Hall.
Here are a few final tips for visiting Princess Fairytale Hall:
** To find out who the "visiting princesses" are each day, check the sign at the entrance to Princess Fairytale Hall. You also can look at the "characters" section of the My Disney Experience app or the printed daily Times Guide for the Magic Kingdom.
** On the night we previewed Princess Fairytale Hall, the queue for Rapunzel was consistently longer than the one for Cinderella. I'm not sure if this will hold true once the attraction is open, but it just might, given that it will be the only place on Disney property to meet Rapunzel.
** FastPass will be available for Princess Storybook Hall. There will be two FastPass options — one for Rapunzel and a her princess friend and one for Cinderella and her visiting princess — available at the distribution area near Peter Pan's Flight.
You can see more photos of Princess Fairytale Hall, which opens Sept. 18, in our AllEars.Net photo gallery and take our exclusive video tour with the Imagineers who worked on Princess Fairytale Hall.
DISCLAIMER: I was a guest of Walt Disney World at a media preview of Princess Fairytale Hall. This did not affect my story, and my opinions are my own.