It's not a Disney trip without a food blog, right? Here's my thoughts on our dining experiences during our recent Princess Half Marathon weekend trip.
We arrived at Coronado Springs on Thursday night (actually Friday morning) way too late to have anything to eat there. I believe Coronado Springs is the only moderate hotel with room service, but that was closed, too.
Friday morning we went to Pepper Market for breakfast. They have changed it around a bit since we were last here. Each person still gets their own "food log", which is stamped at each station you get food from, but instead of paying on your way out you simply pay your server.
It was about 9:00 in the morning and fairly crowded – the lines at most of the food stations were 12-15 deep. I'd planned to get the standard eggs/bacon/potatoes breakfast but I saw the scrambled eggs they were serving and they were kind of runny. I hate runny eggs. So I had a pre-made ham and cheese omelet instead, which came with potatoes and fruit. The omelet was just barely warm, and nothing special. The potatoes were pretty good, though.
Lee had the breakfast platter with the "fiesta" scrambled eggs – which were also a little runny, so he wasn't very impressed, either. His roasted potato wedges were good, though.
That afternoon we were in the Studios…my least favorite park when it comes to trying to find a decent counter service meal. We tried the Studio Catering Co., in the back of the park near the Backlot Tour and the "Honey I Shrunk the Kids" playground. We were with my Evil Twin Pam, and we all ordered the Pressed Turkey Club. This was more like "squashed turkey" – it was pretty flat. The bread was my favorite part – it was a multi-grain roll and was crisply toasted. The sandwich came with choice of coleslaw, fries, or sliced apples. It just worked out that we ordered one of each. I had the coleslaw, which was pretty good. The fries were just ok – not very hot or crispy.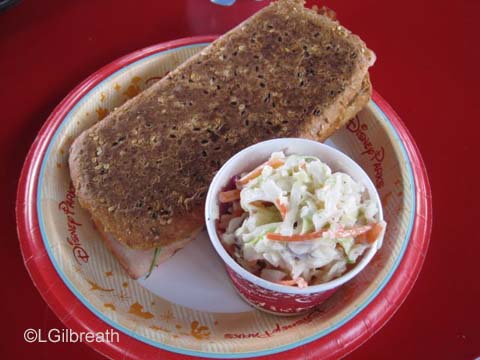 Later in the day we went to Epcot. It was National Margarita Day, so we HAD to have frozen margaritas at Mexico. I was surprised that the line was not very long. Pam and I both had the Fiesta Margarita – frozen lime, mango, and strawberry. Yummy.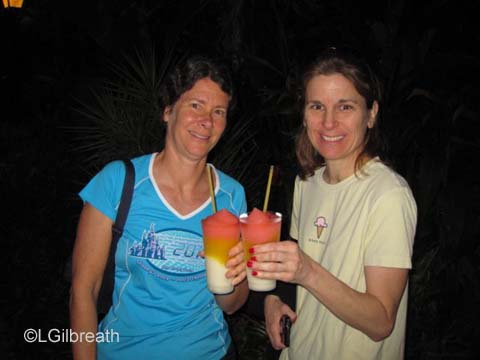 For dinner we went to Tangierine Cafe in Morocco, which has been one of our favorites for a long time. I had the Vegetarian Sampler – falafel, hummus, lentil salad, couscous, tabbouleh, marinated olives, and pita bread. They have changed the falafel since I last had it and I thought it was better – more of a patty shape and not as dry. It was a lot of food and I didn't quite clean my plate, but I really enjoyed it!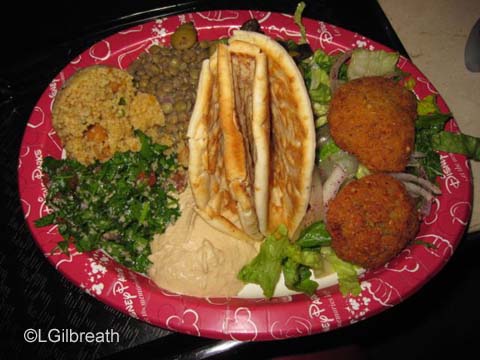 Lee and Pam had the Mediterranean Sliders – we had not seen these before. There were three small "burgers": one with chicken, one with lamb, and one with falafel. Served with hummus and tabbouleh. They enjoyed that.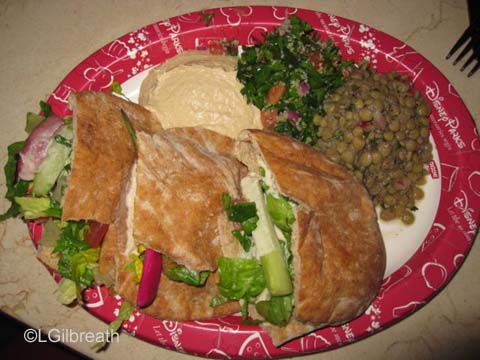 Under a nearby table a small rat was foraging. I told him he belonged next door in France. Everyone seemed to find it rather amusing (after all, aren't we used to seeing lots of rodents at Disney?), but the poor cast member clearing tables was appalled and asked us to please, please complain about it. (I thought it was pretty cute, for a rat.)
We still had room for dessert, so we went to Les Halles Boulangerie Patisserie in France. This re-opened in January in a much larger space, with a much bigger selection of food items, like soups, salads, quiche and sandwiches. Mmmm…and so many wonderful looking pastries!
I had the chocolate mousse, which was really good – silky chocolatey goodness.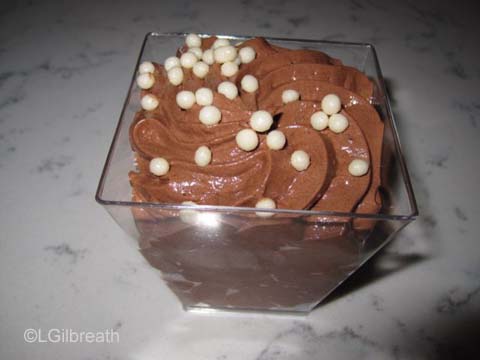 Lee had a caramel cream and chocolate mousse tart, and he really enjoyed that one, too. We'll definitely be going back to check out some of the food items as well as some of the other desserts.
Saturday morning we went back to the race Expo again. While we were waiting for the entering crowds to subside we went back to Pepper Market for breakfast again. Yeah, because it was so good the day before…
I didn't take any photos, but I had oatmeal. It was fine oatmeal, but all they had for toppings were brown sugar, raisins and cinnamon. The oatmeal at Pizzafari at Animal Kingdom is a lot better – they give you chopped apples and Craisins. Lee had the cinnamon French toast, and he said that was pretty good. Much better than what he'd had the day before.
We were in Animal Kingdom for lunch, and went to Yak and Yeti Local Food Cafe (aka the counter service restaurant). I ordered the side of chicken fried rice and the side of pork egg rolls. The chicken fried rice was surprisingly good, and had some peas and a few other vegetables in it. My only comment is that the chicken was rather microscopic bits, but that was fine. The pork egg rolls were crispy and tasty and filled with pork and veggies (cabbage, mostly). I've found that there's often an odd aftertaste in egg rolls, but these did not have that. I was really happy with my lunch!
Lee had the Beef Lo Mein, with stir-fried veggies. He enjoyed that, also.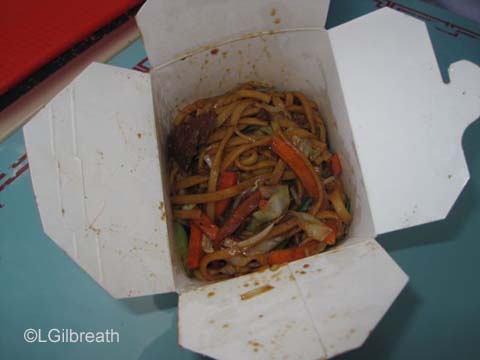 It was a lovely warm afternoon in Animal Kingdom. After we saw the Finding Nemo show we stopped at the very colorful Anandapur Ice Cream Truck for some ice cream. This one always seems to have the best-tasting soft serve at WDW.
That evening we stopped at Mara in Jambo House to get dinner, which we took back to our room at Kidani Village. I forgot to take pictures, though. I had the Half Chicken Dinner with couscous and vegetable stew. The chicken was pretty tasty – a little dry. The vegetable stew had lots of tomatoes, onions, peppers, and pieces of squash, I think. I had to pick out the peppers, but otherwise it was good, and definitely different than fries or mashed potatoes.
Lee enjoyed the Chicken Flatbread – a BBQ chicken pizza by any other name. We also picked up a cookie and a chocolate muffin for dessert.
Our breakfast on the morning of the race was bagels, yogurt and a banana that we'd picked up at Mara the night before. After the race we snacked a little bit on what was in the runDisney boxes they gave us at the end of the race – crackers, hummus, fruit and nut mixes.
We returned to Kidani to shower, then went back to Epcot where we were
meeting some Team AllEars members at La Cava del Tequila in Mexico. Lee and I ordered the Wild Passion margaritas, though if I'd realized I could've ordered a frozen margarita like some of our tablemates did I would've done that instead. The one I had was good, though. We also ordered Chips and Guacamole. Those were quite good – it was real guacamole with real avocado. Though I don't know that either the chips or the margaritas would be the recommended post-race nourishment. 🙂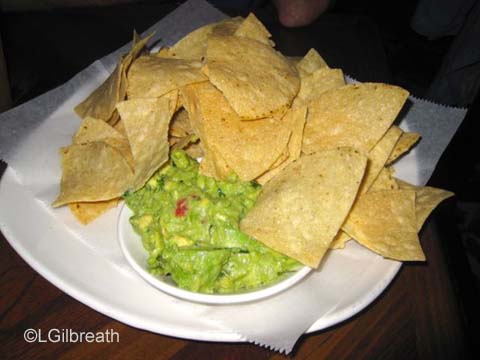 That evening we met Pam and several Team AllEars members for dinner at Sanaa. We had a 5:10 priority seating and had no problem getting right in and being seated. We had an excellent server who described the menu to the members of our party who hadn't dined at Sanaa before. She recommended the bread service, and we'd already decided to get two orders of that. There are four breads – two different naan breads, pappadum (a flat bread made with lentil flour) and onion kulcha, which is filled with melted cheese. There are nine different accompaniment (sauces and chutneys) and you can choose five, but our server just brought us all nine. 🙂 I forgot to take a picture – we were all hungry and dove into it. So good. I could easily just order bread and an appetizer here and be very happy. (This is a photo from a previous dinner at Sanaa.)
Lee and I ordered two of the wine flights. The flights had the same names as before but some of the wines were different. They still had the Chakalaka that Lee likes. (I'm not sure how much he likes the wine or if he really just likes saying: "Chakalaka". 🙂 )
For our entrees, we all ordered variations on one of Sanaa's specialties – dishes that are Slow-cooked in Gravy, Simple and Well-Seasoned. There are six choices, and you choose two, with a choice of basmati rice or five-grain pilaf. Between five of us we had Butter Chicken, Spicy Durban Chicken, Lamb Vindaloo, Beef Short Ribs, and Shrimp with Green Curry Sauce. The only one we didn't try was the Spicy Durban Shrimp.
Butter Chicken and Shrimp with Green Curry Sauce: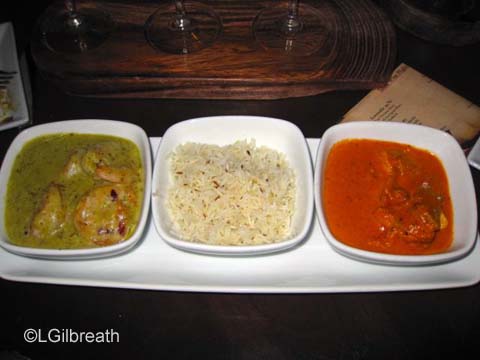 Short Ribs and Spicy Durban Chicken: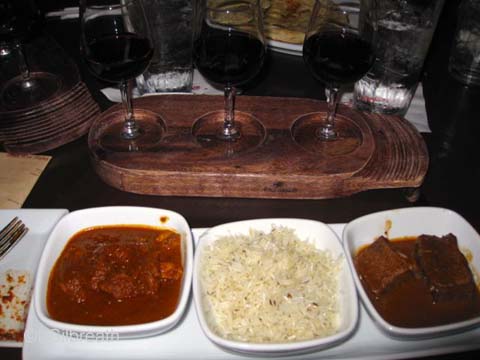 Lamb Vindaloo and Shrimp with Green Curry Sauce: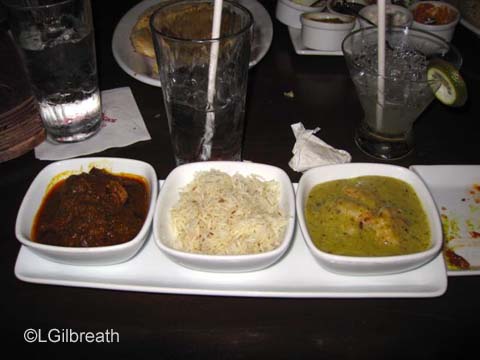 Sanaa has a number of vegetarian dishes, and Mike ordered the Vegetarian Sampler. It also comes with choice of two and rice or pilaf. He had the Spicy Peas, Chickpeas, and Potatoes (which our server said was her favorite) and Stewed Lentils.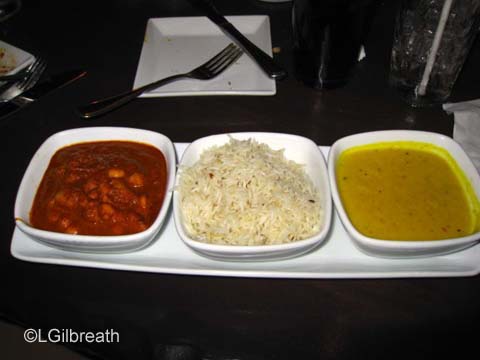 Desserts are the one thing at Sanaa that disappoints me a little – they fit the theme of the restaurant, but just don't really appeal to me that much. I also think they are rather small for the price. I tried the Chocolate Cake with raspberry-mint sorbet. It was pretty good cake – moist and chocolatey.
Lee had the Warm Rice Pudding, which we've had before. Sticky rice with coconut syrup and some mango.
Ellie ordered the Banana Kulfi Sundae. Obviously not your traditional sundae!
Monday morning we packed, loaded the car, and drove to Mara for breakfast. Mara is often VERY busy in the mornings, but it was fairly quiet and we didn't have to wait for our food. We both had the Bounty Platter, with scrambled eggs, bacon, sausage, potatoes, small Mickey waffle and biscuit. It's quite a bit of food for $8.99. Thankfully the eggs were cooked and not runny.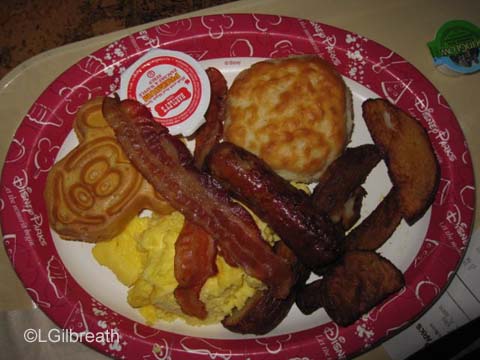 We had lunch in Magic Kingdom – this is the first trip in quite a while where I've had a meal in all four theme parks! It was prime lunch time so most of the counter service restaurants were quite busy. I remembered hearing about the waffle sandwiches at Sleepy Hollow and suggested we go there.
It had a very short line, but they were so disorganized! We ordered, and the cashier told us we picked up our waffles at the first window, drinks at the second, and water bottles at the third. The waffle window was total chaos because they couldn't make waffles fast enough to keep up with the demand. And then they weren't checking tickets to make sure people were picking up what they had ordered. I don't think anyone was abusing this, but it was still very odd. If an item you ordered appeared on the counter you grabbed it, regardless of whether it was "yours", or should belong to the person standing next to you.
Lee and I both had the Ham, Prosciutto, and Swiss Waffle Sandwich. It was a very large serving (half would have been plenty for me), but it was just really odd. The waffle didn't work with the meat at all, though by itself it was ok (though I like my waffles crispy, and this one was soft). Ham AND prosciutto was also overkill – I would have preferred it with just the prosciutto.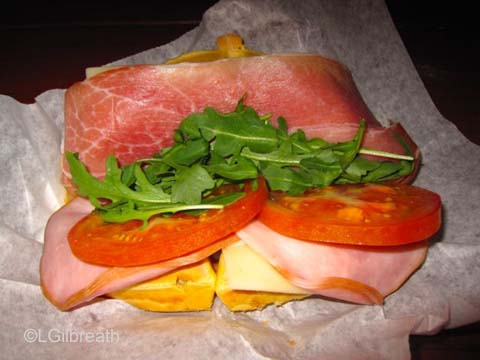 Pam ordered the Sweet and Spicy Chicken Waffle Sandwich, and she didn't care for it at all – and as she told me, normally she eats just about anything. I think if we try this place again it will be for the Nutella waffle – those two things go together!
Unfortunately that was our last meal at Disney World – we definitely didn't leave on a high note. But at least we'd had that terrific meal at Sanaa the night before. That's definitely in our top three – it may even be #1 at the moment.
The Good:
Sanaa
The Bad:
Waffle sandwiches
The Ugly:
Runny scrambled eggs
Thanks for reading!