To all who come to this photo trivia game, Welcome! Along the way, the photos can make us relive memories and see details Walt's Imagineers put into everything we love in Walt Disney World!
Christi Ison, thank you for such a wonderful note!!
Happy 20th Anniversary to Mike and Susan Hill!! Enjoy Australia and Disneyland!
Here was last week's Challenge: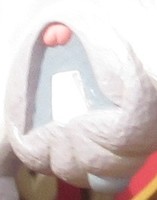 And here's the answer: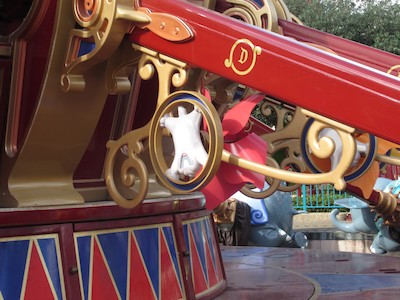 Copyright © 2011 Erin Blackwell Canon PowerShot ELPH 300 HS, 14mm, 1/125s shutter, f5.6, ISO 125
Wow! I actually gave you a tough one? I know you're saying FINALLY!
Here is, as Morgan M. put it, the "spinning chipmunk, mouse thing on the Dumbo ride at Magic Kingdom"! This happy little fella and his fellow critters have actually been removed in the Fantasyland renovation. So here's our tribute to them: thanks for flying along, little buddies! Mackenzie D. says it for all of us: "I love those little guys!"
Clay Anthony was the first to send in the correct answer! Congratulations to Clay and to all the readers who got the answer right: Morgan M., Mackenzie D., Vera Williams, Karen Northway, Craig, and Tristan Clark. Each of you are entered in this month's winners' drawing.
AND! Special congratulations to Kyle Kenney for his answer: Something. LOL!
Now, drum roll! It's time for our monthly winner! By the way, I think we had a record number of winners this month: 1,214!! Let's call that the highest and see if we break it!
The April 2012 winner is Nancy O'brien! Congratulations, Nancy! You win AllEars swag from Deb Wills! I will be emailing you very soon!
_____________________________________________________ _____________________
Challenge #228: Where in the world is this?
OK, staying in the parks, Players! Where do you think this is?

Do you know? Do you have a guess? Please send in your answer, before the end of the day on Thursday, May 10th, by clicking on the blue box below. Please do not post answers using the Feedback Form link at the bottom of this post. Remember to be specific with your answer – just naming a park will not get you into the drawing.
See you next week, Players!


_______________________________________________________________________
Everyone who sends in a correct answer to a Where in the World Challenge this month will be entered in a drawing at the end of the month for some special AllEars® goodies!