I know some of you have been waiting for the food blogs, so here's part 1.
Day 1
Our first meal on board the Disney Fantasy was the buffet lunch at Cabanas. Lots of tasty-looking things.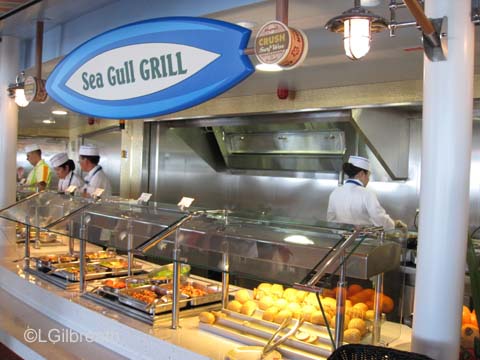 I always enjoy the shrimp, and was pleased to see that this time they had provided small paper cups for the sauce, rather than having to put it on the plate (messy).
For dessert we had something with a fancy name that was mostly chocolate pudding (but it was good), and a couple of chocolate chip cookies. They make pretty good cookies on the ship.
Our dinner on the first night was in Royal Court, the Royal Palace/Lumiere's/Triton's equivalent. It's a beautiful restaurant. Our table of nine had the circular "royal table" in the center of the restaurant. The only problem is that it was noisy, and we had to practically yell to be heard by someone who was across the table.
As far as I can tell, the menu here was identical to that served in Royal Palace on the Dream, though I think I at least ordered a different entree this time. 🙂 I really enjoyed the bread service – a pumpkin-shaped load served in a wire "coach". Wish they sold those in the gift shop!
As an appetizer we both had the Double Baked Spinach and Cheese Souffle. It was light and cheesy without too much spinach. (I like raw spinach, not wild about cooked.)
We also both had Belle's French Onion Soup. This has never disappointed me – it's hot and beautifully crowned with gooey cheesy goodness. I have to be a little careful because it's pretty filling.
For my entree I tried the Double Cut Rack of Lamb with a Dijon Crust – with fine green beans, gratin potatoes and rosemary jus. It was quite good, and I could taste the dijon in the lamb. It was cooked medium, but was a little more rare than I like towards the center. I thought the green beans were a bit underdone, but the potatoes were very good.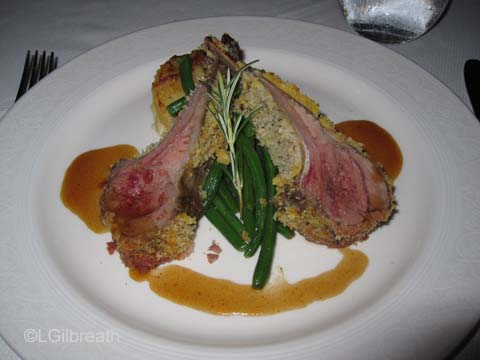 Lee ordered the Aged Angus Grilled Beef Tenderloin topped with Garlic Shrimp, served with snow peas and Marquis potatoes with a Cognac Reduction. He pretty much cleaned his plate. 🙂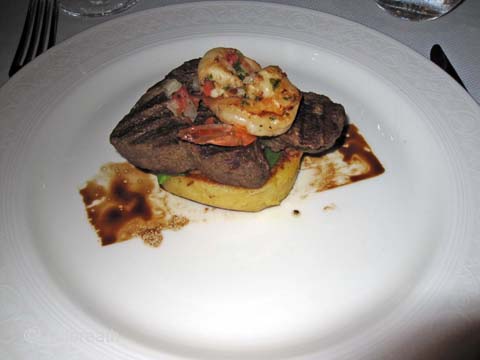 On this cruise I almost always had the Sweet Temptations selection for dessert. It includes three small samples of selected desserts that are on the regular dessert menu, and at least one of them is almost always one of the "No Sugar Added" (hereinafter referred to as "NSA") desserts. On this first night the three were peanut butter mousse, mango cheesecake (NSA) and Tahitian vanilla creme brulee. I also had this on the Dream. The mango cheesecake was more flavorful than the one I had on the Dream, and the creme brulee was good. I have to admit I didn't try the peanut butter mousse – I'd had enough to eat and I'm not a huge peanut butter fan.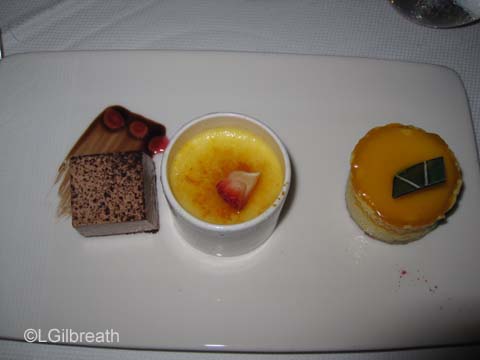 Lee had the full serving of creme brulee, which he enjoyed. It was very nicely presented.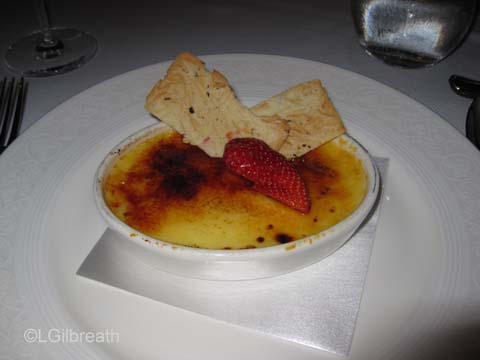 Day 2
On Sunday morning we went to the buffet in Enchanted Garden for breakfast.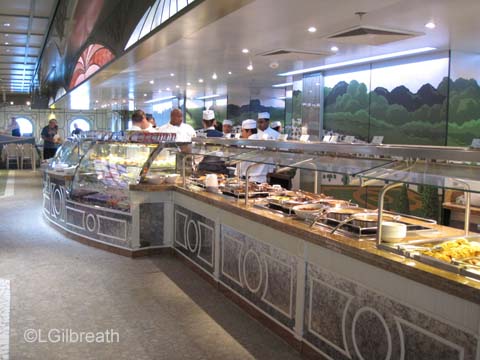 The usual breakfast selections, though I was pleased to find a "toppings bar" – intended more for those who got yogurt, but it worked very well on my oatmeal! (Later I found that Cabanas had something similar,which actually offered more choices, though Cabanas didn't have fresh strawberries).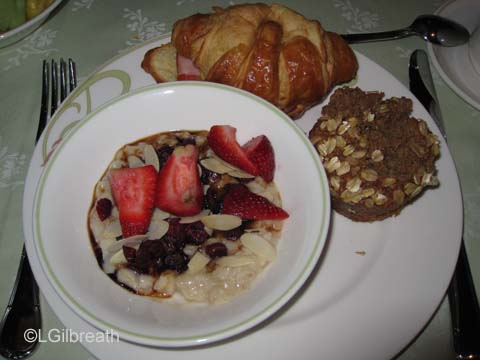 Lee enjoyed the roasted potatoes and the corn beef hash.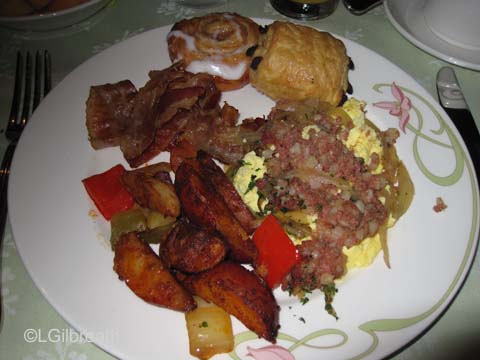 We had a very nice buffet lunch at Cabanas. I have to say I've been impressed with the food in Cabanas on the Dream and the Fantasy – it seems a cut above what I've had at Topsider/Beach Blanket on the Magic/Wonder, and I've had several things that I would have been very happy to have been served in the main dining rooms. One of my favorite appetizers all week is on the plate below (right side next to the bowl) – it was roasted zucchini topped with a tomato chutney and feta cheese. It was so good I went back for two more pieces. The margarita pizza was very good, too.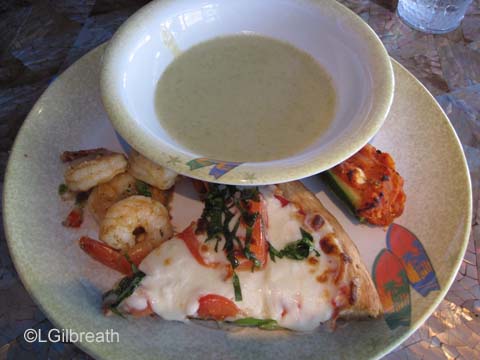 We were in Animator's Palate on the second night, but we had the "Turtle Talk with Crush" dinner instead of the new Animation Magic dinner. It was the basically the same menu they have been serving in Animator's Palate on the other ships for a while.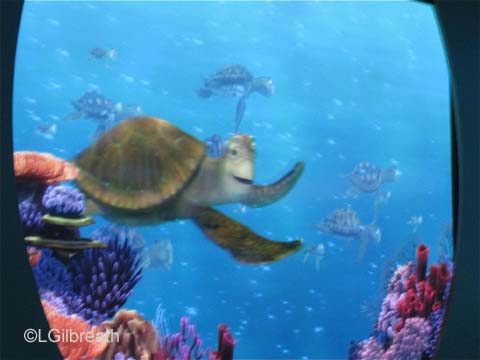 For a change I didn't have my beloved Sesame-flavored Rock Shrimp and Caramelized Onion Cheesecake – instead I had the Baked Potato and Cheddar Cheese Soup as my first course. It's always been good. Sometimes it's not quite as hot as it should be, and this was one of those time. It wasn't cold, just not overly warm.
Lee had the cheesecake, though. It was as good as always. (He had the Baked Potato Soup as his second course.)
Donna was sitting next to me and I have photos of her dinner, too – she had the Black Truffle Pasta Purseittes – filled with truffle scented cheese with a champagne sauce. These were a hit with several of our tablemates.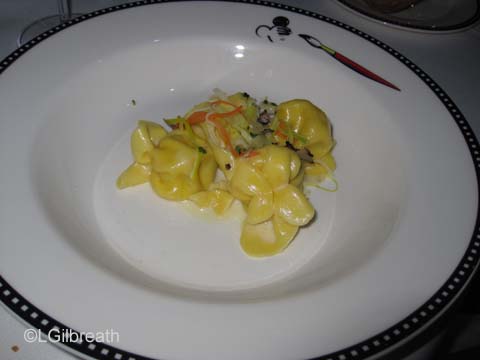 For my second course I tried the Curly Endive, Arugula and Watercress Salad, with sliced peaches, toasted almonds, and sherry vinaigrette. It was a very nice salad – the peaches added a touch of sweetness and the watercress gave it a little bit of a tang.
Lee enjoyed the Creamy Butternut Squash Soup.
Donna ordered the Vine Ripe Tomato Salad – with bell peppers and red onion brunoise topped with micro greens and herb dressing. This looked really good, but the bell peppers scared me away.
Lee and I both ordered the Grilled Pacific Black Cod with sauteed morel mushrooms on a sweet potato puree – which was what I had on the Dream last October. That one came with split pea puree instead of sweet potato, though. The fish was excellent and I enjoyed the sweet potatoes, but scraped the mushrooms off. (At least mushrooms don't lend their flavor to other foods like peppers do, so I can eat around them.)
The Sweet Temptations selections were crunchy walnut cake, pineapple financier, and lemon mousse (NSA), though I was tempted by the Dense Chocolate Cake on the NSA list. The crunchy walnut cake is more like a dense chocolate brownie, and it was a nice chocolatey bite. The financier is an almond cake with pineapple on top. It was different, but I wouldn't have wanted a full serving of it.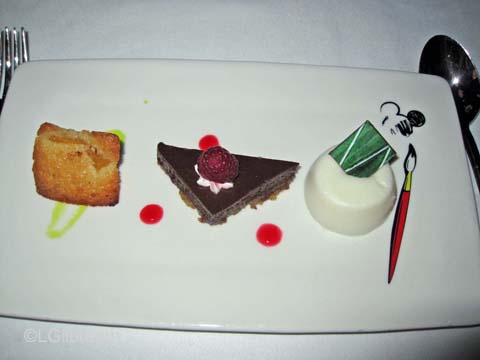 Lee had the Cookies and Cream Sundae – a pretty basic dessert, but tasty. One thing we appreciated about our server – anytime we had ice cream desserts he brought them first so that they could be eaten before they started to melt too much.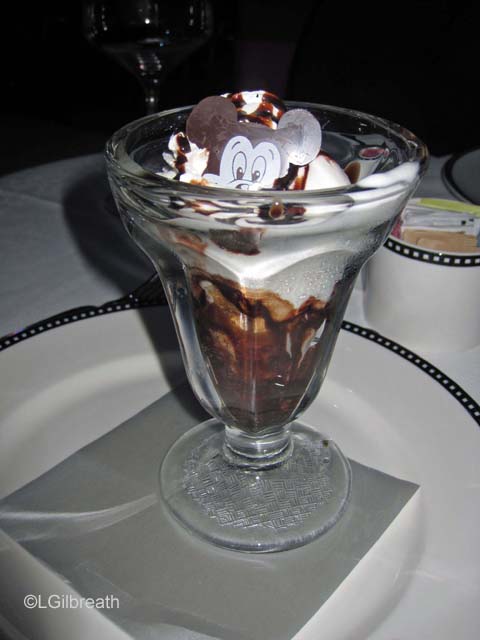 Something new on the Fantasy – these LED outlines in the floor that led us out of the restaurant.
Part 2 and 3 coming soon.