This is going to be more of a random collection of observations, what's new on the Fantasy, and other things that have occurred to me as I have been going through photos and writing some of my other blogs.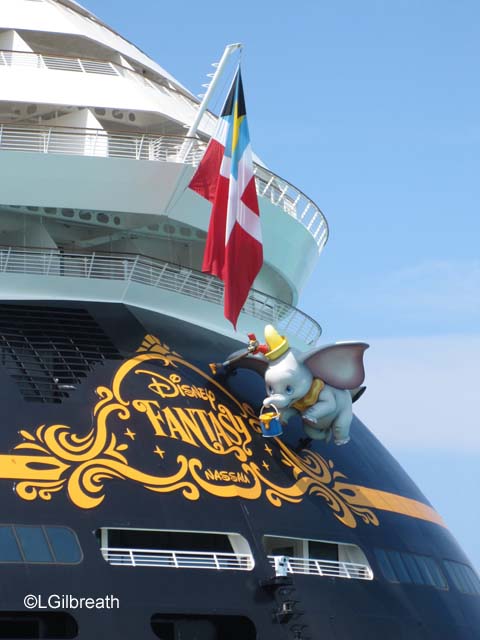 In case you couldn't tell, we thoroughly enjoyed the Maiden Voyage of the Disney Fantasy. Was it perfect? No, but the annoyances were minor, and for the most part I thought things were organized and went very smoothly. As I said before, from what our tablemates who were on the Dream's Maiden Voyage told us, they learned a lot from that and corrected a lot of the issues.
The crew is obviously still new and learning a lot – we were told that about 2/3 of the crew is new to Disney, and a fair number of them are also first-time cruise ship crew members. And that showed in some places more than others. While everyone we encountered was pleasant and friendly and obviously trying to do a good job the service was a little uneven. Our stateroom hostess could not seem to get our room made up before noon, even when we'd see her in the hallway at 8:00 or 9:00 and tell her that we'd be gone for a couple of hours. And twice we didn't get our Daily Navigator at night and I had to pick one up at Guest Services the next morning. But our room was sparkling clean – and it had that "new stateroom" smell. 😉
I felt badly for our dining room team – they were nice people and it seemed like they were trying, but they didn't work well together, and were rather inefficient – particularly our assistant server. Our server was doing some of her job more often than he should have been. They seemed overwhelmed, since on the two nights that there were just two or three of us at the table they did better. But I can understand that – the night that Lee and I were in Enchanted Garden by ourselves we had the opportunity to observe the "dance of the servers" more closely. It's quite intricate and it's actually amazing to watch them carry those heavy trays loaded with plates as they weave around tables and dodge each other. I don't know how they do it, but like most things I assume they get better with practice.
Random Observations
• The Itinerary – Since several people have asked about that, here's the itinerary and menu for the Western Caribbean cruise. I'm not listing the shows, since we had a different schedule for those on the Maiden Voyage.
Day 1: Embarkation, Dinner: Restaurant Menu, Attire: Cruise Casual
Day 2: At Sea, Dinner: Restaurant Menu, Attire: Formal
Day 3: Grand Cayman, Dinner: Restaurant Menu, Attire: Cruise Casual
Day 4: Cozumel, Dinner: Pirate, Attire: Pirate
Day 5: Costa Maya, Dinner: Prince and Princess, Attire: Cruise Casual
Day 6: At Sea, Dinner: Captain's Gala, Attire: Semi-Formal
Day 7: Castaway Cay, Dinner: Sea Ya' Real Soon, Attire: Cruise Casual
• The Atrium – I think this one is my least favorite of the four ships, mostly because of the chandelier. If you look at the surround above it, it's asymmetrical, and I think that makes the chandelier look lopsided. And I must be more of an art deco person (Magic and Dream) than an art nouveau person (Wonder and Fantasy).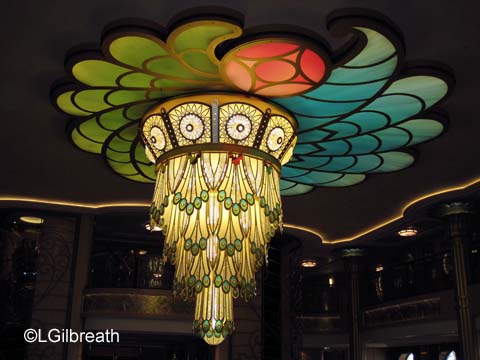 I love the peacock pattern on the floor, though.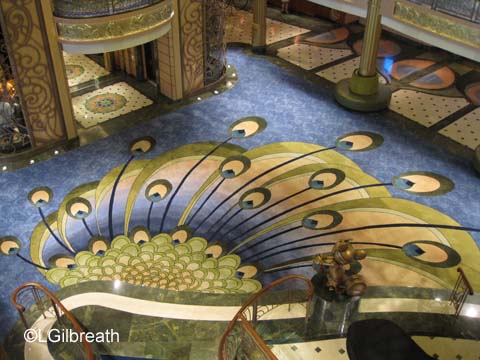 • Ship Motion – our stateroom was on the very back of the ship, and I wasn't sure what that would be like but it was pretty minimal. We were pretty much at the center line of of the ship, though, so that probably helped. And we really didn't have rough seas at all – the most I saw was maybe 5′ swells one day. The most motion we felt was when we were docked at Costa Maya and it was so windy that the swells were crashing against the side of the ship. Sometimes it felt like we were running over a big log. 🙂
• Internet Access – This was better for me than usual, mostly because it seemed a lot faster. I still got disconnected any number of times for no apparent reason, though. And sometimes I couldn't tell for sure that I was really logged out.
• Beverage Stations – There are still two beverage stations on deck 11, but they've modified the stations. They both have two sides, and one side is hot beverages and the other side is cold beverages. That seemed to work pretty well – especially since cold cups are only on the cold side and hot cups are only on the hot side. I know that in the past on the other ships I've grabbed the wrong cup by mistake.
• Cabanas stairwell – The aft stairwell and elevator still come up in the middle of Cabanas. This was one of my pet peeves on the Dream, and unfortunately they didn't change it on the Fantasy. Since we were aft we used that staircase a LOT. During mealtimes if I was going to deck 11 but not to Cabanas I would go forward and use the midship stairs just to avoid going through the restaurant. I still think it's a poor design.
And speaking of Cabanas…I thought the food there was a cut above that of the buffet restaurants on the Magic and the Wonder. I had a couple of things there that I would have been very happy to see on one of the regular dining room menus. I thought the breakfast buffet had more selections than the one in Enchanted Garden.
• Dining Room shows – On the longer cruises on the Magic and the Wonder I'm used to seeing some kind of show in the dining room on several evenings – like the parade of flags and the chefs with their flaming baked Alaskas – but there wasn't anything like that on the Fantasy.
• It was so cool to meet up with the Disney Magic in Grand Cayman and Cozumel! The Magic arrived in Grand Cayman first, then followed us to Cozumel, where the two ships were docked right next to each other. We didn't get a "battle of the horns", though…just a couple of "When You Wish Upon a Star" from them and replies from us. (I never did hear us go through the full repertoire. 🙁 )
What's New
• Satellite Sun Deck – This adult-only area on deck 13 forward was one of my favorite additions to the ship. It was usually pretty quiet up there, and there were always plenty of lounge chairs. I enjoyed the Satellite Pool with the rain curtain – it was a nice place to cool off. And on some afternoons we even had entertainment up there – there was a guitar player on board who played and sang soft rock like the Eagles and Jimmy Buffett. It was very relaxing!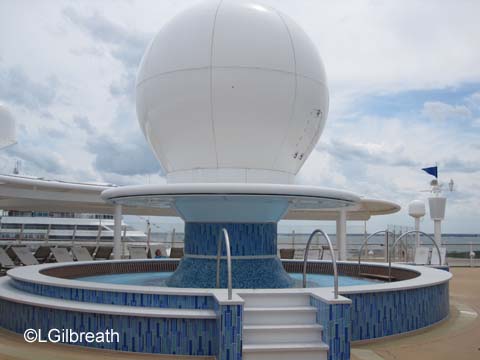 • Splash Pool – There was also a new splash pool on deck 12, just above the Cove pool. It had a small fountain, and there were padded lounge chairs in that area – which is probably one reason it was more crowded, and I didn't hang out there.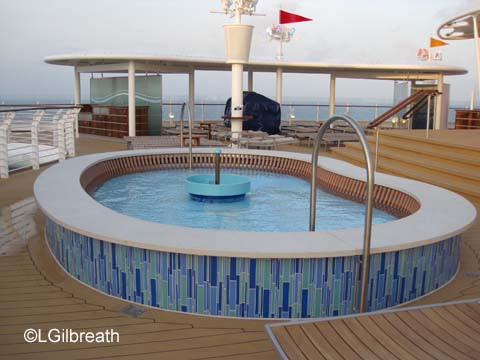 • Bibbidi Bobbidi Boutique – At this time, the Fantasy is the only Disney cruise ship with a BBB on board. It's on deck 5 midship – on the Dream this area is conference rooms. It seems to be very popular – I saw lots of little girls who had been transformed into princesses or glamorous sailor girls. On the day when Pirate Night takes place, BBB itself receives a transformation and becomes The Pirates League. The salon chairs get a pirate logo cover, the princess costumes and accessories are replaced by pirate attire and swords, eye patches, etc., and the Fairy Godmothers-in-Training become members of Jack Sparrow's pirate crew.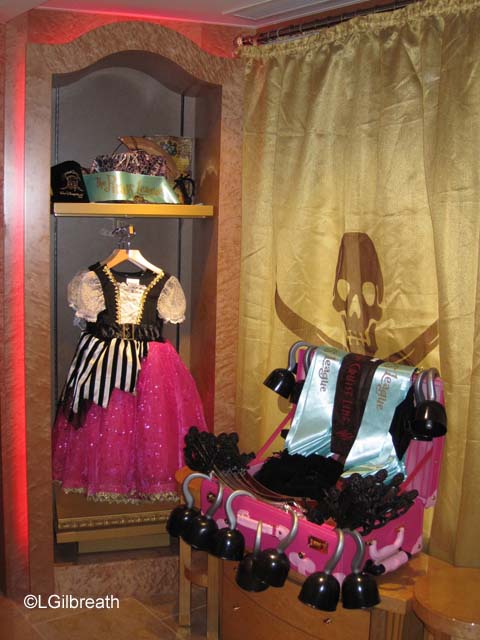 As I mentioned in an earlier blog, I did the Pirates League and had a wonderful time. While BBB is only for girls (ages 3-12), Pirates League is open to boys and girls, kids and adults. I had what's called The Empress, which included nail polish (choice of black or pink), eye makeup, stick-on face jewels, pirate bandana (black or pink), earring, pirate medallion necklace, eye patch, choice of sword or hook, pirate sash (brown or blue) and tattoo. Oh, and the pirate teeth, of course!
I thought it was a pretty good value for $34.95, and I certainly had at least that much fun out of the experience. My pirate artists and I were plotting a takeover of the ship, as I tried to entice them to join my crew. I be Pirate Captain Bettie Sunbain, don't you know! Arrr….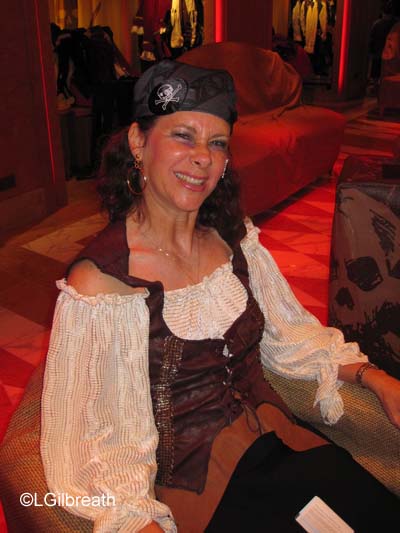 Deb Wills shows off the First Mate package, which is similar except that it includes scar/beard makeup instead of eye makeup and nail polish. (Also $34.95.)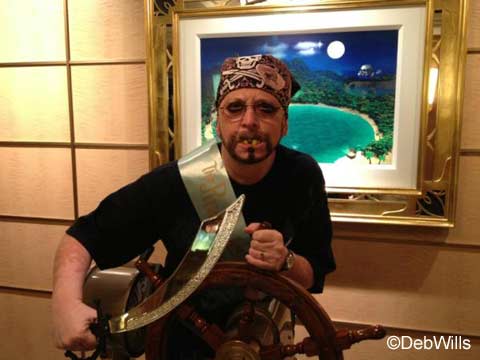 I would highly recommend making reservations in advance, or when you first board the ship. I booked about 3:00 on boarding day and the only times available were 2:00 or 8:00 p.m. Since I went at 2:00 I was in my pirate attire and makeup for a long time that day. I would also recommend bringing makeup remover – I had raccoon eyes for a couple of days.
• Buccaneer Blast Fireworks – We were told this was a new show, though I couldn't really tell you how it was different. It looked to me like there were fireworks being shot from places other than the stern. It's always very cool to see fireworks on a cruise ship!
• Muppet Adventure Game – Deb Wills did a wonderful writeup on this, read it HERE. I'll just say that this was great fun, and more of a challenge than the cases on the Dream (though those two are also available on the Fantasy). As Deb suggests, you definitely want to take a photo of Pepe's door and the Muppet Call Board to refer to later. Make sure you stay until the end of each Enchanted Art sequence – there seems to always be some funny little thing at the end.
• Shutters – Shutters (the photo shop) was modernized a lot on the Dream, and even more on the Fantasy. Photos are collected in a personalized folder instead of being placed in huge displays on the walls where you have to search for them. To find your folder, put your Key to the World card against one of sensors and it will tell you the section and folder number. Or you can see all of your photos at one of the many Shutters kiosks (also activated by Key to the World card). I was very impressed by their facial recognition technology – we had some photos taken where they did not take one of our cards, yet those photos still showed up when we looked on the kiosks! Even the ones when we were in pirate attire and I thought we looked very different.
New to us was a different option for purchasing our photos – instead of purchasing all of our photos on CD for $349, we had the option of purchasing either 10 or 20 for $149 or $249. We chose the option for 10, but the beauty of this is that we didn't have to select which 10 while on board! We received a CD with ALL of our photos, but with software that will only let us save 10 of them. The downside to this is that the photo CD had to be picked up on the morning we disembarked, and the line was pretty long – it wasn't as organized as I thought it could have been.
There is also the new Shutters Photo Play Wall. It's a large touch screen just outside the Shutters kiosks on deck 4. Place your Key to the World card on the pad, and it brings up 2-3 games that you can play with your photos (it appeared that the third game was dependent on having enough photos in the system). No prizes for doing well, just a "rank" (Captain was higher than Admiral!), but it was fun – we tried a couple of the games. We found that you could play the game (and see our photos) even when Shutters was closed.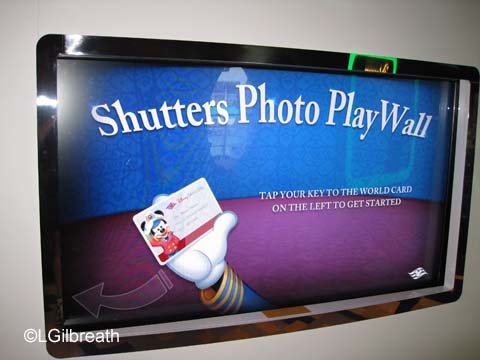 • Animator's Palate – I'd heard a lot about the new show in Animator's Palate, but was very surprised when on our first trip to Animator's Palate we saw the Crush show instead of the Animation Magic show! It turns out that on the Fantasy 7-night cruises they are running BOTH shows – the Crush show on your first visit, and Animation Magic on the second. Deb Koma wrote an excellent account of Animation Magic that you can read HERE, so I'm not going to say too much more about it. Just a few additional comments:
You really need to be facing one of the screens at dinner – I was sitting with my back to it, and it was too close for me to be able to see the show well.
The name that you put on your "Magic Placemat" will be what shows up in the "Guest Animators" credit, so I would suggest making it a little more artistic and distinct than you usually would – dot your i's with Mickey ears, use block letters, or something like that.
I felt rushed to get my drawing done – I know they had to keep the process moving, though.
Because of the show, the dining process is a little bit different. Instead of choice of appetizer and soup/salad, everyone is served the same thing (though you can choose to have only one or neither one). The appetizer plate is a sampler: prosciutto with melon, garlic and herb shrimp, and tuna sashimi. The soup is Buttered Popcorn soup. I thought this was interesting – it's corn chowder with a side of caramel corn to put into the soup. I enjoyed it, others…not so much. Anyway…you still have your choice of entree and dessert. While this worked ok for me, it can be an issue for those with food allergies – we had people with shellfish allergies and lactose intolerance at our table. They were not offered an alternate choice of appetizers/soup – instead they received plates without the shellfish (with an extra portion of one of the others), and instead of the chowder, our other diner received an extra plate of appetizers.
At the end of the Crush dinner they had these LED puppies in the floor to lead us out of the restaurant (I did not see them after the Animation Magic dinner).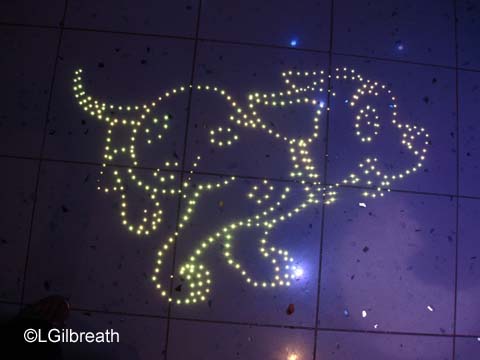 I really enjoyed the Animation Magic show – both the series of clips that were shown during dinner and the guest animation sequence at the end. That was a lot of fun and I think everyone was smiling!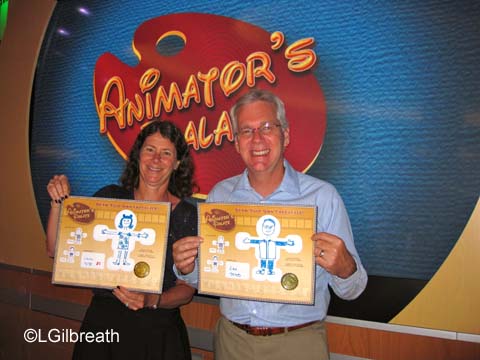 • Castaway Club stateroom gifts – This is another thing that might not be new, but was new to us. Instead of the red and black bag that we've been getting, we got a new blue Castaway Club backpack. Which we both wanted. (I won. 🙂 ). Instead of those yucky who-knows-how-old sandal-shaped krispie treats, there were a small bag of Chip & Dale pretzels and a small container of Mickey cheddar cheese crackers. And we ate those. We also received the usual keychain, but no water bottles. This was our first time cruising as Gold members, and we also had a stationary set. On this cruise Gold and Platinum members were invited to a special reception, and we also received a 10% discount on merchandise at some of the stores on-board (not at Shutters, and not on Castaway Cay).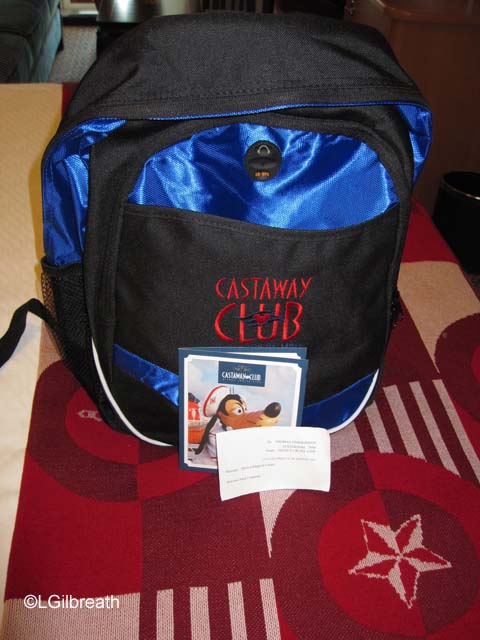 • Aquaduck camera – The Fantasy has been set up with a camera on the AquaDuck to take pictures, but unfortunately it wasn't working when we rode. As far as I could tell it didn't work all week. When it IS working, you place your Key to the World card against the sensor just before getting into the raft so they can identify the photo. We saw the flashes from the camera anyway – it's located at the end of the first straightaway just before entering the enclosed tube. Seems like a great idea – I would've liked to have a photo of us on the AquaDuck. So I hope they get the bugs worked out.
• AquaLab – This is a great new water play and splash area on deck 12 just behind the AquaDuck. Though its target audience is kids it's not exclusively for small kids like Nemo's Reef, and we saw a few adults like us enjoying it, too. There's water fountains that come out of the floor, leaky pipes that spray from the sides, and water buckets (in "Duck Boy" paint cans) that dump from overhead. It looks like there are a couple of games, but they did not seem to be working.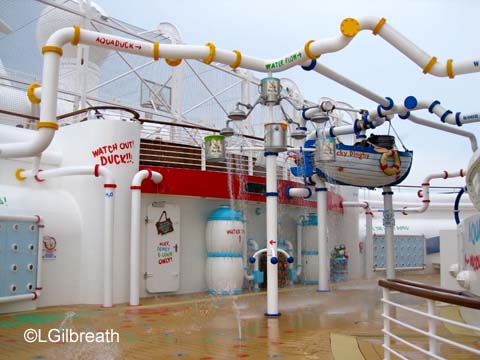 • Europa – the new adult nightclub district on the Fantasy. I'm going to talk a bit more about this in an upcoming blog, and Deb Koma has already written about it HERE, so I hope you won't be tired of reading about it. I am not a nightclub/bar person, and I had way more fun here than I ever expected to.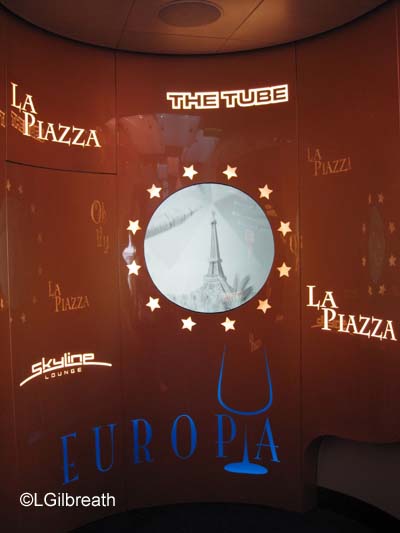 • New shows – The Fantasy has two new stage shows that are exclusive to the ship. Aladdin – A Musical Spectacular is almost identical to the show we've been seeing at Disney California Adventure for the last nine years. Which isn't a bad thing at all – it's a terrific show. I thought they really did a good job adapting it to the ship – it doesn't feel like the staging was scaled back much at all. The biggest difference I noticed is that Prince Ali came in on a horse instead of an elephant – that would have been a little too big. 🙂 I especially enjoyed the flying carpet scene – it looked really good. The Genie still gets to do a bit of ad-libbing, which makes the show different every time you see it.
Wishes is the other new show, which follows three high school seniors during Grad Night at Disneyland, as they consider how their lives will change after they leave high school. After making a wish at Snow White's Wishing Well they take the "ride of their lives" and of course meet some Disney characters along the way! I thought it had a little bit of "High School Musical" feel to it, and the original songs didn't do much for me. I enjoyed the Disney numbers, though – especially the "Reflections" duet between Mulan and Kayla. The plot of this one actually worked for me, and I didn't find it contrived and annoying like Believe, Disney Dreams, and Golden Mickeys, where I think the "plot" detracts from the overall experience.
There are two other shows which we didn't see because of some special presentations on the Maiden Voyage. "A Fantasy Come True" is the welcome aboard show on the first night, and "An Unforgettable Journey" is the farewell show on the final night. Believe is the other show, but it's not new, since it premiered on the Dream last year. Supposedly there were a few tweaks to it, but I haven't talked to anyone who was able to identify them.
One thing I should mention here – Disney Cruise Line has established a "no photography" policy for ALL of the shows on all of the ships. No video or photography of any kind, flash or no flash, is permitted. That was disappointing, since that's how I refresh my memory on what I saw and heard!
It was a wonderful week on the Disney Fantasy…I was so sorry to see it come to an end – I really didn't want to get off the ship! Now I just need to figure out when we can get back again…I'd like to try the Eastern Caribbean route one of these days.
If you have any questions please use the links below to send me an email (Feedback Form) or submit a comment. Food blogs still to come!