Have you ever had one of those meals where everything was perfectly delicious from start to finish? I did recently at one of my favorite restaurants at Walt Disney World, Flying Fish.
Several of us wandered over after enjoying the afternoon at Epcot's Flower and Garden Festival. Fortunately, our favorite server, Bob, was working and we sat in his section. After quenching our thirst with some good ol Florida water, we ordered a cheese plate to share and then started thinking about wine.
I should preface this by telling you wine is one of my indulgences. I love red wine and love to try new wines! When I go to a great restaurant, such as Flying Fish, I am splurging on dinner so I tend to splurge on my wine as well. So you don't think this is my typical price point at home, I used to shop for great buys under $10 but those are almost non-existent these days, so now it's what can I find under $18!
Bob has been my server a number of times and now knows the kinds of wines I like. He always lets me know what is new on the wine list and what "good buys" they have in stock.
A new wine had recently come to the Flying Fish that Bob thought we would enjoy. We decided to give it a try. WOW! We swirled, breathed the aromas and tasted — all four of us at about the same time looked up from our glass with huge smiles! We had a winner!
This wine from Argentina is a "Bordeaux style blend: of Malbec-Cabernet Sauvignon-Petit Verdot. It was smooth as silk and full of great flavors. Flying Fish price was $85 and that's about the same price range as my Google Search of wine stores indicated.
The Artisanal Cheese plate was enough for the 4 of us to nibble on while we looked at the menu. Unfortunately we gobbled up the cheese before I thought about taking a photo.
New on the menu, at least for me, was a Prix Fixe tasting option!
Flying Fish Cafe Signature Prix Fixe Tasting Menu $63.00/per guest

Appetizer: Duo of "Crispy Maine Coast Jonah Crab Cake" and "Our Very Own Caesar Salad"
Entree Duo of "Char-crusted Certified Black Angus New York Strip Steak" and "Potato-wrapped Snapper"

Dessert: Caramelized Banana Napoleon
Burgundy Wine Pairing Flight : $34.00
Now, on to our meal. I didn't take notes during the meal as my intention was not to write about it. However our experience was so wonderful, I wanted to at least share some photos. Suffice it to say, all food items were great!
Each of us ordered the same appetizer, one of the regular items on the Flying Fish menu:
The mozzarella was so incredibly fresh with mouth watering textures that we couldn't believe it was flown in from Italy, we all thought it had been made in-house.

Fresh Mozzarella di Bufala – Florida Yellow Beefsteak, Heirloom and Tiny grape Tomatoes, aged Balsamico, Exotic Peppercorns, Petite Basil, and Sicilian Olio Verde $15.00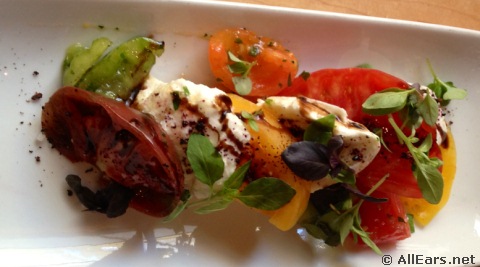 Ginger and Teriyaki Char-Crusted Yellowfin Tuna – Asian greens, sesame-laced sea beans, oyster plant and forest mushrooms, with mido-dashi-lemongrass-wasabi Tobikko-Butter Emulsion $37.00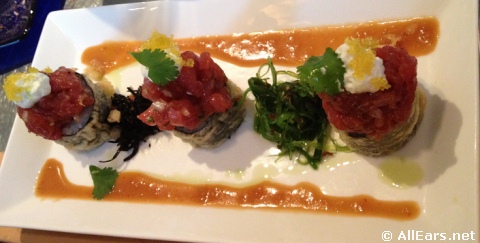 This side dish is to die for and worth taking any remaining home in a "doggie-bag".
Leek, Fontina and Truffle-laced Trofie Mac n Cheese $9.00
Tagliatelle Pasta a la Bolognese – Rustic Five Meat Ragout, arugula and pecorino Romano $26 (also offered as a Lacto-ovo friendly or vegetarian selection: Pesto-laced Vegetable Primavera $22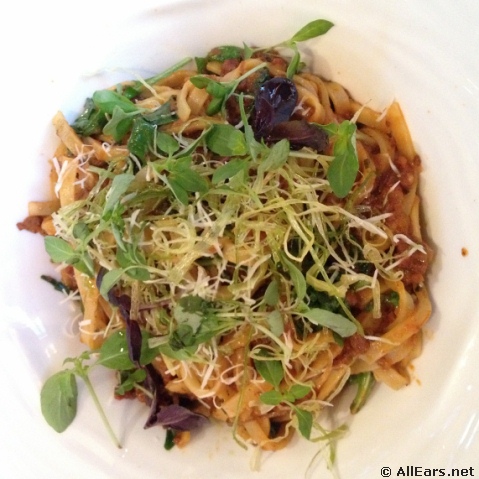 Rainforest Pepperberry-grilled Kurobuta Pork Tenderloin – leek, fontina and truffle-laced pasta Mac n Cheese, grilled asparagus with black missino fig, port wine, balsamico, carmelized onion and trumpet mushroom compote $36.00
We were all too stuffed to even think about dessert.
As I said at the beginning, everything just blended together perfectly from the service, to the ambiance, to the wine to the food. It was a great evening and one we will not soon forget! Thanks to the Flying Fish team!
The moral of this story is – you don't have to be a seafood lover enjoy fine dining at Flying Fish!