On March 31st (just 2 months from now), I'll be on my 2nd Maiden Voyage of a Disney ship, the Disney Fantasy. I'm very excited about it especially since it is a 7 night cruise. There should be plenty of time to explore the ship.
If you happened to be "with me" on the Maiden Voyage of the Disney Dream, you know what utter chaos and insanity the Maiden Voyage merchandise created. I was quite appalled at some of the behavior I saw from what are usually well-mannered adults.
A ship has only one Maiden Voyage and has an Inaugural Season. Merchandise on the Dream was for both.
It all started fairly organized before the cruise, when Disney Cruise Line offered an Random Selection Process (RSP) of the limited edition merchandise. The RSP is designed to offer everyone the same chance to purchase highly sought after collectables. All in all, this process went fairly well from beginning to end. Disney has certainly done their share of RSPs on other cruises (Panama Canal Cruises) and pin events.
So I and others had high hopes there would be plenty of other unlimited merchandise for sail in the shops. We couldn't have been more wrong. There were several Maiden Voyage items includes a couple different t-shirts, sweatshirts and hat. All I wanted was a hat from the Maiden Voyage.
When the shops opened they suddenly were packed with people scooping up racks of clothing and arms full of hats. It was like super market sweep only on bad drugs. What upset me most, besides the behavior I witnessed, was that it became obvious these weren't all personal purchases. A fair number of the items were on e-bay before the end of the day. I felt bad for the Cast Members in the stores. It was nuts!
I couldn't bring myself to walk in the store and finally I left. By the time I returned the stores were a mess and all the Maiden merchandise was gone. What a disappointment.
I tell you all this because Disney Cruise Line heard the message loud and clear and is now offering Maiden Voyage merchandise for PRE-ORDER! YEA! YEA! YEA!

"We are offering Maiden Voyage guests a way to have select merchandise available in their staterooms once they board the ship," explained Holli. "This new 'pre-sell' opportunity was based on best practices from the Disney Vacation Club Member Cruise and feedback from our guests. Our goal is to make shopping a convenient and enjoyable experience."
Now through February 14, Maiden Voyage guests may place orders by telephone or complete an online form and send to Disney Cruise Vacations by fax or mail. You can download the form by visiting the Disney Cruise Line website. Once a guest has completed the process, the merchandise will be delivered to her or his stateroom on the first day of the Maiden Voyage.
These photos include both Maiden Voyage and Inaugural Season merchandise.
A variety of tee-shirts, golf-style shirts, women's apparel and hats will be available with sizes ranging from small to 3-XL. Youth shirts will also be available.
Hats Available for Pre-Sell for Guests Sailing on the Maiden Voyage of the Disney Fantasy.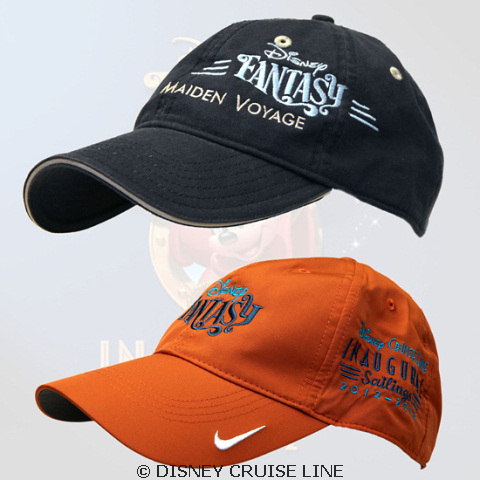 Simply call the Disney Cruise Line. Have your reservation and cabin number handy as well as a credit card. Be sure to do this before the cutoff date of February 14th!
For those of you looking for more upscale and limited merchandise, a Random Selection Process is being held, once again.
The RSP Form and Catalog can be found at: http://www.disneynow.com/profile/web/index.cfm?PKwebID=0x247779117&varPage=home
Items available on the RSP include limited edition pins, ear hats, jewelry charms, art & collectibles created by celebrated Disney artists and more!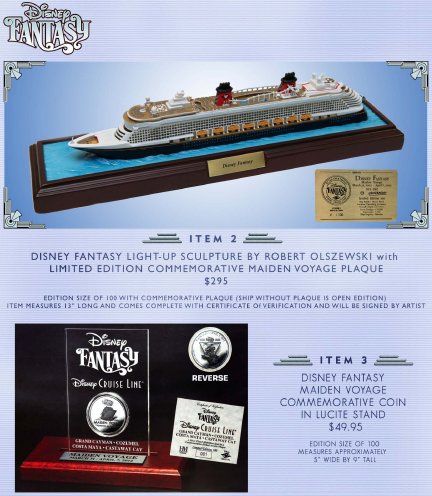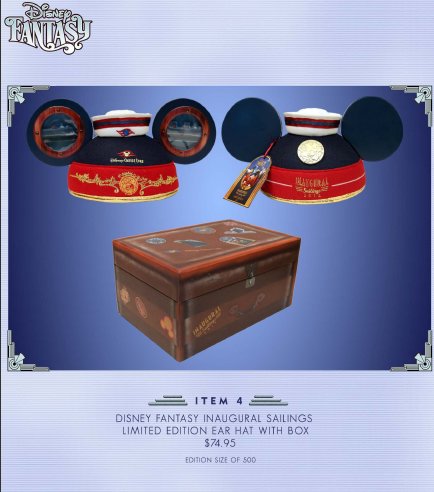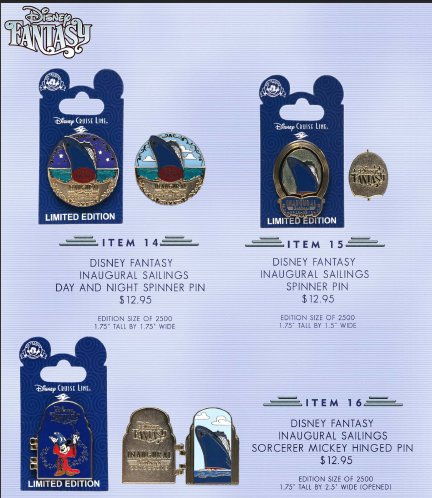 For more on the Disney Fantasy check out our News Blog!
Stay tuned to AllEars for Disney Fantasy coverage of the Maiden Voyage!!! Laura Gilbreath and I will both be posting photos and blogging! The Fantasy sets sail March 31, 2012!