by Michelle Scribner-MacLean
We've all had those days"¦we're busy with the kids, we're stuck in endless meetings, trapped in rush hour traffic. It's times like this that we need to go to our happy place. For me it's often thoughts of upcoming trips to Walt Disney World. Sometimes I find myself thinking of a whirl on Expedition Everest with my kids or sitting at Boma enjoying a great meal with friends or perhaps just people watching on Main Street USA"¦.each of those thoughts allow me to escape for just a moment.
But now I have a new happy place.
A few months ago I had the privilege of escaping for a three-day cruise on the Disney Wonder. This, in itself, was a terrific break from a New England weather, but during the cruise I got to experience something so relaxing, so wonderful that it takes its place among my all time happiest Disney memories. I got to spend the day in a private cabana on Disney's Castaway Cay.
I was treated to this wonderful experience by Beci Mahnken, owner of MEI Travel, who was checking out this relatively new offering by Disney so that she could assess whether or not it was something that she should offer to her clients.
Before leaving the ship, I met Beci in her cabin, where she had received info about our day. It came in the form of an adorable pop-up, miniature cabana, which turned out to be a a very close copy of the one we'd be using for the day.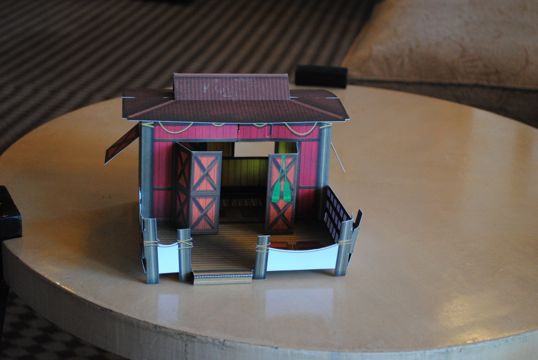 After debarking, we took a tram to Serenity Bay, the adult only beach on Castaway Cay. This was my third Disney cruise and on a previous cruise I had snuck away to this quiet beach for a massage on a beach-side cabana, so I knew that I was in for a treat, but was unprepared for how wonderful and pampered we'd be. There was a check-in area for activities at Serenity Bay…so we checked in and waited to see what this experience brought us.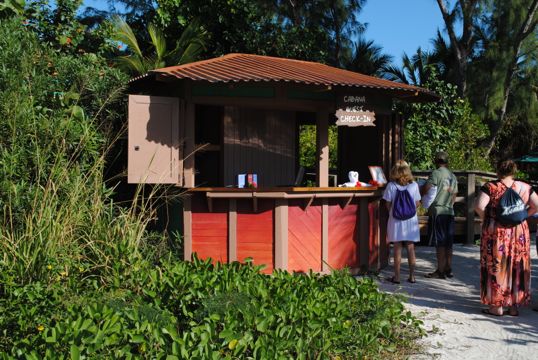 We were greeted by Gladstone, a Disney Cruise cast member who debarked with us for the day make sure that we had all of our needs met and felt pampered.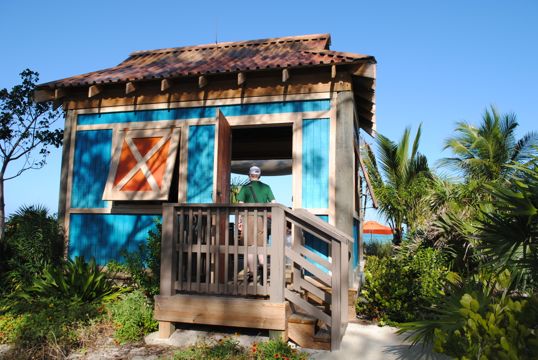 Though our cabana was relatively close to the tram area and the beginning of a beach, Gladstone insisted that he drive us to the cabana, where we found a warm welcome.
He then spend a few minutes introducing us to the amenities that come along with the cabana including a fruit bowl, a refrigerator filled with soft drinks, and a basket of snacks, all of which are replenished during the day by the Disney cast member.
Gladstone also pointed out that there were two pitchers of drinks in the refrigerator. He let us make our choices before heading off for the morning.
The main part of the cabana is covered and there are chairs, a small table, a basket of magazines, and a curtained changing area. There was also a basket filled with sun lotion (which was very convenient for me, since I'd forgotten mine).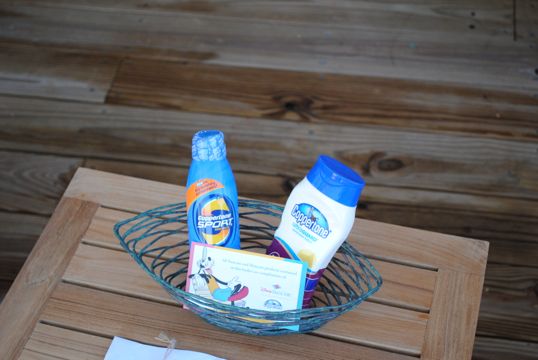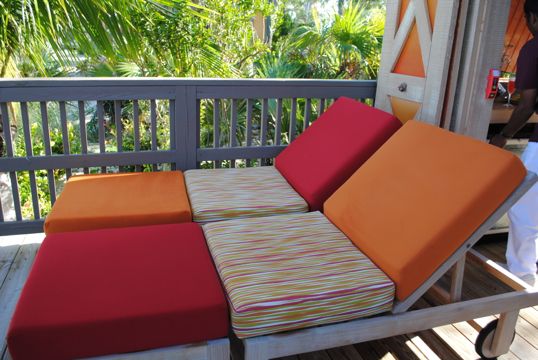 The deck part of the cabana is also covered by an awning and is surrounded by beach plants and shrubbery, so that people in the cabanas have some privacy from the people who are on the beach. The views were spectacular. The ocean was clear blue and the beach was pristine.
Next to the cabana was a hammock strung between two palm trees (yes, this is my idea of paradise), along with tubes and rafts for us to use in the water. There was a "cold snap" in the Caribbean and it was "only" 70F, which was a bit cold for swimming, and I turned out to be the lone person in our party up for taking a dip (heck, the ocean temps that I'm used to in New England make you feet feel numb after about a minute, so it was really nice swimming in December, even though it was a bit cold).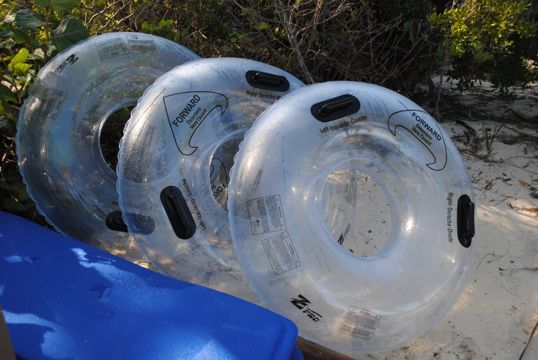 There was a buzzer-type thing in the cabana for us to call Gladstone if we needed anything at all. We saw him a few times during the day when he showed up to take us to the lunch area, he brought a waiter from the bar in case we wanted to order drinks, and he assisted us in renting bikes for the morning (which was included with the cabana rental). Gladstone was an example of Disney Cruise service at its finest: he was friendly, helpful, and so willing to help that he teasingly chastised us for choosing to walk back to the cabana after lunch.
I can truly say that I spent one of the most relaxing days of my life"¦the sun, the ocean, time with friends, no electronics (which for me, Gadget Girl, was a HUGE thing"¦but I loved it). We just sat, napped, chatted and then more of the same.
Renters have the cabana from 9 a.m. until 4 p.m. That's when Gladstone met us, brought us back to the beginning of Serenity Bay, where we took another tram back to the ship.
The experience is a bit pricey ($499 per day) but I can honestly say this was one of the most relaxing and pampered days.
So now you can see why I have a new happy place… the next time I'm stuck in a traffic jam or dealing with some particularly nasty New England weather, I'll be daydreaming about my cabana day on Castaway Cay.
And if you happen to indulge in this experience and get the little cabana that we used, you might see fingernail marks on the door where they had to drag me out of this little paradise!