I love technology and gadgets. Some of the coolest gadgets around are things that you can use at Walt Disney World"¦and right up at the top of my list is apps. Apps (short for applications) are little programs that can be uploaded to your phone or tablet. Many are free or cost very little money and there are dozens that can be used to enhance your experience at WDW. Deb Wills said, "Hey, Michelle, how would you like to review some of these apps?"
It was a no-brainer: a perfect job for me.
The first one that I'm going to review is not really WDW-specific, but it's one that I have a LOT of fun with when I'm at the parks. It's called Hipstamatic, a $1.99 iPhone photography app that allows you to change virtual lenses and film to give your photos a funky retro look. I don't want to appear that I'm stepping on the toes of my much more knowledgeable AllEars photography buddies, so before I go on with my review, I'm going to share a bit of back-story.
I adore Barrie Brewer. Anyone who knows Barrie's photography is blown away — she has an fantastic eye and captures aspects of WDW that are amazing. I'm no Barrie Brewer, but I do love photography. When I started playing around with this app, I started sharing some of my photos with Barrie and she got excited about the app, too. She encouraged me to blog about it.
I think the best way to learn about the app is to show you.
This is an example of a photo that I took of Spaceship Earth with my iPhone with the regular camera app"¦.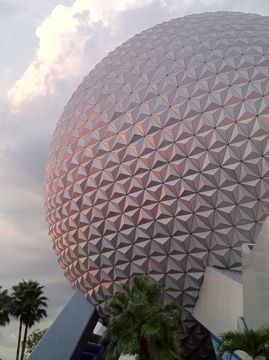 And here's a similar photo with Hipstamatic.
Right away I loved what I saw….the shadows, the enhanced color. Spaceship Earth looked so dramatic! I also like the old-fashioned looking border that the app puts around the photo.
Once I started seeing the results, I really started experimenting with different subjects. I went a little crazy. I took photos are resorts: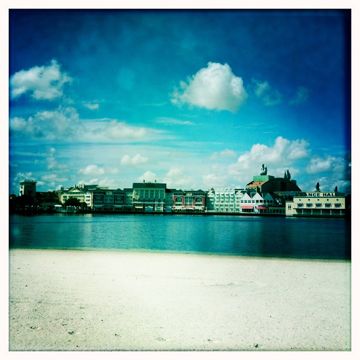 I took photos at Downtown Disney:

I used it when I was at Hollywood Studios: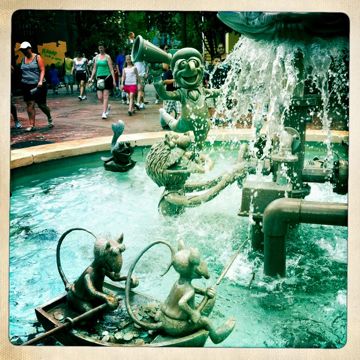 And I really enjoyed myself, finding some interesting things to photograph at World Showcase: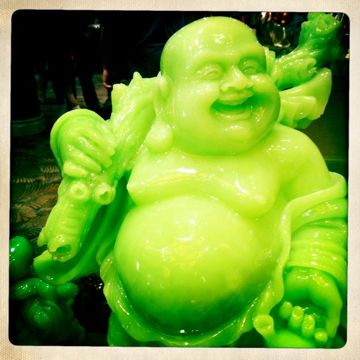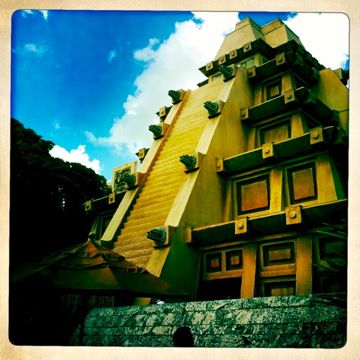 There is rarely a poor picture to be had at the Magic Kingdom, but I also enjoyed using Hipstamatic there, too: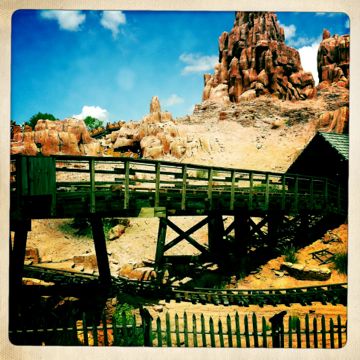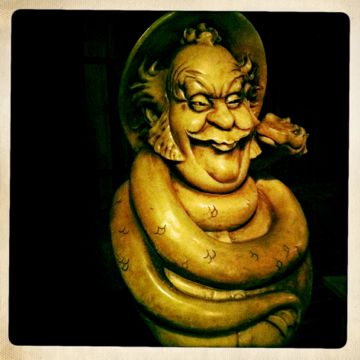 As I said, I went a little crazy (but rest assured that wasn't all in one day).
Of course, it's not that the photos are better than they would be if I used my Nikon (that most likely is not the case), however, if you're like me, you have lots of photos of WDW. The way that the app allows you to change lenses and change the type of film allows me to see familiar things at WDW in a slightly different way.
The app "stores" the photos in your photo library and allows you to share your photos via Facebook, email, and text. You can also order photos of your favorites through the Hipstamatic store.
The only things that I don't like about this app are that it does not work very well in low light settings and sometimes the view frame skews what you see, but after you play around with it for a bit, you get the hang of it.
If you're an Android users, don't despair"¦there is a very similar app for the Android called Instagram (there's an iPhone version, too).
So the next time you're at WDW, you might want to try this app. You can get more info here: Hipstamatic
and you can download it via the iTunes store.
"¦and thanks, Barrie.
***********
Have a suggestion for a great WDW app that you think should be reviewed? Please email me at: [email protected]