This Tuesday, October 26th, Walt Disney World celebrated Air Force Week in the Magic Kingdom. The events included a "flyover" above Cinderella Castle and Main Street by the Thunderbirds and Airmen from Patrick Air Force Base and members of the Thunderbird Team being the Grand Marshals of the Celebrate A Dream Come True parade.
If you've ever witnessed the Flag Retreat ceremony in the Magic Kingdom you know that every day Disney honors "Hometown Heroes". Disney has a long history of strong support for our brave men and women who serve us so proudly in the military. So, celebrating an event like Air Force Week was a perfect fit.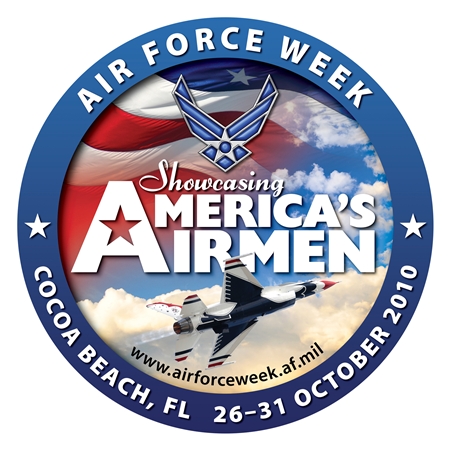 There were quite a few Air Force men and women from Patrick Air Force Base in the Magic Kingdom. They were given a place of honor to view the parade. For those who don't know, Patrick Air Force Base is located on the East Coast of Florida near Cocoa Beach, which is only about an hour from Walt Disney World.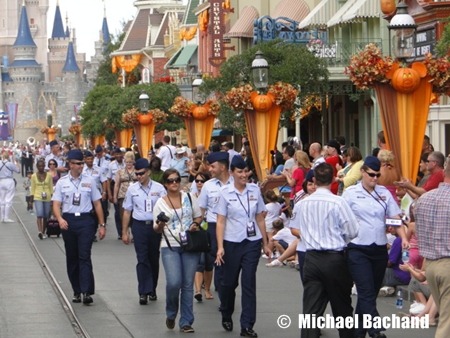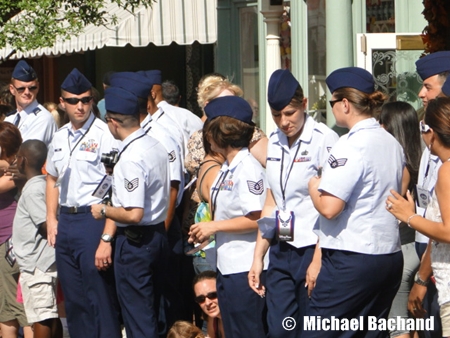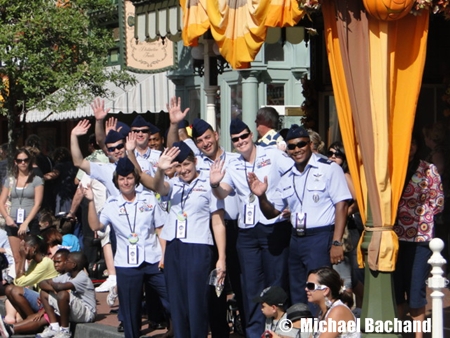 Wherever the Thunderbirds travel they are accompanied by a very large support team. The team consists of all kinds of media personnel, as well as logistic and technical support personnel.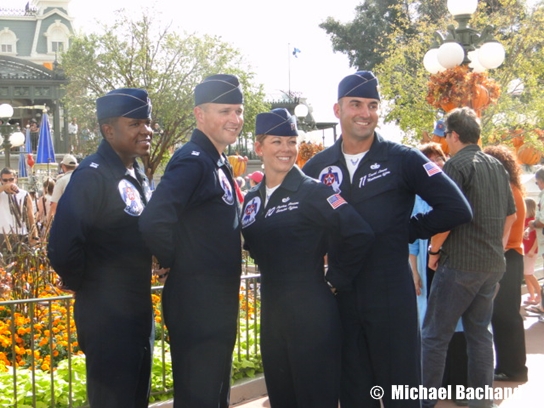 Special thanks to AllEars.Net Photo Blogger Scott Thomas who took these fantastic pictures of the flyover from across Bay Lake. As you can see Scott got some really great photos of the Thunderbirds in flight! (Note: You can see more of Scott's work on the "Picture This!" blog page on the AllEars website.)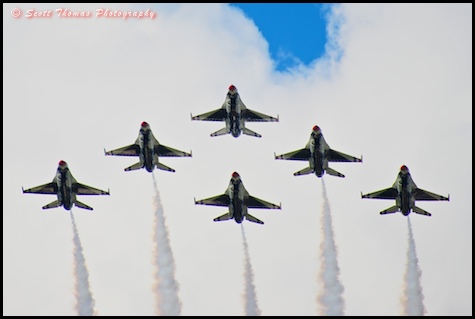 Here's a video of the Thunderbirds flying over Main Street in the Magic Kingdom. (Note: The flyover occurs approximately two minutes into the video.) Also, you will see the Airmen and women from the Thunderbirds and Patrick Air Force Base being honored as Grand Marshal's of the Celebrate A Dream Come True Parade. You can also enjoy watching the entire parade:
Interview with Col. Rossen from Patrick Air Force Base:
Interview with Capt. McCree, Thunderbird Public Affairs Officer:
Here's some bonus footage of the Main Street Philharmagic Band marching down Main Street prior to the parade:
Please leave me a comment and let me know if you have any thoughts regarding this special event or how Disney honors our brave servicemen and women.
NOTE: When you comment it is now necessary to enter the word "blog" (without the quotations) in a box that's located just below the "Comments" box.
Did you know AllEars® has a huge area called Rate and Review where you can share your dining reviews with fellow readers? Check it out!
Finally, be one of the first people to hear when my newest blogs go live on AllEars.net by joining "DisneyMike's World" Facebook group.
Well, that's all for now. As my good friend says, "see ya real soon"…DizneyMike
Hey, see this little green button? Well, it allows you to share this blog with your family and friends quite easily. Give it a try; it's pretty neat!