There are some times when a restaurant can completely blow you away when you least expect it. This is exactly what happened to me at the House of Blues at Downtown Disney's West Side.
I decided to go here because I was looking to try something different, but I did not really know what to expect. Whenever I would think of House of Blues I pictured a bar or club-like atmosphere with music blaring and people being really loud and obnoxious, a place that you would be more likely to go to just to get a drink rather than a full sit-down meal. The reality turned out to be far different and I do not think I have ever been more pleasantly surprised by a restaurant at Disney World. House of Blues exceeded my expectations in every way in terms of the atmosphere, the service, and especially the food. After eating here just once I can say that it has become my favorite dining location at Downtown Disney and I will definitely be going back frequently.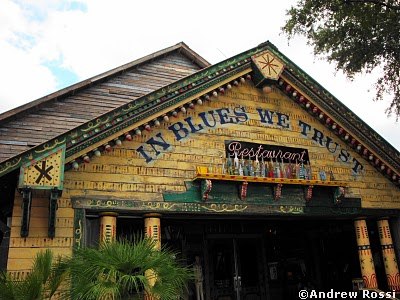 Overview:
When you think of the House of Blues, a restaurant may not be the first thing that comes to mind. In fact, most people are far more likely to think of it as a concert venue. This is largely because House of Blues itself heavily promotes the various musical groups that it has coming to perform. The House of Blues draws performers from all across the country, some well known and others less so. However, the music hall where these groups perform is separate from the main dining room. Others may associate House of Blue with a bar or club for people looking to party. While the restaurant does have a bar, I found House of Blues to be a restaurant more along the lines of Raglan Road, featuring a laid back and relaxing atmosphere where you can come if you just want a drink at the bar or if you are looking for a nice sit-down meal. It is a dining location that offers something a little different from your typical Disney restaurant. While not inappropriate for families with children, House of Blues offers a more mature setting that can be enjoyed by adults looking to relax and escape from the hustle and bustle of the theme parks.
Atmosphere:
The House of Blues is dedicated to educating and celebrating the history of Southern culture, especially African American contributions to music and art. Since the first House of Blues opened in Cambridge, Massachusetts in 1992 one of its primary goals has been to introduce the world to the music of the rural south, including blues, rhythm and blues, gospel, jazz, and rock & roll. The result is an atmosphere which is very eclectic. Upon first seeing the interior of the restaurant I was not sure exactly what to make of it. On one hand the restaurant had a definite Louisiana bayou/voodoo feel. It is an atmosphere in which Dr. Facilier from "The Princess and The Frog" would feel right at home. At the same time, the restaurant is like a shrine to all things music, especially jazz and blues.
So puzzled by what the theme of the restaurant was meant to be, I went to the House of Blues website to do some research. It turns out that juke joints are a major inspiration for the look and feel of the restaurant. Juke joints have their origin shortly after the Civil War and emancipation where they were primarily operated by African Americans in the South. Plantation workers and sharecroppers needed a place to relax and socialize following a hard week, particularly since they were barred from most white establishments by Jim Crow laws. Juke joints were thus set up on the outskirts of town, often in ramshackle buildings or private houses, and offered food, drink, dancing, and even gambling for weary workers. Juke joints are still in existence today and are full of hand-painted collections of art, posters, furniture, wall murals, and all other sorts of decoration. This tradition is carried on in the décor of the House of Blues. In fact, many of the artifacts and items throughout the restaurant have historical significance.
The dining area itself was dimly lit and had a somewhat foreboding and mysterious feel, but what really stood out the most about the decor were the vibrant colors. The walls are littered with a wide variety of different types of art. A large amount of the artwork is a celebration of African American history, tradition, and culture, but strong religious imagery and many musical references can also be found.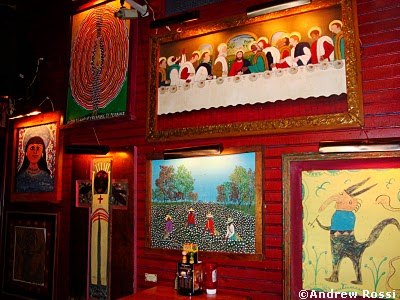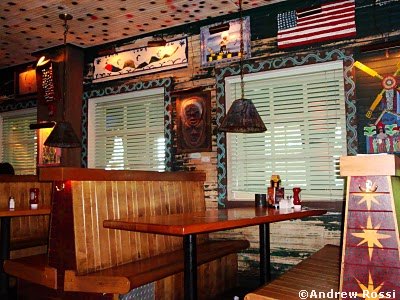 Items on the walls are not limited to paintings and also feature an eclectic mixture of various types of artwork, such as masks, statues, and colorful musical instruments. This is definitely a restaurant that gives you plenty to look at while you are waiting for your meal.
The artwork is not only limited to the walls, and you might find yourself staring up at the ceiling even more. One thing not to miss is the painted ceiling above the bar area, which is like the House of Blues version of the Sistine Chapel and helps to reaffirm the strong religious imagery of the restaurant, where music is a religion.
There is also a vaulted ceiling which stretches the entire length of the center of the main dining area and features tiles with images of various jazz, blues, gospel, and R&B legends, ranging from B.B. King to Bob Marley to the Blue Brothers.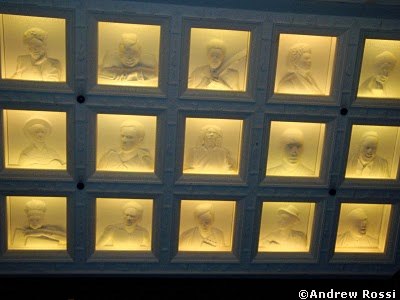 Overall, this décor helps to give the restaurant a very authentic feel, but at the same time one that is both exotic and adventurous.
The Menu:
I was very impressed by the menu at House of Blues largely because of its wide selection of offerings highlighting what can best be described as Southern soul food. The menu, which is the same for both lunch and dinner, starts with a vast array of appetizers, ranging from Spicy Buffalo Chicken Wings to Crispy Catfish Nuggets served with sweet potato fries, Whole Wheat Chicken Quesadillas, Spicy Calamari tossed with chili sauce, kalamata olives, parmesan cheese and lemon olive oil, Crab and Artichoke Dip, and Turkey Shrimp Gumbo.
The menu also features variety of burgers and sandwiches. Burgers include the Mushroom Swiss with sautéed mushrooms, onions, and Swiss cheese, The Bleu with sautéed onions and bleu cheese, and the Smokehouse featuring barbeque sauce, bacon, and cheese. Among the sandwich selections are the Pulled-Pork Sandwich, Shrimp Po-Boy, and "The Elwood," a blackened chicken breast sandwich with chili garlic mayo, green chilis, and sour cream.
Entrees feature some traditional southern favorites, most notably the Creole Seafood Jambalaya with shrimp, chicken, andouille sausage, and roasted green onions. Entrée choices also include Grilled Citrus Chicken, Cajun Meatloaf, Baby Back Ribs with Jim Bean BBQ Sauce, Grilled Rib-Eye Steak with a spicy garlic-pepper cream sauce, and Wild Mushroom and Roasted Chicken Pasta featuring shiitake, oyster, and portobello mushrooms topped with smoked gouda cheese.
For an appetizer I chose the Pan Seared Voodoo Shrimp and it could have been a meal unto itself. The shrimp themselves were fairly large and were cooked so that they were perfectly tender. The shrimp came in a rich, thick, creamy sauce that was very spicy. This is definitely not an appetizer for the faint of heart. While the sauce is a beer reduction, I did not find the flavor of beer to be too overpowering.
The shrimp is also accompanied by a large slice of the House of Blues' famous Rosemary Corn Bread. This is was what really made the appetizer special. The sweetness of the cornbread provided a nice contrast to the spiciness of the sauce, but at the same time the two complimented each other perfectly. This would have been a great appetizer even without the shrimp because it was great to just dip the cornbread into the sauce.
With so many choices on the menu it was hard to decide what I wanted for an entrée, but I finally decided on the Eggplant-Stuffed Salmon. I have had salmon at many different restaurants before, but nothing ever like this; it was a dish that was truly unique. In contrast to the Voodoo Shrimp, the sauce that accompanied the salmon was milder in flavor and I had a hard time figuring out exactly what the sauce was. After asking my server I found that it was actually a balsamic-butter sauce. The piece of salmon was absolutely huge and was pan-seared perfectly so that it was slightly crispy on the outside but still soft on the inside, in addition to being very light and flaky. The stuffing was a mixture of eggplant and shrimp and its rich/heavier flavor paired well with the lightness of the salmon and sauce. The piece of salmon itself was not actually stuffed, but it was served on top of the stuffing. The salmon was also accompanied by four good-sized crab claws that were great to dip into the sauce. While this entrée was not spicy (especially compared to my appetizer) it did offer a variety of different flavors that all blended together very well.
For dessert I went with the White Chocolate Banana Bread Pudding and I was astounded by the huge portion size. This was an extremely rich and filling dessert and it was so big that I was not even able to finish it all. I was a little hesitant at first to order this dessert because it is served with a whiskey sauce. The sauce, however, is actually very sweet and the whiskey flavor was just enough to add an extra little kick to the dessert. The bread pudding was served warm, but not piping hot. There were pieces of banana inside which added extra flavor and texture to the dessert, but too much so that the flavor of banana overpowered everything else. The bread pudding also came topped with a generous scoop of vanilla ice cream, which was a light and refreshing compliment to an otherwise heavy dessert. I have tried bread pudding at several Disney restaurants and I would have to rank the one at House of Blues above that of Ohana and second only to Raglan Road.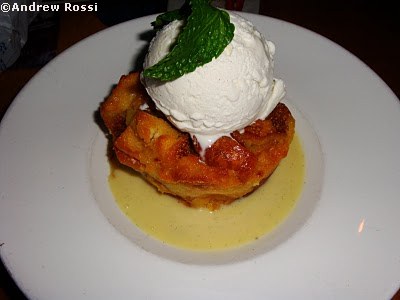 Service:
I found the service at House of Blues to be very laid back and casual, which is in keeping with the feel of the restaurant on the whole. That being said, my server was very helpful in describing items on the menu and answering my various questions about the different dishes. Also, even though my server was waiting on several tables, she was also very attentive to my needs and made sure that I always had plenty of water (which is very important when eating spicy food). The service was efficient, but the meal progressed at a nice, leisurely pace, allowing some time to relax between courses.
Dining on a Budget:
One of the things that surprised me the most about House of Blues was that it offers Happy Hour every day of the week from 3pm to 5pm during which time all appetizers are half price. This is a great value, but one which is not very publicized. With such a wide variety available, you could easily make a meal of just appetizers. Whether dining by yourself or with a group of people, you could order several appetizers to share (or maybe a few appetizers and a dessert) and have a great meal at a very affordable price. Also during Happy Hour, House of Blues offers $2 domestic beer, wine, and cocktails. This is definitely one of the best deals on Disney property. Even if you do not go during Happy Hour, the appetizer prices are still very reasonable and the menu also features several other affordable options, such as the burgers for $12.99 as well as the Smoked Pulled Pork Sandwich and Shrimp Po-Boy which are also just $12.99. Not only does the menu feature reasonable prices, but the portion sizes that you get for that price are very generous.
House of Blues offers discounts for Disney Vacation Club Members, Annual Passholders, Table in Wonderland card holders and D23 members. Be sure to show your card at check-in to learn about the current offers.
The Overall Experience:
While I did not really know what to expect when I went to House of Blues, I now know that I will definitely be going back again. Everything about the restaurant completely exceeded my expectations, especially the food. The menu features such a wide variety of offerings that there are several items that I still want to try. With an atmosphere that looks like something straight out of a Louisiana bayou and a menu that features flavorful and spicy southern soul food, House of Blues is an adventure for both your eyes and your taste buds. More than just a bar or music hall, House of Blues is a restaurant that offers great food and large portions at an affordable price (a real recipe for success). House of Blues is definitely a hidden gem when it comes to restaurants and, while other dining locations may receive more attention and a far more crowded, it has become my favorite restaurant at Downtown Disney.
Have you dined at House of Blues recently? Share your experience and read what others have to say! AllEars Rate and Review the House of Blues!
Be sure to click on the comment link below and let me know what you think of my House of Blues blog!