Yesterday I presented you with a history of Country Bear Jamboree. Now let's take a look at the individual stars of the show.
Henry is the Master of Ceremonies for Country Bear Jamboree. He wears a dickey, high-starched collar, bow tie, and top hat. This gives him a formal look appropriate for hosting such a "classy" to-do. The backstory for Henry indicates that he was a football player who found music and changed careers.
Henry is voiced by Pete Renoudet who can also be heard announcing the arriving trains at Disneyland's Main Street Station. In years past Renoudet was the voice of the Captain on the Rocket to the Moon attraction, First Officer Collins on the Mission to Mars ride, and Captain Nemo in the 20,000 Leagues Under the Sea adventure.
Henry can be seen on three different stages during the performance. During the show he sings:
The Bear Band Serenade (with the Five Bear Rugs)
The Fractured Folk Song (with Wendell)
Mama Don't Whip Little Buford (with Wendell)
Davy Crockett (with Sammy)
Old Slew Foot (entire cast)
Come Again (with Sammy, Melvin, Buff, and Max)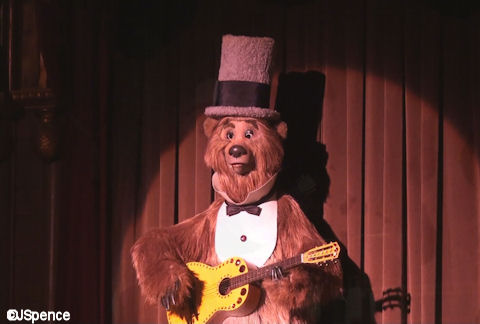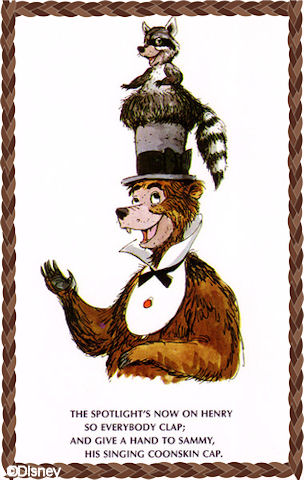 Hanging on the wall we have (from left to right) Melvin, Buff, and Max.
Melvin is a dimwitted moose and voiced by Bill Lee. Bill Lee voiced a number of Disney characters including Roger's singing voice in 101 Dalmatians and the Father in Cinderella. Lee was also a member of the Mellomen singing group.
Buff is a buffalo and the leader of the three talking heads. Buff is voiced by Disney Legend Thurl Ravenscroft (Tony the Tiger) who co-founded the Mellomen with Max Smith. This group lent their talents to such Disney films as Alice in Wonderland, Peter Pan, and Lady and the Tramp.
Max is a stag and is also voiced by Pete Renoudet.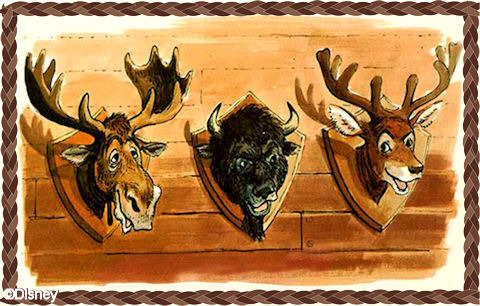 Gomer is the piano player and wears a high starched collar and blue necktie. The piano is adorned with cornstalks and a beehive sits on top with two straws for easy honey sippin'. Gomer never speaks or sings during the show.
Gomer tickles the ivories during the following numbers:
Pianjo
The Bear Band Serenade (accompanies The Five Bear Rugs – beginning only)
Tears Will Be the Chaser for My Wine (accompanies Trixie)
Old Slew Foot (entire cast)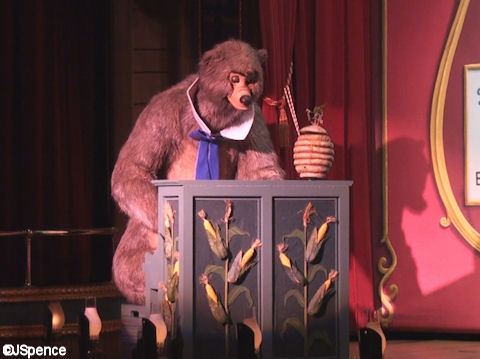 The Five Bear Rugs are a country-western band consisting of Zeke, Zeb, Ted, Fred, and Tennessee. They perform the following numbers:
The Bear Band Serenade (with Henry)
Devilish Mary (Zeke as the soloist)
Old Slew Foot (entire cast)
Zeke is the leader of the group. He plays a banjo made out of an old frying pan and a chicken bone. With his left foot he bangs on a dishpan to create "a real ol' country beat." Zeke is an old codger and wears a collar, hat, and spectacles. Dallas McKennon provided the voice for Zeke from October 1971 to July 1975. McKennon's distinctive voice can also be heard on Big Thunder Mountain Railroad and as Ben Franklin in the American Adventure.
Randy Sparks took over the role of Zeke following McKennon. Sparks is a folk musician who is probably best known for cofounding The New Christy Minstrels.
Zeb plays a homemade fiddle with a hickory bow. He wears a miner's hat and a red polka dot bandanna. He is voiced by a member of the Stoneman family.
"Pop" Stoneman was born on May 25, 1893. Music was in his blood and he played multiple instruments. After being a solo artist, Pop began to include his wife, 13 adult children, and extended family members in his performances. The group became so large and the music so varied that they frequently broke into "band segments." At times there were as many as six family bands simultaneously performing throughout the country.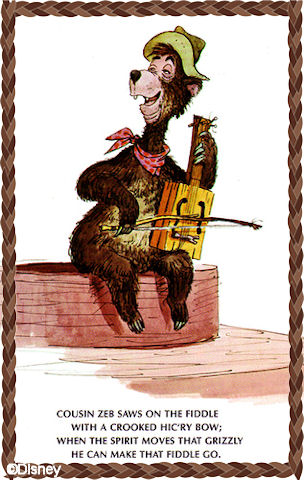 Ted is rather lanky for a bear. He wears a tall hat and a white shirt. He plays the corn jug and we're told he also plays the washboard which can be seen near his feet. A close observer will notice "B flat" printed on the side of his corn jug. Two additional jugs can also be seen near his feet sporting "E flat" and "F sharp."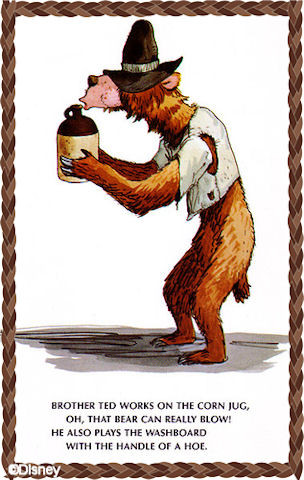 Fred is a big boy who learned to play the mouth-harp (harmonica) from his dad. He wears blue jeans held up by suspenders as well as a red and white striped tie.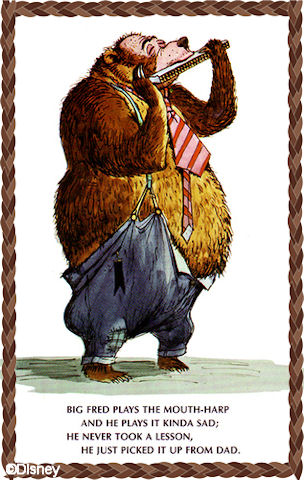 Tennessee Bear plays the "thing," a homemade guitar-like instrument with only one string. It sits on a bathroom plunger, has symbols attached to the side of the instrument, and a wooden bird and nest sit atop its neck. Tennessee is voiced by a member of the Stoneman family.
Baby Oscar is not part of the Five Bear Rugs, but is actually Zeb's son. His constant companion is a teddy bear. Baby Oscar does not speak or sing, but contributes double-squeaks three times during the performance when he squeezes his teddy bear. Unlike all of the other bears, Baby Oscar wears no clothing.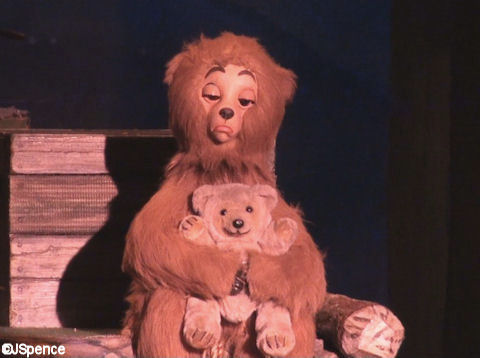 Wendell plays the mandolin and wears a bowler hat and a blue bandanna. He has a bit of an overbite and a bit of an attitude. He is voiced by Bill Cole. Cole was part of the Mellomen singing group.
Wendell sings the following:
The Fractured Folk Song (with Henry)
Mama Don't Whip Little Buford (with Henry)
Old Slew Foot (entire cast)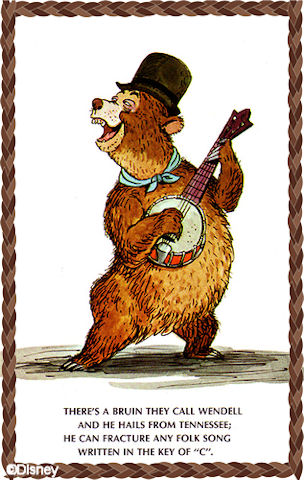 It's fairly obvious how Liver Lips McGrowl got his name. He plays the guitar and wears tattered overalls and a red-checked kerchief around his neck. Liver Lips is voiced by Van Stoneman, one of the Stoneman family members.
Liver Lips sings:
My Woman Ain't Pretty
Old Slew Foot (entire cast)
Trixie (aka Loser) is a little bit of ever-lovin' cuddlesome fluff. She hails from Tampa and has a crush on Henry. She wears a blue tutu and a blue bow on her head. Trixie carries a handkerchief in one hand and a glass of wine in the other. A large perfume bottle can be seen near her feet.
Trixie only sings one song, "Tears Will Be the Chaser for My Wine" and does not appear in the grand finale. She was originally voiced by Wanda Jackson but was rerecorded by Cheryl Poole. In 1968, Cheryl Poole was voted Top New Female Vocalist by the Academy of Country Music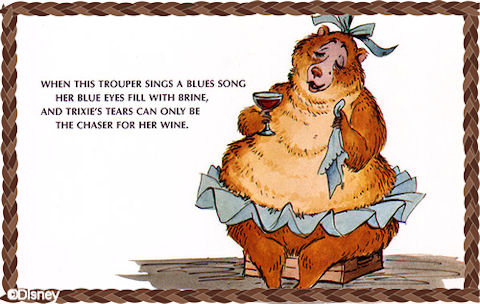 Terrence (aka Shaker) is from the Ozarks. He is tall and wears only a hat. He plays the ukulele and is voiced by Van Stoneman, one of the Stoneman family members.
Currently, Terrence's hat covers his brow. However in years past, you could see his eyebrows do a "dance" at the end of his number.
Terrance performs:
How Long Will My Baby Be Gone
Old Slew Foot (entire cast)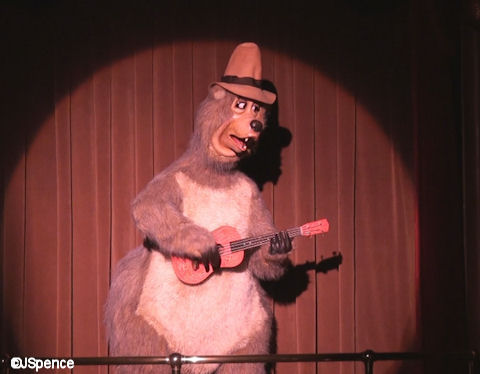 The Sun Bonnet Trio hail from Florida and consist of Bunny, Bubbles, and Beulah. The triplets wear matching light blue dresses with sun bonnets and hold a handkerchief in their right hands.
Bunny, center stage, is voiced by Jackie Ward (aka Robin Ward). Ward is known as a "one-hit wonder" due to her 1963 million-selling smash "Wonderful Summer";
Bubbles stands to the audience's left, and is voiced by Loulie Jean Norman. Among Norman's many accomplishments, she is the singer of the classic Star Trek theme as well as the soprano opera-singing ghost in the Haunted Mansion.
Beulah stands to the audience's right and is voiced by Peggy Clark.
The Sun Bonnet Trio perform the following numbers:
All the Guys That Turn Me On Turn Me Down
Old Slew Foot (entire cast)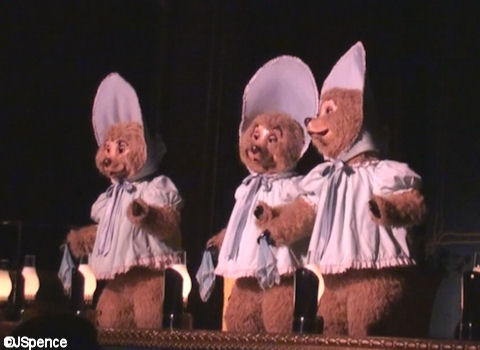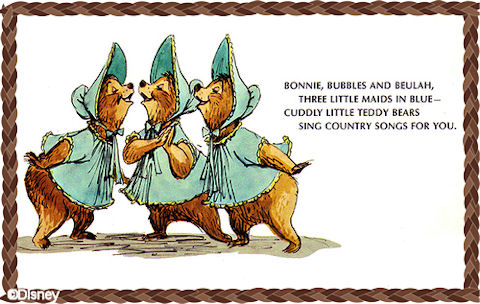 Ernest (aka Dude) wears a derby, collar, and lilac polka dot bow tie. He plays the fiddle. Ernest was voiced by Van Stoneman until July 1975. He was rerecorded by Randy Sparks.
Ernest only sings "If Ya Can't Bite, Don't Growl" and does not appear in the grand finale.
Teddi Barra hails from the Dakotas and is alluring to a number of the cast members as is evident by their catcalls and whistles. Teddi descends from the ceiling on a rose-covered swing. She wears a feathered hat and a feather boa and carries a parasol. Teddi does not play an instrument. She was originally voiced by country singer Jean Shepard but Patsy Stoneman (Stoneman family member) now provides the vocal.
Teddi Barra sings:
Heart We Did All That We Could
Old Slew Foot (entire cast)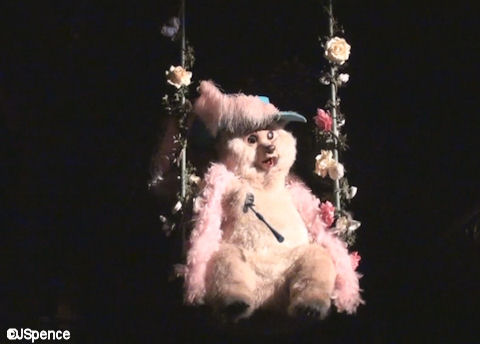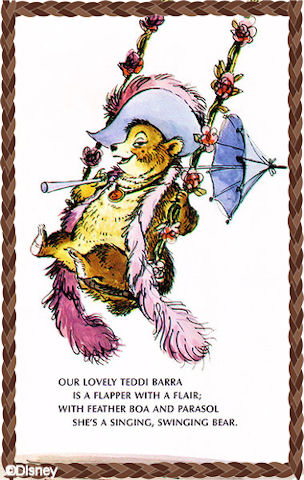 Big Al is perhaps the "biggest" star of the show. Even before his curtain opens, the off-tune strums of his guitar brings laughter from the audience. Al has a personalized guitar and wears a red vest and hat. Al is voiced by Tex Ritter. Ritter is possibly the best known name of the voice actors in this show. His credits include Country Music Hall of Fame member, movie actor, and father to John Ritter of "Three's Company" fame.
Big Al only sings "Blood on the Saddle." Even during the grand finale, he continues with this piece while everyone else sings "Old Slew Foot."
A continuation of the song goes like this:
There was blood on the saddle, blood all around
And a great big puddle of blood on the ground
The cowboy lay in it, all covered with gore
He'll never ride tall in the saddle no more
Oh pity the cowboy, all bloody and dead
A bronco fell on him and mashed in his head
Sammy is Henry's raccoon friend and is voiced by Bill Cole.
It's appropriate that Sammy should be resting on Henry's head while he sings Davy Crockett. Walt's 1950's television program "Disneyland" featured three "Davy Crockett" episodes starring Fess Parker – who wore a coonskin cap. The show was a huge hit and the hat became a tremendous fad among boys all over the United States (I owned one). A variation of the cap was marketed to young girls as the Polly Crockett hat (Davy's wife). BTW, synthetic fur was used.
Here's another little known fact. Davy Crockett was not born in Tennessee as the Disney song suggests. He was born in the State of Franklin. Don't believe me? Look it up.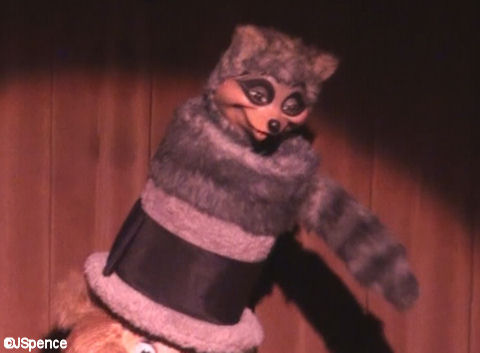 Well that's it for Country Bear Jamboree. I hope I've brought back some pleasant memories and provided you with some new information about the show.
In my never-ending endeavor to bring you quality videos, I sat through (endured) Country Bear Jamboree five times in a row so I could film it from five different vantage points. I hope you enjoy my efforts (and sacrifice – LOL).