The Japan pavilion in Epcot's World Showcase recently unveiled a new exhibit in its museum space adjacent to the Mitsukoshi Department Store. Entitled "Spirited Beasts: From Ancient Stories to Anime Stars", the exhibit focuses on the mythological origins of modern Japanese animated characters.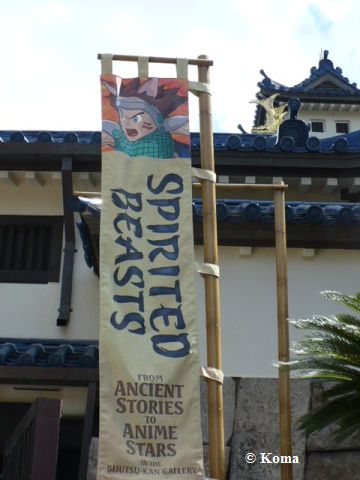 "Anime", as Japanese animation has come to be known, originated about 1917, but has enjoyed a great deal of popularity outside of Japan in recent years. The success of animated cartoon series like Pokemon and animated feature films like "Spirited Away" and "My Neighbor Totoro," by director Hayao Miyazaki, have broadened the art form's appeal.
This new exhibit looks at how many anime characters and their traits are derived from ancient Japanese characters. As an introductory plaque says: "For centuries, heroic animals and magical creatures have appeared in traditional Japanese myths, stories and art. Today, they are the heroes and villains of Japan's manga comics and anime. These "spirited beasts" from Japan's past have become pop culture superstars, known and loved around the world. Join us as we celebrate these mysterious, magical and mischievous animal figures."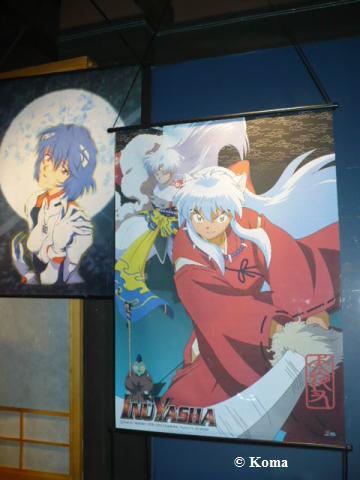 The "Tsuru", or Japanese crane, is a symbol of happiness, prosperity and world peace, and adorns much Japanese art and decor. The display below shows one thousand paper cranes, known as Senbazuru — folding them is thought to grant a wish. (This exhibit is covered with a mesh screen, then lit periodically to reveal the cranes underneath, hence the grainy image quality, sorry.)
Kitsune (below) are magical fox spirits that grow extra tails as they gain in age, wisdom and power. Expert tricksters, they may take on human form. Kitsune are popular in kabuki drama as well as in popular manga and anime.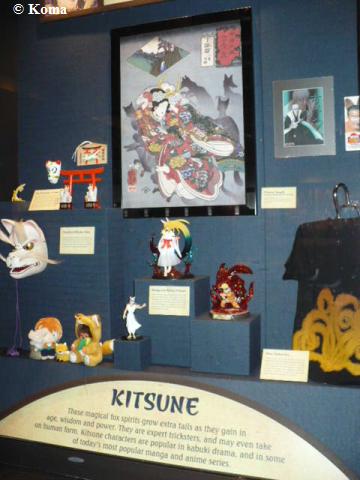 Cat Heroes

Saru – Monkeys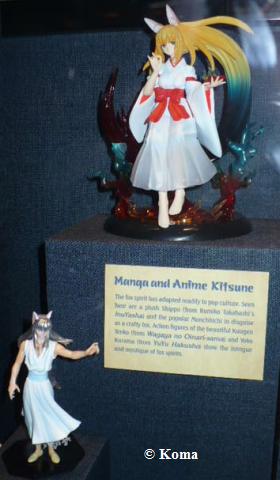 Tengu (below) are winged warriors that combine human features with birdlike beaks, wings and talons. They may teach their knowledge of magic to the worthiest humans. (This is also behind a mesh screen, so it was hard to get a clear photo.)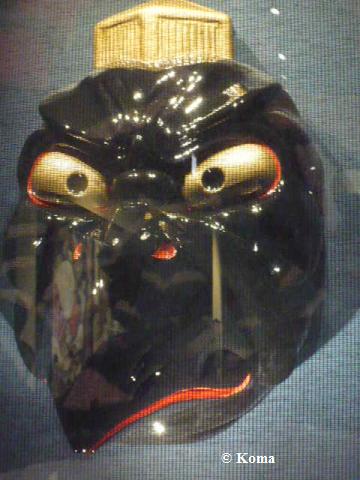 The statue below, The Slayer of Vanity, is a crow-tengu — a powerful birdlike spirit that stands ready to defend. The figure wears the traditional robe of a Shinto priest. These were skilled warriors who often play mischievous tricks on those who are vain and proud.
The famous tryptich (by Kunisada Minamoto) below portrays the nobleman Yoshitsune being trained in the art of swordsmanship by a group of magical "tengu", birdlike spirits of the mountain. The long-nosed king tengu, Daitengu Sojobo, looks on.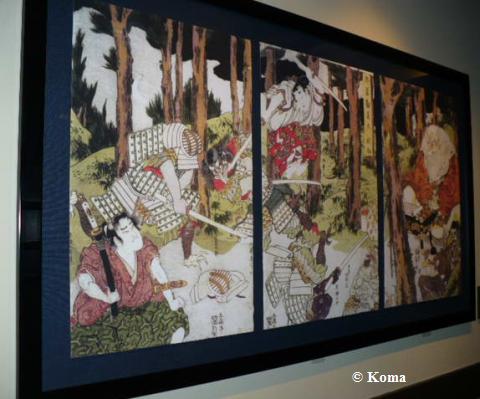 A sign in the exhibit acknowledges the following: the Arthur M. Sackler Gallery from the Smithsonian Institution in Washington, DC, the Ruth Chandler Williamson Gallery of Scripps College in Claremont, CA; the Spencer Museum of Art of Kansas; Mr. Mitsuo Ogishima of the Japanese Outreach Initiatives of the Universoty of South Florida in Tampa; and Mr. and Mrs. Brennan of Windermere, FL.