Here are the answers to yesterday's quiz. I hope you got them all right.
This first picture was taken at Hong Kong Disneyland. This fountain is outside of the park in a "crossroads" location. Guests arriving by bus, train, and walking from the hotels meet at this location before entering Hong Kong Disneyland. Long term plans include a second park that will also radiate off from this fountain.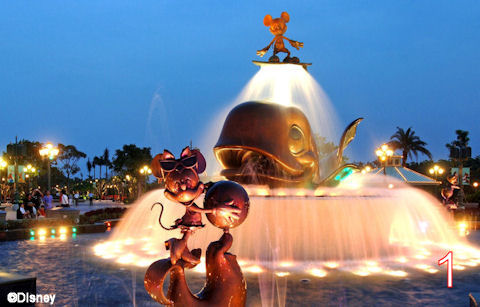 This picture was taken in Fantasyland at the Magic Kingdom. It is of the old Skyway terminal that closed on November 9, 1999.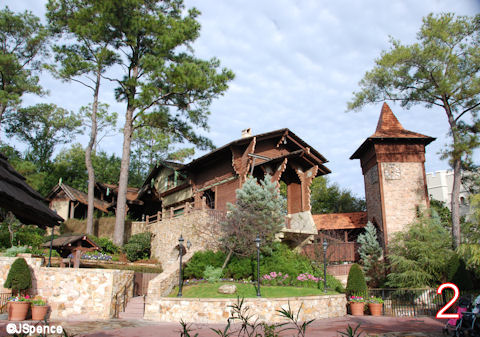 The Bountiful Valley Farm building houses "It's Tough to be a Bug" at Disney's California Adventure. It is located in "a bugs land."
Walt Disney Studios Paris is where you'll find this recreation of the Partners Statue. This picture looks into the Production Courtyard section of the park.
Picture Number 5 was taken at Tokyo DisneySea. We're in Mediterranean Harbor looking at Fortress Explorations and Mount Prometheus.
The Columbia Sailing Ship is unique to Disneyland. This full sized recreation of the first American ship to circumnavigate the globe was christened on June 4, 1958 and follows the same 12 minute journey as its sister ship, the Mark Twain.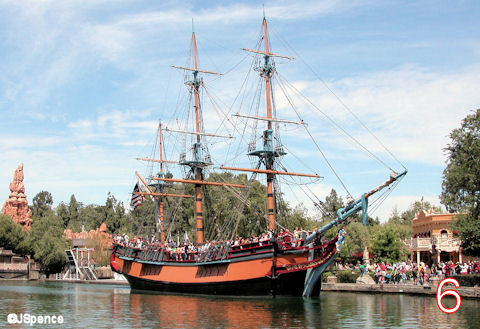 Picture 7 was taken at Epcot between Innoventions East and West. Beneath this awning is a Tip Board, Information Desk, and Pin Trading Station.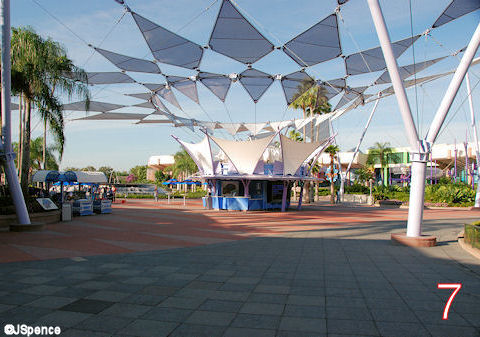 Here we are at Disney's Animal Kingdom in Chester and Hester's DinoRama. Typical of the era depicted in this land, "novelty architecture" was brought into play with the creation of a large yellow dinosaur (concreteasaurus) to entice tourist to the area.
"Finding Nemo Submarine Voyage" can be experienced in Tomorrowland at Disneyland. The original attraction was sponsored by General Dynamics and opened in 1959. It closed almost 39 years later on September 9, 1998. The attraction was dormant until a cute little clown fish brought new life to this tired ride and it reopened on June 11, 2007.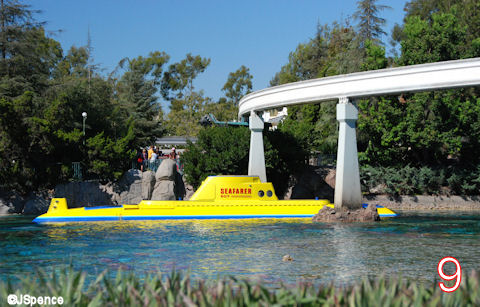 Across from Disneyland we find ourselves at Disney's California Adventure in the Golden State area looking up at the park's icon, Grizzly Peak. Rising 100 feet, this landmark can be seen from many vantage points around the park.
This next picture was taken at Tokyo Disneyland in Tomorrowland. The building houses Star Tours and the second-story walkway takes exiting guest to the Pan Galactic Pizza Port.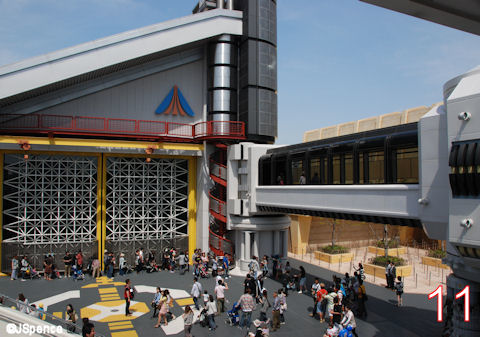 At Disney's Hollywood Studios in the Echo Lake district we find Dinosaur Gertie's Ice Cream of Extinction. This "California Crazy" architecture pays tribute to "Gertie the Dinosaur," one of the first animated stars of note.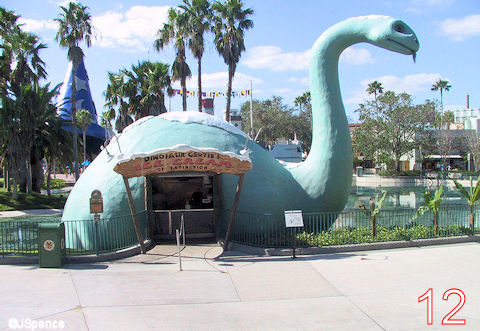 This quiet courtyard can be found in the United Kingdom Pavilion at Epcot. Eight different architectural styles were used in this pavilion. Among them, Tudor, Georgian, and Victorian.
In Liberty Square at the Magic Kingdom we find the Liberty Bell. Cast from the same mold as the original, this bell was created for the Walt Disney World Resort in 1989. Circling the bell are the flags of the original thirteen colonies. Near the base of each flagpole is a brass plate with the date that the state ratified the Constitution.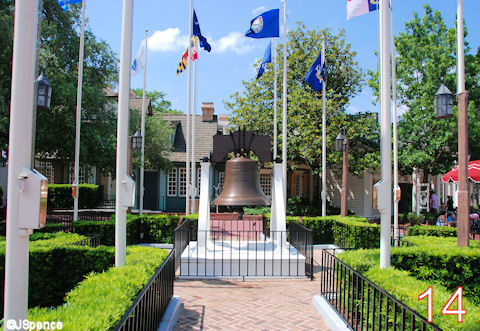 The castles at Disneyland and Hong Kong Disneyland are almost identical. But it's easy to tell them apart. Hong Kong Disneyland is the only park to be situated up against rolling hills, giving this park a distinctive backdrop.
In Fantasyland at Disneyland, we find Monstro the Whale swallowing boats on their way to Storybook Land. This attraction takes guests by miniature homes of some of Disney's most beloved classics. All of the boats on this attraction are named after female Disney characters except for Flower, the male skunk from Bambi.
In Tomorrowland at Disneyland Paris, we find the airship Hyperion. For you movie buffs, Disney released a film in 1974 titled "The Island at the Top of the World." The movie starred Donald Sinden as Sir Anthony Ross who hires Professor Ivarsson, played by David Hartman, to help him locate his missing son somewhere in the arctic. The airship Hyperion was their means of transportation to this remote area. A counter-service restaurant is located inside this building.
This soundstage can be found at Walt Disney Studios Paris in the Toon Studio area. Showing in this theater is "Animagique" where puppets and "live" Disney characters tell a story similar to Mickey's Philharmagic.
Also in Toon Studio at Walt Disney Studios Paris is "Cars Quatre Roues Rallye." Set in the small town of Radiator Springs, this attraction is themed to look like a gas/service station of years past. Similar to the Tea Cup rides in the Magic Kingdom-type parks, guests spin around while traveling in a figure-eight pattern, narrowly missing other cars.
World Bazaar at Tokyo Disneyland is the only Main Street to be covered.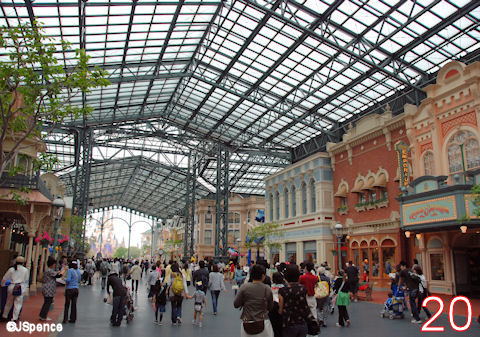 This next picture was taken in the Africa section of Disney's Animal Kingdom. The buildings here contain Tusker House, a buffet-style restaurant.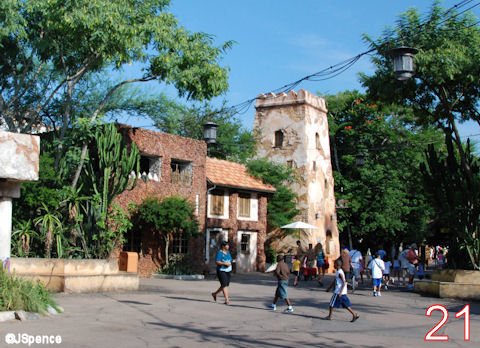 One of my favorite spots at Epcot, and probably a favorite of many of you, is the Boulangerie Patisserie located in the France Pavilion. What better place is there to indulge in such decadence?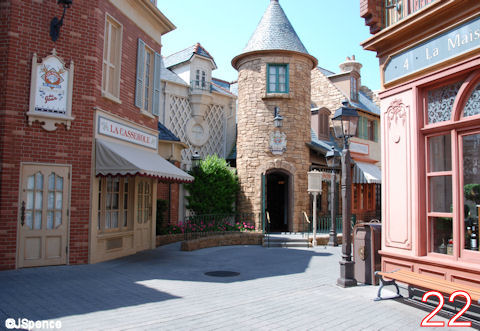 Years before Los Angeles was famous for its freeways, it boasted the largest mass transit system in the world, the Pacific Electric Railway. Locals affectionately called the trolleys either the P.E. or the Big Red Car. The system spanned southern California with over 1,100 miles a track that ran between Riverside, San Bernardino, Orange, and Los Angeles Counties.
These vestiges from the past are fondly remembered on Sunset Boulevard at Disney's Hollywood Studios.
The Starliner Diner is a counter service restaurant found in Tomorrowland at Hong Kong Disneyland. Unlike other Tomorrowlands around the world, this land takes on a "toy" quality that is enduring and charming.
Here we are in Fantasyland, Disneyland Paris. When the Imagineers began their plans for Sleeping Beauty Castle, they were keenly aware that the surrounding countryside was full of "genuine" castles. They realized that Europeans could easily be blasé with their design unless they came up with something truly magical. And that they did. Paris' Sleeping Beauty Castle is arguably the most beautiful of any of the Disney structures. It's absolutely stunning and can transform even the most cynical adult back to childhood.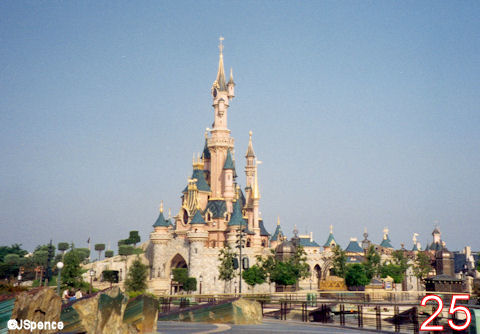 Phantom Manor (The Haunted Mansion) is located in Frontierland at Disneyland Paris. Similar versions of this attraction appear in New Orleans Square at Disneyland, Liberty Square at the Magic Kingdom, and Fantasyland at Tokyo Disneyland. And the latest version of this attraction is being built in a new land called Mystic Point at Hong Kong Disneyland.
The Western River Railroad is unique among its steam train cousins in the other Disney parks in that it doesn't circle the perimeter of Tokyo Disneyland. You see, if it did, its track length combined with multiple stations would have classified it as "public transportation" under Japanese law and it would have fallen under government jurisdiction. This of course was unacceptable to Disney and some other solution needed to be reached. And that solution was a railroad that runs only through Adventureland and Frontierland and only has one station.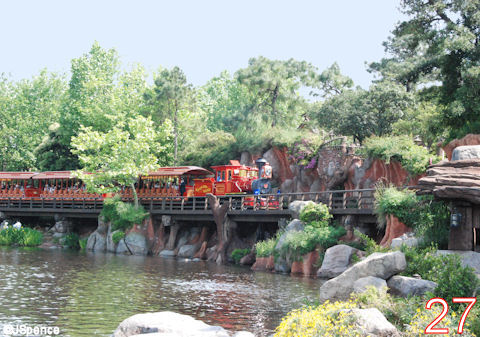 One of the most recent additions to Tokyo DisneySea is the Tower of Terror. Located in the American Waterfront section of the park, this tower varies in several ways from its cousins in other Disney parks. In Paris and California, the exterior of the buildings have a Spanish motif while in Florida the building has a Moroccan flavor. The Tower in Tokyo is built of red brick and has a gothic feel. Another change to the Tokyo attraction was necessitated because the Japanese are not familiar with the Twilight Zone television series. To remedy this, the Imagineers came up with a completely new storyline.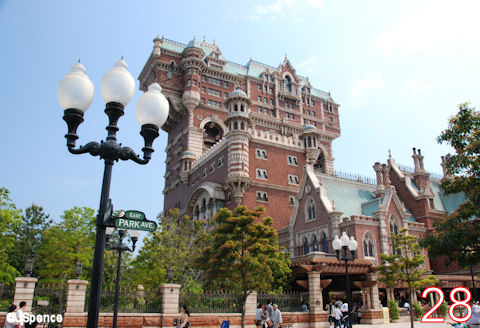 Taste Pilot's Grill is located in the Golden State section of Disney's California Adventure. This restaurant pays homage to the brave individuals that tested early aircraft and eventually, broke the sound barrier.
This pyramid is located in the Lost River Delta section of Tokyo DisneySea. Within its chambers is the "Indiana Jones Adventure: Temple of the Crystal Skull" attraction. This ride is very similar to the "Temple of the Forbidden Eye" attraction at Disneyland.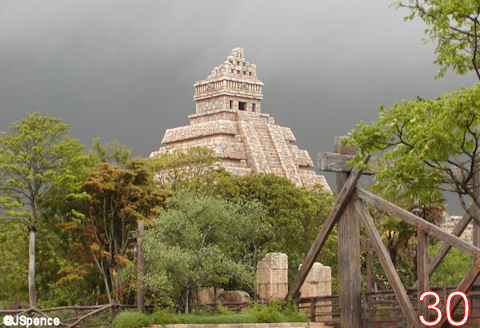 Back in Adventureland at the Magic Kingdom, we find Pirates of the Caribbean. This scaled down cousin of its California counterpart opened on December 15, 1973.
The entrance to Asia in Disney's Animal Kingdom is marked by a crumbling statue that once guarded this area.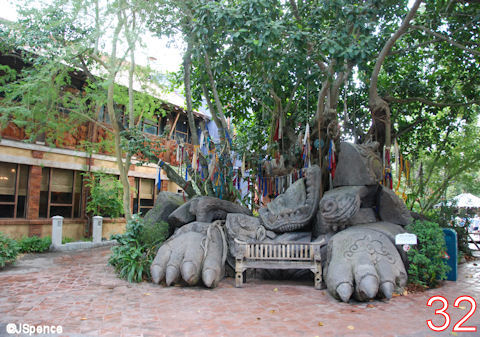 This final picture was taken on San Fransisco Street at Disney's Hollywood Studios.
So there you have it. I hope you did well.