I suspect that when most of you are planning your vacation to Walt Disney World, Tom Sawyer Island isn't high on your "must see" list. More likely, you're thinking about which resort to stay at, where to eat, character meet-and-greets, and possibly a ride on Space Mountain and Kilimanjaro Safaris. But you probably won't even think about Tom Sawyer Island until you're in Frontierland and you see one of the rafts transiting the Rivers of America. And that's okay; because Tom Sawyer Island doesn't require any advance planning. It only requires a willingness to experience a low-tech adventure that pays homage to a vanishing part of the American landscape.
Many people think that Tom Sawyer Island was an opening day attraction. But that's not the case. This section of Frontierland didn't open to the public until May 20, 1973. At that time it took a "D" coupon to ride the rafts to the island. Here are three pictures taken of the island, or should I say landfill, in January 1972. The first picture was taken in Frontierland, somewhat in front of Country Bear Jamboree, looking at the south tip of the island. Harper's Mill now sits on this spot.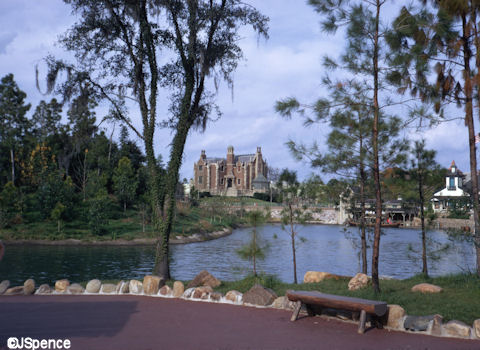 This next picture was taken from the Haunted Mansion. As you can see, there was nothing on the island except scrub brush.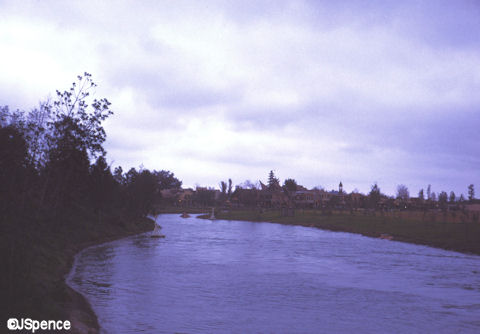 This last picture was taken from the Walt Disney World Railroad looking across what will someday be Thunder Mountain.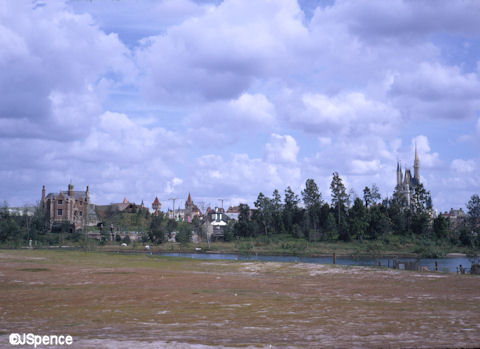 Our journey begins in the far reaches of Frontierland. Here, on the banks of the Rivers of America is a landing where four rafts, the Tom Sawyer, Becky Thatcher, Injun Joe, and Huck Finn, are boarded for a short voyage across the water. Tom Sawyer Island is generally open from 10am until dusk.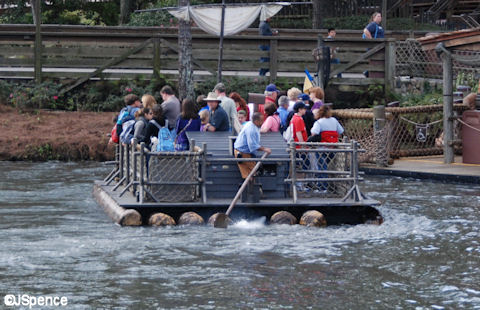 If you're ever near the loading dock around 9:45, you might notice guests are already lining up to be aboard the first raft of the day. That's because they probably know something you don't. Each day, four to six paint brushes are hidden (in plain sight) in various places around the island. Those lucky enough to find one are rewarded with FastPasses to either Splash Mountain or Thunder Mountain when it's returned to a cast member. Note, the cast members change the hiding places daily so even if you've found a paint brush in the past, you'll have to search the next time you visit. Here are pictures of some lucky hunters.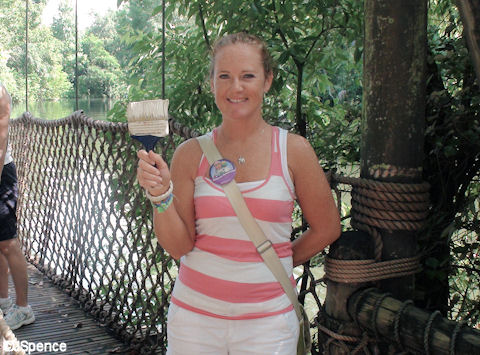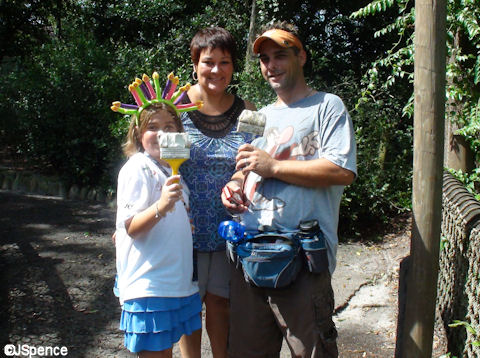 Although there are several spots on the island where rafts can come ashore, generally, "Tom's Landing" is your point of entry. And just in case the long crossing put a strain on your bladder, restrooms are conveniently located here. Nearby is an amusing sign that sets the tone for your visit.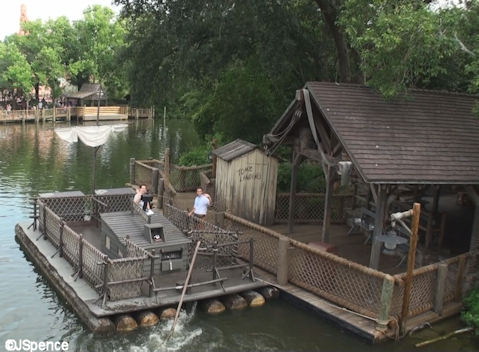 Also near Tom's Landing is a map of the island. If you take the time to read it, you'll find that every nook and cranny of the island has a name which can be traced back to Mark Twain's novel "Huckleberry Finn."
Although the entire island was planted by Disney horticulturists, it has a natural feel about it. You can truly forget you're in the middle of a bustling theme park and pretend you're somewhere along the Mississippi River. Here you'll find oaks, pine, sycamores, red maples and elms. Growing beneath their limbs are dwarf azaleas, firethorn and a dozen other species of bush. An occasional stream can also be encountered as you explore the various trails.
If we start out traveling counterclockwise from Tom's Landing the first point of interest we come to is Harper's Mill. The mill's namesake is Harper Goff, a longtime Imagineer who helped plan and design Disneyland and the Magic Kingdom. In addition, the mill's name can be traced back to Joe Harper who joins Tom and Huck when they ran away from home to Jacksons Island.
The grain mill is typical of those found along many of the rivers in the U.S. during the 19th century. It's interesting to note that the structure once sported a more weathered look than it does today. After years of operation, the mill required a major rehab and the water wheel needed to be replaced. The new wheel was constructed using modern bearings and spindles and when reattached, spun unrealistically fast. Imagineers needed to come up with a dampening system to slow the wheel down and make it appear as if it were built using period materials.
Harper's Mill also pays homage to one of Walt's early animation triumphs. In 1937, Walt Disney produced "The Old Mill," one of the Silly Symphonies. This was the first film to use the multiplane camera, a device that added depth of field to animation. This film also depicted realistic animal behavior, wind and rain effects, and new lighting techniques. So innovative was this film that it won the 1937 Academy Award for Best Short Subject, Cartoon.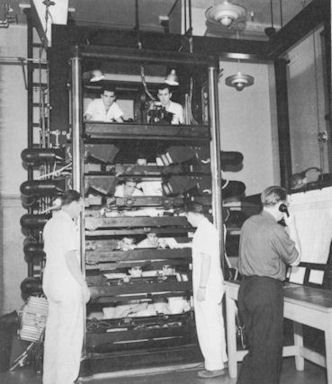 In one scene of the film, we see a bird that has made her nest inside a gear socket located within the old mill. As a storm outside starts to rage, the gears start to move, threatening to crush the mother and her eggs as the gears join together. But fate is with the bird and the opposing gear is missing one of its teeth, thus, the bird is never crushed.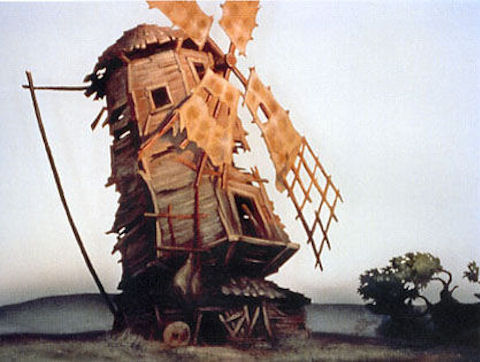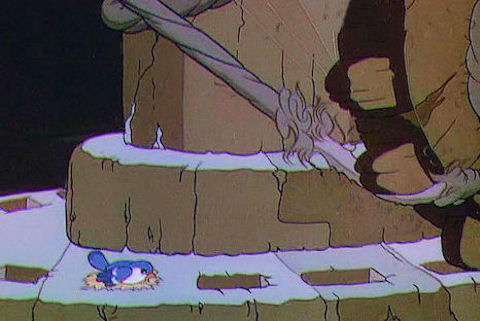 Inside Harper's Mill on Tom Sawyer Island is a complex set of gears used to grind grain. Within one of these gears you can see a small bird sitting on her nest. She too spins around as the waterwheel outside turns. But this bird is also spared a disastrous ending as the gears never quite crush her.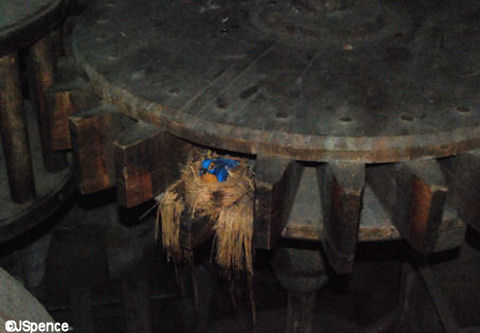 Now it's obvious that the old mill in the animated film looks nothing like Harper's Mill. And the gear configuration is not the same. But there can be no mistake that this is a tribute to one of Walt Disney's early masterpieces.
Around the bend from Harper's Mill we come to the spot where Tom Sawyer convinced his friends Ben Rogers, Johnny Miller, and Billy Fisher to do his chores and whitewash Aunt Polly's fence.
Nearby is Aunt Polly's cottage, surrounded by one of the most charming porches you'll ever hope to find. This is the perfect spot to sit and relax while the kids explore the rest of the island. This used to be my favorite spot in the Magic Kingdom to have lunch. A small selection of sandwiches, fried chicken, chips, and brownies used to be sold here. It was the ideal "picnic" meal that felt miles away from the hubbub of the other counter service restaurants. But due to budget cuts, the food selections were discontinued. All that is available here now are two vending machines that sell Coke products and bottled water. Sigh"¦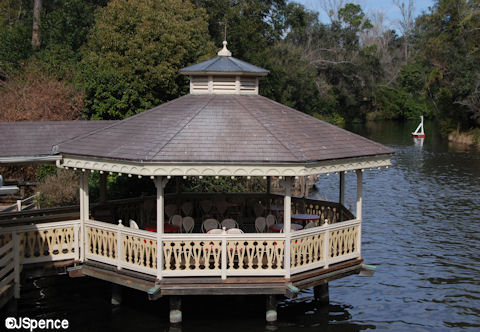 Around the corner and up a hill from Aunt Polly's is a clearing in the forest. Benches and a picnic table are available for a pleasurable moment with nature. A little further along the trail is "Scavage Fort." This play spot of Tom's was built out of old doors, barrels, and odd pieces of wood. If you look closely you'll notice the roof is actually an old rowboat turned upside-down.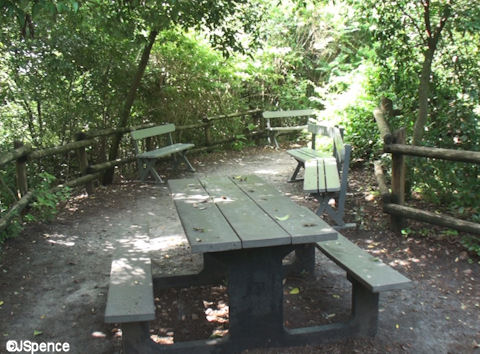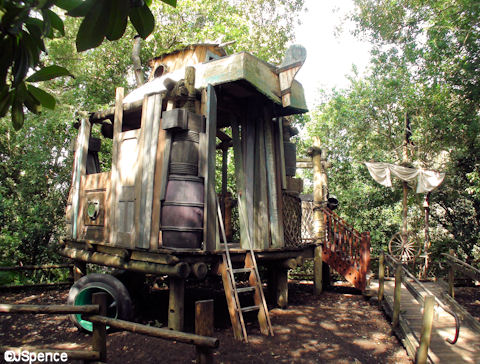 Since Tom Sawyer Island is crisscrossed with trails, it's difficult to explore it logically. It's also difficult to describe it in a methodical order. Because of this, we're going to jump back to Tom's Landing (where we began) and start moving clockwise where we run into Old Scratch's Mystery Mine. Old Scratch (or Mr. Scratch) is a pre-civil war folk name for the devil.
This is a mine, not a cave. Timbers can be seen throughout holding up the precarious tunnels. Howling wind, water dripping, and bats' chirps can be heard as you make your way through this very dark passageway. About midway through you discover a beautiful collection of glowing gems. Note, this is a one-way tunnel that will deposit you on the other side of the island.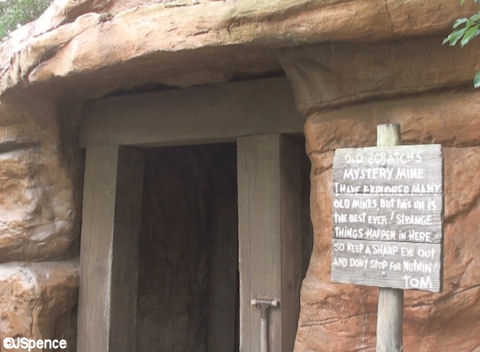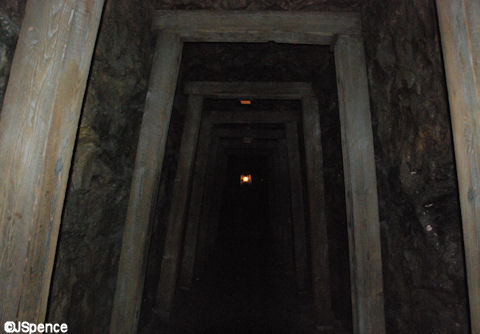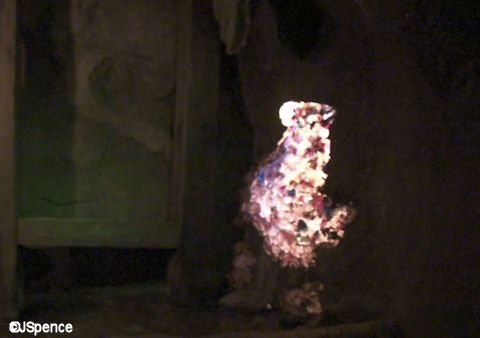 Not far from the entrance of Old Scratch's Mystery Mine is the opening to Injun Joe's Cave. If you remember, Tom witnessed Injun Joe murdering Doc Robinson and is later trapped in the cave with him. Inside the cavern you'll discover an eerie face and walk across an old bridge that spans a seemingly bottomless pit. Once again, this is a one-way passageway that exits on the other side of the island.
Both Injun Joe's Cave and Old Scratch's Mystery Mine are very dark and contain numerous twists and turns. It would be almost impossible for an adult to become disoriented but a small child could get turned around. And if your little one is afraid of the dark and creepy noises, you better skip these attractions. Also note, for those of you who would classify yourself as extra-large, some of the passageways will be tight for you.
When you exit the cave or mine, you'll be in the proximity of Poor Ole Jim's Shack and the Barrel Bridge. If you remember, Jim was a slave who flees from his master along with Huck, who is running away from his drunken father.
The Barrel Bridge is perhaps one of the most entertaining activities on the island. A dozen or so barrels have been lashed together and covered with planks of wood to create a floating bridge across Smuggler's Cove. Transiting this bridge is no easy task as each barrel bobs up and down as you put your weight on it. And it's just as much fun to watch others as it is to experience it for yourself.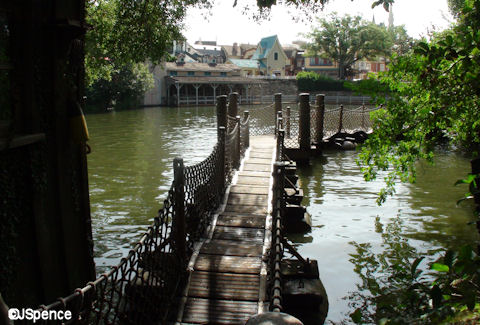 Back near the entrance to Injun Joe's Cave is Potter's Mill. The mill is lovely to look at close up and from afar. You can also explore the inner workings of the mill via a stairwell that circles the driveshaft. The mill's namesake, Muff Potter, was a drunken fisherman and good friends with Tom and Huck. He was also framed for the murder of Doc Robinson by Injun Joe.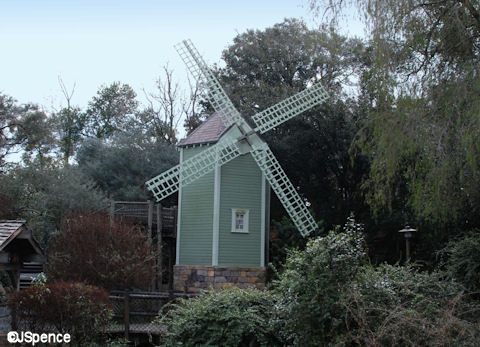 Near Potter's Mill is Huck's Landing. This dock is used during busier times when more than two rafts are transiting the river.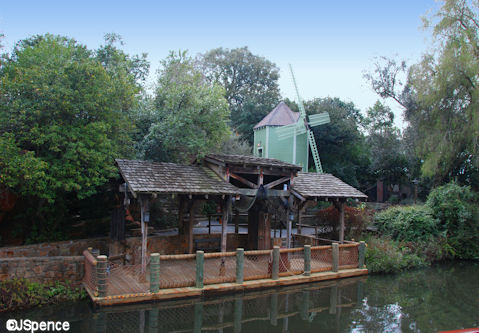 A unique feature of the Magic Kingdom's Tom Sawyer Island is that it is actually two islands. At Disneyland, it's only one. Connecting the two is a suspension bridge that bounces and sways as you journey across it. The more people, the more it bounces.
Across the bridge and to the left is Pappy's Fishing Pier. This is a great place to sit for a spell and watch the trains careen around the curve on Big Thunder Mountain Railroad.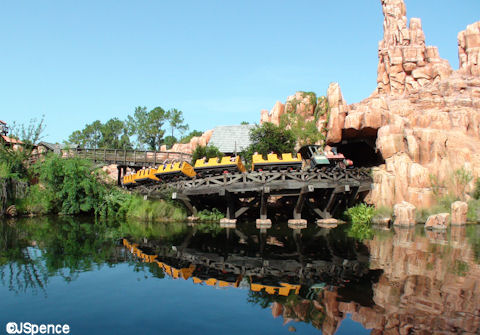 When Tom Sawyer Island first opened, the fort that anchors the north island was named Fort Sam Clemens (Mark Twain's real name). In later years, it was renamed Fort Langhorn – the middle name of Sam Clemens. It's interesting to note, his actual middle name is spelled with an "e" at the end – Langhorne.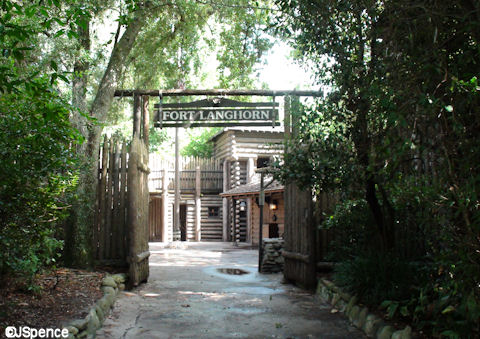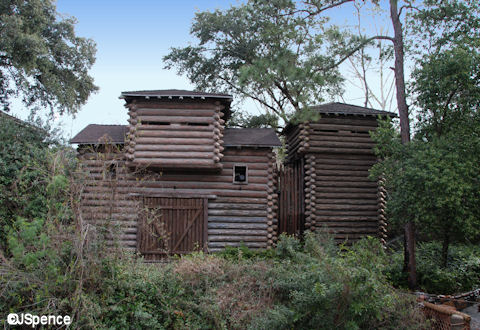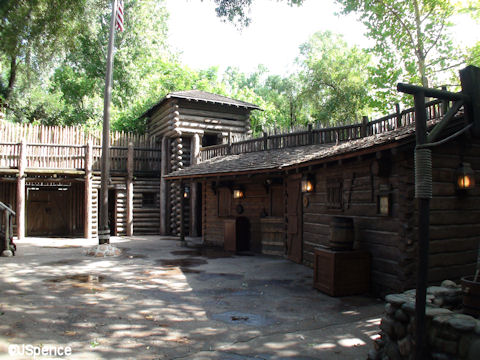 The fort is a lot of fun to explore. There is a blacksmith's shop complete with some simple AudioAnimatronics figures, rifles that can be aimed at the passing riverboat (no bullets), and a simple checker board to be enjoyed.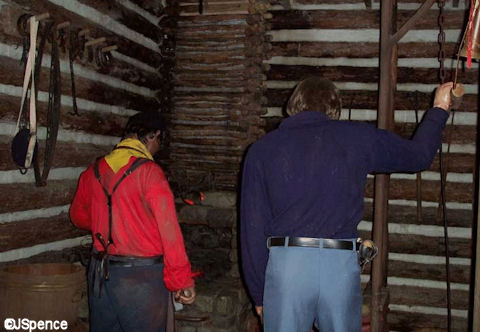 At one time, you could also purchase snacks and soft drinks at the fort, but this was discontinued years ago.
At the back of the fort is an escape tunnel. This leads to another dark cave that deposits guests along the riverbank and below the fort.
That's pretty much the entire tour of Tom Sawyer Island. This attraction is low-tech all the way and if you're looking for a thrill a minute, then look someplace else. But if you're willing to invest about 30-40 minutes of your time, with realistic expectations, I think you'll find the island has a lot to offer.
Here is a video I shot of Tom Sawyer Island. Enjoy.