Yesterday I discussed the history of The Liberty Belle Riverboat. Now it's time to take a ride on this wonderful vessel. It's okay if you have a large group as the boat holds 450 people. This is also the only ride in the Magic Kingdom that allows guests to get up and walk around while their vehicle is in motion. The Liberty Belle begins operation each day at 10am or 11am and departs on the hour and half-hour. If you find you've arrived right after the Liberty Belle has left port, don't hang around waiting for it to return. The ship rarely fills to capacity and you can usually dash aboard at the last minute. Limited seating is available in the queue and on all decks. However, even on busy days it's easy to find a bench.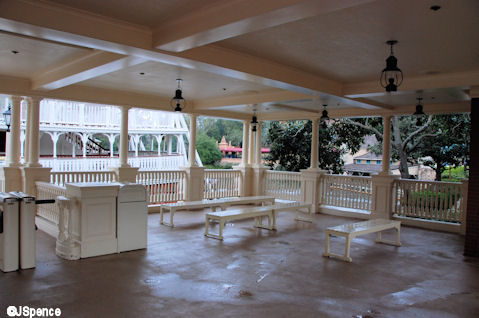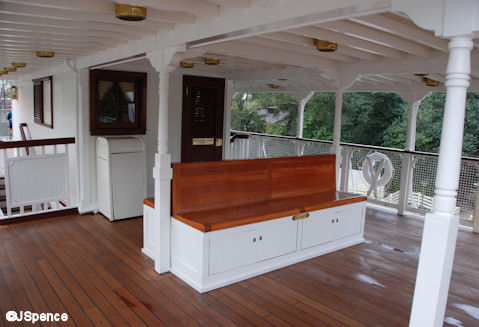 Before we set sail, let's take a quick tour of the Liberty Belle. The boat has three decks. As I mentioned earlier, guests enter on the middle deck. Most people head to the upper deck for what they perceive to be the best view. However, if you choose to ride topside, you will be in the sun for thirteen minutes. Others head for the lower deck to find a spot at the very front of the ship. Personally, I like the middle deck best. It's high enough to afford a good view, there are good locations at the front, middle, and stern, and it's usually the least crowded.
On occasion, a family is selected to ride in the wheelhouse. If you're the first to arrive in the waiting area, ask a cast member if you can join the captain.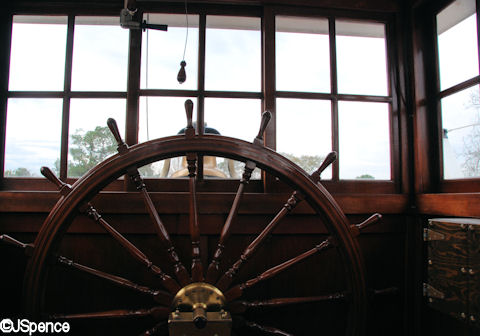 Just outside the wheelhouse is the captain's quarters. It's fun to take a moment and browse this "luxurious" room.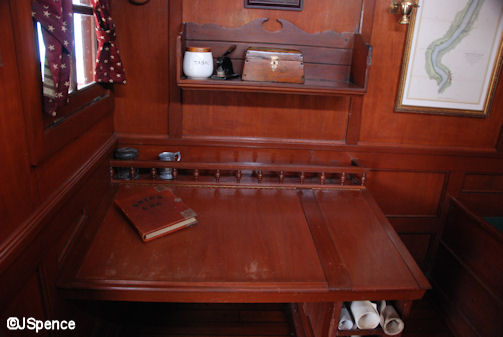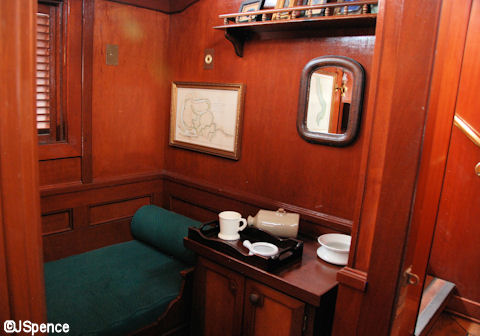 On the middle deck is a lovely sitting room. However, I can't really recommend using this compartment. You can't see any of the sights from here. The third picture is of me holding a recording device to a speaker. For thirteen minutes I stood there, arm extended, so I could get a good copy of the narration for my video. Several people walked by during the voyage and gave me strange looks.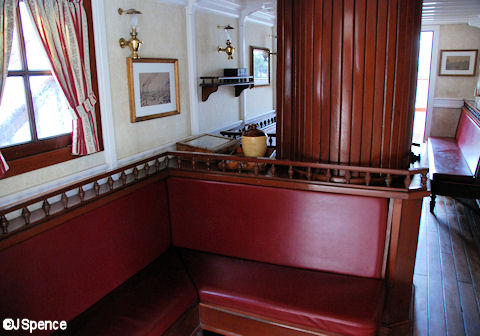 On the lower deck you'll find the boiler (mid-deck) and pistons (stern) that drive the paddlewheel.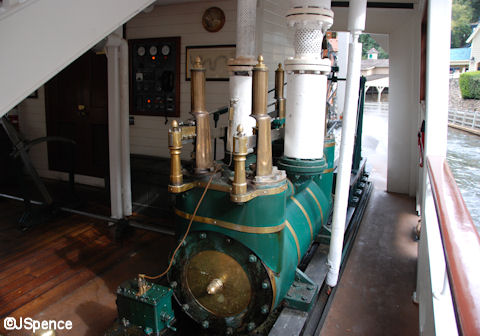 A relatively new addition to the front of the ship is this raised platform. Standing here provides a great view off the bow of the ship in all directions.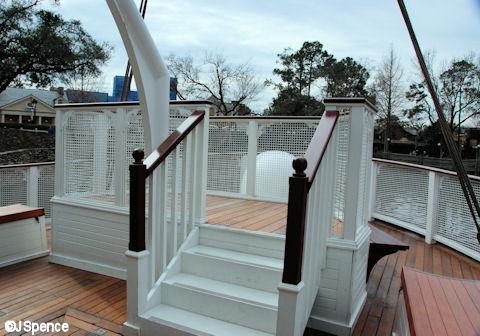 As I always tell you, pay attention to the details. Look at the intricate woodwork, the riggings, the lanterns. The Liberty Belle is a beautiful vessel, worthy of your attention.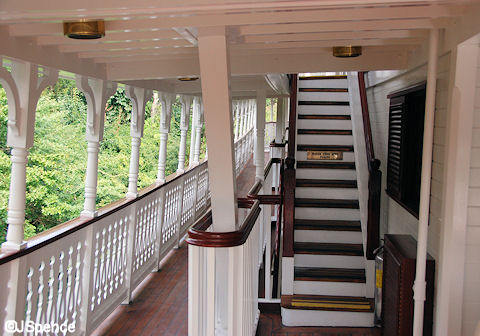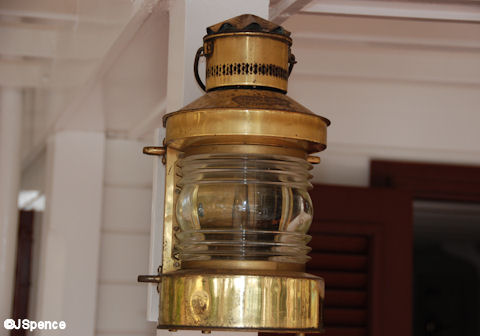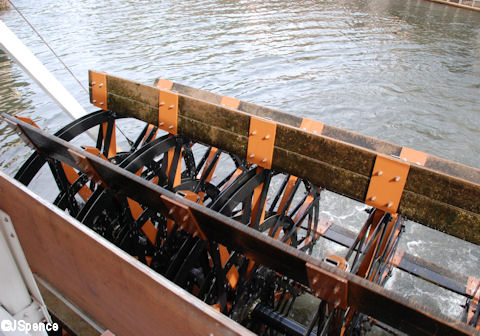 As our journey begins, our captain, Horace Bixby introduces Sam Clemmons (Mark Twain) to us over the PA. Knowing that Disney never misses a trick, I knew that name Horace Bixby was selected for a reason so I looked him up and discovered he was a real person, perhaps one of the greatest steamboat pilots of his day. He met Clemens in 1857 aboard the steamer PAUL JONES and later agreed to take him on as an apprentice.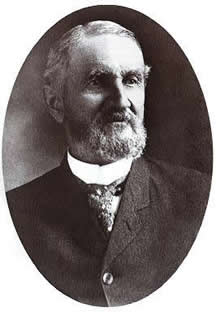 One of the first points of interests is the wilderness town that grew up alongside the river. In the early years, there was no walkway skirting Frontierland. This was added years later to facilitate traffic flow during parades.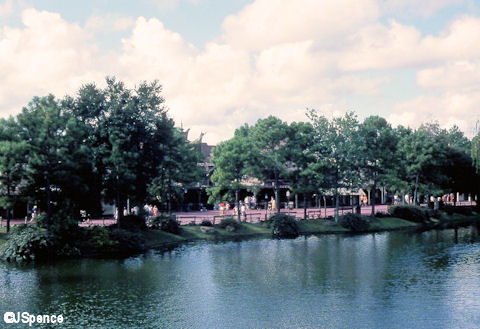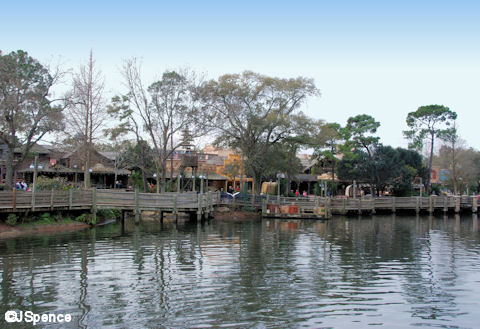 Along the banks of the river, we see cargo stacked on various piers. As with everything, details are important. The number "71" is obvious. This is the year the Magic Kingdom opened. The Tell City Tool Co. is a little more obscure.
Located along the Ohio River in Indiana, this real town began in 1857 and was carefully planned by a group of Swiss people looking for a better life. In many respects, this was one of the United State's first planned communities. Three square miles of land was purchased and streets were laid out in a north-south, east-west grid. Settlers could buy tracts of land, but were required to build a two room home to be worth not less than $125.00 within one year of purchase. Factories, schools, and churches were all planned in advance and locations determined. In the early years, riverboats were the only means of transportation in and out of Tell City – which is why the Imagineers selected this town to be represented on the Rivers of America.
Another name seen on multiple crates along the river is Russel's Falls. This is in reference to Davy Crockett's sidekick, George E. Russel played by Buddy Ebsen.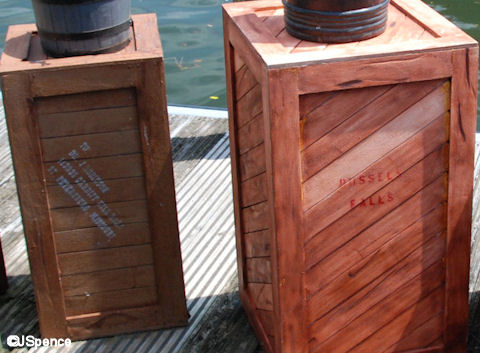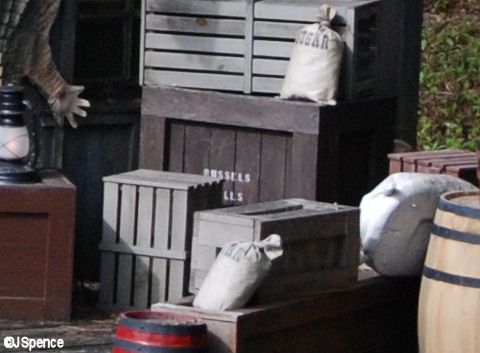 To the right we see Harper's Mill on Tom Sawyer Island. After years of operation, the mill required a major rehab and the water wheel needed to be replaced. The new wheel was constructed using modern bearings and spindles and when reattached, spun unrealistically fast. Imagineers needed to come up with a dampening system to slow the wheel down and make it appear as if it were built using period materials.
As we travel further, Splash Mountain comes into view. This attraction opened in 1992 and is based on characters created by Joel Chandler Harris. Logs drop 52 ½ feet down Chickapin Hill at a speed of 40 miles per hour – faster than Space Mountain.
The next sight is Big Thunder Mountain Railroad. Modeled after Monument Valley in Utah, this attraction debuted in 1980. The story of BTMR goes something like this. During the late 1800's, gold was discovered deep within Big Thunder Mountain. Overnight, prospectors started mining the ore and soon the town of Tumbleweed sprang up on the mountain's slope. Everything was going well until a flash flood ravaged the mountain and town, ruining any future mining operations. The Liberty Belle offers some wonderful picture opportunities for this attraction that cannot be taken elsewhere.
Over on Tom Sawyer Island we see Tom's Landing, Potter's Windmill (named after Muff Potter, a friend of Injun Joe), Superstition Bridge, and Fort Langhorn. From 1973 to 1997 this outpost was named Fort Sam Clemens – both in reference to Mark Twain whose real name was Samuel Langhorne Clemens. It's interesting to note, the Imagineers misspelled his middle name on the fort, dropping the "E."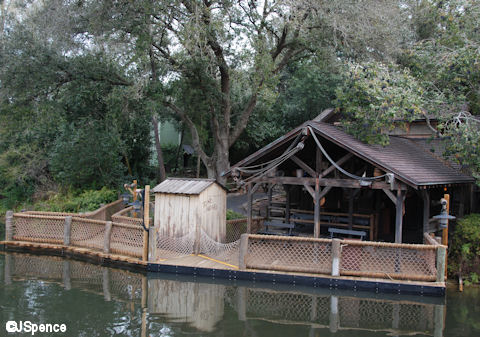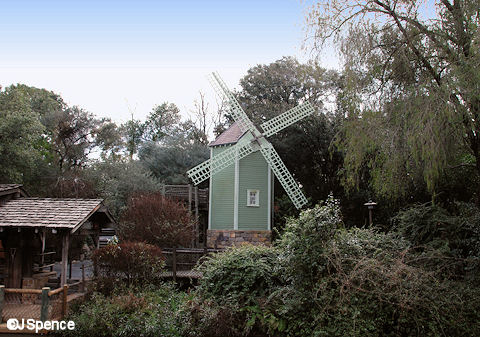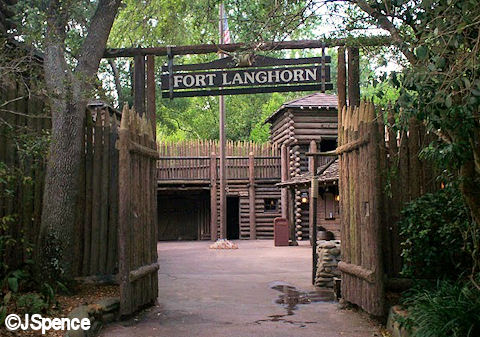 Just beyond Fort Langhorn is an abandoned cabin. For many years, real flames could be seen lapping at the logs and a settler was lying on his back out front with an arrow piercing his chest. Guests were told he was the victim of an unfriendly Indian attack. As sensibilities began to change toward Native Americans, the story was rewritten and we were told that the settler had passed out from his moonshine and his cabin was ablaze due to his still exploding.
Today, the cabin sits deserted and the fire extinguished. Neither Captain Bixby nor Sam Clemmons even mention its existence as you pass by. I've read that the flames were turned off during the Liberty Belle's extensive rehab in 2005. By the time the ship was back in service, the gas pipes, originally installed in the early 70's, had deteriorated badly and it was decided not to replace them. Too bad. However, if you visit Tokyo Disneyland, their cabin still excites guests with real flames as they pass by on the Mark Twain.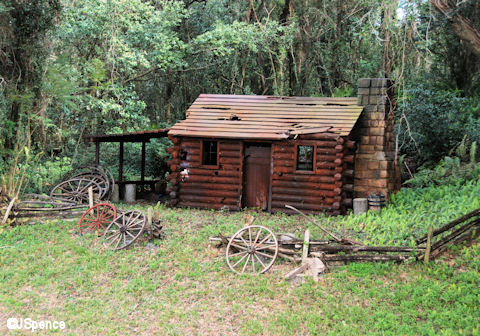 The next sight along the ride is an old gentleman sitting on the dock of his riverside shanty. This is Beacon Joe and he keeps track of the river's occasional course changes and marks the river accordingly. Pay attention to Beacon's dog. His head turns from left to right as a fish jumps out of the water.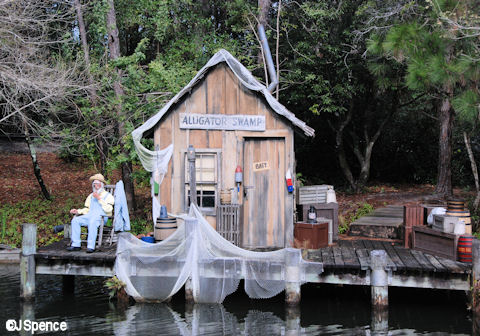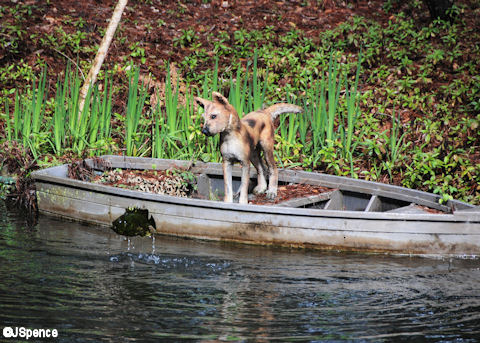 The river also has a number of buoys marking various locations along the journey.
Shortly after passing Beacon Joe's bait shop, we come to a Powhatan Indian settlement. When the movie Pocahontas was released, Disney wanted to add a "tie-in" for the Liberty Belle and the WDW Railroad. However, the Powhatans were primarily found in Virginia, not as far west as the Mississippi or Ohio Rivers. Captain Bixby explains this incongruity by mentioning that they must be following the abundance of wildlife found in this vicinity.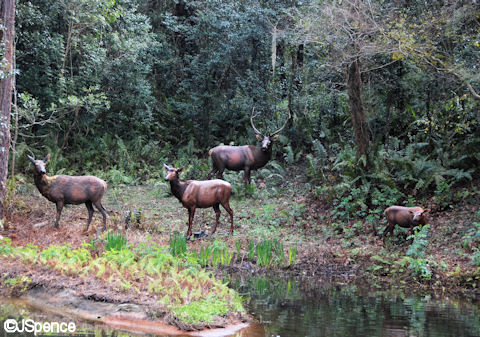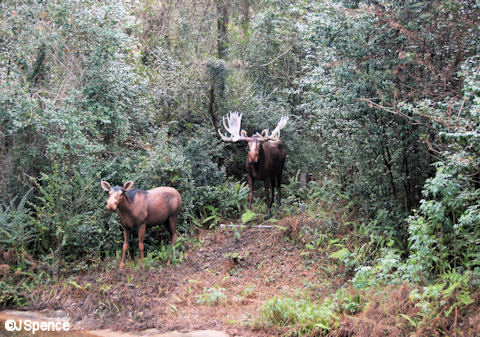 I have to admit, the "wildlife" along the Rivers of America does not represent some of Disney's better effects. Yet somehow these statuesque animals always bring a smile to my face.
Further down the river we find another tribe of Native Americans. However, this time, the tribe is not identified as belonging to any particular group. Next time you ride the Liberty Belle, rather than taking in the entire scene at once, pay attention to the various activities being performed by this close-knit group. You'll be amazed at how many daily chores are taking place here.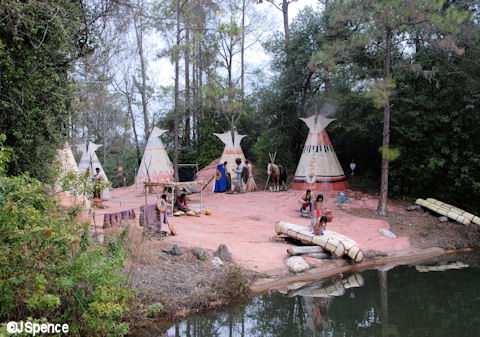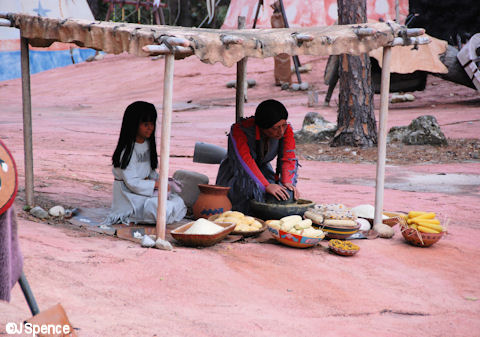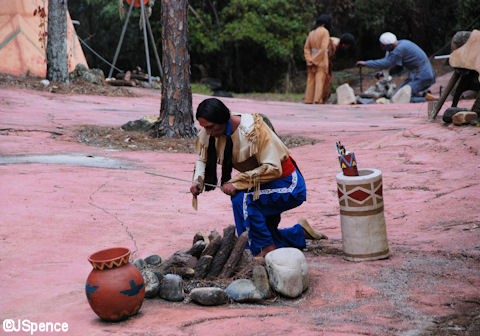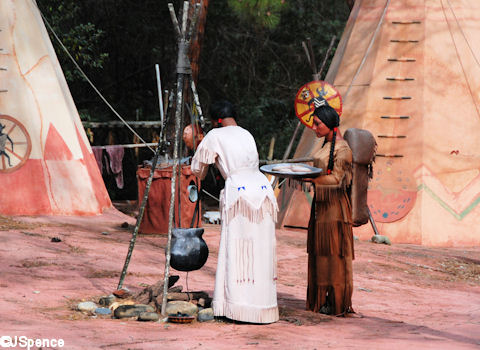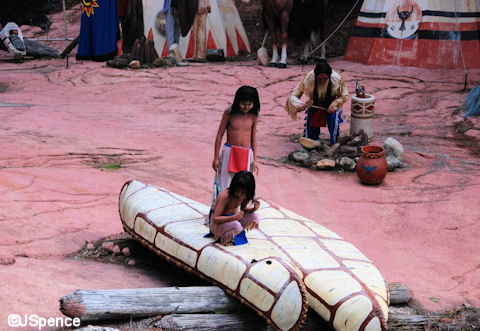 Just past the Indian Village are their sacred burial grounds. Those who fall in battle are placed upon the traditional "bed of death" and after nightfall, the tribesmen will return to mourn the great warriors who brought honor to their families.
A rather peaceful section of the river lies ahead until we come to Cut-Throat Corner and Wilson's Cave Inn. Here, river pirates hide away, waiting to attack a passing riverboat. But during our journey, it's apparent that the scoundrels are celebrating and in no condition to ambush the Liberty Belle.
Knowing Disney as I do, I knew there had to be a reason the name "Wilson" was selected, so I did a little research. I found that on the Ohio River in Illinois, a real location called Cave-In-Rock exists. After the Revolutionary War, this hideout became a lair for river pirates who attacked passing vessels. During the 1790's, Jim Wilson became synonymous with the cave, calling it home and stocking it with provisions and opening a business called Wilson's Liquor Vault and House of Entertainment. He would entice unsuspecting river travelers to his establishment, then rob them of their goods and usually kill them. This true story inspired an episode of the TV show Disneyland titled "Davy Crockett and the River Pirates."
As we return to civilization, our boat once again passes Fort Langhorn and Superstition Bridge. Further on, it's fun to watch guests crossing Barrel Bridge on Tom Sawyer Island.
The last major sight we see along our passage is the Haunted Mansion. Sam Clemens tells us that this house was built on sacred Indian burial grounds and is filled with spirits. But he doubts this story and thinks the folks that told him the tale might be filled with 100-proof spirits.
This brings us back to Liberty Square and the end of our journey. I have created a six-minute video of the experience. I know that some of you skip these videos because you're used to seeing some of the schlock presented on YouTube. May I ask that you give my video a chance? I do not just shoot some footage then slap it onto YouTube. I have filmed the Liberty Belle from multiple angles and edited it accordingly. I have removed all the original sound and added clean copies without any background noises. I have also added appropriate sound effects when needed. I think my video gives a good feel of what the attraction is all about.
As I said at the beginning of my blog, there are no surprises to be had on the Liberty Belle. This is a quiet, relaxing journey that transports you to another era. It is definitely low-tech, but I think it's worth every minute of your time.
If you plan to be at Walt Disney World on March 9th, join Allears team members Deb Wills, Deb Koma, Mike Bachand and me at the Liberty Belle at 9:45. After some conversation about this attraction, we're heading over to the Haunted Mansion for a ride. (The Libery Belle doesn't open until 11am.)