On October 14, 2009, a new attraction opened in Innoventions East at Epcot (near Electric Umbrella). "Sum of all Thrills," presented by Raytheon, promises to be a real crowd pleaser and I predict long lines as more people discover this innovative ride.
"Sum of all Thrills" allows guests to custom-design their own roller coaster, bobsled, or jet plane experience, then ride it. Some of you might remember a similar attraction at Disney Quest called CyberSpace Mountain, but I can assure you, this is far more elaborate.
Before riding, you might want to check out the warning sign and the test chairs to make sure you'll fit.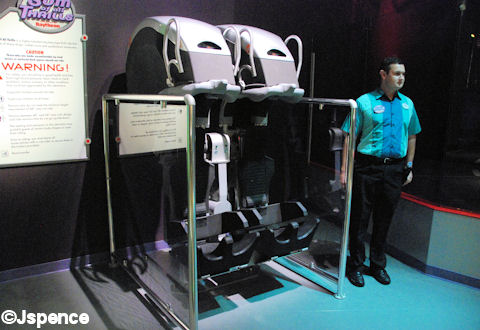 Your adventure begins in a briefing room. Here your hosts, Grace and Spencer, provide instructions on how to design your thrill ride. While doing so, they make a strong pitch for studying math and science and how these courses will give you the tools you need to build cool stuff like skyscrapers, high-performance racecars, and especially video games. Parents will appreciate this message that is intended to motivate their young.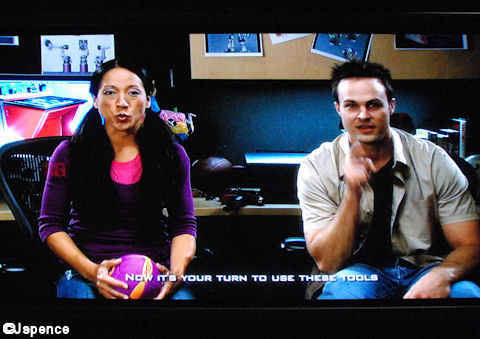 After the briefing, a cast member hands everyone a small plastic card and directs you to an electronic drafting board.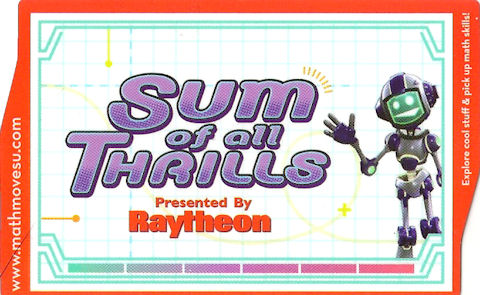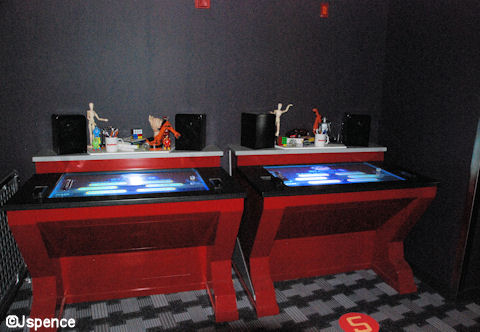 The first task, swipe your card. This will associate you and your design so the computer can recreate your ride once you've completed it. After selecting a language on the touch-sensitive screen, you choose what type of thrill ride to develop. The options are Bobsled for a tame encounter, Roller Coaster for a mild ride, and Jet for the intense experience.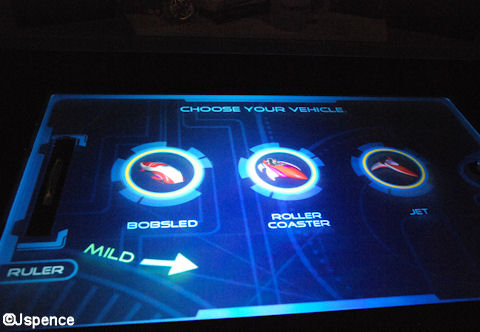 The next screen provides track options. Loops, corkscrews, hills, dives, and slaloms are all on the menu. You'll get to select three track layouts in all.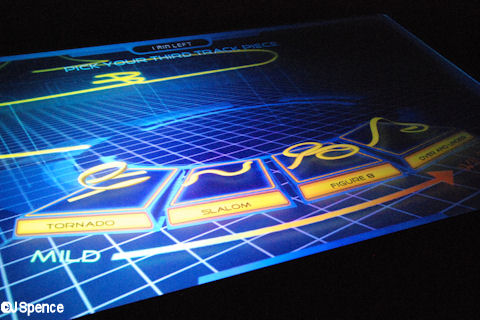 Next you use an electronic ruler and knob to design the intensity of the hills and the speed in which to traverse them.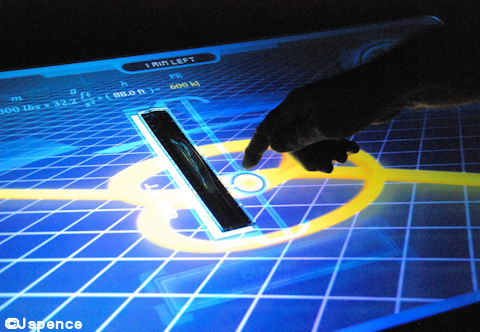 Once your design is complete, you give it a name (like Winter Avalanche) and then a cast member directs you to a second floor boarding area. Here you are asked to take EVERYTHING out of your pockets and store them in a free locker (key locked).
Now it's time to board. Attached to a significantly impressive robot arm are two seats. After you're seated, the cast member lowers a large apparatus over your head. While doing so you are told that there is an emergency stop button located between you. If at any time the ride becomes too intense, you can slap your hand down on this knob and the ride will immediately stop.
Within each apparatus is a television monitor. Here, an animated video recreates the ride you designed. In the corner of the monitor is a small insert picturing your riding companion. The device even creates "wind" to add to the realism.
The only way to accurately describe this attraction is to show you the robotic arm in action. Note, there are no riders in the video I filmed. For those of you who are curious, the music in the video is "The Rocketeer."
I've ridden this twice. Once with my friend Andrea and once with my friend Donald. On both occasions, I let them design the attraction. Being cautious, both of them opted for a tame experience. At the end of the ride, both of them said they would be more daring on their next visit. I will note that my head did bang against the padded head rest during the journey. This was a little uncomfortable. But other than that, I had a great time and can't wait to ride again. I also want a more intense ride.
The Sum of all Thrills only has four robotic arms, each holding two guests. In other words, the attraction has a low capacity. I predict that as word of this attraction spreads, it's going to become extremely popular. I suggest making this one of the first things you do when arriving at Epcot.
You may be wondering why Raytheon, a defense contractor, is sponsoring the Sum of all Thrills. This new attraction will be a core component of their MathMoveU program with an initiative designed to engage middle school students in math and science and help create the next generation of innovators for the United States. Representatives from Walt Disney World and Raytheon have been working to bring this experience to fruition for about 2 1/2 years. The initial sponsorship agreement will last 3 years.