Before Mission: SPACE, there was Horizons. Horizons opened exactly one year after Epcot on October 1, 1983. The attraction used Disney's Omnimover conveyance system and allowed guests to view the future through the eyes of scientist and authors both past and present.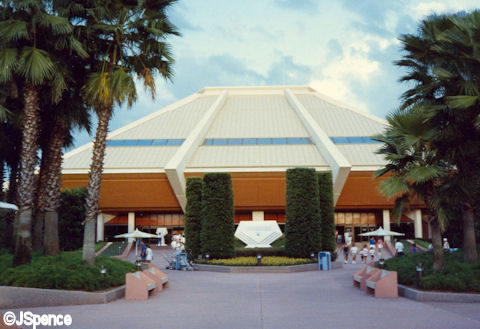 The closing of Horizons (January 9, 1999) was generated by several events. First, changing public tastes. Most guests were no longer content to sit for almost 15 minutes and watch one vignette after another pass by. Lines for this attraction were practically nonexistent in the later years. Next, General Electric, sensing that this attraction had seen its day, let their contract expire after ten years and instead, decided to sponsor Illuminations. This forced Disney to pick up the operating costs for a tired attraction. And finally, it was alleged that along with major roof problems, a sinkhole was discovered under the building in 1998. Something needed to be done.
Some sort of Space Pavilion had been envisioned for Epcot since the parks inception so Disney decided that maybe now was the time to move forward with this idea. But the first step would be to demolish the Horizons building. For a number of months during 2000, cranes and bulldozers chipped away at the building. A large amount of the structure's materials were recycled.
Construction of Mission: SPACE took a little over two years. Compaq was the original sponsor of the attraction, but the company was acquired by Hewlett-Packard in 2002 and HP took over the contracts. The ride began soft openings in August 2003, and its grand opening was on October 9 of the same year.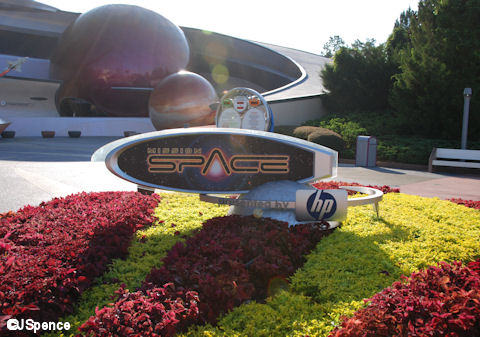 The area outside of Mission: SPACE is called Planetary Plaza. If you look at the pavement, you can see orbital pathways and celestial bodies embedded into the concrete. The four large spheres near the building represent Jupiter, Mars, the Earth, and the Moon. The curving lines of the structure symbolize orbits and flight.
The backstory for Mission: SPACE is this. The year is 2036, seventy-five years after Yuri Gagarin became the first man in space. A colony is being built on Mars and the International Space Training Center (ISTC) is preparing astronauts for the journey. They will fly aboard the new X-2 Deep Space Shuttle which is propelled by solid hydrogen and can accelerate from zero to six-thousand in sixty seconds.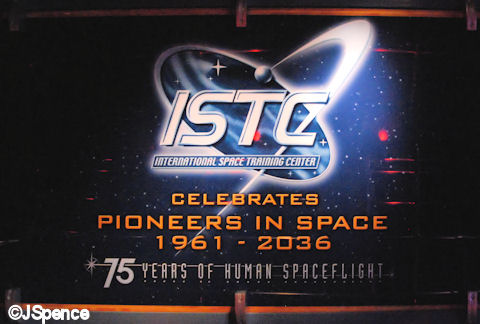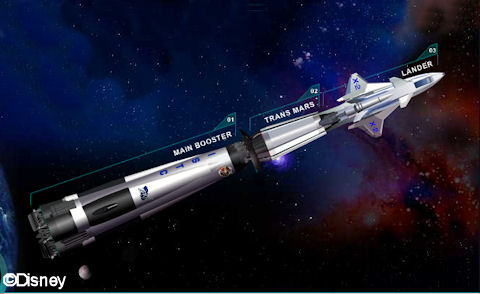 Upon entering the Mission: SPACE compound, trainees are asked if they would like to receive "Less Intense Training" (Green Team) or "More Intense Training" (Orange Team). Once you make your decision, you will be given an appropriate colored Launch Ticket. Notice, the green ticket says "CAUTION" while the orange ticket says "WARNING."
I cannot stress this enough, if you're in doubt as to which training session to choose, select the milder version. (I'll go into the ride mechanics later.) When this attraction debuted, only the "More Intense Training" was offered. Numerous guests suffered severe motion sickness during the first several years of operation. Things became so bad that Disney installed barf-bags in each training module within a couple of weeks of opening. However, they soon realized that this wasn't enough and something more drastic was needed to solve the problem. Eventually, a milder version of the attraction was developed (Less Intense Training) and came online in May, 2006. Note, if some members of your party select Mild and others request Intense, you will be separated and you will not ride together.
After you receive your Launch Ticket, take a look at the large model of the moon located behind the cast members.
Located on its surface are colored markers. These represent the 29 manned and unmanned landing sites achieved by the United States and the Soviet Union between 1959 and 1976. A single red marker designates the landing of Apollo 11 on July 20, 1969. Other manned missions are marked in blue and unmanned missions are marked in clear/white.
Also in this area are ten plaques containing quotations from people who have inspired and promoted space travel throughout history.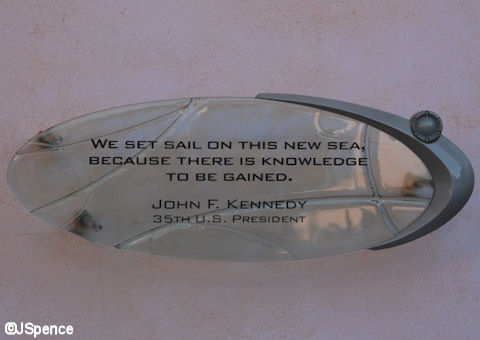 Before entering the Mission: SPACE Sim Lab, you can view a mockup of the training capsule. For those of you who suffer from claustrophobia, this will help you make a determination if this ride is suitable for you.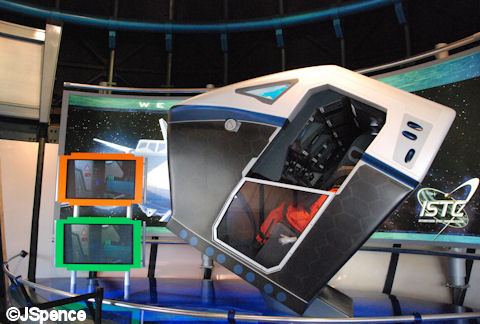 Once inside the Sim Lab, the queue passes beside a reproduction of the living quarters of a space vehicle. The rooms rotate to create artificial gravity for its inhabitants. If you look at the hub of this assembly, you can see the old logo for Horizons. Disney often acknowledges previous attractions by placing some sort of remembrance in the current ride.

On the other side of the room, hanging from the ceiling, is a large model of a spacecraft. If you study the ship closely, you can see where the rotating section (living quarters) would be located on this vehicle.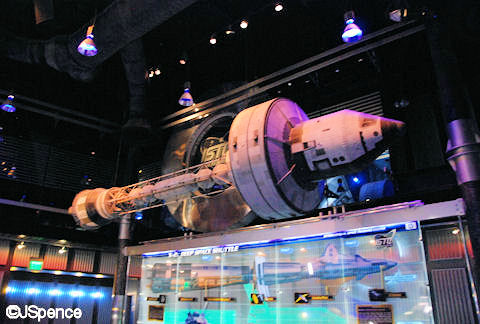 Also hanging from the ceiling is a Lunar Roving Vehicle (LRV). On loan from the Smithsonian, this is the only LRV constructed that is not on the moon. These two-passenger "cars" were battery powered and had a top speed of 8.7 miles per hour. Designed in 1969, the LRVs were used by Apollo 15, 16, and 17 to explore the surface of the moon.
As your journey along the queue continues, you'll pass beside a portrait gallery. Here you'll find a number of plaques commemorating milestones in space history. Starting with the first man in space, Yuri Gagarin (1961) and ending with the first X-2 Deep Space Mission with the crew of Bobby O'Brien, Sumi Yamamoto, and Frank Rodriguez (2036).
Across from the portrait gallery is the International Space Training Center Command Area. All activities of your mission will be coordinated from here.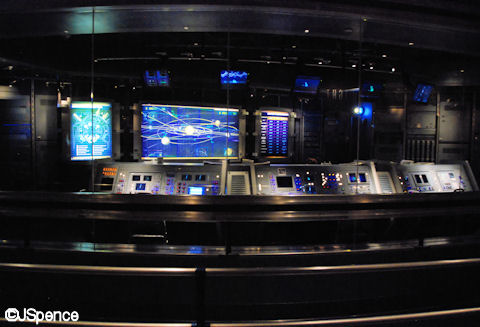 If you watch the small monitors on the console, you might spot a gooney bird come in for a crash landing. Your first thought might be, "This is a strange image to be displayed here." But there is some Disney trivia behind this silly bird. During the preshow for "Flight to the Moon" and later "Mission to Mars" in the old Tomorrowland at the Magic Kingdom (and Disneyland), this gooney bird set off alarms and flashing lights and Mission Control went into full alert as this "UFO" came in for a landing. It was a corny joke, but was appropriate for the era and for old-timers like myself, it brings back pleasant memories.
The Command Area marks the end of the queue and your adventure will begin shortly. Those taking the "Less Intense Training" will be directed to Briefing Rooms 1 and 2 while those taking the "More Intense Training" will be directed to Briefing Rooms 3 and 4. You will be grouped into teams of four and asked to stand on corresponding numbers on the floor.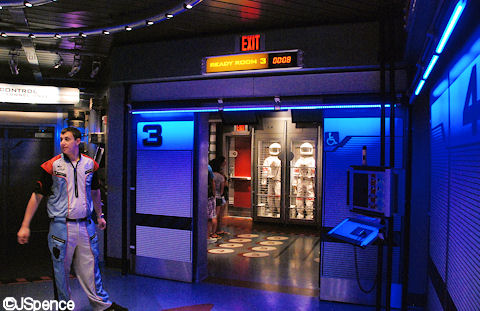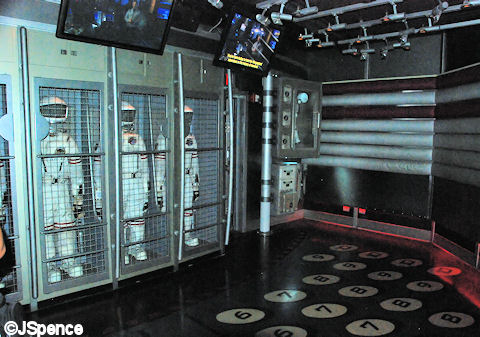 When all of the trainees are in place, the doors behind you close and a short video is presented on overhead monitors. Your mission is explained and some safety procedures covered. For those of you who don't recognize the CapCom, it's Gary Sinise.
From the Briefing Room, flight instructors guide each team around a circular room and ask them to wait on their corresponding numbers.
At this station, each member of your team is assigned one of the following positions: Commander, Pilot, Navigator, and Engineer. During your training session, each position will be called upon to complete two tasks. But don't worry. If you miss your cue, the computer takes over and fulfills your duty. You'll also be given additional safety tips at this time. During this portion of the video, you will see a young lady pull her restraint over her head. Close observers may recognize her from Test Track as she is also in that attraction's safety video and is shown fastening her seat belt while being seated in her vehicle.
Soon, the doors in front of you open and your team enters its training module. Stow any loose items in the bin in front of you, then pull down the safety restraint. A steady stream of cool air is blown into your face to help prevent motion sickness.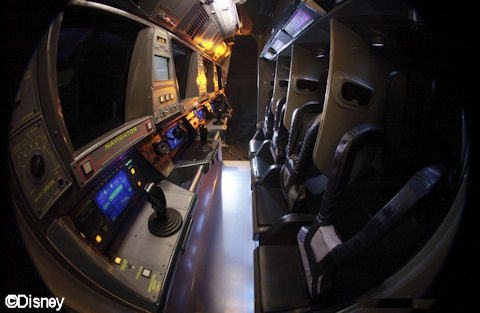 I have created a short video of the experience. This is an edited version of the actual events.
Now that you've watched the video, let me give you a little information about the attraction's design and mechanics. In association with former NASA advisors, astronauts, and scientists, Walt Disney Imagineering developed Mission: SPACE. Over a five year period, 650 Imagineers spent more than 350,000 hours creating this attraction. The developers said that much of the technology used for Mission: SPACE needed to be invented as nothing already existed that was capable of giving the guests this type of experience.
In each of the four training areas, there is a large, multiple-arm centrifuge. Attached to the arms are ten training modules. In the "More Intense Training" session, the centrifuge spins, giving riders a since of increased gravity and later weightlessness. This force is 2.5 times that of gravity at the earth's surface. When your craft blasts off, you feel and intense pressure on your body. Also, while your module is spinning, it pitches and yaws to add to the effect of movement through space. In the "Less Intense Training" session, the motion simulator effects are used, but the centrifuge does not spin. It seems to be the spinning that causes some guests physical problems. The ride has a capacity of 1,600 guests per hour.
I like the "More Intense Training" session – a lot. So when Disney introduced the "Less Intense Training" session, I thought it would be lacking. But to my surprise, it still delivers a good experience. Certainly anyone who can "stomach" Star Tours, can join the Green (Less Intense) Team.
If you're like me and have ridden Mission: SPACE more times than you can count, I offer you something else to watch during the ride (if your stomach can take it). Pay attention to the small video screen located next to your monitor. An animated simulation of your entire journey is chronicled on this screen.
When your training is complete, you enter the Advanced Training Lab. Here, four different stations offer additional adventures. The first is for the little ones. "Space Base" is a sort of space-aged Habitrail for kids. A number of tubes and enclosures allow them to climb through a variety of pathways.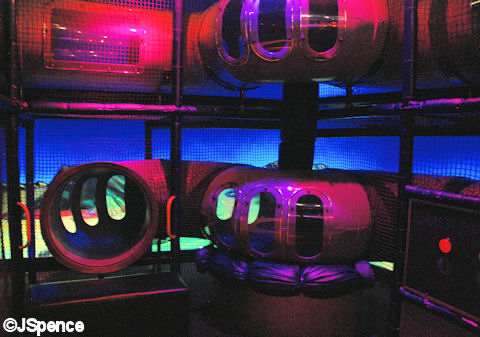 At "Expedition: Mars," you command a search and rescue mission, looking for lost astronauts. This computer game offers three levels of play.
"Postcards from Space" allows you to create a short video and email it too friends and family back home. If you want to make someone envious that you're at Walt Disney World and they're not, you can make it happen here.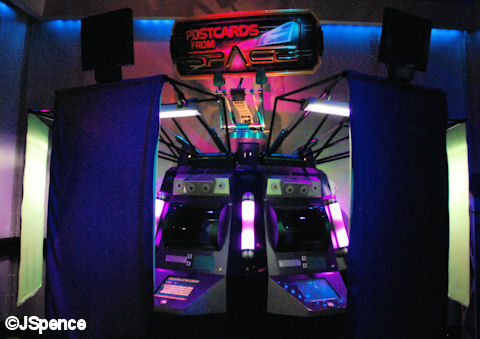 The final Advanced Training Lab attraction is "Mission: Space Race." At this station, two teams compete to create a successful mission. This game is coordinated by cast members and requires a minimum number of players. If you want to experience this event, you might need to return later in the day when crowds have grown.
And like so many other Disney attractions, you exit Mission: SPACE through a themed shop. This one is called Mission Space Cargo Bay – Gear and Supplies.
Right outside the shop is a bench. This is the perfect spot for those of you who choose not to experience any training whatsoever to wait for your friends and family.
Mission: SPACE offers numerous warnings before boarding. There are multiple signs posted in Planetary Plaza. There are videos located next to the vehicle mockup. There are overhead announcements. And both safety videos explain what's coming. There is no way anyone can claim they didn't understand what was in store for them unless they paid absolutely no attention as to what was going on around them. Children must be 44″ high to ride.
Well, that's what I have on Mission: SPACE. I'm not a fan of the Tea Cups at the Magic Kingdom as the spinning makes me sick, yet I have no problem with the spinning of this attraction. But don't let anyone talk you into the Intense Training unless it's what YOU want to do. It's just not worth ruining the next several hours of your visit to Epcot while you're experiencing extreme nausea.