The seas were quite rough last night – there was a lot of motion. I
think I'm very glad we're in the cabin we are, since it really didn't
bother us.
We arrived at Grand Cayman ~7:00 this morning – we were already
anchored when we got up at 7:30.
The weather was absolutely beautiful today. It was sunny with some
clouds, but not too warm – got to a little over 80, I think. There
was a pretty stiff breeze, so that helped make it feel cooler.
Grand Cayman is surrounded by a huge reef so there's no spot deep
enough for cruise ships for them to build a pier. So all the cruise
ships have to anchor off-shore and all the passengers have to take
tenders to/from the port. That's kind of a pain.
We had breakfast at Topsider – it was quite a nice breakfast buffet.
The oranges and grapefruit were especially good. They also had some
thick tomato slices that had cheese melted on top, and those were
good, though of course Lee didn't appreciate that.
Since we had a fairly early excursion we met in one of the lounges
and as a group they took us on-board one of the tenders. It held
about 200 people! There was a very nice view of the Magic from the
tender. If you go to the front of the rear smokestack, then go down
to the lifeboat from there, and then a little bit right, we think the
second porthole down is ours.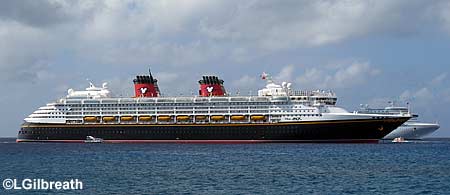 We were doing the Cayman Island Tour and Stingray Snorkel. Touristy,
but it seemed like a good way to at least see some of the island and
do something in the water.
There were only 17 people on our tour, which was kind of nice, and
apparently a bit unusual. Once we got off the tender we got onto a
small tour bus, with our driver, Delroy. Did you know that they
drive on the wrong side of the road here? It's the first time
I've ever been in a country that did that, so it was different.
Our first stop was Hell. Which is a black rock formation on the
island, and a big tourist trap. But I had heard that you can send
postcards from there, postmarked "Hell", and of course make all of
the jokes about having been to hell anc back. There's an older man
there who dresses as the devil and wanders around – and there's a
wooden cutout of him that you can pose with if he's not available.
It was a short stop – only 15 minutes, but that was enough time.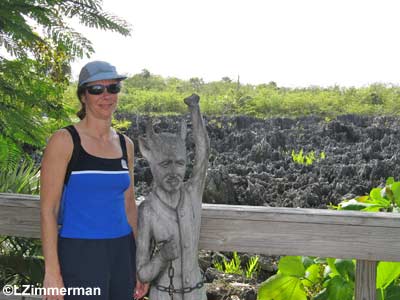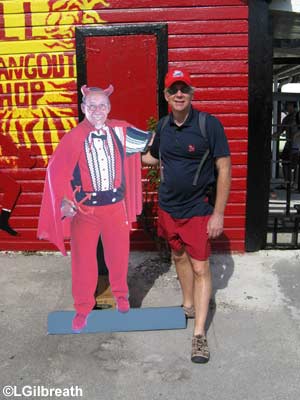 Next was the turtle farm, where they breed green sea turtles, both to
release back into the wild and for the meat (turtle meat is
apparently very popular in the Caymen Islands). We saw the turtles
they use as breeders – it's a 4-1 ratio of females to males. The
females lay their eggs in the sand and the workers gather them up and
put them in the hatchery.
I had heard this before, but the sex of a turtle is controlled by
the heat of the sand around the eggs. Warmer sand = female turtles,
cooler sand = males. So in the hatchery they decide what they need
more of, and set the temperature accordingly.
You can tell males from females by the length of the tail – females
have shorter tails and males have longer tails. But you can't tell
the sex of a turtle until they are about 9 years old.
We were able to handle the turtles – if they got agitated and started
flipping their fins our guide told us to scratch them under the chin
to calm them down. That worked pretty well. Lee had his looking quite
content and blissful.
There were also quite a few iguanas lounging about, and they were
interesting to see.
Stingray City wasn't quite what I expected – I was thinking of a
beach with a large cove or something. Instead we had to take a small
boat 30 minutes out towards the big barrier reef, where we got to an
area with a sandy bottom that was only about 3-4′ deep. And there
were lots of OTHER boats out there too. They put a couple of anchors
in the sand to hold the boat in place and then we were able to get
out of the boat.
The stingrays are VERY used to people and come right up and swim
around, since they expect to be fed. They seem to recognize when a
new boat arrives they have a better chance of getting food, so we had
quite a few of them around us. They were pretty big, too. The older
ones had a more bristly skin, while the younger ones were softer.
The water was not as warm as I was expecting and there was a very
strong breeze, so I was getting a little cold. Every once in a while
a swell would come in and we'd be up to our necks instead of waists.
Lee fed the stingrays (and one of them nipped him thinking his finger
was food!), and he enjoyed it. For me…well, I'm not that much
nto ocean stuff and it was outside my comfort zone…I'm glad I did
it, but it's not something that either of us would rush to do again.
The tour ended about 2:00, and by the time we got through security
and took the tender back it was about 2:45, and we were starving,
since we hadn't eaten since breakfast. We went up to Pinocchio's and
had some pizza, and then I tried a fish burger from Pluto's Dog
House. They had a pretty nice toppings bar, so I ate more of the
tomatoes and carrot sticks and olives and pickles than I did the
fish. Lee also got a sandwich slice and a slice of a lamb/couscous
wrap from Goofy's. They really have an interesting variety of
sandwiches and wraps there – there have been a few different ones
each day.
And then it was time for something we really haven't done much of on
this trip – a nap! Though I also did a load of laundry. I got in
just in time – when I went back to check the dryer all of the dryers
were full, and someone was ready to use mine when it finished.
The final tender returned to the ship about 4:45 and they off-loaded
everyone, closed the door, and we were underway before 5:00.
Tonight's show in the Walt Disney Theater was "Twice Charmed", which
was a re-telling of the Cinderella story – what if Lady Tremayne had
been able to break *both* of Cinderella's glass slippers? Of course
true love prevailed in the end. It was very nicely done and I
enjoyed it.
Tonight for dinner we were back at Lumiere's, with its normal French
menu. And our waiter is French, so that's quite appropriate.
I'd have to say this was my least favorite of the dinners we've had
so far. None of the appetizers appealed to me (escargot??? Ewww!),
so I had the tomato and basil soup from the soup and salad portion of
the menu instead. That was really good, though.
Lee had the Ratatouille with Piperade Vinaigrette, which
sounded ok to me except that it was served cold. So it was almost
more like a thick salsa.
And speaking of escargot…Paula indicated that she and Joe wanted to
try it, so TJ brought enough for all six of us. Paula, Joe, and Jan
went for it simultaneously – Jan and Joe said it was ok (though I
noticed neither of them offered to finish the three that were still
left!), and Paula immediately went for the chocolate milk chaser. 🙂
It was pretty funny.
Lee and I both had the Normandy Salad, which had lettuce,
diced papaya, hearts of palm and red cabbage. I had seen the mention
of goat cheese croutons that were served with the mixed garden salad
and asked TJ if I could have those, too – they were good. 🙂
None of the main courses appealed to me – a little too heavy on the
scallops, mushrooms and/or sauces, so I ordered the Oven Roasted
Chicken from the "Lighter" menu, which came with garden
vegetables and baked potato. Not exciting at all, but it was just
fine – I actually really enjoyed just the plain steamed vegetables
and baked potato after all the much richer stuff I've been eating all
week.
Lee (and everyone else at the table except me and Jan) had the
Beef Tenderloin Provence, Burgundy Wine Sauce. And they all
said it was excellent. It came with something that looked like large
thick-cut French fries, but actually turned out to be fried parsnips.
They had a very different flavor, but I thought they were really
good.
Jan ordered the Coquelles St. Jacques which were scallops,
though it looked like a potatoes au gratin dish.
Dessert, though, was where Lumeiere's REALLY disappointed me. A
French restaurant – I'm thinking some kind of outstanding chocolate
dessert, like a mousse, or chocolate eclair, or torte or something.
Well, I would be wrong. There was NOTHING chocolate on the dessert
menu, except for a no sugar added chocolate cheesecake. TJ offered
to get me the Double Chocolate Cake from Parrot Cay (which I had
enjoyed on Saturday night), and Kathy and Jan decided they wanted
that too. But TJ came back empty-handed – since we are in the very
last dinner seating, the Parrot Cay kitchen was already closed. So I
boycotted dessert. Paula offered me as much of her Montelimar
Nougat and Pistachio Cream Sauce, which had a chocolate shell on
it and I tried that – but it really wasn't substantial chocolate.
Sigh.
Lee had the Creme Brulee, and enjoyed that.
TJ brought out a Crepes Suzette for all of us to try – too much
orange/Grand Marnier for me, though.
I actually have a lot more stories about my dining companions, but
I'll have to do a separate blog on those. We are stll having a great
time together, and we are always one of the last 3-4 tables in the
restaurant.
We had a dinosaur awaiting us on our bed tonight. A small one,
fortunately. 🙂
The seas are much calmer tonight – during dinner we actually forgot
we were on a ship because we just weren't feeling much movement at
all. Quite a difference from last night!
We turn our clocks back tonight, which means an extra hour of sleep –
yay!!!!
Cozumel tomorrow – we are going on an all-day excursion to the Tulum
Ruins over on the Mexican mainland. (Did you know Cozumel was an
island? I didn't, until this trip!)