Ahhh…a day to relax at sea! Or at least what passes for us as "relaxing".
I'm not sure I like the late dinner thing — we don't get out of dinner
until 10:30, and then we're too full to go right to bed…but going to
bed late means missing out on being out and about early when things are
still pretty quiet.
I really wanted to go to the gym this morning, so I got up at 7:30. We
were in there Saturday evening and there was NO ONE there…that's
because everyone is there between 7:00 and 8:00 in the morning! There
was a spinning class going on, all of the treadmills and ellipticals
were in use, and many of the weight machines. One of the exercise bikes
(which was what I wanted) was free — but only because it had no TV.
That was OK, I just watched the sea go by as I pedaled away for 40
minutes.
I had a spa appointment scheduled at 9:45, and I still had to have breakfast
and shower, so I got some cereal and a yogurt parfait from Goofy's
Galley, and that worked out ok.
Lee was out having breakfast when I got back to eat and shower.
My spa app't was nice and relaxing — I had the "Exotic Manicure", which
included a salt scrub and arm/hand massage as well as the manicure. I'd
read that the spa employees can be rather pushy about selling their
products, but Kadina obviously picked up early on that I wasn't
interested, and she never mentioned it. She got a bigger tip, too.
Lee went to the "Disney Innovations: Animation" presentation on the
"Top 10" introductions Disney has made to the field of animation, and
he enjoyed that. They included synchronized sound for cartoons, the
first full-length animated film, a sense of depth (everything from
Walt's original multi-plane camera to using computers), the use of the
photo copier to transfer sketches to cells, and computer generated
imagery (CGI).
We decided to eat lunch at Lumiere's, even though that's where we were
going for dinner tonight, but the menu sounded interesting. It was the
first time we had been in there — it's really a beautiful restaurant.
And very unbusy — the servers were really looking for things to do!
The food was quite good, and really nicely presented, but it was a bit
different from what the menu said. I had the Potato and Barley soup —
which had potatoes, but no barley as far as I could tell. And I also
had the salad nicoise, which was supposed to have potatoes in it, but
there weren't any.
Lee wanted to attend the virtual tour of the Bridge and Engine room at
12:15, but we were finished with lunch in plenty of time. He enjoyed
that.
And then it was on to a Wine Tasting seminar at 1:00. Joe, one of our
tablemates, was there, too. It was an interesting session, though of
the 6 wines there were only two that I really liked — a Riesling
Kabinett from Germany and the Fairy Tale champagne that is made
exclusively for Disney.
Somewhere in there we took a closer look at the Magic's European
itineraries in 2010 and decided that we wanted to sign up for one of the
11-night Mediterranean cruises — it sounds like it goes to a lot
of interesting places == and it's a "safe" way to see Europe!
We went to a Body and Metabolism analysis session in the Spa. They are
pushing an expensive detoxification program, of which we remain very
skeptical, but we did learn some other good things about our metabolic
rate, lean body mass, fat percentage, etc.
It was 5:00, and dinner wasn't until 8:30, so we went to Goofy's Galley
(since we were already on Deck 9) and had them make us a couple of
salads and some fresh fruit. The wind had REALLY come up, and was
trying to blow the lettuce off our plates!
Then it was time to get all "neat and pretty" for formal night. Lee had
found out that they set up a red carpet outside the Walt Disney Theater
for the Golden Mickeys show, and have "paparazzi" greet the guests as
they enter – and of course that's more fun if you're already dressed up.
We got some very favorable comments.
We also really enjoyed the Golden Mickeys show – some of it was a little
hokey, but most of the musical numbers were quite excellent – the woman
who performed Colors of the Wind had a wonderful voice.
After the show we still had an hour and a half until dinner so we
wandered around – we did get our picture taken at one of the portrait
stations, so hopefully that will turn out well. There was no one
waiting at the Future Disney Cruise desk and we took that opportunity to
book the Med cruise – we'll even have our same stateroom. 🙂
We had a wonderful dinner at Lumiere's with our tablemates – I'm really
glad that Lumiere's was our restaurant for formal night – it's the most
elegant of the three. After four meals together we are all getting to
know each other, so dinners are more fun as we tease each other and our
servers.
No time for a lot of food photos — but I had to post this one of the special
dessert for tonight — "The Golden Chocolate, Chocolate Award". It was
very good.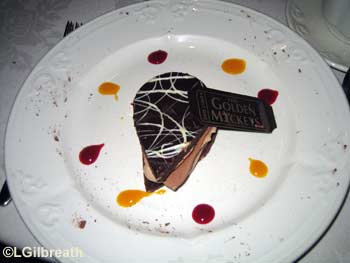 Our waiter, TJ, took this picture of all of us — what you can't see is
the reason we were all smiling so much, and that's because of what one
of his fellow waiters was doing behind his back, as seen in the next
photo.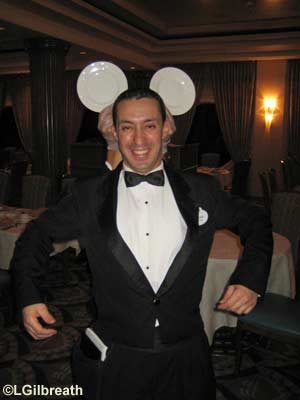 The ship has been rocking and rolling a lot more tonight – the seas
are classed as "rough" this evening with 8-13′ swells, and we have
"moderate" gale force winds – whatever that means. Ok, Lee just looked
it up – it's 32-38 mph winds. He was out on deck earlier and said it
was VERY windy.
Grand Cayman tomorrow – we have an early excursion, so we have to be
ready to leave the ship by 9:15.