An absolutely beautiful day today! Blue sky and highs in the 70s.
We were still at sea when we woke up this morning — we weren't due to
dock in Key West until about noon.
There was a DVC Members' Get Together at 9:00, so we went to that,
though we could only stay for 30 minutes since breakfast was at 9:30.
Just for going we received nice DVC baseball caps and DVC Member
lanyards (good for carrying around our Key to the World cards). And
later on someone posted the nifty "DVC Member" magnets on our stateroom
door — we had seen those on a bunch of other stateroom doors and
wanted some of our own.
Speaking of: here is our door — Lee made up decorations of his own
before we left home, and then there's the Bon Voyage from Coleen and
the DVC magnets.
Breakfast this morning was the Mickey's Character Breakfast at Parrot
Cay. We were joined by all but one of our tablemates for breakfast.
We had a new assistant server this morning — apparently Meg was not
feeling well last night and so Esther was filling in for her.
Meg isn't quite as much fun as Esther — we will miss her.
Pluto, Minnie, and Dale quickly came by our table and posed for photos.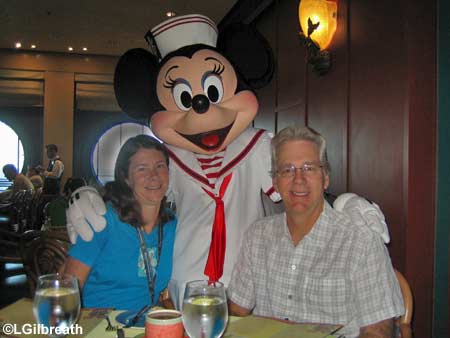 The breakfast menu included the usual breakfast items — eggs and bacon,
toast, pastries, Mickey waffles, omelets, cereal, pancakes, etc. One
of the pancake choices was whole wheat pancakes, and Lee tried those
and said they were good.
Goofy, Chip and Mickey were also making the rounds of the tables –
unfortunately Mickey passed us by.
We went up on deck to watch the ship pull into Key West and dock. The
water is so blue!
Over Key West we saw a lot of large birds circling around — they were
really good-sized. They turned out to be vultures — apparently the
cold weather they've had in Florida recently had driven them south to
warmer climates. Just a few more snowbirds wintering in the Keys, I
guess!
People started getting off the ship pretty much right at 12:30, which
was the stated time. Lee and I went up to Goofy's Galley to get
something to eat before going ashore – it hadn't been too long since
breakfast, but we knew we'd want something or we'd get pretty hungry in port!
Here's a picture of the Magic from the dock — this isn't even half of the ship!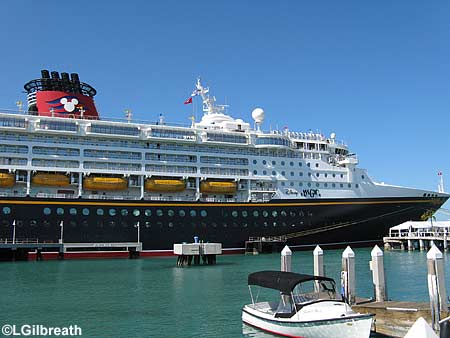 We'd decided just to take a walking tour of Key West, rather than
booking a tour. There were some suggestions in our Personal Navigator
and also in Passporter. Passporter suggest visting the Chamber of
Commerce for a walking tour map, so we did that. They had a map for an
architectural tour of Key West.
It got us away from the heavily tourist-trafficked areas of Key West,
and that was nice. There were supposed to be pelican signs at each of
the stops, but we only saw two the whole time. Lee did a good job of
guiding us around and reading the info on the various houses. (I've
inset a larger version of the pelican into the photo so you can see it better.)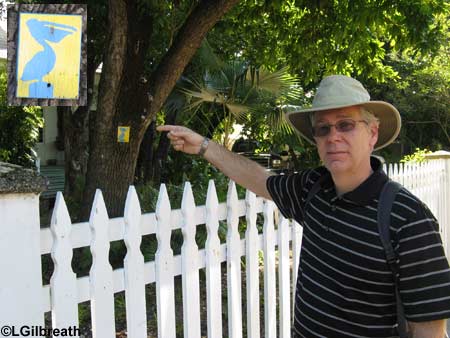 Our only previous experience with Key West architecture is the Old Key
West Disney Vacation Club resort, and we could certainly see where they
got their inspiration.
Here's a house that shows of several Key West architectural features:
eyebrow windows, deep porches, the shutters, and a widow's walk.
Though that one does not have the signature rail design that we saw on
so many houses (and at Old Key West the cut out has the Mickey ears
shape).
There were also a lot of houses built in a Victorian style with lots of decorative "gingerbread" – I thought this one was especially attractive.
We took a tour of The Oldest House in South Florida, built in 1829. It
has survived several hurricanes and a fire which destroyed much of Key
West in the 1880s. It was owned by a sea captain and his wife, who had
9 daughters. It's not that big a house – we're not sure where all
those people slept! The docent there gave us a nice tour of the house.
We struck out on our own after that — I wanted to walk down to the Key
West Lighthouse and Ernest Hemingway's house. We didn't go into either
one – we were able to see a Hemingway cat on the porch, and that was
good enough for me. 🙂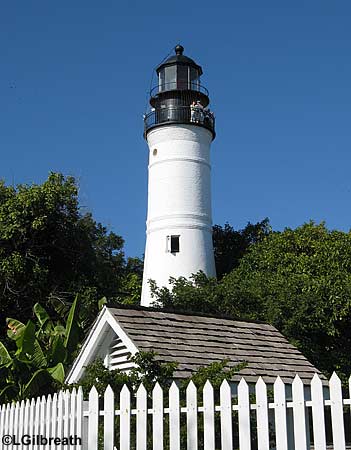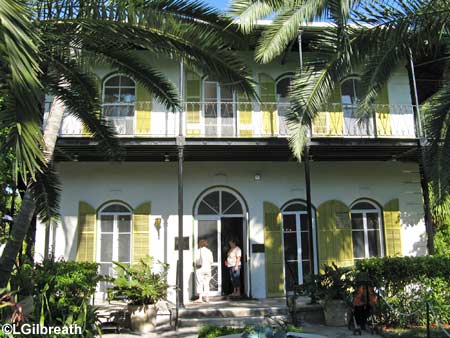 Lee wanted to see the beach, so we went over to Fort Zachary Taylor
State Park after that. It took us a little while to figure out where
the entrance was, but we found it. There is a self-guided tour of the
Fort – it wasn't really that good, though. Going up on top was the
best part. And then there was a "nature trail", though there wasn't
much to see there. There were a fair number of people on the beach,
and we saw a number of other people who had apparently walked over from
the cruise ship.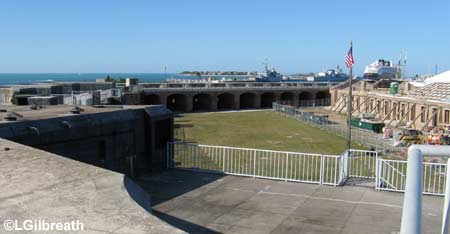 It was really a nice day for walking – there was a nice breeze and it
was quite comfortable even at a brisk walking pace. We did at least
8 miles. So we earned our dinner tonight.
We re-boarded the ship about 5:00 (All Aboard is 7:30), and we were
hungry so we got some pizza from Pinocchio's Pizzeria. That was
actually pretty good!
And we've been relaxing since then – and I've been working on photos
and this blog entry.
The ship departed quite promptly – at 7:34 we started to pull away from
the dock!
Dinner tonight was at Parrot Cay. Meg must still not have been
feeling very well this morning because tonight she was much better –
much more attentive and energetic and personable. She used to be
a Cast Member in the UK pavilion at Epcot, and she shared with us
some of the stupid questions the tourons would ask. "I like your
flag…but does it come in any other colors?"
Our dining companions all joined us – we all compared our days in Key
West. We all did a lot of walking, and none of us did too much to
enrich the local economy.
Tonight was "banana night" at Parrot Cay – banana drinks, banana bread,
banana desserts – but I don't like banana. Fortunately there were
non-banana choices!
I think we almost all had the Smokey Chicken, Vegetables and Cheddar
Cheese Fritters, served with Pomegranate Barbecue Sauce. Yummy!!!
For the Soup/Salad Course, I had the Cold Cream of Mango and
Papaya, which was kind of like a smoothie, only not that thick. It
didn't photograph very well, so you're getting a picture of Paula's
Tropical-style Fruit Salad instead.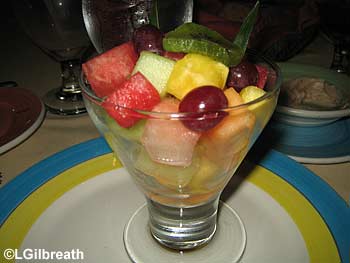 Lee had the Cream of Sweet Onion Soup. He enjoyed it – it was a
good, but I don't care much for cream soups.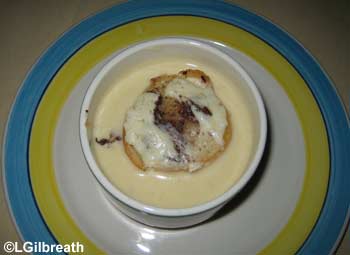 For the main course I was torn – the Pan-Seared Grouper with Baby
Shrimp Lemon Butter sounded really good, but so did the Barbecued
Pork Tenderloin with Prickly Pear Glaze. So I asked TJ if I could
have just a slice of pork with my entree. He ended up bringing out
another order of it, and Lee and I each had two slices of the pork,
which was really excellent. I think I liked that better than the
grouper, though it was also good (but I think the Pan-Seared Grouper at
Brown Derby is better).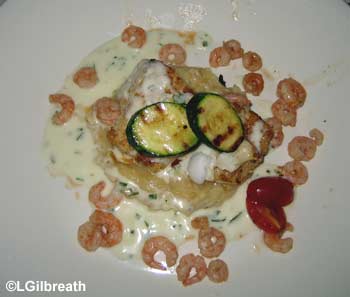 Lee had the Caribbean Roast Chicken, though I think he got that
mostly because of the mashed sweet potatoes that came with it. 🙂 He
also enjoyed the pork. Paula ordered the pork, so that is pictured
below.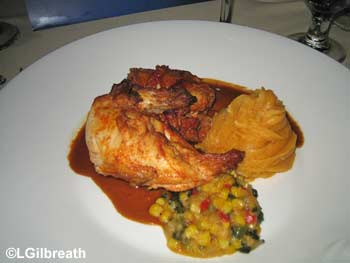 In keeping with the banana theme, one of the desserts was French
Toast Banana Bread Pudding, and several people (including Lee, of
course) had that. They enjoyed it.
I had the Chocolate S'More Vanilla Cake, which sounded just ok
from the description: "Crackling Marshmallow Crust on Vanilla Cake
filled with Chocolate, served with Dulce de Leche Sauce." But it looked
really good, and it tasted even better! There was a lot more chocolate
than I expected, and it was a nice firm chocolate mousse-type filling.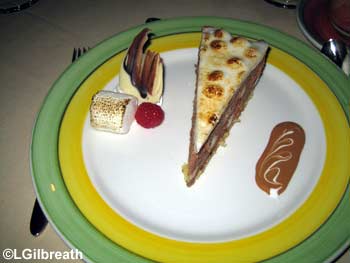 Paula had the Creme Brulee Cheesecake – that was a very large
piece, and she said it was really good even though it wasn't chocolate.
When I got back to the room, Louie the Lobster was waiting for me – he
also was wearing my sunglasses. 🙂
At Sea day tomorrow, though we have several activities planned on board
ship. And tomorrow is Formal Night, so we'll get dressed up in our fancy clothes.
We're both enjoying this cruise thing!