First thing's first – we're on the ship! And quite nicely settled in our
cabin, but I'll write more about that later. It's been a great day.
(This entry will be a bit light on photos since I'm trying to get it
finished up in time!)
They told us at the Cruise desk at Animal Kingdom Lodge that they would pick up our luggage at 8:00 in the morning – but we got a call from Bell Services at 7:45 that they were sending someone up! Fortunately we'd done most of our packing the night before and had actually finished it up already.
We had a quick breakfast at Mara before going off to Animal Kingdom. It was another beautiful morning — a little chilly at first, but it warmed up quite nicely.
At Animal Kingdom we wanted to ride the Safari again. It appeared to
again be another not-too-busy day at Animal Kingdom — they were only running one side of the Safari loading area, and we pretty much walked through the Standby line all the way to the loading area.
We again had a pretty good safari – not quite as many animals as
yesterday, but still a large variety. Both the black and white rhinos
were especially cooperative. Our safari drive was not as animated and enthusiastic as Alex, but we actually learned several new things from her:
1. Rhinos have skin that is an inch thick, and they can run 35 mph.
2. Cormorants do not have waterproof feathers, which lets them dive
deeper than other birds, but then they have to spend a lot of time
afterwards drying off.
3. The darkest sable antelope in the herd is the dominant male.
4. The Patterson's eland can jump 6′ vertically!
5. Thompson's gazelles can change direction in mid-air.
We had almost no wait for the bus back to Animal Kingdom Lodge, and in fact were the only two people on the bus. OK, OTHER than the driver.
It was about 10:00 and the bus wasn't picking us up until 12:30, so we had some time. The only thing we saw on the savanna was this
critter… which was NOT on any of the wildlife spotting guides. 🙂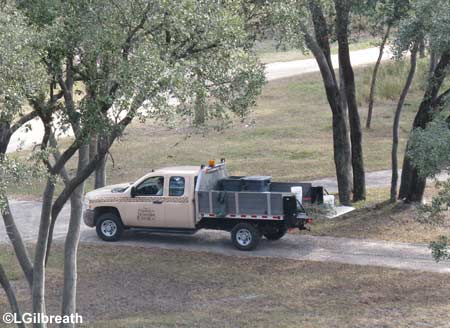 The animal care staff was cleaning up on our savanna, so none of the larger animals were out – just some of the birds.
We went down to Mara to have a light and early lunch, since we knew we wouldn't be on board ship before 3:00 or so. The vegetable flatbread was VERY good — pesto sauce, caramelized onions, goat cheese, and black olives. Yummy.
After lunch we went over to the Uzima savanna overlook — and that was a happening place! We saw Thompson's gazelles, nyala, sable antelope, lots of giraffes in the distance (visiting over the fence with the giraffes on the next savanna), and Ankole cattle (when there's only one they're called Ankole cows). There were two cast members stationed there talking to guests, both from South Africa, and we visited with them for quite a while — until it was time to go out and catch the bus, actually.
The bus arrived pretty much at 12:15 and left on time at 12:30. We had to make a second stop at Saratoga Springs to pick up their cruise overflow, but were on our way to the port by about 1:00. It was pretty exciting to drive over the bridge and catch our first glimpse of the ship in the distance!
Once we arrived we had to go through security check and then through the check-in line, but that all went very fast. Then, something we hadn't read about at all — they took our picture and mapped it to our Key to the World card — when we actually boarded the ship they scanned our cards and our pictures popped up on the monitor.
Since we boarded so late (about 2:30) our room was already ready, so we headed there first. A nice surprise awaited us — Coleen, our travel agent from Mouse Fan Travel, had arranged a Disney Bon Voyage package for us, with stateroom decorations and a very nice cake too!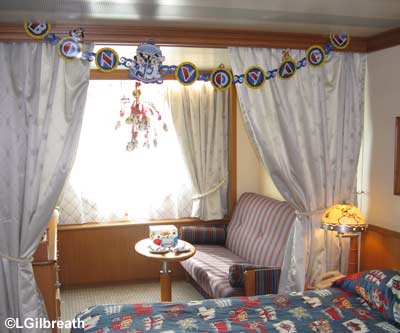 The stateroom is not as large as our studio at the Animal Kingdom Lodge, but actually not too bad at all, and there's quite a bit of storage. though our suitcases were too big to fit under the bed, so we had to put them in the closet.
We went up to Topsider Buffet to have a late lunch — all ship
services ceased at 3:30 for the life boat drill, and it was almost 3:00
by then. But since we had late dinner seating it was going to be 8:30
before we had dinner!
When we got back to the room the rest of our bags had arrived, and we got most of the unpacking done before the lifeboat drill at 3:30. Our station was on the sunny side of the ship and it was rather warm
standing there in the sun, but the drill was over fairly quickly.
And then it was time for the 4:30 Sailaway party. Crew members were handing out shiny streamers for us to wave during the party and sailaway. There was a lot of energy up on decks 9 and 10 and everyone seemed to be having a good time. The ship pulled away from the dock a little before 5:00. We wandered around a bit more – as far to the front of the ship as we could go on deck 9 — and eventually went back to our cabin for a while.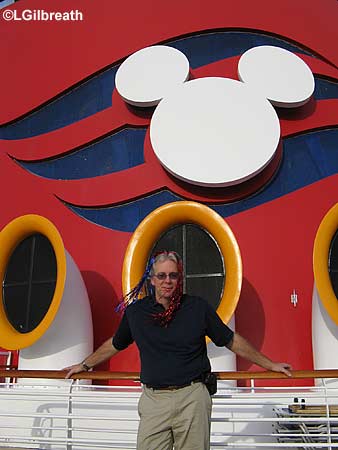 At 6:15 we saw the "Let the Magic Begin" show at the Walt Disney
Theater. At the sailaway party they said it was going to feature a
magician and ventriloquist, which didn't thrill us too much, but it was
cute and we enjoyed it – not something I'd want to do very often,
though.
After the show we went to Guest Services to sign up for a couple of
events – the Galley Tour and a wine tasting session. And then went back to the Vista Spa because I needed to try to rearrange a couple of spa treatments, and they were very accommodating. While there we checked out the gym, too. There was only one person there working out.
We had a little bit of time back in the room before dinner at Animator's
Palate. There were six people at our table, and we all had a nice time getting to know each other.
Dinner was quite good. For appetizer I had the Roma Tomato and
Portabello Mushrooms on Polenta Cake, which was excellent.
Lee had the Wild Mushrooms Risotto and Porcini Wafer.
Next we both had the Smoked Salmon and Trout with Goat Cheese Salad. They could have been a lot more generous with the goat cheese, though. And there was almost no dressing on it. Now, I don't like a lot of dressing, but this was really dry.
For entrees I had the Grilled Salmon with Creamy Risotto and a Barolo Wine Sauce, and that was very good.
Lee had the Grilled Fillet Mignon, Seared Scallops with Port Wine Demi Glace. He said the scallops were good but small, and the steak was good.
We do have to say that the portion sizes were quite reasonable — not
huge but not too small, either. I still didn't eat all of everything
that I was served, but I didn't leave as much as I thought I might.
Dessert was the Double-Fudge Chocolate Cake for me (I'm sure that's no surprise to anyone) and the Chocolate and Peanut Butter Pie for Lee. The cake was good — one of the better chocolate desserts I've had from Disney in quite a while.
Animator's Palate is an interesting restaurant – when you first walk
into it everything is black and white, including the server's attire,
but as the evening goes on there is more and more color, and just before the dessert course everything turns colorful — including the servers!
This is Esther, our assistant server. She is very nice and fun — I
think we will enjoy her a lot over the next week.
When we got back to the stateroom, "Ray" was on the bed to greet us — wearing my sunglasses. 🙂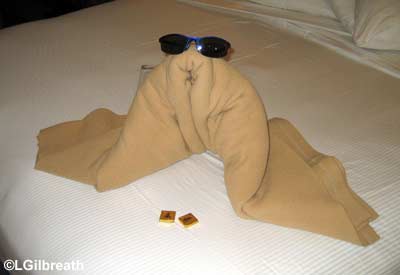 So that's the end of our first day — we've taken a look at some of the
activities, and are not sure how we're going to have time to do a
fraction of the things we want to do.
Key West tomorrow!