We're not actually cruising yet, but we are at least in Florida, so we are that much closer!
We left San Diego this morning at the very civilized hour of 9:30. We usually have crack of dawn flights which require us to get up at 4 a.m. – instead we got up at our usual time and still had time to eat breakfast and read the paper before we left home.
Of course the disadvantage is that we didn't arrive in Orlando until 7:30 p.m. – which meant we didn't get to go to a park at all tonight.
We used Disney's Magical Express bus service for the first time to get us from the airport to the resort. It was quite easy – we put the DME luggage tags on our bags when we checked them with the airline this morning, and then all we had to do was wander out to the DME desk at the Orlando airport and get on the bus they pointed us to – Disney takes care of picking up the bags and delivering them to our room. The bus was completely full (we couldn't get seats together!), but was only making two stops – Pop Century and Animal Kingdom Lodge. Most of the passengers got off at Pop Century. We were at the hotel about 90 minutes after we got off the plane, so that's not too bad. Our bags arrived in our room at 10:40 p.m.
Apparently Animal Kingdom Villas has gotten the memo from Boardwalk Villas, and our studio is almost allllll the way at the end of Kudu Trail – about as far as you can get from anywhere. 🙂 (We always seem to get the rooms at Boardwalk that are at the end of the hallway.) We are on the 5th floor overlooking the Arusha Savanna – we've been on Uzima Savanna the other times we've stayed here, so I am looking forward to seeing our view in daylight!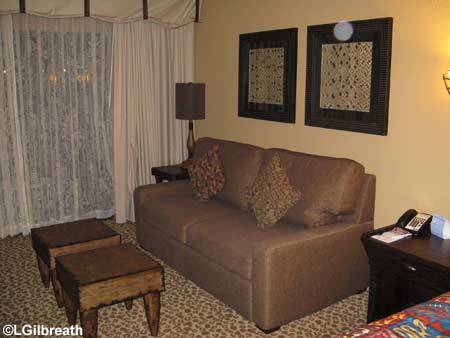 After we quickly checked out our room we made the long trek back to the lobby to get something for dinner. It was about 9:00, but fortunately Boma was still open. There weren't very many people there and they were able to seat us right away. We always enjoy dining here, but tonight was especially nice just because it was so empty! Our server said it had been a very slow night. Boma is usually extremely noisy, and you can hardly hear yourself think, but tonight it was much more pleasant. We enjoyed the wide variety of foods on the buffet – I had a watercress salad and a tomato and goat cheese salad that were new to me, and both yummy. I missed my roasted vegetables, though, but there was an excellent rice dish, and the Marrakesh couscous was also good. For dessert, in addition to the zebra domes and chocolate mousse crunch Lee and I both tried the cocomisu (tiramisu with coconut), and that was really good.
Empty Boma
It is COLD here – in the 40s when we arrived, and supposed to get down to 28 tonight. Brr. But it's supposed to be 75 tomorrow. I hope that's right!
Ok, it's now Friday afternoon – I wrote the preceding last night after we arrived. So I'll add in Day 2's activities, as well!
We had no place to be at any particular time this morning, so we attempted to sleep in. The screaming baby at 7:00 didn't help, nor did the exercise class that was apparently going on in an open area of the hallway at about 8:15. Oh-kaaaay….
It was a beautiful day outside, though still chilly (~42 at 9:00). The animals didn't seem to be too anxious to be out and about, either – we could see a couple back in the trees, but nothing close.
On our way down to The Mara for breakfast we could see Kidani Village out of one of the big windows – that's the new DVC Resort that will be opening in a few months. We are looking forward to our first stay there later this year.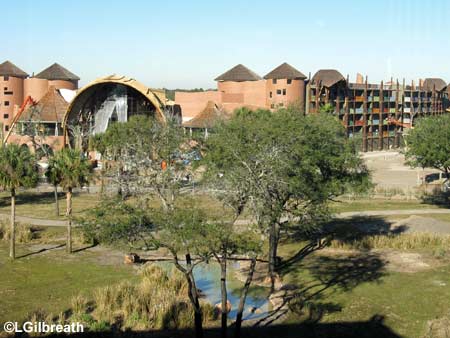 After a quick breakfast we stopped at the Disney Cruise Line desk to check in with them before we headed out. Since we are not on one of the Land/Sea packages we can't actually check in yet and get our stateroom key and all of that, but they still needed to take our information for our transportation to the port tomorrow – like knowing what room to come to tomorrow morning to pick up our bags! Which we have to have packed and ready by 8:00. The bus to the ship doesn't actually leave Animal Kingdom Lodge until 12:30, though. We were a bit concerned about that, but the ladies assured us we'd still arrive in plenty of time to be on board the ship well before 3:00. I guess we'll find out for sure tomorrow, but you'd like to think that Disney has this down to a science.
We took the bus to Animal Kingdom after that. That has to be the shortest bus ride between any resort and theme park here at Walt Disney World. Lee needed to get a new Annual Pass, so that was our first order of business. We plan to be back another three times this year.
Animal Kingdom was really not crowded at all. The weather had warmed up enough that it was very comfortable in the sun, but still cool in the shade – I wore my polar fleece pullover all day, but Lee was ok in shirt sleeves.
Lee noticed that the Lesser Flamingos near the Tree of Life had what appeared to be some much brighter pink feathers than usual.
After we got a Fastpass for the Safari we went over the Flights of Wonder show – on the way we saw DiVine putting on a show.
Flights of Wonder was quite enjoyable. They had a bird we hadn't seen before – a sulphur-crested cockatoo named Pogo, who did all kinds of crazy movements when given some very subtle physical and verbal cues. He'd spin around on his perch, flap his wings and shake his head, ruffle his feathers – it was really fun to watch. And they had my favorite – Sluggo the Black Legged Seriema – who slams a plastic lizard to the ground multiple times. (Not that I have anything against lizards, but Sluggo does them in with such verve and enthusiasm!)
At the very end of the show when they bring out lots of different birds, one of the handlers had one we hadn't seen before – a Bateleur eagle, which is found in North Africa.
We went on a really excellent safari after that – for a change many of the animals on the savanna were actually near the place we enter the savanna rather than where we exit. We even saw a baby giraffe – though from this photo you can't really tell how small it is in comparison to the adults who were nearby. Our safari driver was very good, and very enthusiastic – his name was Alex. He even made the lame parts fairly interesting.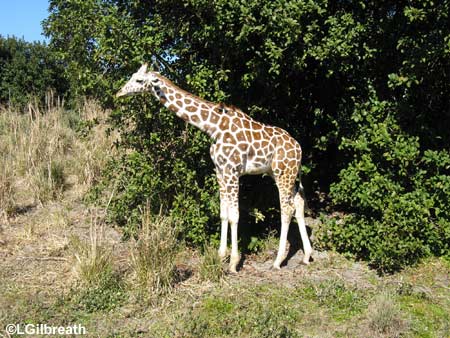 Next was the Pangani Forest Trail. One of the hippos was actually laying up on the bank of the pool in the sun. The researcher there told us some things about hippos that we didn't know:
1. Hippos forage up to 6-1/2 miles at night.
2. Hippos can run 18 miles per hour!
3. A hippo's mouth opens 150 degrees – it can bite a 10′ crocodile in half.
We went to Expedition Everest after that. We hadn't gotten a Fastpass, so we used the single rider line – we only waited 10 minutes or so. For lunch we decided to try the Yak and Yeti counter service place – it's never gotten very good reviews (though it's usually classed as mediocre and not bad), but we thought we'd see what we thought. I definitely go with the "mediocre" label – we get better Chinese food at the grocery store near us.
The entrees are served in a large "Chinese takeout" container. I had the honey chicken, which had rice in the bottom of the container, then some broccoli and carrots, with the chicken on top. Lee had the kung pao beef, which also had rice on the bottom. and then the veggies had been stir-fried with the beef. He said it didn't have a lot of flavor – even though he picked two pretty good-sized pieces of chile pepper out of it. Both of them were nice and hot and fresh, though. Probably the best part of lunch was the two iced teas I got from the Tea Company stand that's across from Yak and Yeti. They had quite a selection of hot teas, and three different kind of brewed iced tea. Lee had the raspberry and I had the "traditional" black tea. They were both very good.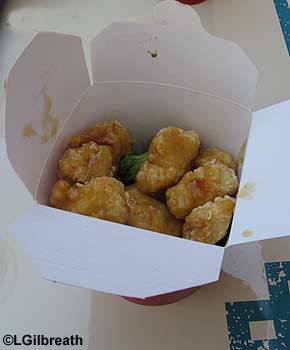 We wandered around a little bit after that and visited some of the other animals around the Tree of Life before heading out of the park. There still weren't very many people in the park. The bus back to Animal Kingdom Lodge was sitting at the bus stop when we got there, and left soon after, so our timing was good.
When we arrived back in our room I went out to the balcony to see what animals might be on the savanna this afternoon. I was not disappointed – there were 4 zebras I could see under the trees, and a giraffe came cruising by soon after. There were a couple of East African Crowned Cranes visible in the distance, as well as a Roan Antelope.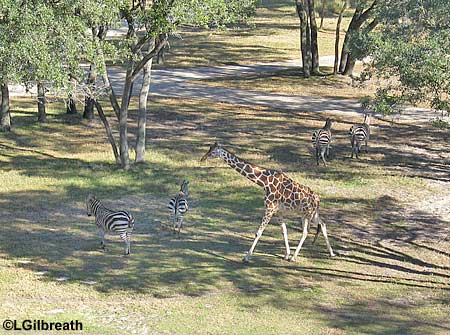 I caught one of the zebras doing its best "dead zebra" impression. 🙂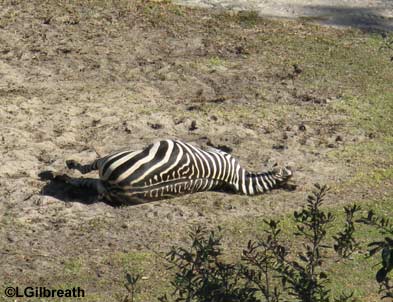 It has been fun to sit here and look outside periodically and just see how the animals have moved around. We've seen two different giraffes, several ankole cattle, and a blesbok and a greater kudu.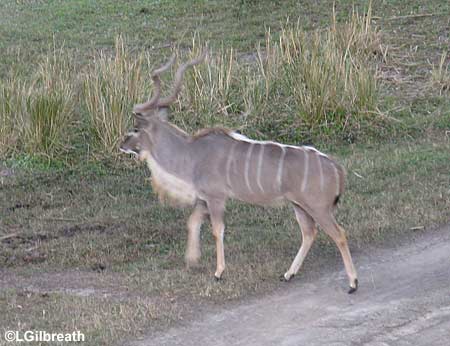 Tonight we're headed off to Epcot to wander around and see Illuminations – which is at 8:00 and not 9:00.
And now we're back from that. It was another chilly evening, though not as cold as last night. The night before we left San Diego, since I still had room in my suitcase I threw in a polarfleece pullover and an extra pair of pants – and now I'm really glad that I did that!!!
It was strange going into the front entrance of Epcot – we are so used to coming in the International Gateway since we usually stay at Boardwalk Villas. Also strange was that there were no decorations whatsoever at the front of the park – we almost always come during the holidays, or Food and Wine Festival, or Flower and Garden Festival, so there are special decorations, but not this time.
Though Animal Kingdom was not busy today, apparently Epcot was – at 7:00 at night the standby line for Test Track was 60 minutes and Soarin' was 90 minutes. Wow.
We had dinner at Sunshine Seasons food court in the Land – mainly because it was inside! Though they have a nice selection of food, and after Tangierine Cafe it's probably our favorite counter service place at Epcot.
After that we wandered around Future World and World Showcase, taking some pictures.
It seemed strange for Illuminations to start an hour early (normally it's at 9:00), and there were quite a few people waiting for it up towards the front of World Showcase, though the crowds thinned out as we got back to one of our favorite spots near Germany, where we only had to stand behind one row of people, and most of them were sitting down.
Illuminations is always a great show!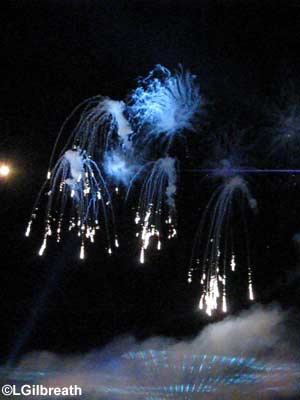 It was Extra Magic Hours for resort guests from 8:00 until 11:00. We decided to take a ride on Spaceship Earth. Disney has stopped giving out wristbands during EMH – now they have Cast Members at the entrance to the attractions checking resort ids. We saw several people turned away because of that.
We were quite surprised when we got out of Spaceship Earth that the line was much LONGER than it had been when we got in it! Guess a lot of people decided to take advantage of EMH and ride it.
There was nothing else we really wanted to do so we headed back to Animal Kingdom Lodge. We need to get most of our packing done tonight since they will be picking up our bags at 8:00 tomorrow morning to transport them to the ship.
The cruise starts tomorrow (Saturday) – in 24 hours we'll be on the ship!