It was a very long day today, so you're getting a very short blog
entry — I'll try to catch up further during our "At Sea" day tomorrow.
We took the shore excursion to the Tulum (two-LOOM) ruins on the east
coast of the Yucatan peninsula today. It was a lot of travel time —
30 minutes each way on a ferry to the mainland, and an hour bus ride
each way, so it made for a long day. It was well worth seeing,
though. The weather was beautiful — in the mid-80s and a bit humid, but
there was a nice breeze.
Tonight is Pirate Night, with the special dinner, the deck party,
dessert buffet, and fireworks, so it's going to be a late night.
But here's a couple of pictures from Tulum: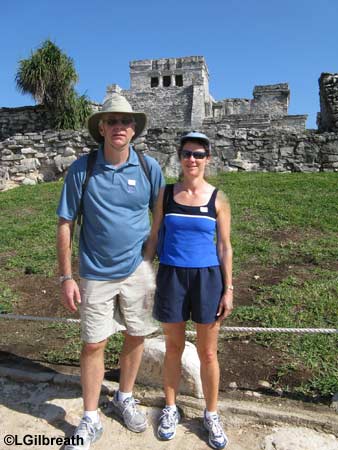 At Sea day tomorrow — it will be to nice to rest and relax! But
remember that extra hour we got last night? We give it back
tonight…