(Yes, I know this is a day late, but those people we're with have been keeping us SO busy that I haven't had a chance to blog!!! 🙂 )
After our late night at the Tower of Terror 13K, we didn't get up very early on Sunday morning. It was almost 10:00 by the time we got moving – we thought we'd go to the Boardwalk Bakery for breakfast, but the line was huge, so then we thought we'd try the Bellevue Room in the hotel, but all they had left were 3 muffins, a banana, and a few containers of Sugar Pops.
Sooo…we headed to Animal Kingdom, hoping we'd get there in time for breakfast. Just outside the park entrance Jim spotted the coffee/pastry stand, which had NO line, and we picked up some coffee beverages and some pastries. They had a really nice cinnamon roll.
Jim and Sherry wanted to see It's Tough to be a Bug – it's been a LONG time since I've seen a line for this, but we were backed up a ways into the queue. We still got into the next show, and they enjoyed it – Sherry didn't even scream too much. 🙂
Next we took them back to Kilimanjaro Safaris, and had one of the best safaris we've ever had – there were lots and lots of animals. One of the giraffes was *right* next to the road. The driver turned the sound way down on the "Warden Wilson" stuff, too, and downplayed the poacher stuff, which we really appreciated.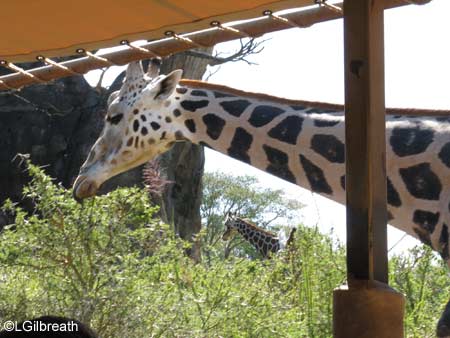 After the Safari we caught one of the gorillas taking a nap. 🙂
And took a quick turn into Pangani Forest Trail, where the keepers were doing a training session with the Colobus monkeys. They were presenting different body parts to the keepers on command, and getting rewarded with various treats. It was pretty interesting to watch.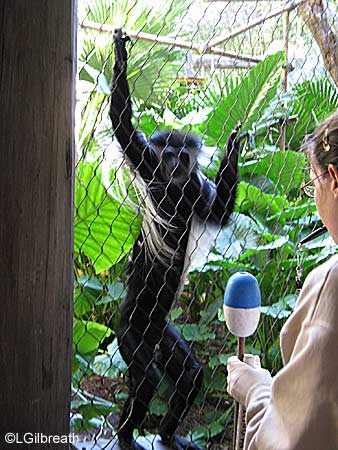 We had a late lunch at Tusker House – we had not been here since it was converted from a counter service restaurant to a buffet. When we saw Jack the other day he'd told us it was "Boma without the soups", and since Boma is one of our favorites, we were hoping it would measure up.
And we all really enjoyed it. I thought the variety of food was actually better than I've seen at Boma the last few times I've been there. The Marrakesh couscous with roasted vegetables was outstanding – I had two servings of that. Lee and Jim really enjoyed the prime rib.
I *was* disappointed in the desserts, though – they had a chocolate lava cake, but it wasn't very good at all – tasted like a boxed cake mix with Hershey syrup. The coconut macaroon was not bad, and Sherry and Lee enjoyed the pecan bar.
Still, overall it was an excellent meal, our favorite of the trip so far.
We wandered over to Dinosaur to use our Fastpasses – the ride stopped for a while but eventually we got on. They thought that was fun, too.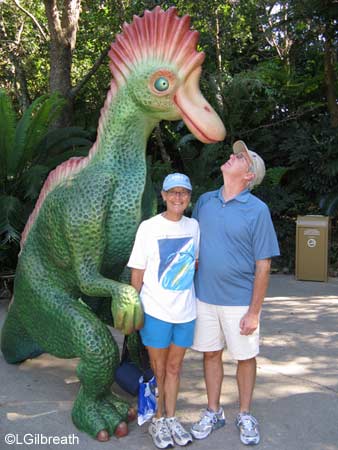 We were going to the Halloween party at the Magic Kingdom later that day, and Sherry had decided to get her face painted as part of her costume, and found a place in Dinoland to do it. (We wanted to do Primeval Whirl, but it was closed for rehab! 🙁 )
The lady did a really nice job – I've never seen anyone do the face painting before – it was fun to watch the process. And it actually held up VERY well, and still looked great 9 hours later!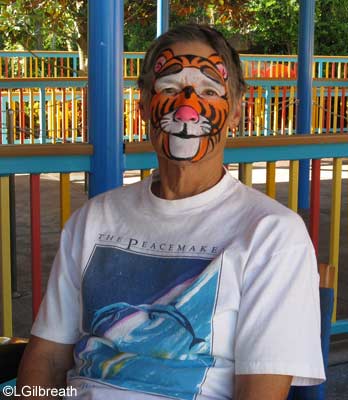 We left Animal Kingdom and I came back to the room to do finish some laundry, iron my costume, and take a short nap, while the other three went into Epcot to deal with some last-minute costume details for Jim and Sherry. That plus Jim and Lee needed a Samuel Adams beer fix. I think they are determined to try every beer at the Sam Adams booth before we leave.
The Mickey's Not So Scary Party started at the Magic Kingdom at 7:00 – we left the room about 6:30, and only waited a couple of minutes for the bus, so that worked out well.
Don't we look cute in our costumes???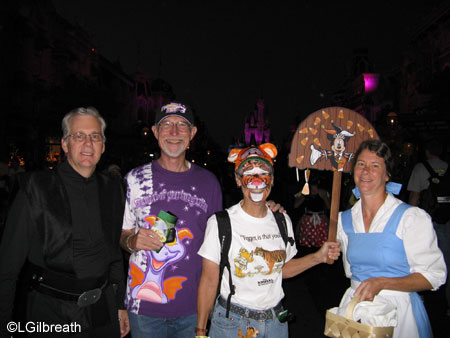 Once inside the park we got our wristbands (and they WERE checked by CMs several times early in the evening) and trick-or-treat bags and headed off for the Haunted Mansion. All of the CMs get to wear ghastly makeup for the party, and they look really cool. Sitting outside the Mansion on the lawn was one of the guests from Master Gracey's ball inside – she said she needed some air. 🙂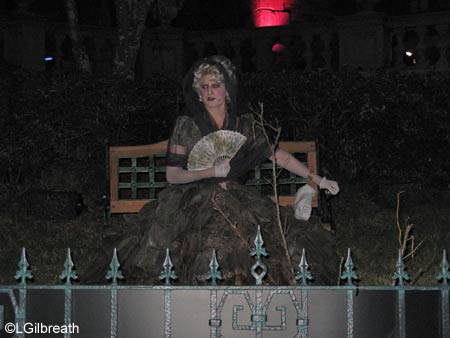 We hadn't had dinner yet, so we grabbed a quick bite at Pecos Bill's. It was nice to have additional tomatoes from the toppings bar to add to my chicken wrap! It was ok, but a little too much dressing – and waaay too much wrap and not enough filling.
Just down from Pecos Bill's we found an excellent front-row spot to watch the Boo to You parade. I really love this parade – after Tapestry of Nations, I think it's my favorite Disney parade ever. I used the movie mode of my camera, and was able to get a fairly reasonable photo of the Headless Horseman – he goes by so fast!
There's just so much fun stuff in this parade, like the characters in costume, and the chicken "singing" Ghostriders in the Sky, and especially the Haunted Mansion segment, with the caretaker and his bloodhound, and the ghostly dancers, and, my very favorite, the zombie gravediggers shovel and drill team.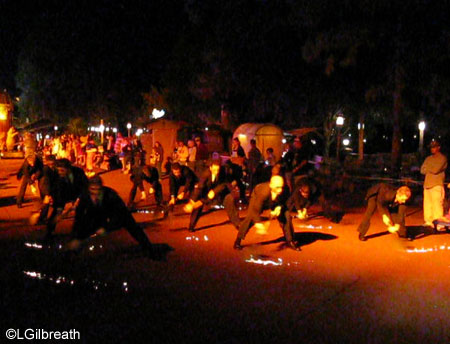 Love the Villains, too – "It's Good to be Bad" is a very catchy little tune!
Speaking of the Villains…after the parade we rode Big Thunder Mountain (always way more fun at night!) and hit a couple of treat stops on our way to the Villains Mix and Mingle show at the castle. That was a rather surprising show – the music and the dancing were rather more, uhhh…suggestive, than we expect from Disney. Lee had the best line about the show: "Who knew that Maleficent had boy toys?" 🙂 Whew…is it hot in here???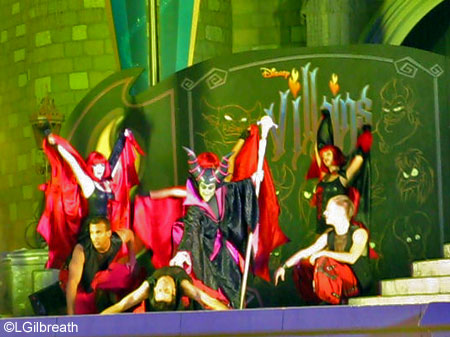 Since it IS a Halloween party, it was nice to see the Villains get their due, and this particular show had elements to appeal to the big boys and girls, too!!!
Quick break at Mrs. Pott's Cupboard for ice cream (where Lee's root beer float truly ranneth over – we'd never seen a root beer eruption but that's what happened as the ice cream sank down into it! 🙂 ) And then it was time to scope out a spot for the fireworks. Which it turned out we really didn't need to do very early – even when the fireworks started there was plenty of empty space. (I think this party was NOT sold out, and not as busy as the one we attended last year, which was very nice! It also didn't rain on us at all like it did last year.)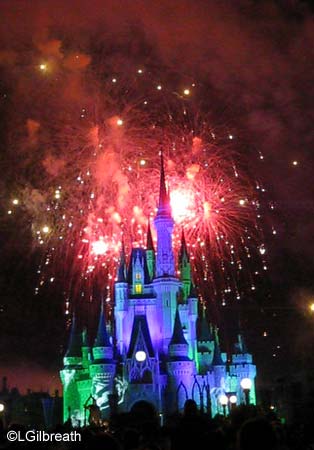 What can I say, I LOVE the fireworks show, too.
Next up was Buzz Lightyear's Space Ranger Spin. After doing Toy Story Mania, this ride, with all the little red dots that look all alike so that you can't tell which one is yours, was a lot more challenging, but we still enjoyed it.
Since Sherry was made up as Tigger, we HAD to go on the Pooh ride. And hit a few more treat stops on our way back to Frontierland to see the second parade. (See? I like the parade so much I wanted to see it again!)
It was just as much fun the second time. We went to Pirates of the Caribbean after the parade, and then over to Space Mountain. Space Mountain turned out not to be a good idea…the ride had stopped and the line was fairly long so we ended up waiting a lot longer than I'd planned. Towards the end of the ride some of the stuff I was carrying in my basket came out – I thought I'd gotten it all before I got out, but on the way out of the ride I realized my watch was missing. Told a CM and they checked for it but didn't find it. So now I have a Lost and Found report out on it…hopefully it'll turn up.
Unfortunately between the long wait for the ride and then me losing my watch it was after midnight and the party was over. We were pretty tired, though, and ready to head back. Just outside the park there were CMs with treat bags handing out Ghirardelli chocolate squares – I got in two different lines to get those. 🙂
Fortunately the bus was already at the bus stop when we got there, and it wasn't packed as we drove back to the hotel.
A few random observations about the Halloween party.
This is my favorite of the Disney parties that I've attended. It's such a fun atmosphere – the Cast Members seem to be having a wonderful time themselves. We saw a lot of guests in costume this year – there were some very elaborate ones, too! We saw a Cinderella in a beautiful ballgown, and a really excellent Jasmine and Aladdin, and even Clopin (from Hunchback of Notre Dame) complete with the puppet on his hand.
I mentioned the CMs in makeup at the Haunted Mansion earlier – there were also other "ghostly" surprises…like some ghostly singing miners in Frontierland, and a ghostly river pilot on the riverboat (which is not called the Mark Twain here, but I don't remember the name.) I have photos, but I'll have to get post them later.
The party was a lot less crowded than the one we attended last year – even though the weather was a lot better this year (it rained on us last year and we missed the second parade). I'm guessing it's partly because our party did not have a discounted advance purchase price, making it a little less attractive to local residents. It was great for us, though – shorter lines for the attractions and at the treat stations.
While I think the Halloween Party at Disney's California Adventure has better decorations, Mickey's Not So Scary Halloween Party has the parade and the special fireworks show that make it really an outstanding event. We all had a wonderful time.