Day 4
(I won't be including all of the events of today because the major event is the Tower of Terror 13K, and that's not until tonight – and I can guarantee I won't be blogging about it right after I get back to the room – the stops will be shower and bed – in that order!)
We all agreed last night that we were going to sleep in this morning and get up whenever. So it was quite a leisurely morning – we finally got out of here about 10:30 and went to Coronado Springs, where Lee and I needed to pick up our registration packets for the 13K.
First we had breakfast at the Pepper Market, though. It was almost 10:45 when we arrived and there was a short line to get in, and they stopped serving breakfast at 11:00. So they were trying to finish up breakfast while they were trying to set up for lunch – it was kind of a mess. And there were quite a few other people who were also breakfasting late!
Pepper Market is kind of a food court idea, with different stations serving different foods. Only instead of paying as you exit out towards the seating area, instead you pay as you exit the seating area after you've eaten. To do that they give each party a ticket, and at each station they stamp your ticket to show what you got. Of course a problem with this is when you want to get things from different stations, but you only have the one ticket – we ran into that.
It's an interesting concept…but I don't think it works very well. The permanent signage is all for their regular lunch/dinner menu, and even though they gave us a menu which showed which stations had which breakfast items, we didn't have that with us when we actually went to get food. They had breakfast signs for some items, but not for others. We were milling around trying to figure it out, and so were a lot of other people. Since it was late, they had run out of some breakfast items (like bacon) and had shut down others (like eggs cooked to order). And as I mentioned earlier, they were trying to switch over from breakfast to lunch, and that made things even more chaotic. Though the breakfast/lunch thing worked out well for Jim – instead of breakfast food he was able to order Kung Pao Shrimp! It looked very good – very nicely cooked and presented.
Another thing they do that I don't like is they tack a 10% gratuity onto your bill, even though YOU are the ones doing all the work getting your food – the servers simply take and serve your drink orders. (Though ours had to work a little harder because I spilled a puddle of syrup on the table – she was very nice about it, though.)
As for the breakfast…it was ok, but I was surprised at how expensive it was – we paid more for breakfast this morning than we did for our table service breakfast at Spoodles on Thursday – AND the food was better at Spoodles. AND we got a 20% discount there with the Disney Dining Experience card – or "Tables in Wonderland" as I understand it is now called. (When we were at Spoodles with Paul and Ilene the other morning, Paul, in his very best announcer voice, called it "Tables in WONderland" and I still crack up when I think about that.)
The packet pickup for the race was just down the hall from the restaurant in the convention center – it was a much nicer set-up than they had for it last year when it was at one of the clubs at Pleasure Island. They had plenty of very nice volunteers to help – it really wasn't very busy at all. We spoke to a man who is involved in staging the race, and he said they took at least some of last year's guest comments into consideration this year – though apparently adding character presence to the race wasn't one of them. 🙁 So sounds like it'll still be a rather boring race. Oh well.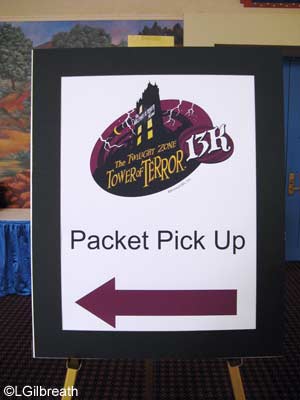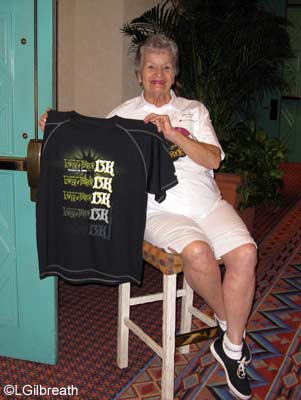 (Does the carpeting in the Coronado Springs convention center area mess with any one else's eyes like it does mine? That small reddish-orange pattern starts moving if I look at it very long…)
After that we were off to Animal Kingdom – we were planning a short day since we (or I) wanted to rest up this afternoon and NOT be on my feet all day, and we wanted to show Jim and Sherry something different. They had never been to Animal Kingdom before since it wasn't built when they were last here in 1990.
A Festival of the Lion King show was due to start in about 15 minutes so we went there. Had no problems getting a seat, though the theater was well over 3/4 full. I hadn't seen that in a while, and had forgotten how good it is. The Tumble Monkeys are still my favorites, though Lee and I both thought that the pair of "bird" dancers were the best we'd ever seen. (The guy is the same one we've seen for years, but his partner was either better or they worked better together.)
It had turned into a beautiful sunny day, but had really started to warm up a little too much for my comfort. We wandered around a bit in the shade of the Tree of Life to show Jim and Sherry some of the animals on the tree and some of the (real) animals that live around it.
Over in Asia we walked the Maharajah Jungle Trek – there were quite a few more people than we usually see, but not too many animals, though we did see three sleeping tigers. And we learned a lot about bats from the CM at the bat exhibit – like the fact that bats have no ankles so they can't stand up. So if they fall on the ground they are quite helpless – they can't just stand up and fly away. Instead they have to use their "elbows" to crawl on the ground until they get to something they can climb up to reach a height where they can fly away.
The park seemed fairly crowded to me – lots of congestion on the walkways and standby for Everest was 50 minutes. We went to Everest and asked for our friend Kenny who works there – he hadn't expected to see us there until tomorrow. 🙂 We had a short visit with him (he WAS working, after all!) and then took a ride on Everest – Jim and Sherry really enjoyed it. I'd warned Sherry in advance that the backwards-in-the-dark thing really messes with your head, and you think you're going upside-down even when you're not. Unfortunately the Yeti wasn't working – we only saw him with the strobe light effect. 🙁
We got some ice cream at Anandapur Ice Cream – I'd told Sherry that I thought it was the best soft-serve in the parks. She thought it was very good. Unfortunately because it was so hot it was melting really fast – I didn't get a chance to eat it slowly and savor it as I like to do. And though I was careful I still got a drip on my (black) shorts – though at least the chocolate ice cream missed the white t-shirt! (Lee had a root beer float, so he didn't have the same drip problems.)
We exited the park the long way, going past Dinoland, because we wanted to show Jim and Sherry most of the park (haven't gotten to Africa yet, though!) And now we're back in the room resting up for tonight.
Jim and Sherry are planning to have dinner at the Brown Derby at the Studios. Lee and I are eating light – we picked up a couple of sandwiches at the Boardwalk Bakery (the multi-grain bread they use in the sandwiches is excellent!) and had part of those, and will have a little more later.
Ack! We're not going to get to Epcot at all today!!! We are waaay down on our Eating Around the World quotient for the week…this is day 4 and we've only done it once!
Added Sunday morning: We finished the Tower of Terror 13K in 1:27:27. I was hoping to finish in less than 90 minutes, so that was good. Weather was MUCH better than last year, and not so humid or warm, though still warmer than I like. And there were characters!!! Between miles 4 and 5 we had lots of villains – Frollo and the Evil Queen, Maleficent and Cruella, Smee, and Captain Hook. That was fun! There was a little more entertainment along the way – it was definitely an improvement over last year. We're glad it's over, though. 🙂